10 Best Golf Courses in Seattle You Should Play
Seattle — the well-known home of coffee, rainy days, and Nirvana — may not immediately jump to the forefront of anyone's vision of a golfer's paradise. However, the drizzly gem of the Pacific Northwest has quietly become home to one of the country's most vibrant golf scenes.
This Post: 10 Best Golf Courses in Seattle You Should Play
Nestled in the green foliage of the surrounding mountains, Seattle has become a top golfing destination. The following is our list of Seattle's 10 best golf courses you can, and should, play.
Ten Best Seattle Golf Courses
From links golf courses that remind players of Scotland to gorgeous mountain and ocean views, these 10 courses will challenge all levels of golfers, and reward them with a fantastic experience.
The Golf Club at Newcastle (Newcastle, Washington)
The Golf Club at Newcastle offers arguably the most beautiful views of any golf course in Seattle. Golfers can enjoy views of the Seattle skyline as well as the Olympic Range and the Cascades. In addition to the scenic beauty, golfers have two excellent courses to choose from in Coal Creek and China Creek.
Coal Creek was designed by Robert E. Cupp and Masters champion and area native Fred Couples and is a championship-caliber course. China Creek, also designed by Cupp, is a bit shorter and plays easier. Golfers will also enjoy the Golf Club at Newcastle because of the luxury amenities, including the beautiful English manor-style clubhouse and 19th hole.
Peak-season public rates range from $230 for a prime weekend tee time at the Coal Creek course to $88 for a weekday twilight round at China Creek.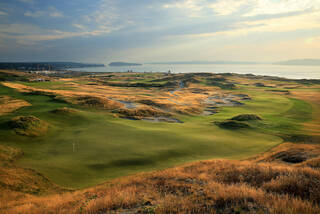 Chambers Bay (University Place, Washington)
Image: David Cannon/David Cannon Collection via Getty Images
No list of Seattle courses could be complete without Chambers Bay, widely accepted as the best public golf course in the state. The course designed by Robert Trent Jones, Jr., hosted the 2015 U.S. Open where Jordan Spieth was the beneficiary of a 72nd-hole 3-putt from Dustin Johnson.
Chambers Bay offers views of both the Puget Sound and Olympic Mountains but differs in its links-style layout from most of the courses in the region. Chambers Bay is also a walking-only course with knowledgeable caddies available for hire. The course evokes the spirit of Scotland but with a distinct Pacific Northwest flavor and remains Seattle's best-known course.
Out-of-state residents can expect to pay anywhere from $125-$275 to play Chambers Bay during peak golf season, depending on the time and day desired.
The Home Course (DuPont, Washington)
Ten minutes from Chambers Bay, The Home Course is jointly operated by the Pacific Northwest Golf Association (PNGA) and Washington Golf (WA Golf). The Home Course features a walkable layout with the same gorgeous views as Chambers Bay, without the steep price tag. At around $55 for 18-holes on a weekday and a little more for the weekend, this club is top-notch.
Designed by Mike Asmundson, this course has hosted USGA qualifiers, Mackenzie Tour qualifiers and other PNGA Championships. The Home Course includes the DuPont Nine, which is the front and the Weyerhaeuser nine, which is the back nine.
The 9th, 10th and 11th holes surround the Old Fort Lake, the former home of Fort Nisqually. Golfers who want to play with gorgeous views without the hefty price tag of Chambers Bay should pick the Home Course.
Harbour Pointe Golf Club (Mukilteo, Washington)
RED : Top 13 Viết Công Thức Cấu Tạo Của C2h4
Harbour Pointe Golf Club offers a beautiful woodland course with lots of rolling terrain and elevation changes. The course was designed by Arthur Hills, best known for designs like Bay Harbor Golf Club, Half Moon Bay Golf Links and Newport National Golf Club.
This course is the only Hills design in Washington and challenges any level of golfer. The front nine brings water into play often, while the back plays with the hilly terrain, including the 11th hole that features a 100-foot drop from tee box to green.
Public rates range from $42 to $79.
Druid Glen Golf Course (Covington, Washington)
Keith Foster designed Druid Glen Golf Course with the gorgeous views of nearby Mount Rainier in mind. At 7,146 yards, Druid Glen is one of Washington state's toughest courses, littered with 60 bunkers, nine lakes and extremely fast poa annua greens.
Carved out of 230 acres, Foster created a championship-quality course that challenges the best players. With four sets of tees, regardless of what level of player you are, this course will be tricky.
One of the signature holes is the gettable 281-yard par-4 seventh. A well-struck driver should get you past the centerline bunker and onto the proper plateau, but be wary of the water down the left, center-line bunker, two green-side bunkers, and slope off the green.
Their clubhouse has the spirit of an English countryside cottage, but with a Pacific Northwest flavor as it features ingredients from the region's best farms and ranches, along with harvests year-round from their own hydroponic garden inside the dining room.
Visitors can play the upscale public course for $50-$85, depending on the day and time.
Washington National Golf Club (Auburn, Washington)
Home of the University of Washington men's and women's golf teams, Washington National is bursting with Husky pride. This championship course provides a challenge from the tips, a burly 7,304 yards, though a variety of tee boxes offer an enjoyable experience for all golfers.
John Fought designed the course that features generally wide fairways with interesting bunkering and waste areas. The clubhouse features good food and beverages in a relaxed sports bar atmosphere.
A hundred bucks will get you a prime time weekday tee time at Washington National, a rate that moves to $120 on weekends. Twilight tee times can be had for as little as $60.
Olympic Course at Gold Mountain Golf Club (Bremerton, Washington)
The Olympic Course at Gold Mountain Golf Club, Bremerton's municipal golf complex, has quickly become one of the west coast's best-loved munis. The course was designed by John Harbottle III and opened in 1996.
The rugged, forested course offers beautiful views of the surrounding and often snow-capped mountains. Olympic course played host to the 2006 U.S. Amateur Public Links Championship and showcased what is often a high-risk, high-reward style of play that tempts players to go long over difficult obstacles. The Olympic Course remains a favorite among the locals, as is the slightly dated Cascade Course that is also available at Gold Mountain.
The cost of a tee time is continuously changing at the Gold Mountain facility, depending on demand, availability, and weather, among other things.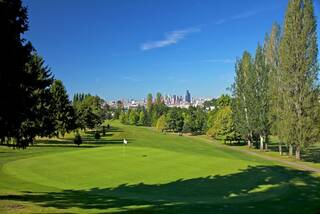 West Seattle Golf Course (Seattle, Washington)
RED : Lincoln, CA Golf | Catta Verdera Country Club
Image: Courtesy of West Seattle Golf Course
The West Seattle Golf Course is just a few miles outside of downtown Seattle, and many golfers have dubbed it the best municipal golf course in the city. The course features a rather flat front nine that plays alongside Longfellow Creek, paired with a tricky back nine. The hilly and often windy back actually plays 300 yards shorter than the front but can be a doozy.
Players can enjoy views of downtown Seattle and Elliot Bay from a few holes. West Seattle Golf Course was designed by H. Chandler Egan, who also redesigned Pebble Beach into the course that we all know and love today.
Like Golf Mountain, West Seattle GC utilizes a dynamic pricing system. Adult rates begin at $38 but may go up or down depending on demand.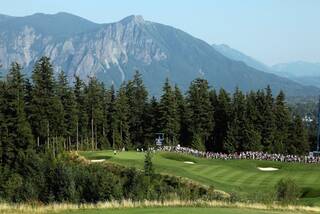 TPC Snoqualmie Ridge (Snoqualmie, Washington)
Image: Otto Gruele Jr./Getty Images Sport via Getty Images
The host of the Champions Tour's Boeing Classic, TPC Snoqualmie Ridge is a golf resort dream as the lodge overlooks the Snoqualmie Falls. The Jack Nicklaus signature course is a 7,264-yard high-risk, high-reward course that can be a challenge. TPC Snoqualmie Ridge is the only one in the state designed by the Golden Bear.
Players will share the course with the local wildlife, as an eagle sanctuary adorns the 14th hole.
TPC Snoqualmie Ridge is the only private facility to make this list, but if the opportunity to play it presents itself, it's one you won't want to miss.
Trophy Lake Golf & Casting Club (Port Orchard, Washington)
This Kitsap Peninsula gem, better known as Trophy Lake Golf & Casting Club, is a 7,206-yard course designed by John Fought. The layout features sloping fairways, expansive greens, and of course, beautiful views.
Trophy Lake features a steady stretch of well-crafted holes that flow together like a woven blanket. The Golf & Casting Club keeps the pond next to the sixth and 18th greens stocked with fish, for those who want to fly fish.
Located 15 minutes from the Seattle ferry landing, it's a convenient location for travelers. Trophy Lake winds its way through the dense Northwest forest to allows golfers to feel like they've escaped the hustle and bustle of the city and combines nature and golf to capture the spirit of the Pacific Northwest.
Tee times range from $45 to $95 for members of the general public.
The Bottom Line
While Seattle doesn't scream golf, in a way it's shown the rest of the country that this Pacific Northwest location is indeed a golf hub, featuring championship courses and tracks the everyday golfer can enjoy.
Image: Lawrence Gallier/Moment via Getty Images
Source: https://bloghong.com
Category: en