10 Best Mexican Restaurants in St. Petersburg FL 2021
Must Eat Mexican Treats in St. Pete
If you search this site for "Mexican", you may notice that I do all of the Mexican restaurant reviews. Why? It's because I love Mexican food so much that I could literally eat it every day for a week straight. (I actually have done that before.) Two and a half decades ago when I traveled all over the country in sales, I would try a different Mexican restaurant in every town—going to a new town every day. Something else I'd like to mention is that I have been to Tijuana, Mexico City, Oaxaca, Zihuatanejo, and Cancun—although I'm not sure Cancun counts.
This Post: 10 Best Mexican Restaurants in St. Petersburg FL 2021
I mention my Mexico travels because it came up in the midst of discussions in our Facebook Group. I was asked if I ever went to Mexico because my iteration of "authentic" was being questioned. We learned something interesting while posting our Mexican restaurant reviews. The word "authentic" tends to trigger an avalanche of criticism and disagreement. It reminds me of the "Slowly I Turned" sketch – a popular vaudeville sketch wherein a character is relating a story and is triggered into violent outburst when the listener inadvertently utters a triggering phrase. – Wikipedia (My favorite is Abbott & Costello's Niagara Falls.) To try to put the "authentic" issue to rest, I asked, what is authentic American food? There's more than one style. Just look at all of the different types of barbecue for example. Just like there are different regions and styles in the US, the same goes for the United Mexican States.
Ok, on to the list! These ten Mexican restaurants are all so good, that this is NOT a ranking list. These are the 10 Best Mexican restaurants in the St. Pete area in ALPHABETICAL ORDER. It was impossible to rank them as they are all great, but also they are all different with their own unique styles that it's not a fair comparison for a contest. Solution: Try them all!
The 10 Best Mexican Restaurants in St. Pete, FL for 2021

These are listed in alphabetical order.
<—— Look
1. Agave Lounge
6400 Gulf Blvd.
St Pete Beach, FL 33706
(727) 367-3448
Agave FB Page
Agave has been around for over 15-years, and is run by a Mexican family that brought their recipes from their homeland. Two of my most respected chefs in St. Pete both told me confidentially that they consider Agave to be the most authentic in St. Pete. Their food is excellent and reminds me of what you might get at a good restaurant in Mexico outside of the tourist areas. It's a small hole in the wall on St. Pete Beach. Parking is an issue, so if you're not staying on the beach, you might want to spring for an Uber, as you should do anyway if you want to enjoy imbibing on their tasty house margaritas.
ST. PETE FOODIES APPROVED SPONSOR:

Review: Authentic Mexican Food: Agave St. Pete Beach
2. Carmelita's
5211 Park St North
St. Petersburg, FL 33709
(727) 545-2956
Carmelita's Website
Here's another Mexican family using their recipes from home serving up the St. Pete area for 37-years. This one is quite authentic too. When they have Menudo on the menu, it's a good sign. You can also tell that the salsas are made fresh every day.
Carmelita's actually has 5 locations: Pinellas Park, Largo, St. Petersburg, Dunedin, and New Port Richey. They are all run by separate Mexican families, but with the same menu and recipes.
Review: Carmelita's Uses Family Recipes for Authentic Mexican
3. Chile Verde Authentic Mexican Food
2801 22nd Ave North
St. Petersburg, Florida 33713
(727) 800-2679
Chile Verde Facebook
Chile Verde has been going strong for a little over three years now. The Tacos Mexicanos are done traditional Mexican-style with just meat, chopped onions, and cilantro. That's it. The meat is well-seasoned and the tacos are delicious. The meat choices are steak, barbacoa (bbq beef), chicken, pork, tongue, tripe, and lamb.
You can see that it's not fancy, served on a styrofoam plate, but it is tasty. They also have Tacos Americanos where you get the tomatoes, lettuce and cheese.
There is a small Mexican market inside with hot sauces, canned refried beans, chiles, tortillas, corn meal, etc.
Order at the counter, and the food is brought to your table.
4. Nueva Cantina
1625 4th St South
St. Petersburg, FL 33701
(727) 851-9579
Nueva Cantina Website
RED : Roblox Restaurant Tycoon 2 Codes 2022 – Gameskeys.net
Nueva Cantina has been rockin' their special style of Mexican food for almost four years now. They have some more traditional items, and great fusion, like the Picadillo Tacos, and Tex-Mex, like their excellent Fajitas.
Recently, Chef Jeffrey Hileman, formerly of FarmTable Cucina, helped them revamp the menu, and we went for a tasting and were blown away.
Review: Nueva Cantina Reboots the Menu with Hileman Collab
5. Que Pasa Mexican Cantina
10478 Roosevelt Blvd N.
St. Petersburg, FL 33716
(727) 578-5380
Que Pasa Website
Que Pasa is freakin' spectacular! If this was a ranking list, they would be #1. They are way north, and I live in downtown and used to hardly ever leave downtown, so it took me five years to find them. They're on their 6th year now.
They have great Mexican, and Tex-Mex, and everything is seasoned to create great flavors that are craveable. The margaritas are excellent, and the staff is super friendly. If you live downtown, and haven't been, it's definitely worth the trip. And keep in mind, they cook to order so the food takes a bit longer than you may be used to.
Review: Que Pasa Mexican Cantina is the Real Deal
6. Red Mesa Cantina
128 3rd St South
St. Petersburg, FL 33701
(727) 896-8226
Red Mesa Cantina Website
Red Mesa Cantina is one of the hot spots in downtown St. Pete. It is a fun, laid back space with a large outdoor courtyard with a fountain and whimsical décor. (There is indoor seating as well.) It's located in the heart of downtown St. Pete and has a little bit of a party atmosphere. This is one of three Red Mesa Group locations (each with their own unique menu), that serves traditional Mexican fare, such as tacos and burritos, but with a modern twist. They also put out their unique takes on other Latin cuisines, such as the Jibaro, which is a humungous Puerto Rican dish.  I also have to mention the Sirloin Chorizo Burger as it is one of the best burgers in St. Pete. They also have the largest collection of tequilas and mezcal in the southeastern U.S. (Note: At time of publication, there was a slight menu revamp, and the Sirloin Chorizo Burger was removed from the menu. However, we were told that you can still request it.)
The second floor houses Cantinita (little cantina) with it's own bar, along with Red Mesa Events with the La Florida Ball Room, which is a great elegant space for weddings and other events. The third floor is the home of DeSanto with a rooftop bar. Both the second and third floors have great views of the city.
Review: Party Time! Mexican Style!
Review: ¡Red Mesa Cantina's New Menu Items are Sabroso y Delicioso!
7. Red Mesa Mercado
1100 1st Ave North
St. Petersburg, FL 33705
(727) 954-7430
Red Mesa Mercado Website
I think their offerings are what most Americans grew up with as "Mexican food". In Mexico, there's no such thing as a crunchy taco, but those were the first tacos I ever had as a kid with ground beef, lettuce, cheese, and tomatoes. (They offer soft tortillas too – both flour and corn.)
The ground beef is wonderfully seasoned to be extremely flavorful. The empanada meat is to die for. They don't say so on the menu, but it is actually Cuban Picadillo. Super delicious!
Red Mesa Mercado is the Mexi-Cali Street Food that we all crave. It's simple with a walk up window and an outdoor seating area reminiscent of a picnic area. When they first opened they had a small Mexican market inside, hence the name "Mercado". Unfortunately, the market didn't work out, so that space is indoor seating now. (At least I can still buy the excellent Red Mesa hot sauce at Cantina.) This location also houses a small tortilla factory where they make fresh tortillas every day to supply all Red Mesas, along with a handful of other St. Pete eateries. Even though the market is gone, you can still buy fresh tortillas here. Here's the review and fast-action video of the tortilla factory in operation.
Review: Red Mesa Mercado is Takin' it to the Streets
<span data-mce-type="bookmark" style="display: inline-block; width: 0px; overflow: hidden; line-height: 0;" class="mce_SELRES_start"></span>
8. Red Mesa Restaurant
4912 4th St North
St. Petersburg, FL 33703
(727) 527-8728
Red Mesa Restaurant Website
Red Mesa Restaurant was the first of the three, opening over 20-years ago. All Red Mesa's; Cantina, Restaurant, and Mercado have the same ownership and same Executive Chef, Chris Fernandez. Chris was born and raised in Oaxaca, Mexico and he makes great Mexican food, but he also loves to mix it up with all kinds of fusions, mostly Mexican-Asian, but sometimes some Puerto Rican as well. Chef Chris is one of the most talented chefs in St. Pete, and likely one of the most humble with the lowest profile. All three Red Mesas have completely different menus and styles. Restaurant is a small, quiet family place with somewhat more upscale and creative dishes. They are known for their great sangrias, and the big news is that they recently added liquor. There is a new special every week that is always extremely enticing. Check out the review to see some of the eclectic Mexican-Asian fusion items.
Review: Red Mesa Restaurant Holding Their Own at 20-Years Old
Review: Red Mesa Restaurant – Still Rockin' After All These Years
9. Sea Dog Cantina
2832 Beach Blvd S
Gulfport, FL 33707
(727) 914-0112
Sea Dog Website
Barbacoa Beef – Jicama slaw, pickled red onion, avocado lime crema.
RED : The 13 Essential Jacksonville Restaurants, 2020
All of the tacos were great. Even the flour tortillas were outstanding. Who raves about flour tortillas? I do because they were hearty enough to still hold together after sitting there for 15-20 minutes before we ate them. How many times have you had your taco fall apart through the middle when the tortilla soaks through and disintegrates in the middle?  They also do a quick grill on them which gives them added texture and flavor. The portions are hearty, and would make a filling lunch or dinner.
Baja Chicken Burrito – Spanish rice, charro beans, Oaxaca cheese blend. Again, grilling the tortilla is a nice added touch, as well as the Sea Dog homemade enchilada sauce.
Sea Dog Cantina Review
10. VIP Mexican Restaurant & Lounge
10625 Gulf Blvd
Treasure Island, FL 33706
(727) 360-5062
VIP Website
VIP on Treasure Island has somewhat of a cult following. It is a unique experience, and the two most important things you need to know are: 1. Go early. 2. Get the Beef Tamale. Although the tamale doesn't look pretty in the above photo, it is so so good! This place is so small and so good that there is always a wait. We went at 5:00 pm on a weekday during slow season and had a 40-minute wait. You can't be shy or claustrophobic here as it is so tight, you are right on top of each other and there is no such thing as a private conversation … yet there is a wait every night … for good reason.
Review: VIP Mexican Restaurant & Lounge
Please tell us your favorite Mexican restaurants in the comments below!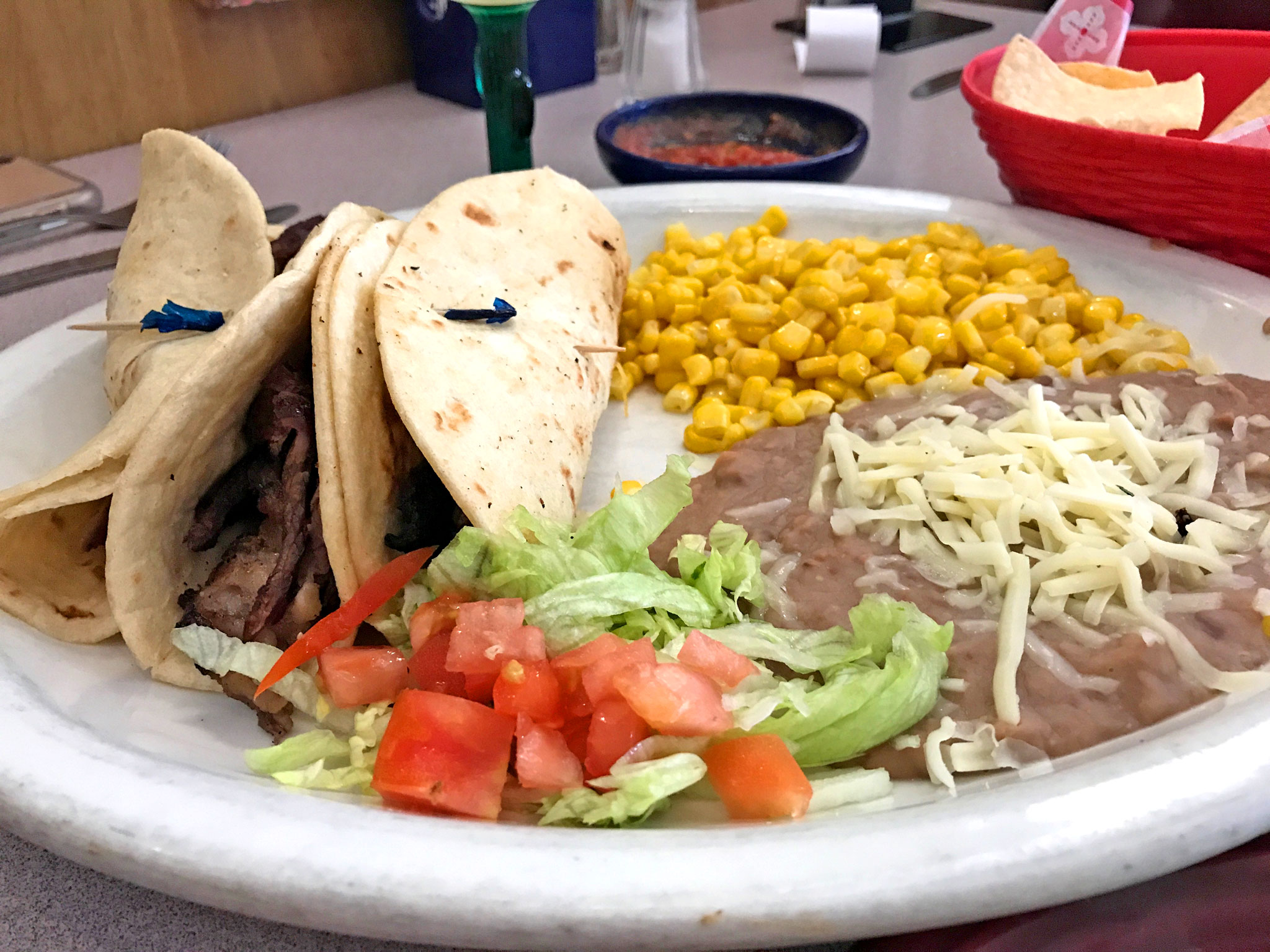 Readers Rating

Rated 4.7 stars

4.7

/ 5 (

Reviewers

)

Outstanding
The best locally owned Mexican restaurants in St. Petersburg Florida picked by locals.
Source: https://bloghong.com
Category: en