10 Over-the-Top Sweet Treat Experiences for NYC Kids | MommyPoppins – Things to do in New York City with Kids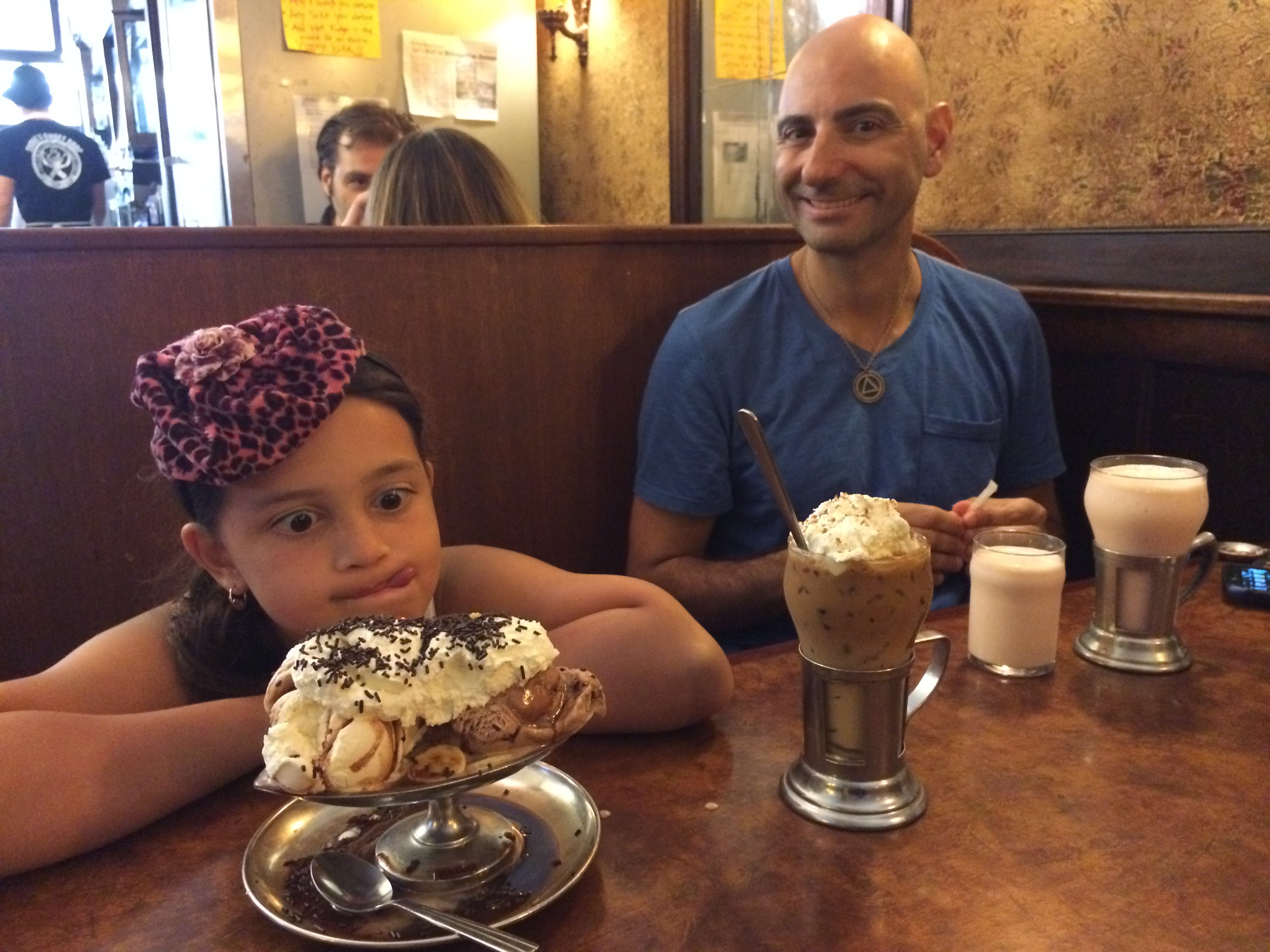 It's easy to find a place to drop in for a quick treat like an ice cream cone or a brownie in New York City —after all, there are delis, bodegas and bakeries on just about every corner. But sometimes you want to indulge in something more extravagant with your kids, maybe as a reward for a hard-earned report card, a special occasion or an impromptu celebration with a couple of friends. Of course, this being NYC, there are some seriously over-the-top treat experiences to be enjoyed. From chocolate pizza to tricked-out candy stores to old-fashioned sundaes bigger than your child's head, these 10 exceptional sweet spots are anything but ordinary.
Max Brenner Chocolate by the Bald Man – Union Square 841 Broadway between 13th and 14th Streets ​Max Brenner is a Willy Wonka-esque fantasy land where whirring machines spin melted chocolate alongside the dining tables, and tubes carrying the sweet stuff crisscross the ceiling. Everything imaginable that can be done with chocolate is done here. Equal parts cafe and candy shop, Max Brenner is famous for its over-the-top concoctions like chocolate pizza, syringes full of chocolate that you squirt right into your mouth, and treats that can be toasted on a table-side fire! We're longtime fans: Max Brenner made our list of the best hot cocoas in NYC , and Anna once threw a snall birthday party here.
Serendipity 3 – Upper East Side
225 East 60th Stree​t between Second and Third Avenues
Serendipity's Frozen Hot Chocolate is quintessential NYC. A trip here is practically a coming-of-age experience for kids in the city. And families have been celebrating life's special moments, big and small, with this delicious frozen treat since the 1950s. Also if you want to talk indulgent, Serendipity offers a $1,000 Golden Opulence Sundae (by far the most expensive item in the place), which requires 48 hours notice to prepare and contains real gold. Reservations are accepted and tables book months in advance, so plan early or walk in and expect to wait. But that is part of the experience, too. 
Alice's Tea Cup – Upper East Side and Upper West Side
See website for locations ​
Walking into one of the three Alice's Tea Cup locations is like walking right into Lewis Carroll's storybook. It's also my personal go-to spot for a perfect tea service with my son; this isn't an experience just for girls. While my son wouldn't dare wear the fairy wings waitstaff loans out to kids, he does enjoy the magical experience of digging into the Wee Tea served on a 3-tiered tray and trying different varieties of herbal tea. Alice's decor is charming and really sets the tone for a special occasion with deliberately mismatched china and old fashioned tables and chairs. All locations can get crowded, especially for brunch, but I have had good luck walking in on weekday afternoons. You can also make a reservation.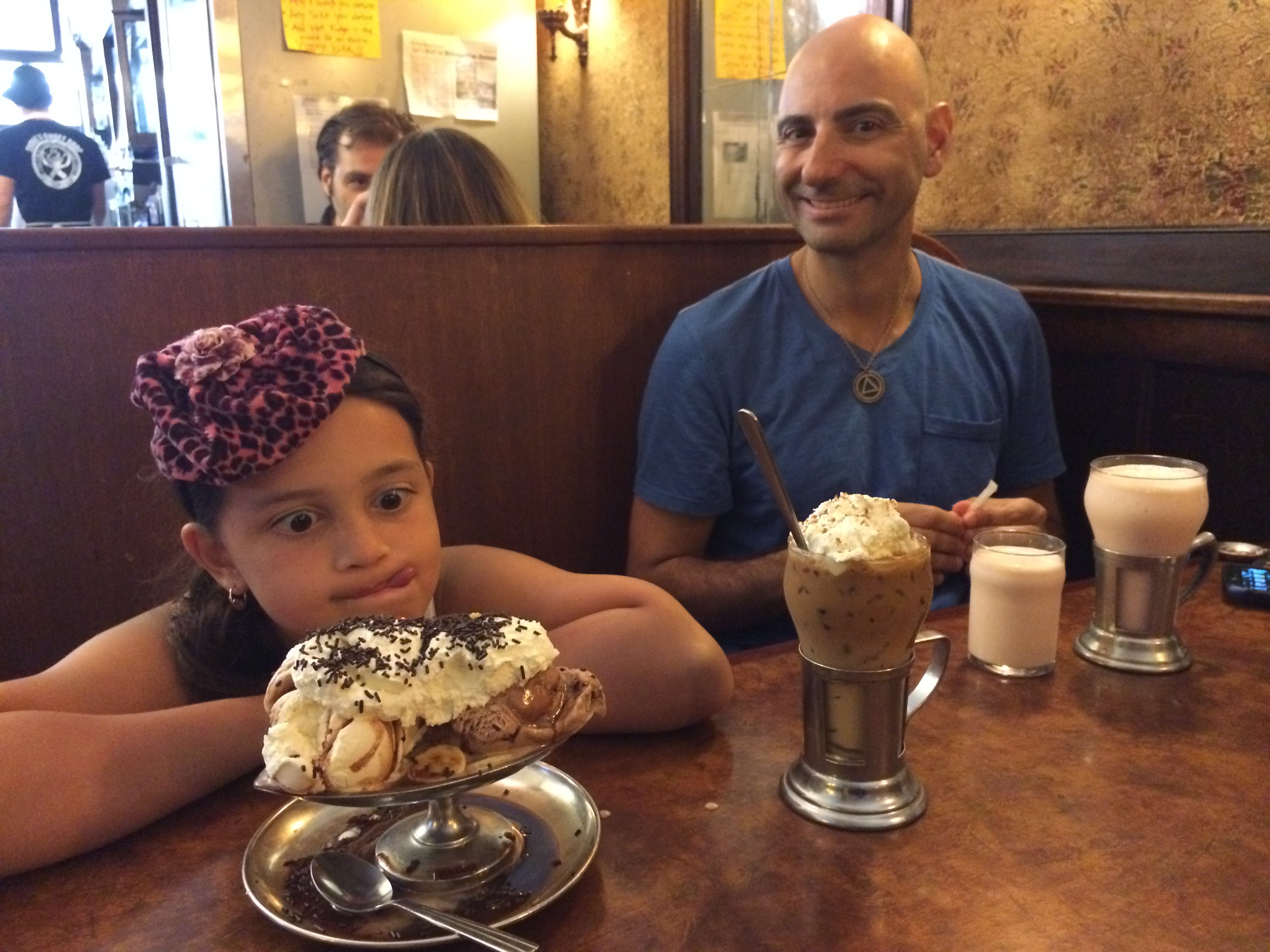 Sundaes with a side of nostalgia at Eddie's Sweet Shop in Forest Hills. 
Eddie's Sweet Shop – Forest Hills
105-29 Metropolitan Avenue at 72nd Road
No faux nostalgia here, Eddie's is the real deal! This soda shop has been dishing up ice cream sundaes, banana splits and malteds in Forest Hills for decades. A visit to Eddie's is a trip back in time, as many of the furnishings are original including the counter, stools, cash register and all the serving dishes. The ice cream and toppings are made in-house, so you know it's going to be good. But don't take my word for it, just look at the photo above of Raven's daughter moments before she devoured her huge sundae.   

Grown-up flavors and sophistication for NYC kids at ChikaLicious Dessert Bar.
ChikaLicious Dessert Bar – East Village
203 East 10th Street between First and Second Avenues
This small, sleek and contemporary 20-seat dessert-only restaurant was a favorite special-occasion spot during my pre-parenting days. And I am thrilled my son is now old enough to enjoy ChikaLicious, too. Desserts here are given star-status and created with the same care and precision you would expect from a savory destination. Take a seat at the bar and watch as chefs prepare and plate your prix fixe, three-course tasting menu. The options change daily, but always include an amuse-bouche, a main course dessert and petit fours. The experience is as sophisticated as it sounds, with pink peppercorn ice cream, basil sorbet and wine-based sauces on the menu. ChikaLicious doesn't take reservations and there is often a wait, but it's always a wonderful experience—especially for older kids and tweens who can appreciate the sophisticated flavors. My son was 9-years-old when he went the first time. That's him above, dining on an elegantly-plated fromage blanc cheesecake. For squirmy tots, you may want to try the carry-out ChikaLicious Dessert Club across the street. 
Spot Dessert Bar – Midtown West and East Village
13 St. Mark's Place between Second and Third Avenues
11 West 32nd in Food Gallery​ between Fifth and Sixth Avenues
While other eateries on this list offer specialized decor or over-the-top experiences, this popular dessert destination is modern and minimalistic with a big focus on flavor. The creations here are an incredible mash-up of Western desserts and exotic, Asian flavors. Kids will love the taste surprises like Thai tea infused creme brulee, taro flavored macrons and Spot's signature dish, green tea molten chocolate cake. While the atmosphere is casual with counter service, the dishes arrive beautifully presented with tons of wow factor. 
Dylan's Candy Bar – Upper East Side 
1101 Third Avenue between 60th and 61st Streets
The now-classic candy chain is on our list of Top 100 things to do in NYC for a reason. The ground floor is like walking into a real-life candy land, with bins full of every sort of imaginable confection. However, upstairs the real treat awaits—the remodeled Candy Cafe. While there is often a wait for a table (reservations are available) and the savory options are almost an afterthought, kids will love sitting in a famous cupcake table and digging into indulgent treats like frozen hot chocolate, mega ice cream sundaes sprinkled with candy toppings, candy and fruit-topped pizzas and yummy s'mores.