12 Best Places For Tacos In Asheville, NC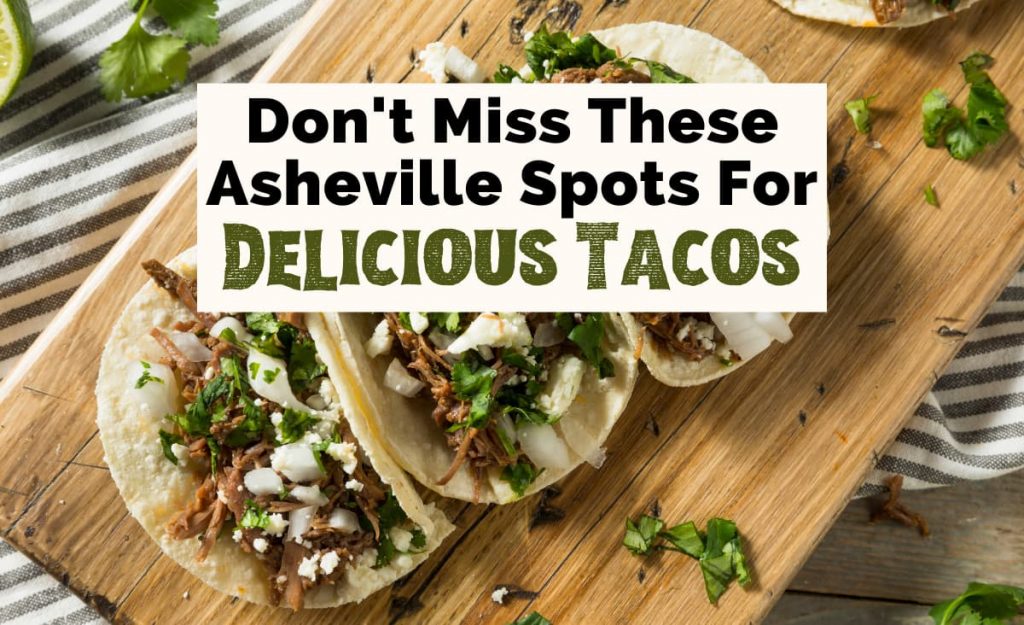 Where can you get the best tacos in Asheville, NC? As locals, we are sharing the most delicious Asheville taco places – famous and low-key.
If you follow us anywhere on social media, you know that we love two things: tacos and beer. OK, and cats!
We will never turn down the opportunity to eat tacos in Asheville, especially since there are so many restaurants churning out the goods.
So, where can you get the best tacos in Asheville, NC?
'Best' is always tricky, but as AVL locals, we've heavily…uh… 'researched…' Asheville's taco scene, scouring restaurants for their wildest creations.
Below, we are sharing where you can find tacos in downtown Asheville as well as in a few off-the-beaten-path spots, including breweries, taco food trucks, and closer to the Blue Ridge Parkway.
Enjoy Asheville's spiciest tacos along the French Broad River, in Asheville's hippest neighborhoods – next to beer gardens – and even in more yuppie Biltmore Village.
We'll also tell you where you can find vegan and gluten-free options and the most inventive taco creations. Keep reading to eat the best tacos in Asheville, NC. Let's get started!
Read more about Asheville's jumping restaurant scene.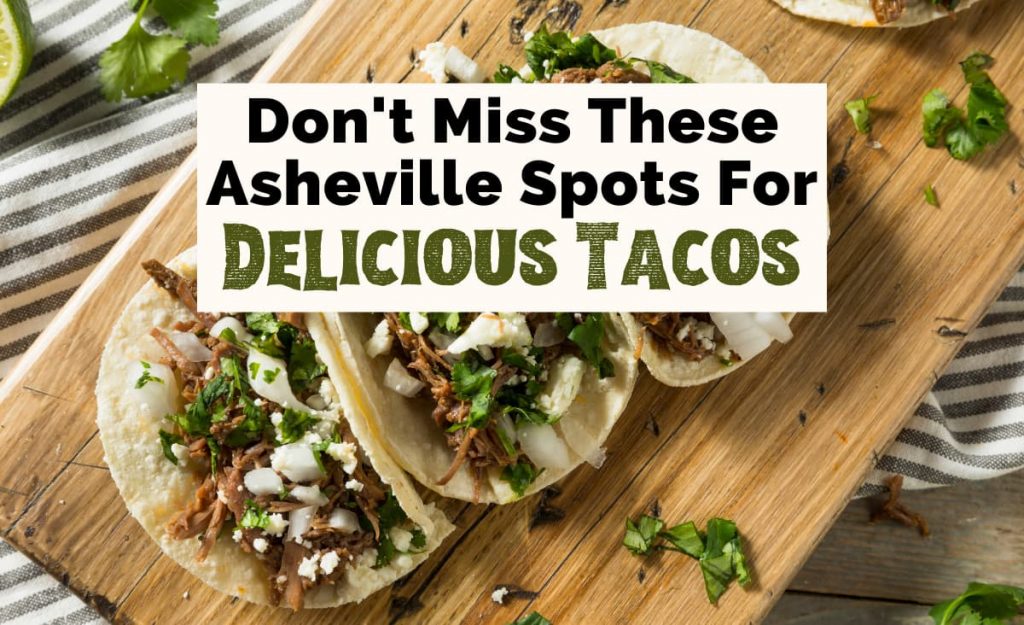 Uncover the best Asheville tacos — from locals.
This post may contain affiliate links that earn us a commission at no extra cost to you.
12 Best Places For Tacos In Asheville, NC
1. White Duck Taco Shop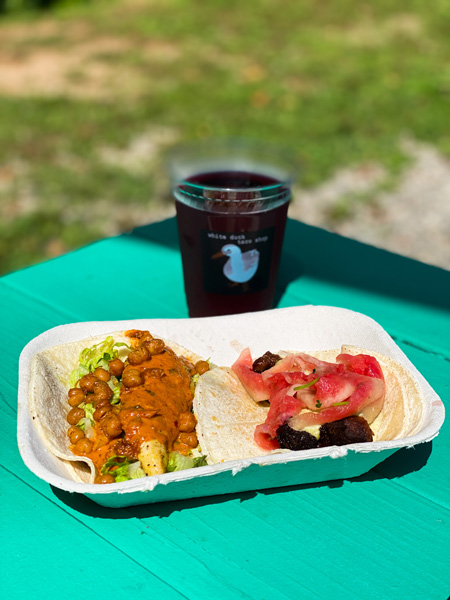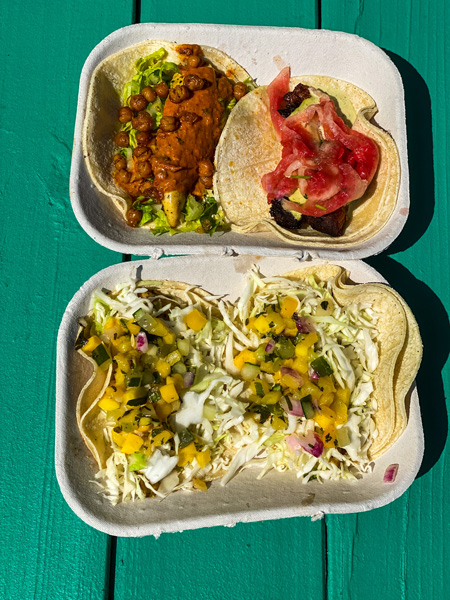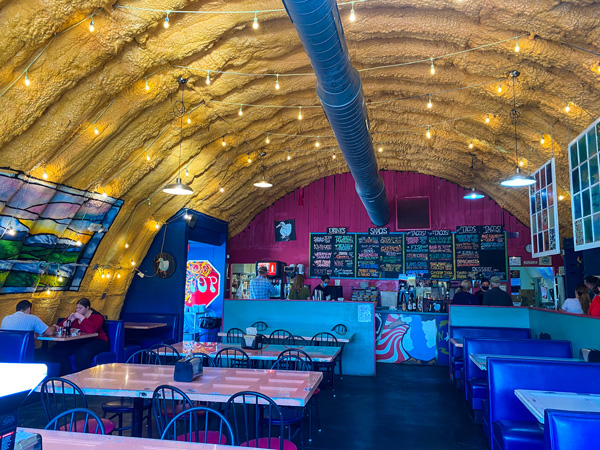 For the most unique and best tacos in Asheville, White Duck Taco Shop is a must.
This goes without saying, but White Duck Taco is one of the most popular and best places for tacos in Asheville.
You'll know that you've arrived when you see a line out the door right at opening.
Also a great spot for lunch in AVL, chill next to the French Broad River on a picnic table with your pooch (River Arts District location). White Duck Taco has plenty of outdoor seating.
These are not your average Asheville tacos either.
Think Chicken Tikka Masala, Crispy Chicken BLT, Bangkok Shrimp, Crispy Pork Belly, and Gyro-themed soft tacos along with a local brew. White Duck Taco labels gluten-free items.
White Duck Taco Shop is also a great restaurant option if you are traveling with kids, as they serve up kids' quesadillas, chicken, and chips with queso and salsa.
However, if crowds of people and lines turn you off, keep reading for other delicious taco spots. Or, just remember to go on off-peak dining times and weekdays.
White Duck Taco can be overwhelming at times, and there are equally worthy taco places across Asheville.
Read more about RAD's restaurant scene.
White Duck Taco Shop | RAD 388 Riverside Drive | Downtown 12 Biltmore Avenue | Arden 16 Miami Circle
2. Mamacita's Taco Temple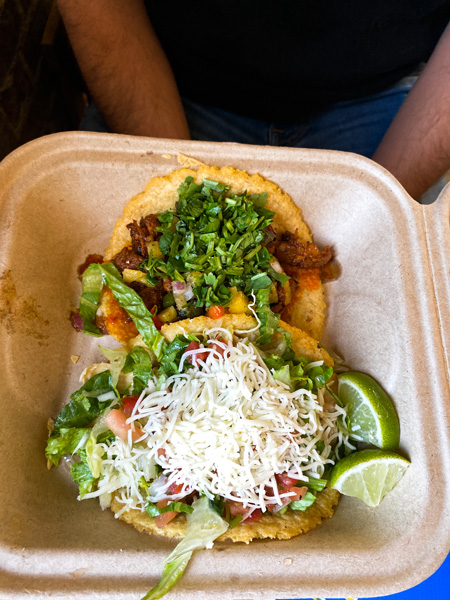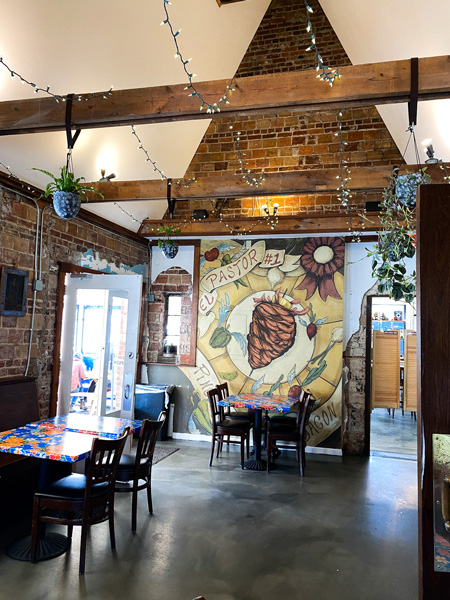 Mamacita's Taco Temple makes some of the best tacos in Asheville, especially for locals.
Where can you find tacos in Asheville and sit in a former 1930s gas station? Taco Temple! Just head toward the northern part of the city.
Mamacita's Taco Temple is always jumping with a local crowd. It's not hard to see why.
Think milled corn tortillas, tortas, and tamales. Their tacos are huge, and we recommend ordering at least 2 per person. It's hard to say no to chips and guac as well…
Taco Temple is most unique if you are craving breakfast tacos in Asheville – and who isn't? Breakfast starts at 7:30 AM, and they have a vegan taco option or two, avocado crema sauce included.
Sip on Mexican hot chocolate and munch on tater tots. Taco Temple has a small kids' menu and a salad option. Don't forget those margaritas and cocktails.
Order at the window. Then, sit inside — which resembles a small church — or outside on the covered patio. They'll bring food out to you.
Now, this is the type of religion we can get by! Plus, tacos in Asheville don't get any more delicious and budget-friendly than this — in one of our favorite buildings.
Uncover more fantastic North AVL and Charlotte Street restaurants.
Mamacita's Taco Temple | 132 Charlotte St, Asheville, NC 28801
3. Sonora Cocina Mexicana
It's almost easy to miss Sonora in Downtown Asheville – as it sits on the edge of town across the street from Thirsty Monk.
For tacos in Downtown Asheville, Sonara offers a vibrant and casual cantina space with an attractive and chic bar – which is ironic since this establishment sits near the Yacht Club, one of Asheville's dive bars.
Sonora Cocina Mexicana labels vegetarian menu items, and you may ask about vegan substitutes.
Find your favorite classic Mexican treats including a la carte and speciality tacos, empanadas, tortas, tostadas, burritos, and quesadillas.
Consider a bacon-wrapped hot dog and grilled corn cobs if you are looking for Asheville taco joints with something different.
Read more about Downtown Asheville's impossible-to-choose restaurant scene.
Sonora Cocina Mexicana | 89 Patton Ave, Asheville, NC 28801
4. TacoBilly
Another great option for those Asheville breakfast tacos after a night of touring the AVL rooftop bars, head to TacoBilly in West Asheville.
You'll spot TacoBilly's bright blue building with the red billy goat on the side. They proudly source local ingredients and support AVL's local purveyors.
Build your own taco, and find veggie tacos for lunch.
TacoBilly sits close to one of Asheville's top cideries, Urban Orchard West, as well as one of the best donut spots in town, Hole Doughnuts. Archetype West is right there, too.
Read more about all of West Asheville's delicious restaurants.
TacoBilly | 201 Haywood Rd, Asheville, NC 28806
5. Taqueria Munoz Food Truck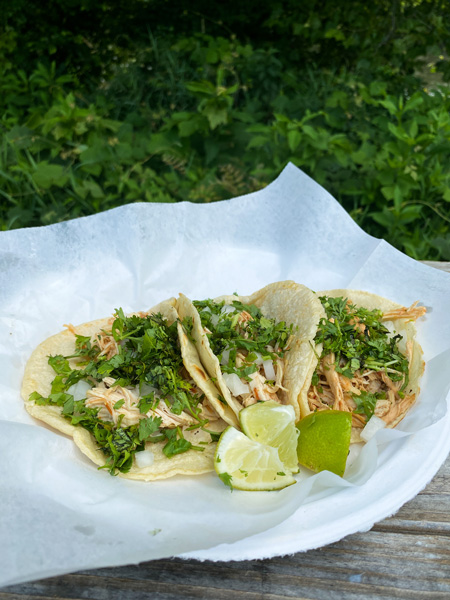 If you are looking for food truck tacos in Asheville along with craft beer, Zillicoah is a must.
As locals, it's no secret that Zillicoah is one of our favorite local Asheville breweries.
Situated against the French Broad River in Woodfin – and also close to White Duck Taco – Zillicoah has the best Asheville taco food truck, Taqueria Munoz.
With plentiful outdoor seating and indoor tables, head to the back for Zillicoah's permanent food truck. Choose from tacos, burritos, and sopas.
Taqueria Munoz also handmakes their soft-shell tacos. While they are zero frills, the food is delicious amidst the perfect atmosphere.
Afterward, head to nearby Ginger's Revenge or the River Arts District. One of our favorite wine bars, Bottle Riot, is only 5-minutes away.
Taqueria Munoz | Zillicoah Beer Company | 870 Riverside Drive, Woodfin, NC 28804
Tired of generic Asheville travel itineraries? Experience Asheville like a local with our free Asheville Favorites checklist, including restaurants, breweries, and hiking. Plus, get local updates – including events and hidden gems – straight to your inbox. Sign up here.
6. Mamacita's Taqueria
A locally-owned family business, Mamacita's Taqueria has been named one of the best Asheville taco places for years – along with burritos and fantastic Mexican cuisine.
Choose from Avocado Plantain, Cauliflower, Carnitas, Shrimp, Veggie, and Steak burritos. Or, order a traditional Baja Fish Taco.
Mamacita's also serves ensalada, nachos, guacamole, and vegan and veggie options.
For the best taco places in Downtown Asheville, these guys are close to the infamous Wicked Weed BrewPub and the LaZoom Bus comedy tours.
While there, start your tour of the Asheville murals, including The Dreamer, Lionel Richie, and 10,000 Buddhas.
Mamacita's Taqueria | 77-A Biltmore Ave, Asheville, NC 28801
7. Ay Caramba Mexican Grill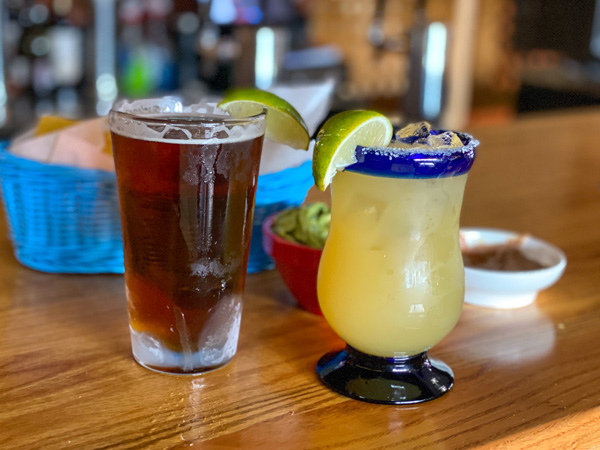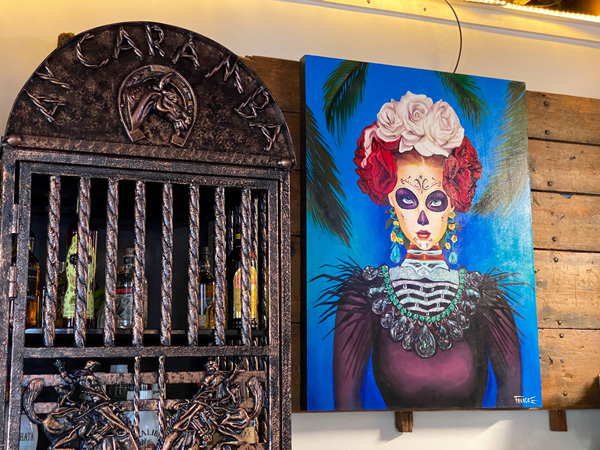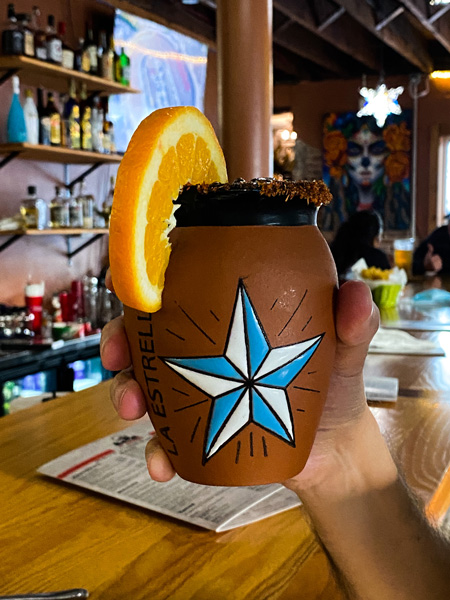 Enter a world of sizzling fajitas and giant drinks at Ay Caramba.
We were sad to see The Scarlet Bee close in North Asheville (and they are a food truck now). However, Ay Caramba moved in, and their food is sizzling.
Ay Caramba Mexican Grill also has older locations across Asheville, and their portions are huge.
Think drinks as big as your face, and some of the best Mexican cuisine in town. Along with tacos, they serve enchiladas, fajitas, quesadillas, burritos, and house specialities.
For now, you can catch Ay Caramba's menu on Facebook.
Ay Caramba Mexican Grill | 853 Merrimon Ave, Asheville, NC 28804 | 801 Fairview Rd STE 2, Asheville, NC 28803 | 328 New Leicester Hwy, Asheville, NC 28806
8. Tacos Jalisco Mexican Restaurant & Taqueria
Who doesn't love a Taco Tuesday in Asheville? If you are looking for Mexican cuisine, head to Tacos Jalisco.
Choose from tacos, tortas, tamales, and so much more.
An unassuming and no-frills taco place in West Asheville, munch on fresh salsa while sipping a margarita.
Tacos Jalisco | 1328 Patton Ave A, Asheville, NC 28806
9. The Cantina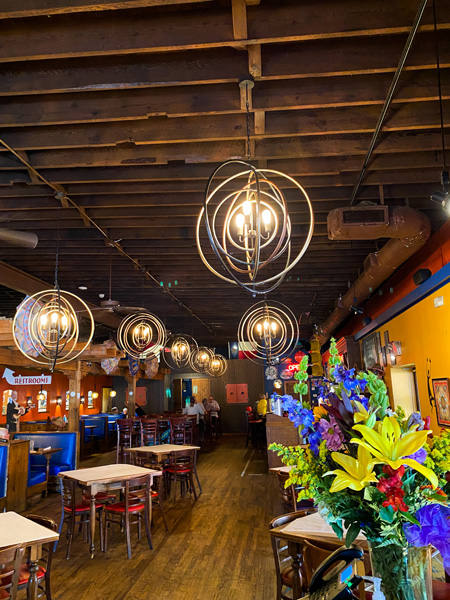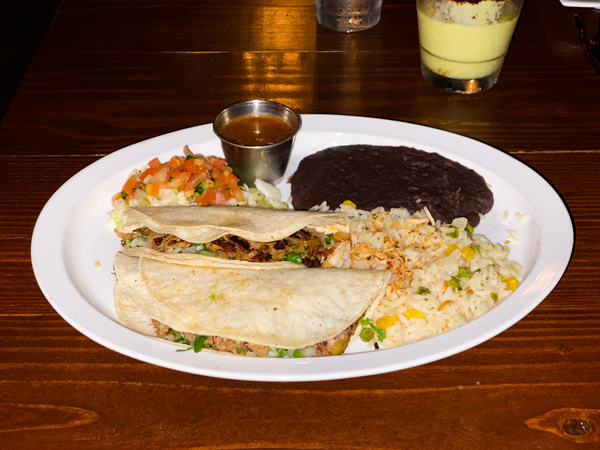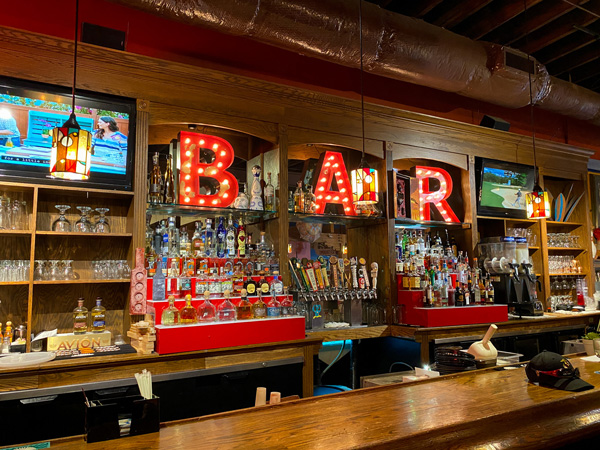 For tacos in Biltmore Village and nearby Biltmore Estate, head to The Cantina.
For fresh Mexican food and tacos in Asheville, head to Historic Biltmore Village. The Cantina is famous for its colorful tequila bar and extra-large portions. Plan for a takeaway box.
The Cantina makes for a great stop after a day of touring Biltmore Estate or if you enjoy shopping. They have all of your Mexican favorites including tacos, burritos, enchiladas, and quesadillas.
We always have to order a stuffed avocado to start along with a tasty avocado margarita.
Afterward, brewery hop in Biltmore Village at French Broad Brewing, Thirsty Monk, or Hillman Beer. Eda Rhyne Distillery is nearby, too.
If you enjoy luxury tavern vibes, afterward, grab drinks at the Grand Bohemian's Red Stag Grill.
The Cantina At Historic Biltmore Village | 10 Biltmore Plaza, Asheville, NC 28803
10. Papa's & Beer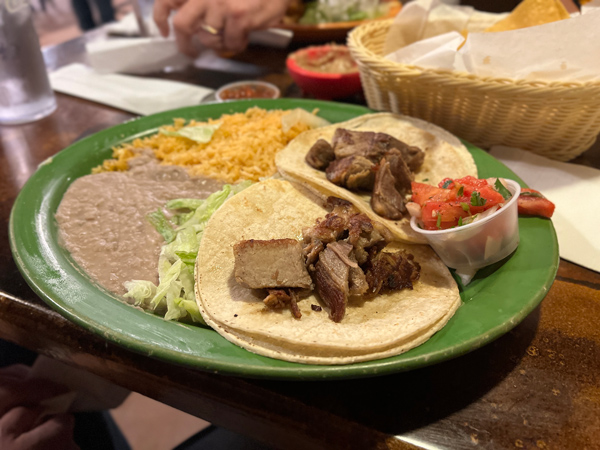 We cannot resist Papa's and Beer, especially the Brevard Road location.
When we first moved to Asheville, Clayton of KnoxRoadTripper introduced us to Papa's & Beer.
They've become a tradition on our way home from Blue Ridge Parkway hikes and The North Carolina Arboretum.
A family-run business, Papa's & Beer serves authentic California-style Mexican cuisine. They have flautas, burritos, enchiladas, tacos, seafood, and much more.
Their menu, like their portions, is quite large. Everything is delicious, and we are pretty sure you will want a margarita to wash down your chips and bean dip.
Don't let the plaza scare you away either. What the location lacks, the food easily compensates for. Plus, there is plenty of parking.
On the weekends, watch tables quickly fill up with ravished locals.
Papa's & Beer | 1000 Brevard Rd, Asheville, NC 28806
11. Peace Love Tacos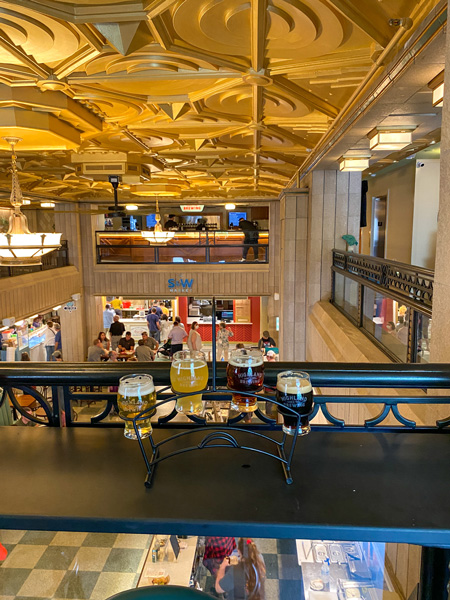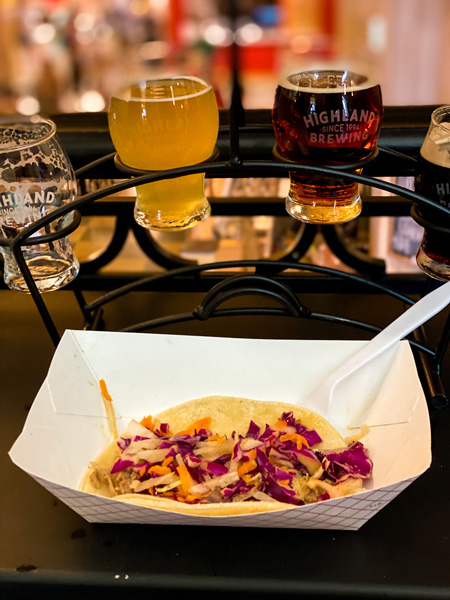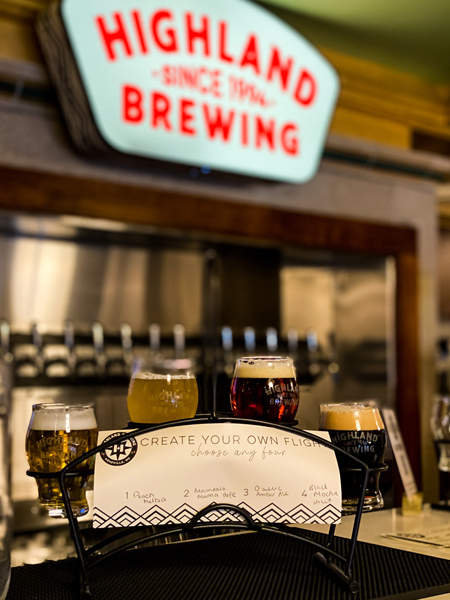 Lastly, for tacos in downtown Asheville, don't miss Peace Love Tacos at the S&W Market. Grab a flight of Highland Beer along with vegan ice cream from The Hop.
For quick tacos in downtown Asheville, head to Asheville's newer food hall, S&W Market.
The market is located in a gorgeous historic building and has all of your go-to's. Think beer, ice cream, tacos, hot dogs, and fried chicken sandwiches.
Pull up a seat on the second floor to watch people, eat tacos, and drink a flight from Highland Brewing.
Paige & Danny Scully also own Mountain Madre Mexican Kitchen & Agave Bar in downtown Asheville. Peace Love Tacos serves up a-la-carte and fresh tacos.
Peace Love Tacos | S&W Market | 56 Patton Ave, Asheville, NC 28801
12. Cantina Louie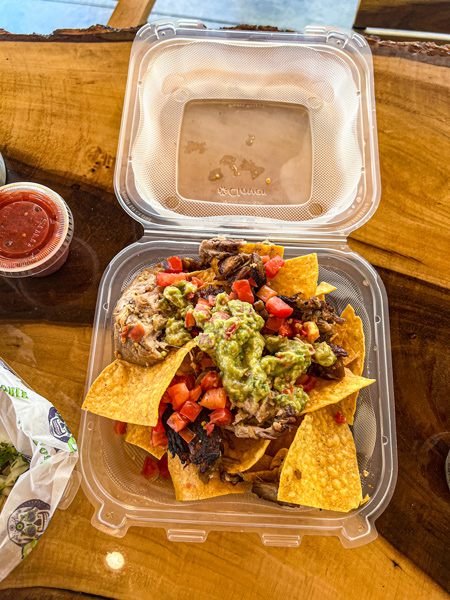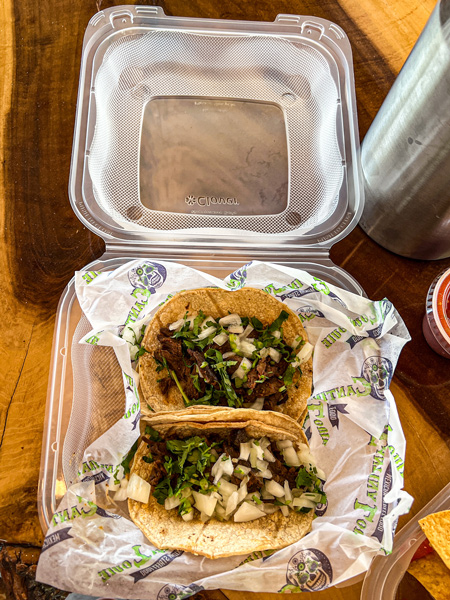 Some of the best Asheville tacos are those you can have delivered to the local winery. We love Fletcher's new Souther Williams Vineyard, and we GrubHub'd tacos from Cantina Louie.
For tacos in South Asheville – along with more Mexican cuisine – head to Cantina Louie. This is fun Mexican street food at its best.
To start, devour grave digger nachos, guacamole, salsa, queso, and ceviche. Of course, you cannot beat a taco salad, especially a mango shrimp one.
Then, choose from fajitas, specialty tacos, enchiladas, and sizeable entrees paired with a delicious and sugary specialty cocktail.
For Mexican and tacos in Asheville, Cantina Louie also features a kids' menu and is perfect for takeout. We ordered tacos on GrubHub, which easily lets you add and remove toppings.
Cantina Louie | 2 Gerber Rd Suite c101, Asheville, NC 28803
We are sad to report that after 10 years of serving delicious tacos in Asheville, Zia Taqueria in West Asheville announced its permanent closing in 2022.
You may also enjoy Tequilas Bar and Grill in Hendersonville or Ole's Guacamole in Black Mountain for tacos near Asheville.
Save The Best Asheville Taco Restaurants For Later: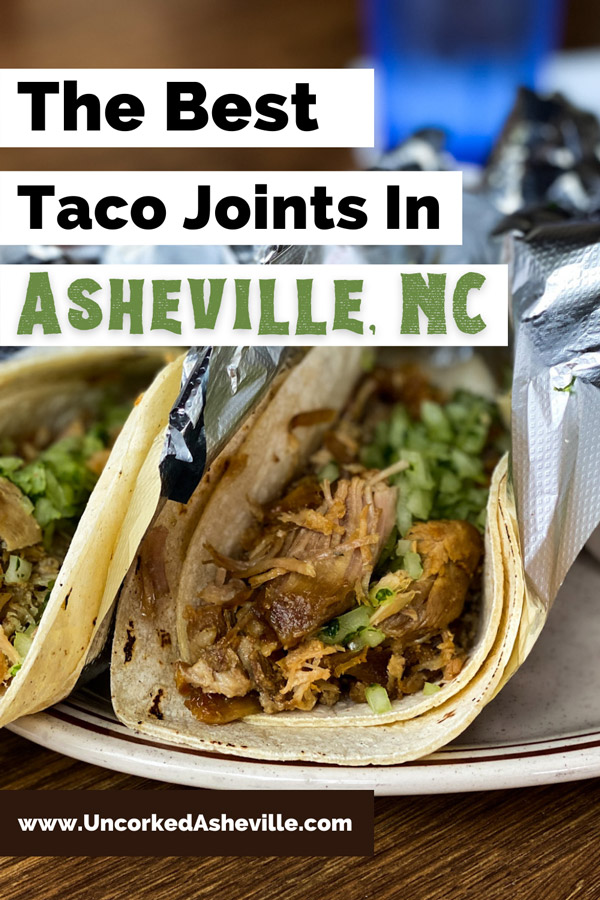 Not quite hungry yet? Save your favorite Asheville taco joints for later. Eat like a local with Uncorked Asheville.
Where do you love to get tacos in Asheville, NC?
What is your favorite Asheville taco joint? And, which taco do you love to order? What are your favorite taco fillers? Let us know in the comments!
Still hungry or craving something new tomorrow? Don't miss…
Takeout Spots
Best Indian Food
Thai Treats
Sushi Craving Busters
Top BBQ
AVL Burger Joints
Asian Cuisine In AVL