14 Best Rooftop Restaurants in Dallas (With Map!) – Roaming the USA
This post contains affiliate links , which means that we may receive a commission if you make a purchase using these links.
The Big D is all about that larger-than-life, flashy Texas-style, and there's no better way to snag the best views of the city than from these incredible rooftop restaurants in Dallas.
What could be better than digging into a delicious meal while also gazing out over miles of big city lights and uniquely designed buildings?
Restaurants with a view are one of our ways to explore a city; you get to tour the food and the scenery all at once!
These recommendations span all kinds of cuisines and budgets, but the one thing they all have in common is stunning sights of the Big D down below.
So if you're ready to embark on your Dallas foodie adventure and see the city while you're at it, keep reading!
We've even included a map of all the restaurants listed here (and in nearby towns) so you can fit them neatly into your itinerary.
Eating out with your significant other? Check out our suggestions for romantic things to do in Dallas for some ideas on how to spice up your trip.
The Best Rooftop Restaurants in Dallas
Dallas' cityscape has been the recipient of numerous architectural accolades and distinctions. In fact, in 2014, a USA Today Readers' Choice contest awarded the city the title of "Best International Skyline."
But because North Texas is so flat, there aren't exactly any mountains you can climb to check out the city from a bird's eye view.
That's why we've put together this list of all the rooftop dining spots that should definitely snag a spot on your Dallas itinerary.
Happiest Hour
$$ | American Bar & Pub | Downtown
No one takes the saying "Everything is bigger in Texas" quite as seriously as this rooftop spot. Happiest Hour is the largest rooftop restaurant in Dallas and one of the buzziest places to grab a drink in the city.
Despite its sprawling layout–the restaurant encompasses a whopping 12,000 square feet of both indoor and outdoor space–seats can still be hard to find on weekends.
That's because Happiest Hour has successfully drawn in Dallas' trendiest clientele with its central location, immersive views of the downtown skyline, and impressive list of 50 beers on tap.
The playful atmosphere is easy to jump into, and they have board games scattered around the restaurant for your entertainment. Their slogan–"eat, drink, happy"–pretty much says it all.
Website | (972) 528-0067
Two glasses with mimosa cocktail (cave plus orange juice)
Mirador
$$$$ | American Restaurant | Downtown
As the name suggests, Mirador is known for its floor-to-ceiling windows that look out over the heart of downtown Dallas, as well as a patio that hovers above the action of the busy streets below.
The elegant interior offers a clue into the cuisine dished up onsite. Mirador is lauded for its upscale takes on traditional American fare, from shrimp and grits to tater tots.
Of course, they have a number of classics as well, including beef tartare and an impressive Wild King Salmon.
There are plenty of fancy restaurants in Dallas, but Mirador has the views to back up its price tag.
Website | (214) 945-8200
Tei-An
$$$$ | Japanese Restaurant | Downtown
No list of Dallas restaurants with a view would be complete without Tei-An, the exclusive, members-only rooftop that has racked up a near-endless series of awards and praise.
Critiques of Tei-An are hard to come by, and the cuisine, service, and design all have rave reviews.
Go for the exquisite dishes but stay for the skyline views that belong on the cover of a magazine.
Tei-An hosts occasional jazz evenings, where you can enjoy the intimate rooftop while sipping on one of the restaurant's signature cocktails. If you can get in, that is.
Every once in a while, this upscale restaurant opens to the public, so keep an eye out and you may just have your chance at true Dallas luxury.
Website | (214) 220-2828
The Woolworth
$$$ | American Bar & Restaurant | Downtown
Sophisticated and lowkey, The Woolworth is the perfect place to watch a sports game in style or impress a significant other.
This downtown venue blends the best of Southern hospitality and old-school class.
The wood interiors and low lighting add allure to any dinner and drinks experience, while a menu full of tacos, burgers, and steaks reminds you that you're in Texas.
Their rooftop, while only on the second floor, offers views of Dallas' famous quirky sculpture, The Eye, as well as some of the city's parks.
But what people really go to Woolworth's for is the atmosphere, as the patio is usually buzzing well into the night.
After all, they offer handcrafted cocktails and a range of craft beers during their happy hour that won't totally break the bank.
Website | (214) 814-0588
The Woolworth is one of the best rooftop restaurants in Dallas
Vetted Well
$$ | American Bar & Restaurant | Downtown
Among rooftop restaurants in Dallas, Vetted Well has been a long-time favorite, and for good reason.
Located on the second floor above the Alamo Drafthouse Cinema, Vetted Well is a casual bar with gorgeous views of Downtown Dallas and plenty of outdoor space for large groups.
It's always an enjoyable space to hang out with friends or to step away from tourist activities and just let loose.
Harkening their downstairs neighbor, Vetted Well serves up all the movie must-haves, from snacks like bottomless popcorn and classic candies to heavier items like burgers and hot dogs.
They also have four themed karaoke rooms and extensive beer, wine, and cocktail menus, so you're sure to have a good time.
Website | (214) 914-4443
Terilli's
$$$ | Italian Restaurant | Lower Greenville
Looking for a fiery date night spot? A rooftop dinner at Terilli's is sure to impress your loved one, whether it's a first date or anniversary celebration.
When Jeannie Terilli was dreaming up the concept of this restaurant, she decided that pizza was too easy, and that Italian cuisine needed a uniquely Texas twist.
Thus, the "italcho" was born, a plate full of delectable, homemade Italian nachos that have gotten many a local hooked and always coming back for more.
Terilli's famous ice-cold martinis are also a must-try, and they have 17 variations to choose from, so we won't blame you if you sample more than one.
As for the rooftop, Terilli's boasts a relaxed atmosphere that makes up for its lack of panoramic views with a charming, immersive dining experience.
They even have fire pits for the winter months and the rare nights when Dallas gets a bit cold.
Website | (214) 827-3993
Photo courtesy of Terillis
Dodie's Dallas
$$ | Cajun Restaurant | Lower Greenville
New Orleans is an 8-hour drive from Dallas, but why spend so much on gas money when you can dine on true Cajun cuisine without even leaving the city?
Dodie's is the premier destination for spicy dishes (they even make their own hot sauces in the house), live music, and delicious cocktails.
The surrounding area is also quite lively, so watching the city swirl below you from Dodie's rooftop, it's easy to feel like you've slipped into the French Quarter for a while.
Perhaps most importantly, the menu covers all the Southern classics–crawfish, gumbo, and even some Texas-style beignets!
Website | (214) 823-7333
HG Sply Co.
$$ | American Restaurant | Lower Greenville
For anyone that loves to fill up on natural, healthy foods without giving up Southern treats entirely, HG Sply Co. provides an ultra-trendy space in which to indulge.
Their menu includes primarily paleo options, like pick-your-own-protein bowls or customizable salads, and the beer and refreshing cocktail options are plentiful.
The star, of course, is the cozy and rustic outdoor patio, where you can enjoy rooftop dining at its finest.
This spot is always packed with locals, but especially at dusk, when you can catch a spectacular Dallas sunset and then drink the night away under string lights.
Since it's just outside of downtown, the skyline views are stellar, and even more so after all the buildings are lit up.
It's the kind of restaurant that appeals to everyone. The menu is accommodating for all tastes and dietary restrictions, and the atmosphere is warm and friendly.
Website | (877) 832-8723
Harlowe MXM
$$$ | Gastropub | Deep Ellum
A spacious rooftop overlooking downtown, a top-notch brunch menu, and sleek architectural style–what more could you ask for?
Harlowe MXM brings a laid-back atmosphere to the heart of Deep Ellum, which means it's the perfect place to kick off your evening before exploring the neighborhood's legendary nightlife.
Of course, with live music of their own and some of the best craft cocktails in the city, Harlowe MXM may just keep you around until closing time.
Still, show up early; happy hour (which runs from 11 AM-7 PM Tuesday-Friday) lets you snag all house wines, frozen drinks, draughts, and cocktails for only $5 each!
Website | (214) 624.3310
Sip some wine in one of the most pleasant rooftop restaurants in Dallas
Vidorra
$$ | Mexican Restaurant | Deep Ellum
Perhaps the only things locals love more than quality Tex-Mex are their dazzling Dallas rooftops, and Vidorra delivers on both accounts.
The name means "a good life" in Spanish, and you'll certainly feel a weight lifted off your shoulders the second you walk out onto their colorful, vibrant patio.
Many of the design elements incorporated throughout the space draw inspiration from Mexico City, so a meal here almost feels like a trip South of the Border.
But those cityscape views will instantly remind you that you're in The Big D. The outdoor bar even has a retractable roof built-in, so you can gaze at the Dallas skyline in any weather.
Vidorra is particularly popular as a nightlife destination, evident in their variety of tequila flights and sharing-sized cocktails served up in punch bowls.
Website | (214) 215-0640
Nora
$$ | Afghani Restaurant | Bishop Arts
Dallas is well-versed in Mexican cuisine, down-home American favorites, and Southern comfort dishes, but Afghan fare isn't something you'll typically find in the city.
That's what makes Nora such a standout in this lineup. Featuring a menu full of tender lamb, traditional soups, and grilled veggies, this spot will stun with its food and atmosphere.
While they have since changed locations and no longer feature a rooftop space, Nora is still well worth a try.
Website | (214) 828-0095
Ser Steak+Spirits
$$$$ | Steakhouse | Design District
Sure, Texas has plenty of steakhouses, but Ser stands a level above the rest (literally).
With a position atop the Hilton Anatole, 27 floors above the city sidewalks, this is far and away one of the most breathtaking rooftop restaurants in Dallas.
The stunning interior design and impressive selection of steaks and seafood make dining at Ser a night to remember, but the amazing views still manage to steal the show.
They do enforce a business casual dress code, so be sure you've packed an outfit just for this experience.
And to seem even more like an insider, here's a tip. The name is pronounced "sear," as a nod to the top-notch meats they cook up.
Website | (214) 761-7479
Millionaire's pie – Image courtesy of Hilton
Saint Rocco's
$$$ | Italian Restaurant | Trinity Groves
If you're searching for a little slice of New York way down South, look no further than Saint Rocco's.
This Italian-American enclave is well-known and well-loved for its mastery of comfort food.
It's like your grandmother's cooking if your grandmother happened to be a prominent chef. Some have even called it the best Italian food in Dallas.
The co-owners agree that the meals they serve should speak for themselves, and that's why they focus on the classics.
However, the scenery is anything but standard.
Because it's located on the opposite side of the Trinity River from the city center, Rocco's Rooftop showcases some of the most enchanting panoramic views of the Dallas skyline.
When it comes time to order, we recommend the Parmesan Truffle Fries as an appetizer, and the Braised Pork to really bring the meal home.
Get ready to take a break from sightseeing for a while after this one, because you may be too full to get back on your feet.
Website | (214) 542-5788
The Clover Club
$$$ | American Bar & Restaurant | Uptown Dallas
Travel back in time at one of the swankiest rooftop restaurants in Dallas. The Clover Club's rooftop patio is decorated with long red couches that back up against the city lights of ultra-modern Uptown.
Once you've gotten your fill of the sweeping views, head inside for live music in the cocktail lounge.
The Clover Club hosts bands almost every night, with jazz featured early in the evening and DJs that take over past 10 PM.
Craft cocktails are their self-proclaimed specialty, so be sure to sample one. They're both delicious and delightfully named.
Alternating between the lowlights of the jazz lounge and the open-air rooftop, it's easy to spend all night in this incredible venue in Uptown!
Website | (972) 685-5128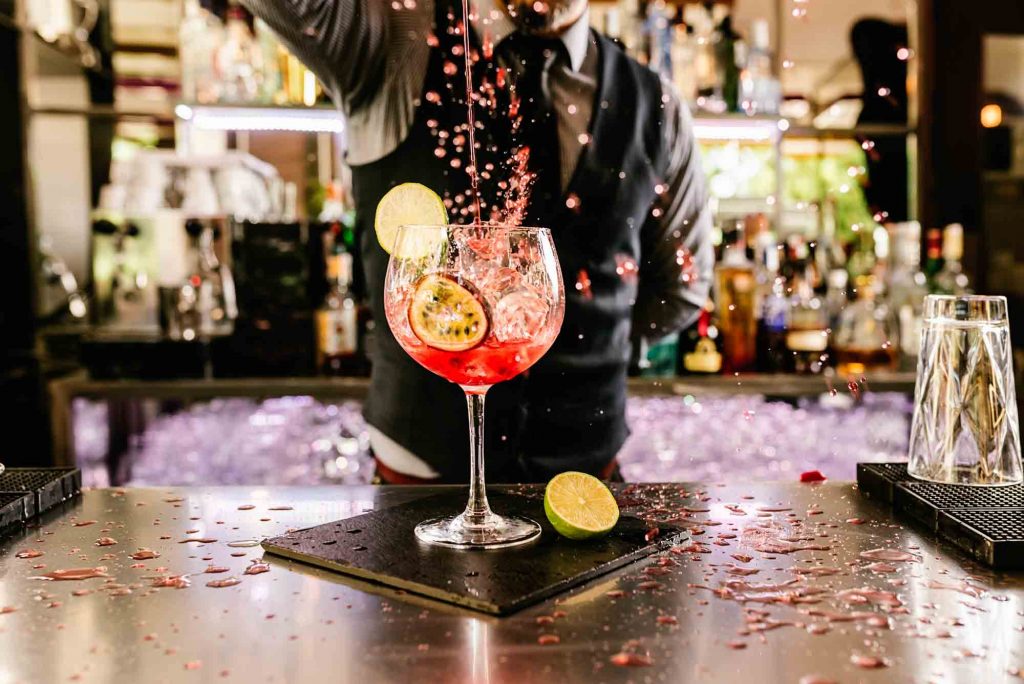 Map of Rooftop Restaurants in Dallas and Surrounding Area
We know it can be a little overwhelming to look for the perfect spot for dining, especially with a city skyline view.
This map also includes some rooftop restaurants in Fort Worth and Plano, which are a short road trip from Dallas.
That's why we made this interactive and handy map for you. We hope it's useful!
Click here to access the map. 
More Venues in Dallas
Premium beers, fashionable spaces, modern rooftop lounges, and a wide selection of the most creative cocktails, the rooftop bars in Dallas are top-notch and do not disappoint.
In this guide above, we talk about our favorite spots for a few drinks and a great happy hour, which also includes lots of pretty spots with absolutely everything–from infinity pools to incredible interior designs to delicious drinks.
But that's not all! We have covered the most romantic restaurants in Dallas for Valentine's and all-year-round celebrations with your significant other.
Dallas Travel Resources
If you're a tourist traveling to Dallas, you might want to read our one-day itinerary or weekend in Dallas itinerary. They are packed with incredible things to do in the Big D!
Feeling a bit adventurous? Then go hunting murals in Dallas, or who knows, plan a weekend getaway from the big city. After all, there are tons of lovely places in the state, including some mind-blowing beach towns.
Last but not least, Dallas is a big city, so it might be overwhelming to find good accommodation in town. To help you with that we wrote handy guides on the best VRBO in Dallas as well as a guide to where to stay in Dallas.
We hope they are useful!
Did you like this post about the best rooftop restaurants in Dallas? Then share it with a friend who might like it too!