15 Best Pizza Places in Dallas, Texas
If you ever crave a cheesy, gooey, crispy slice of pizza in Dallas, you have nothing to worry about! Dallas is a great place to be when it comes to pizzas. From fancy Italian restaurants to famous chain pizzerias, the choices are countless.
This Post: 15 Best Pizza Places in Dallas, Texas
If you try to figure out which pizza place to visit in Dallas, we guarantee you'll spend hours. To your rescue, we've already done the restaurant hunting for you! Read on to find out the 15 best pizza places in Dallas.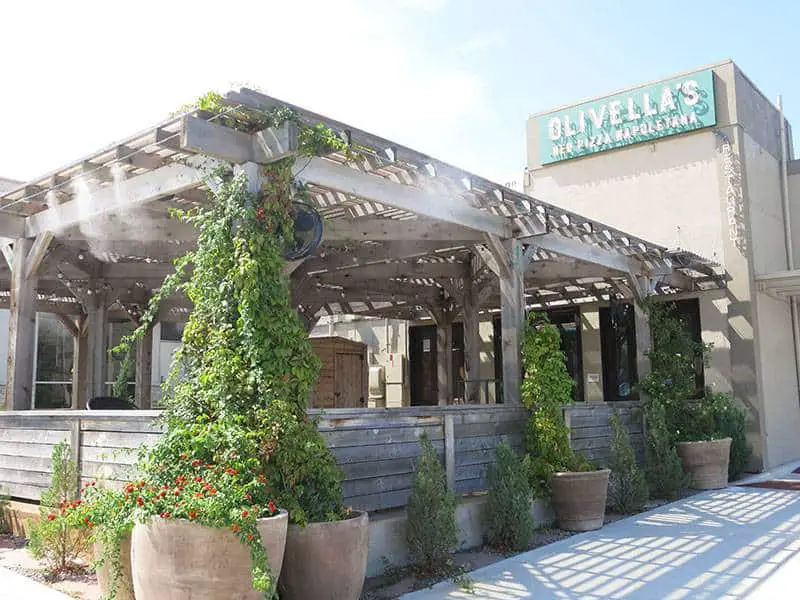 Olivella's Pizza and Wine Shop is famous as Dallas' best pizza place, and rightfully so! Started by the third oldest pizza family from Naples, Italy, Olivella's has also been named "Best Pizza in Texas" by USA Today and recognized by the Observer as the Best Pizza in Dallas three times.
Olivella's menu is loaded with plenty of exciting Italian dishes ranging from pizzas and pasta to their century-old deserts. They also serve both Romans as well as Neapolitan pizza pies. And, the atmosphere at Olivella's is amazing!
If you're new to Dallas or if you're a local looking for a new pizza place, you must visit Olivella's Pizza and Wine Shop at least once. Dine-in or opt for curbside pickup or delivery; the choice is yours!
Address: 6465 E Mockingbird Ln #525, Dallas, TX 75214, United States
Contact: +1 469-730-2626
Address: 3406 McFarlin Blvd, Dallas, TX 75205, United States
Contact: +1 214-528-7070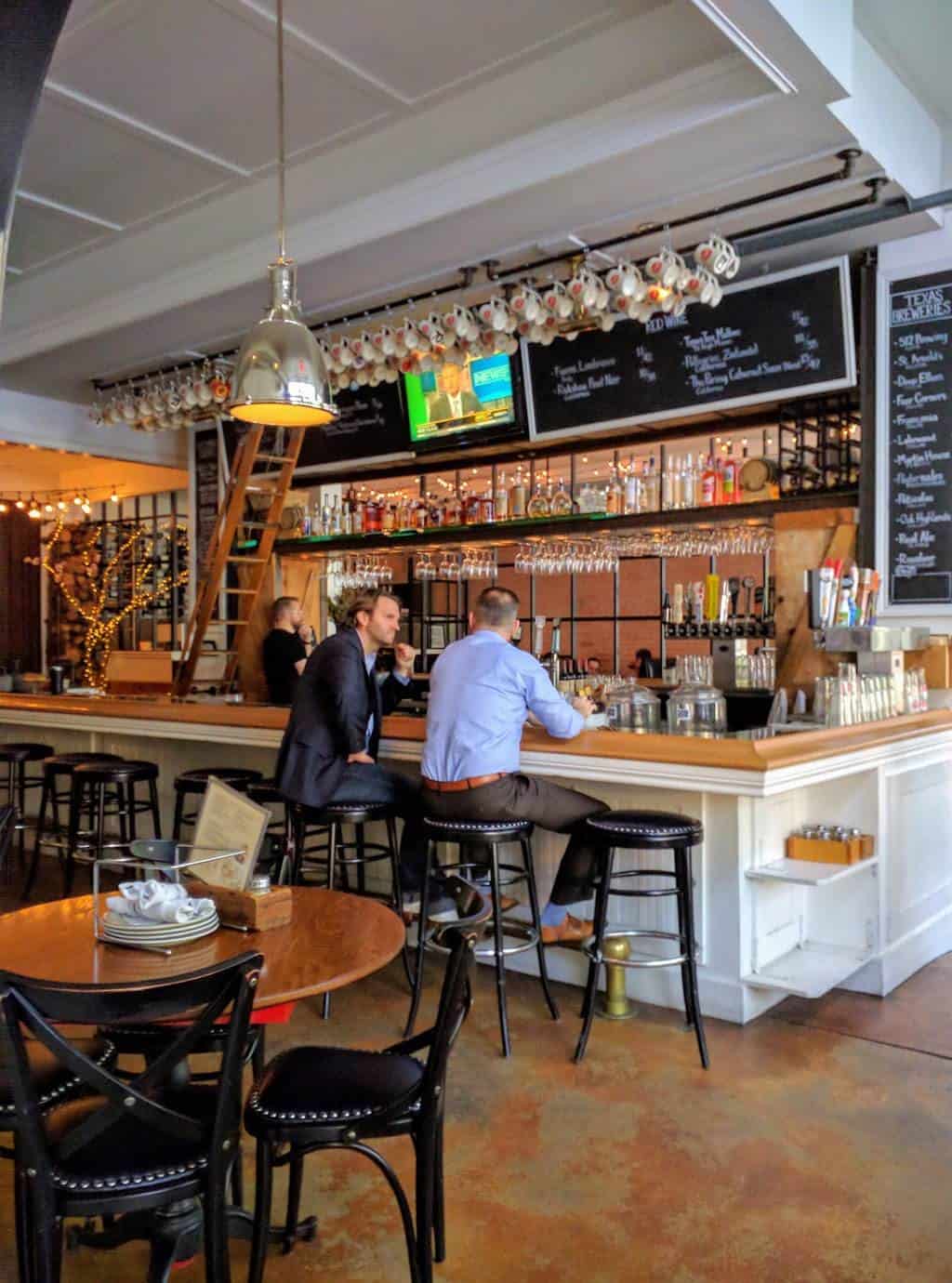 Located in the middle of Bishop Arts District, Eno's Pizza Tavern uses fresh ingredients direct from the farm and vouches for an atmosphere as warm as their pizzas and pasta. And we absolutely agree with them! Eno's pizza really does have a great atmosphere and friendly set of staff.
If you've got an adventurous tongue and want to try something new, go for their pig smiley pizza. It has received rave reviews! Eno's also has a great selection of appetizers and beer on tap. So, if you're craving some hot and crispy thin-crust pizzas and a cold beer, Eno's is your place!
Address: 407 N Bishop Ave, Dallas, TX 75208, United States
Contact: +1 214-943-9200
Address: 3111 Olympus Blvd Ste#110, Dallas, TX 75019, United States
Contact: +1 469-993-0399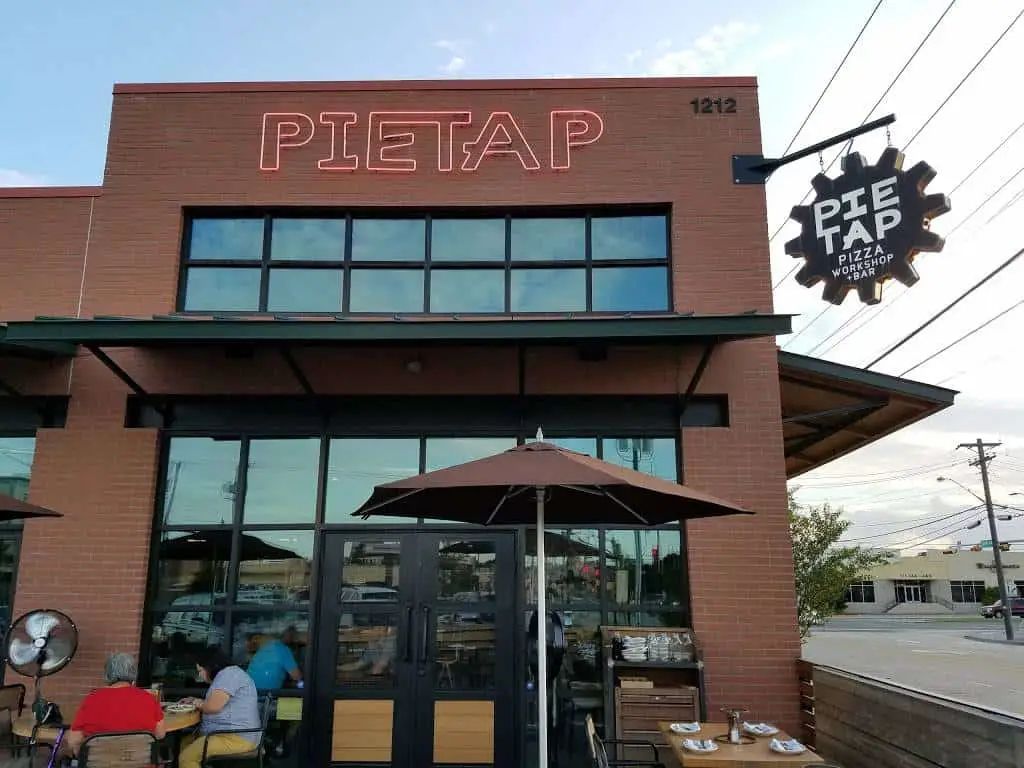 Pie Tap Pizza Workshop + Bar is a neighborhood spot that serves piping hot handcrafted pizzas straight out from their Italian twin oven.
The best part about the bar is that they offer over 35 taps pouring a variety of local beers, specialty wines, and even crafted cocktails. And their appetizers are to die for! The ambiance is lovely, the bartenders are fun, and the food is great! What more could anybody ask for?
And a quick tip – if you get a pizza at Pie Tap, which we know you will, don't miss out on their dipping sauces. They're great!
Address: 1212 Oak Lawn Ave #131, Dallas, TX 75207, United States
Contact: +1 469-677-0997
Address: 2708 N Henderson Ave, Dallas, TX 75206, United States
Contact: +1 972-432-7800
Zalat Pizza believes that they go all out on their pizzas, and we second that! The perfect balance between crispiness and chewiness in their crust is unmatchable. The best part is that even if you crave pizzas at midnight, they'll serve you piping hot fresh pizzas!
Currently, Zalat Pizza offers curbside pickup and no-contact delivery. The customer service at this place is also great. Zalat Pizza at Fitzhugh is undoubtedly one of the best takeaway pizza places in Dallas.
Address:  2519 N Fitzhugh Ave, Dallas, TX 75204, United States
Contact: +1 214-370-9786
From a casual pizza-by-the-slice joint to a full dine-in Italian-inspired restaurant, Zoli's journey in the pizza world is truly worth the praise. It has been listed amongst the best pizza places in Dallas and America time and again, and we understand why!
Zoli's pizza definitely lives up to the hype. For the appetizer, order their zucchini fries; you won't regret it!
So, if you're craving some New York-style pies at Dallas, look no further, as Zoli's is your place! And if you're a Star Wars fan, that's another reason for you to be here – the restaurant has a total Star Wars theme going on.
Address: 14910 Midway Rd, Addison, TX 75001, United States
Contact:  +1 469-754-9654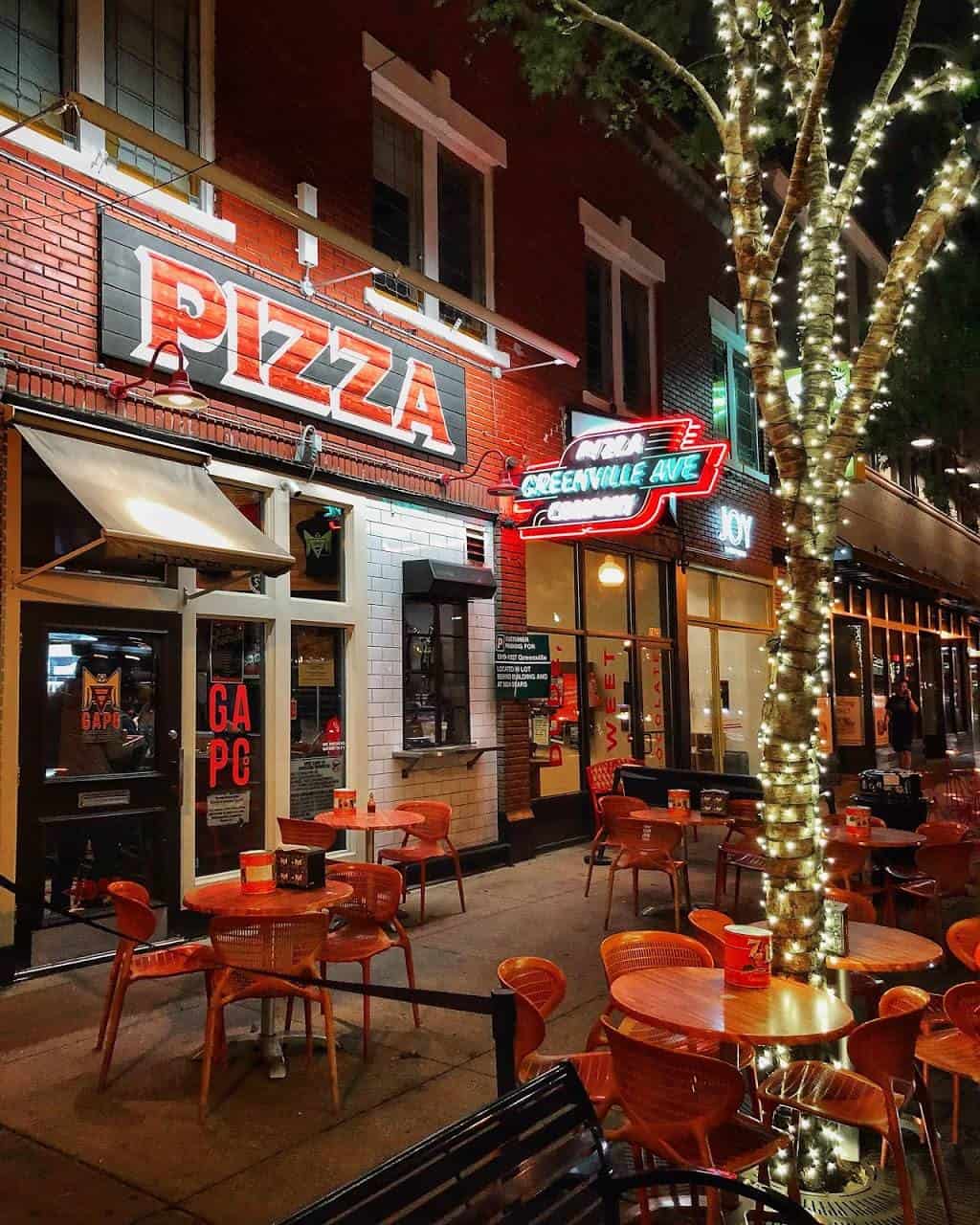 Considered as one of the best pizzerias in the city, Greenville Avenue Pizza Company not only serves you crispy thin pizzas but also delicious wings that keep you coming back for more.
RED : Zoetis Inc. – Innovative New Pet Health Start-up, Pumpkin Insurance Services, Launches in the U.S.
Craving pizza late at night? Dine-in or choose their takeaway or no-contact delivery option to enjoy Greenville's thin-crust pizzas.
Greenville started on the lowest Greenville Ave. in 2007, and today also has an eatery outlet in Peary Rd. So, if you're nearby, you know where to stop for a pizza. And don't forget to try their Spinach Alfredo Pizza if you haven't already!
Address: 1923 Greenville Ave, Dallas, TX 75206, United States
Contact: +1 214-826-5404
Address: 1145 Peavy Rd, Dallas, TX 75218, United States
Contact: +1 214-324-2726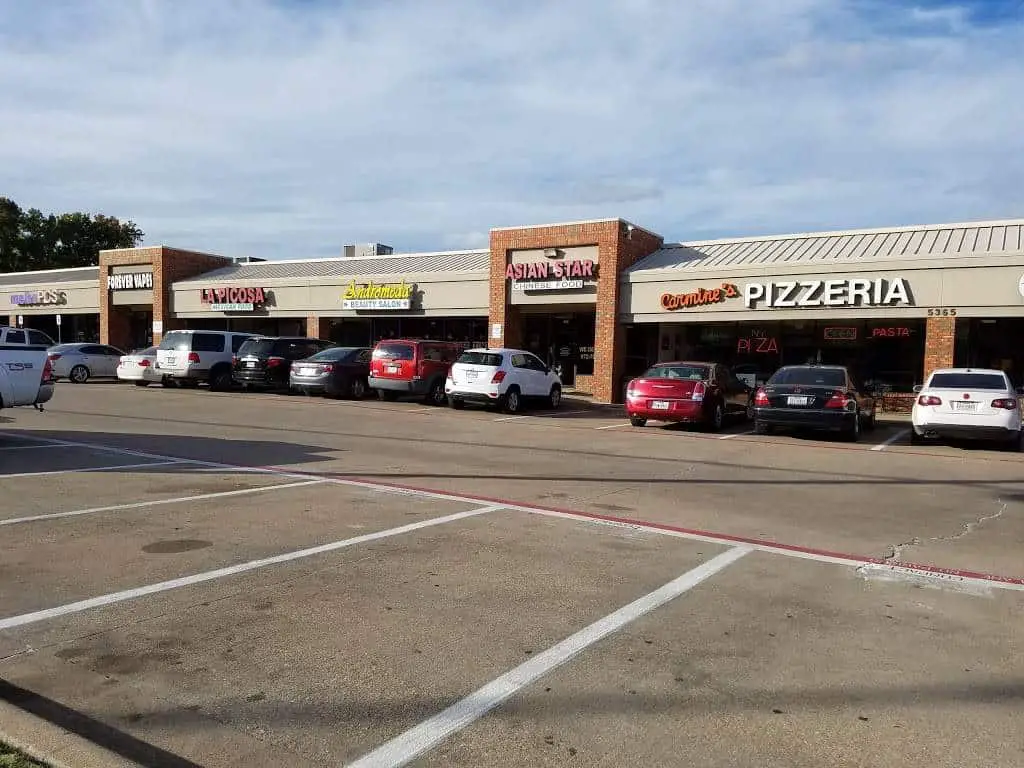 Carmine's Pizzeria serves one of the best New York-style pies in Dallas. Why wouldn't they? They've been in the pizza game for more than 30 years! The right amount of sauce, the right amount of cheese, and a perfectly thin crust – when it comes to pizza, Carmine's does everything right!
If you don't feel like pizza, their calzones and strombolis are great too! Drop in for lunch or dinner, or opt for takeaway or delivery; when it Dallas, you must try Carmine's at least once.
You can genuinely feel and taste the love, care, and patience they put into their recipes. The service is amazing, and the staff is polite. Truly a great pizzeria!
Address: 5365 Spring Valley Rd #138, Dallas, TX 75254, United States
Contact: +1 972-404-8110
When it comes to pizza, you can't go wrong at Delucca. The best part about Delucca is that they offer a Brazilian buffet concept called RODIZIO, i.e., for a fixed price, you get to enjoy all the delicious pizza flavors they offer. How great is that?
At Delucca's, they also offer a variety of heavenly delicious dessert pizzas. Their elote pizza and chicken tikka pizza seem to be everyone's favorite. Now you know what to order at Delucca's, don't you? Oh, and for starters, go for their lobster bisque. You'll not regret it!
Address: 1628 Oak Lawn Ave Ste 100, Dallas, TX 75207, United States
Contact: +1 214-774-9903
We love a restaurant that is conscious enough to go green. At Social Pie, they do their best to save water and energy. And, their takeout container is 100% biodegradable. After all, small changes like these add up to create a great difference, don't they?
And hat's off to Social Pie's humanitarian efforts! They're always looking for ways to give back to their community.
The pizzas at Social Pie are famous for their unique toppings combinations and, needless to say, their divine deliciousness. The atmosphere is also welcoming and positive. We hope you enjoy your pizza and a cold craft beer in an excellent outdoor patio setting at Social Pie.
Address: 5855 Maple Ave, Dallas, TX 75235, United States
Contact: +1 469-930-4483
Pizzas baked to crispy perfection in a coal-burning oven have their own unique signature flavor that is unparalleled to any other pizzas baked in gas, convection, or even wood-burning ovens. Grimaldi's Pizzeria has been serving such coal-fired delicacies since 1990.
Grimaldi's Pizzeria is the most award-winning Pizzeria in the U.S., and rightfully so! They use fresh ingredients, handmade mozzarella, and hand-toss their pizza dough daily.
They put great care and passion in their recipes, and it shows. Overall, Grimaldi's is a must-visit pizzeria for all the pizza lovers out there!
Address: 3636 McKinney Ave, Dallas, TX 75204, United States
Contact: +1 214-559-4611
Address: 8060 Park Ln Ste 105, Dallas, TX 75231, United States
Contact: +1 214-987-1173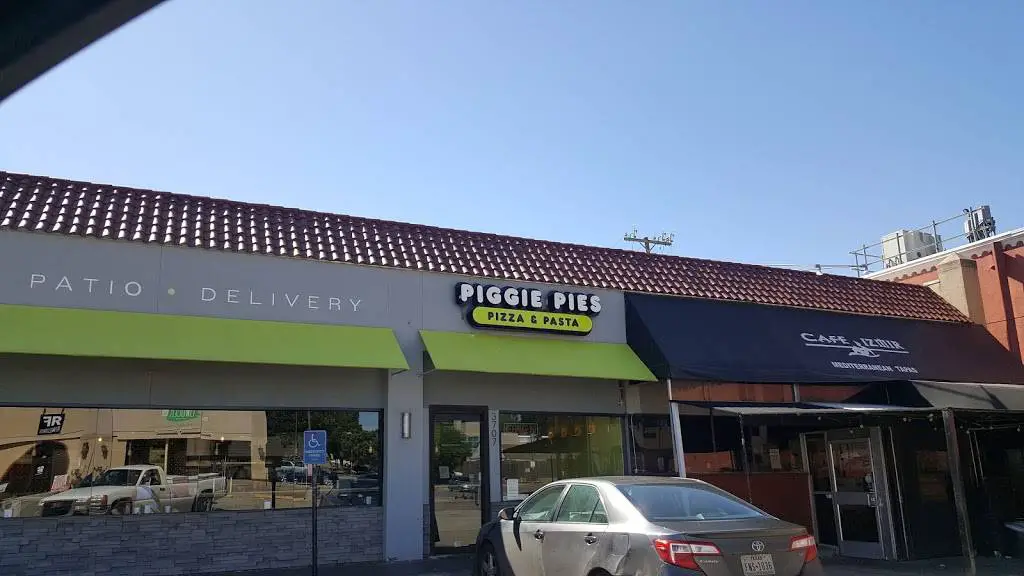 Piggies Pies is another great pizzeria for your late-night cravings. They open until late at night, generally till 12 to 1. And, they offer dine-in, curbside pickup as well as no-contact delivery services.
The history of Piggie Pies dates back to 1983 in Lower Greenville, where they first began their journey as delivery and takeout-only pizza place.
Their farm-fresh vegetables, high-end meat and cheese, and of course, perfectly made pizzas and pasta has made Piggie Pie an award-winning pizza and pasta restaurant. Moreover, everyone seems to be raving about their Fettucine alfredo with chicken. Why don't you give it a try?
Address: 3707 Greenville Ave, Dallas, TX 75206, United States
Contact: +1 214-821-6465
Are you craving some Neapolitan pizzas? If yes, look no further, as we've already found a perfect pizza place for you! Pizzeria Testa serves authentic Neapolitan pizzas in Dallas and has been able to bag a position as one of Dallas's best pizza and dining places quite a few times.
Pizzeria Testa also features a great selection of wines and seasonal as well as craft cocktails. And don't miss out on their appetizers – they're are all top-notch! The food and service is great, and the atmosphere is laid-back and welcoming. What more could anybody ask for?
Address: 3525 Greenville Ave, Dallas, TX 75206, United States
Contact: +1 469-620-2266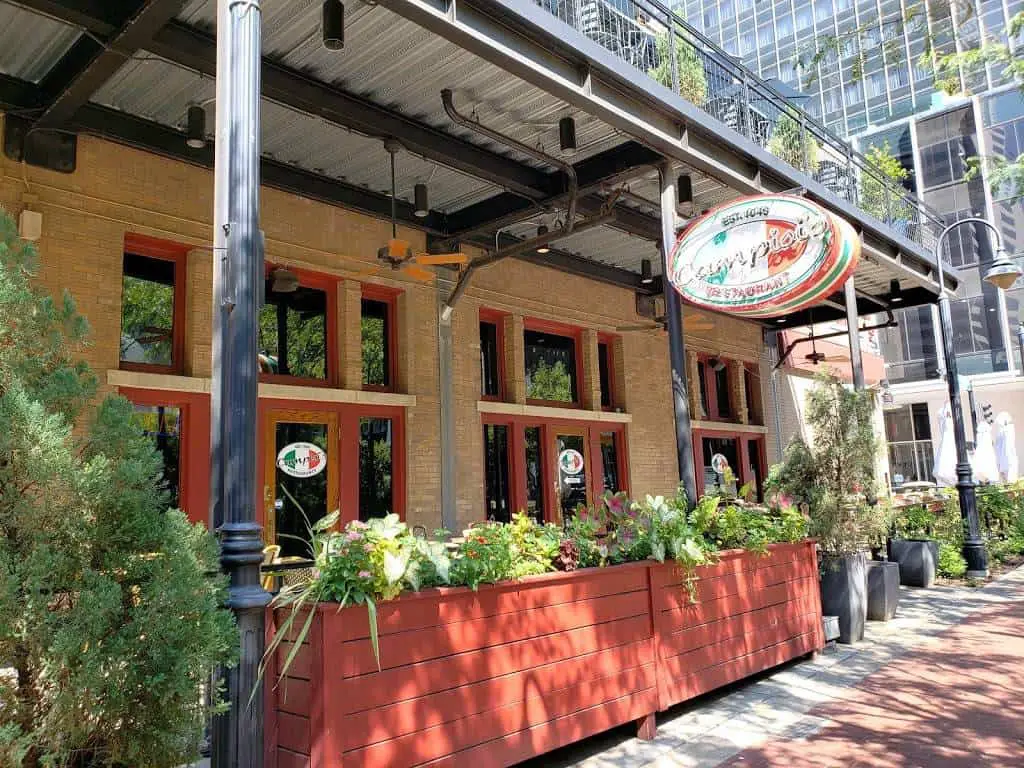 Opened in 1946, Campisi's restaurants have won plenty of hearts and awards to date. In Dallas alone, you can find four of their outlets where you can enjoy their Italian delicacies in a nostalgic atmosphere.
Amongst their thin-crust pizzas, chicken spinach alfredo pizza definitely seems to be the crowd favorite. Campisi's has also got rave reviews on their crab claws. So, make sure you try them out!
Campisi is truly grateful for all the love and support they've been bestowed since Campisi family moved from Sicily to America to fulfill their American dream. Where the owners are grateful and respectful towards their customers, no wonder the food and service there are great!
Address: 1520 Elm St #111, Dallas, TX 75201, United States
Contact: +1 214-752-0141
Address: 5610 E Mockingbird Ln, Dallas, TX 75206, United States
Contact: +1 214-827-0355
Address: 5405 W Lovers Ln, Dallas, TX 75209, United States
Contact: +1 214-350-2595
Address: 7632 Campbell Rd #315, Dallas, TX 75248, United States
Contact: +1 972-931-2267
Here's another pizza place in Dallas that serves authentic wood-fired Neapolitan pizzas. To create a premium Italian dining experience for their visitors, Cane Rosso uses the highest quality fresh ingredients and makes their dough and mozzarella in-house daily.
For a mobile pizzeria to expand to multiple locations, it really has to earn a large and loyal following. No wonder why Cane Rosso is one of the most famous pizzerias in Dallas still today.
If you're not sure what to order at Cane Rosso, go for their Honey Bastard pizza. You won't regret it!
Address: 2612 Commerce St, Dallas, TX 75226, United States
Contact: +1 214-741-1188
Address: 7328 Gaston Ave #100, Dallas, TX 75214, United States
Contact: +1 214-660-3644
Mimi's Pizzeria is famous for New York-style thin-crust pizzas and Sicilian pies. They also serve a range of delicious pasta and Italian classics as well. Mimi's pie, topped with fresh spinach, garlic, extra virgin oil, and ricotta, seems to be a crowd favorite at Mimi's.
Mimi's Pizzeria offers dine-in, takeaway, and delivery services. Staff and owners all are friendly, and the atmosphere is polite and welcoming. Saying you would regret it if you don't give Mimi's pizza at least a try would be an understatement!
Address: 6807 W Northwest Hwy, Dallas, TX 75225, United States
Contact: +1 972-215-7290
Summary
We've narrowed it down to 15, but the rest is up to you. We'd recommend you to give each of these places a chance, some for lunch and some for dinner.
But if you cannot keep yourself from returning to the same restaurant time and again. We get that too! All of these pizza places serve insanely incredible pizzas.
Dallas is a huge city, home to the best of the best pizza places. So, if we've missed out on any of your favorites, let us know!
5/5 – (1822 votes)
Share
Pin
0
Shares
Source: https://bloghong.com
Category: en