21 Harry Potter Snacks for Movie Night – Peanut Blossom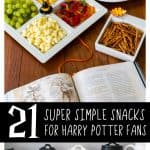 The perfect Harry Potter movie night requires the perfect Harry Potter snacks. These magically easy treats are perfect for an epic read-aloud session with your kids, too!
Read all about how we celebrated Harry Potter's birthday this summer: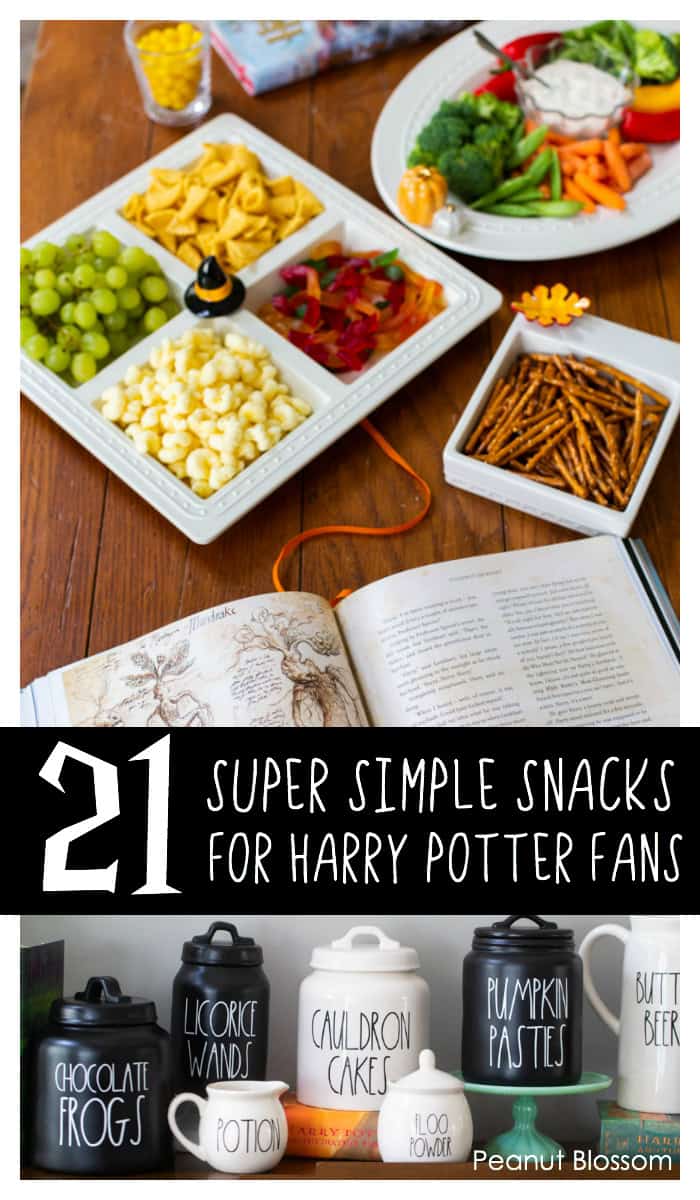 The moment I've been waiting for for over twenty years is finally here!!! From the time I first finished Harry Potter and the Sorcerer's Stone, I dreamed of being able to share his magical story with my own kids.
The Peanut has been enjoying Harry's adventures for three years. This summer, we finally brought our Little Pea into the fold. We declared this the Summer of Harry Potter and set out to read the first three books in the series together.
RELATED: What is the perfect Harry Potter age to read the books with your kids?
While we were reading the first book, I realized that Harry's birthday is July 31. Could there be a more perfect day for an epic Harry Potter movie party??
We decided to celebrate All Things Potter this week and I just had to share these easy ideas with you!
21 super easy Harry Potter snacks for the ultimate Harry Potter party: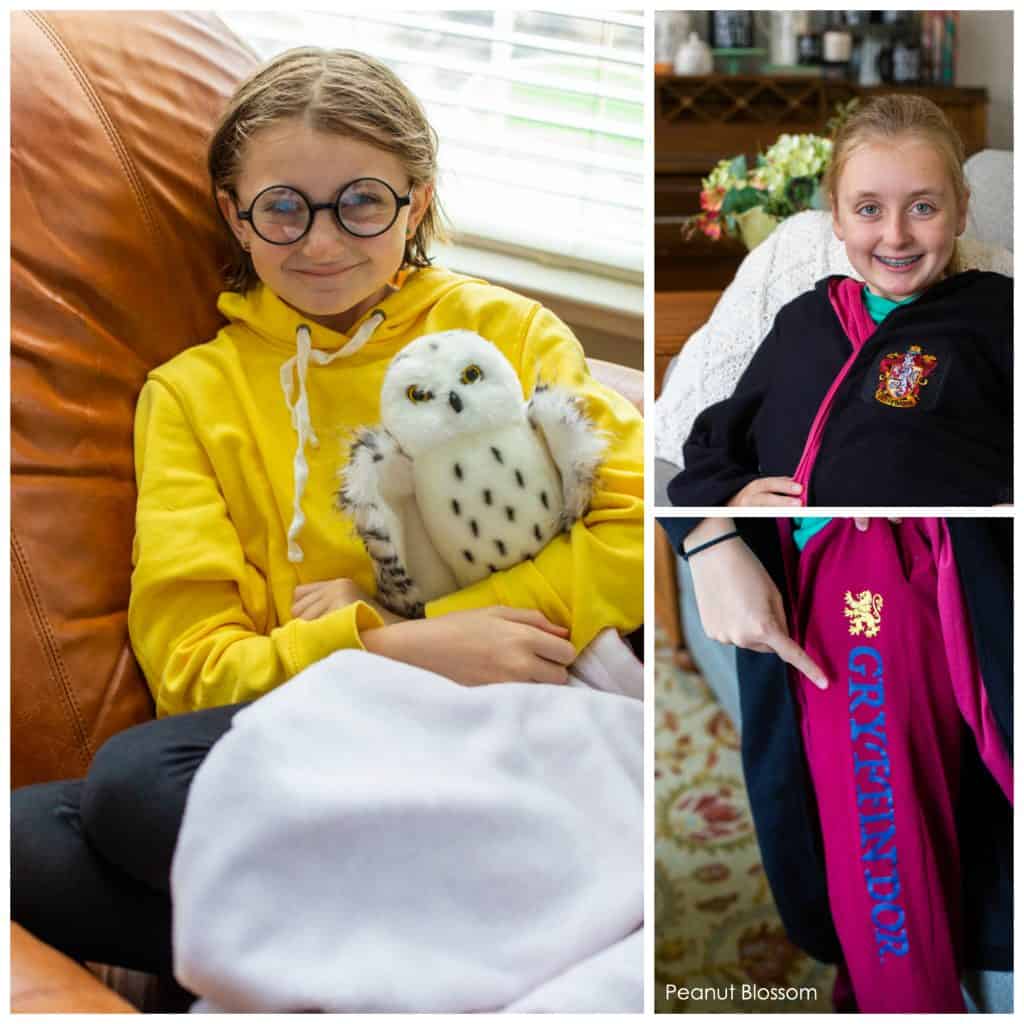 First, we set the mood:
I decorated the living room with a display of homemade Harry Potter Rae Dunn-style pottery that I crafted up earlier in the week. Fun post coming on that soon. The Peanut suggested I add my first-edition Harry Potter hardcover books I've been hoarding to the mix.
The Peanut dug up her Harry Potter robe from her Halloween costume a couple years ago and paired it with her Gryffindor jammies. Little Pea was recently sorted into Hufflepuff so donned her house colors and a pair of Harry Potter glasses.
Of course, Hedwig had to make an appearance, too!
How I picked the best Harry Potter snacks for the party:
Keep in mind, this was just for the three of us to enjoy on a random summer afternoon. We skipped lunch so we'd have a hearty appetite but I wanted our snacks to meet these parameters:
EASY, no cooking. We didn't have a ton of time, and I just wanted to grab things from the store and call it good.
Not all junk: Since we can't magically whisk away a tummy ache, I wanted to be sure we had some fruit & veggies involved!
Some treats, it's still a party: Of course we still had plenty of salty and sweet things to enjoy. This is all about balance.
Though our photos show everything altogether, I served our Harry Potter snacks in courses. This helped us to not eat too fast and ensured our movie marathon would last!
First up, the most clever serving of veggies ever: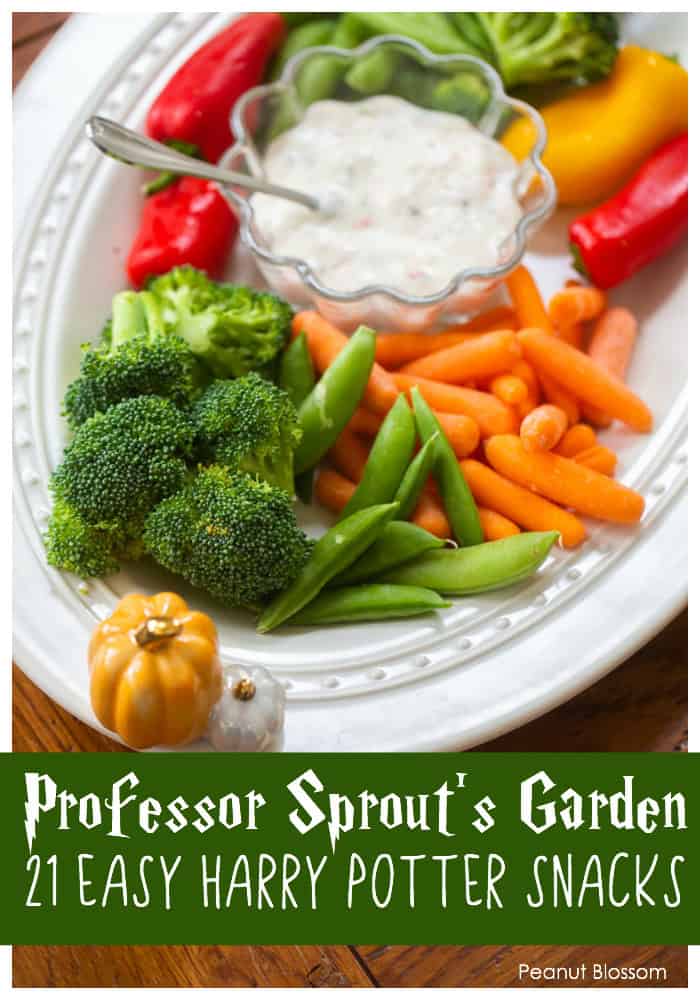 1. Professor Sprout's Garden:
I grabbed a pre-made veggie tray from Costco and served up the veggies on our adorable pumpkin platter.
2. Broomstick Dippers: 
I served up pretzel sticks as another option for dipping in the veggie dip from Costco.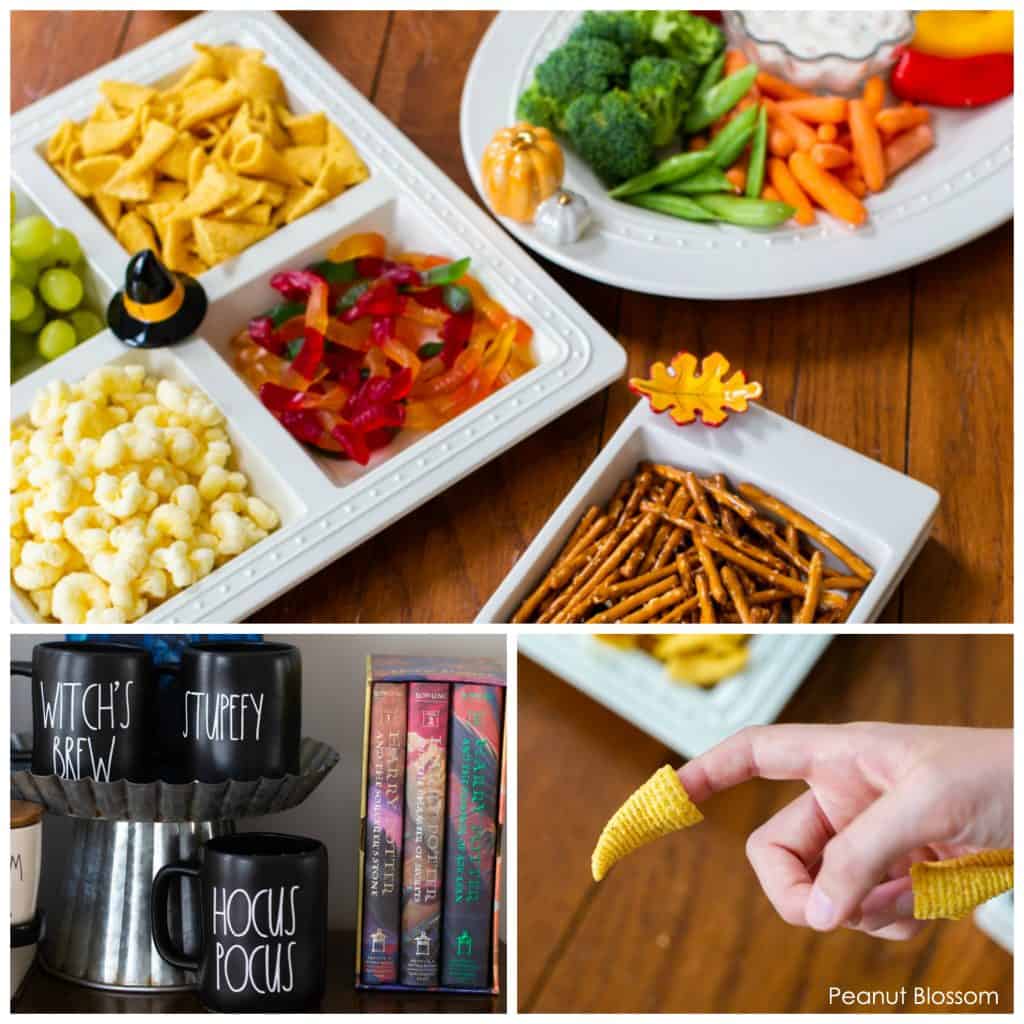 After we got our fill of veggies, I brought out the most hysterical treat tray ever.
How to make a Sorting Hat Snack Tray: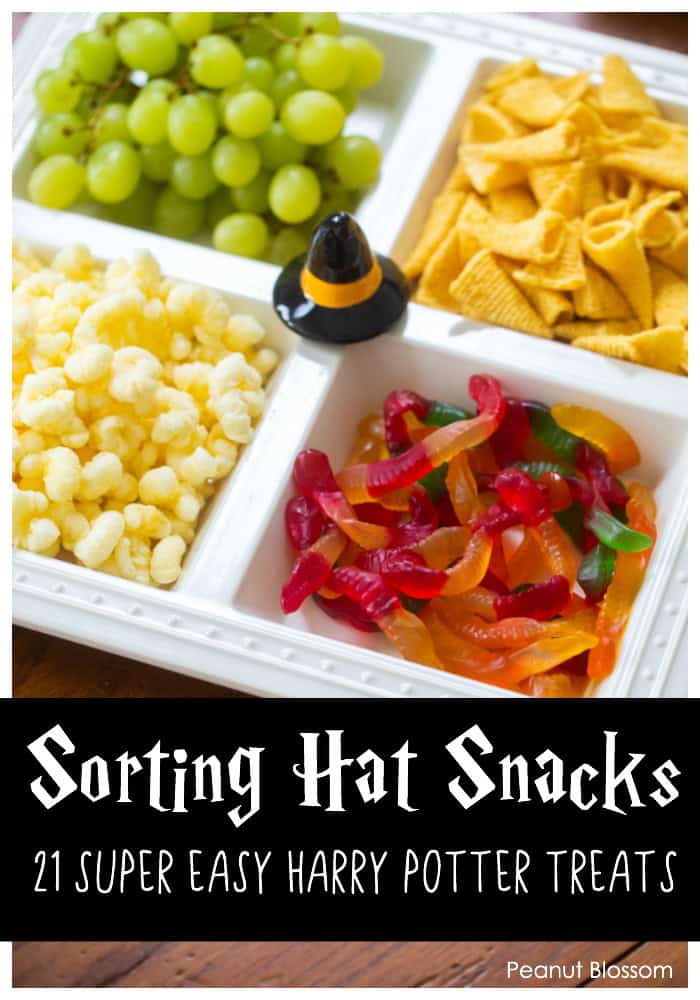 If your family hasn't been officially sorted into your Hogwarts House, you should do this fun activity before your movie party! You can find out your Hogwarts House right here.
We each took the quiz and our family was sorted as follows:
Tim: Ravenclaw
Me: Hufflepuff
The Peanut: Gryffindor
Little Pea: Hufflepuff
I put one snack representing each house onto our treat tray with a witch's hat decoration. (You can read all about the cute trays I used in this post right here.) Even if you did nothing else but this tray, you'd have the best Harry Potter snacks ever: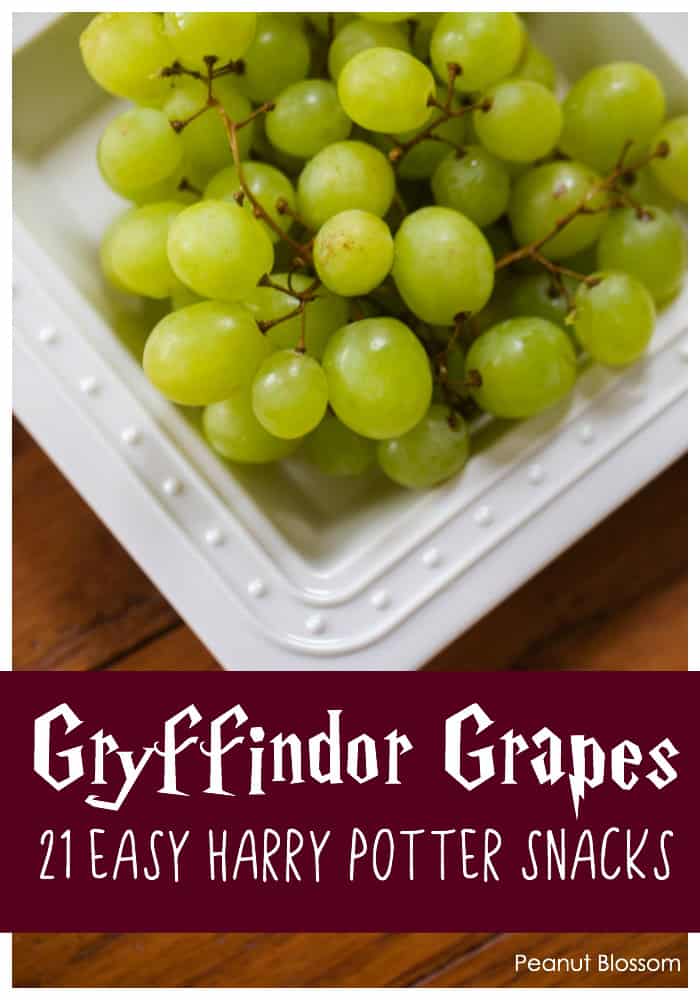 3. Gryffindor Grapes: A fun play on words and a healthy treat to boot. Red or green grapes both work, just wash up your favorites!
You could also choose any snack that represents the Gryffindor colors.
Gryffindor Colors: Red and Gold
4. Hufflepuffs: We used white cheddar Pirate's Booty but any cheese puff would work perfectly here. You could also substitute popcorn if you prefer.
You could also choose any snack that represents the Hufflepuff colors.
Hufflepuff Colors: Yellow and Black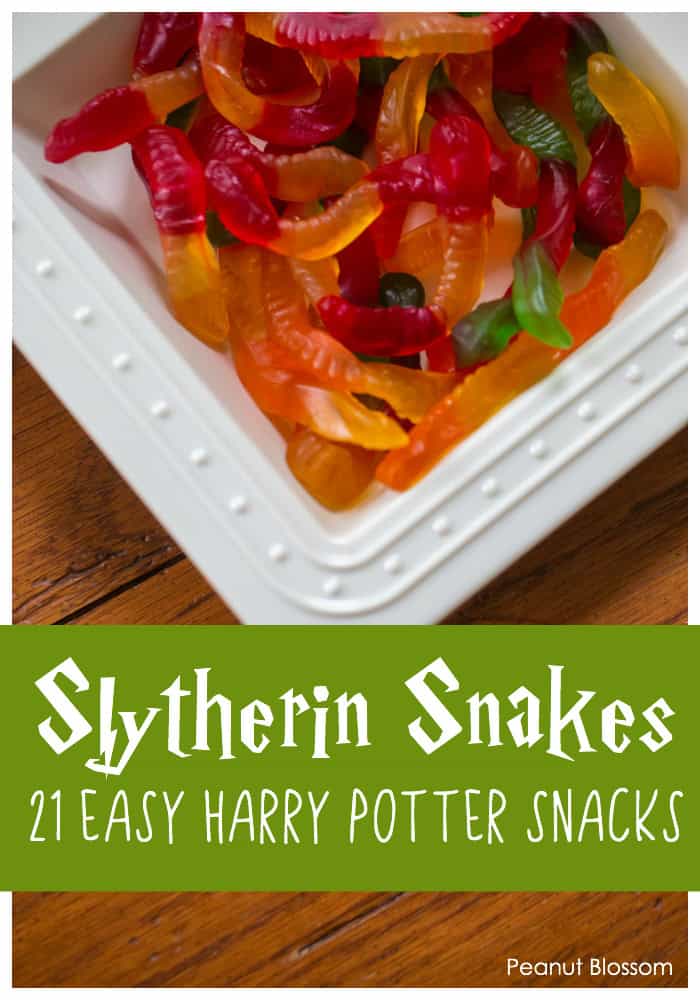 5. Slytherin Snakes: Little Pea chose her favorite gummy worms to stand in for the snakes. Pull n' Peel licorice or even mozzarella whips would also work for the snakes.
You could also choose any snack that represents the Slytherin colors.
Slytherin Colors: Green and Silver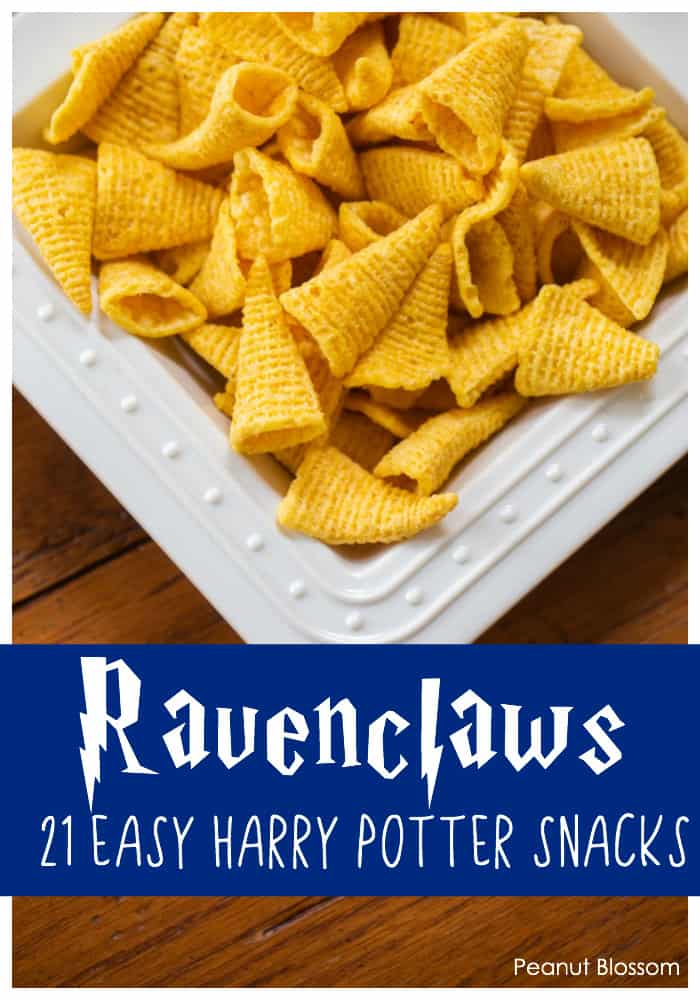 6. Ravenclaws: The surprise hit of the snack tray, my kids have never tried Bugles before! They didn't understand the joke until I showed them how to put the Bugles on their finger tips to form the raven claws. This is now one of our all-time favorite Harry Potter snacks! LOL!
You could also choose any snack that represents the Ravenclaw colors.
RED : ViacomCBS Claims 'SpongeBob SquarePants' Restaurant Ripoff, Files Lawsuit
Ravenclaw Colors: Blue and Silver (in the Harry Potter movie versions) or Bronze and Blue (originally in the Harry Potter books)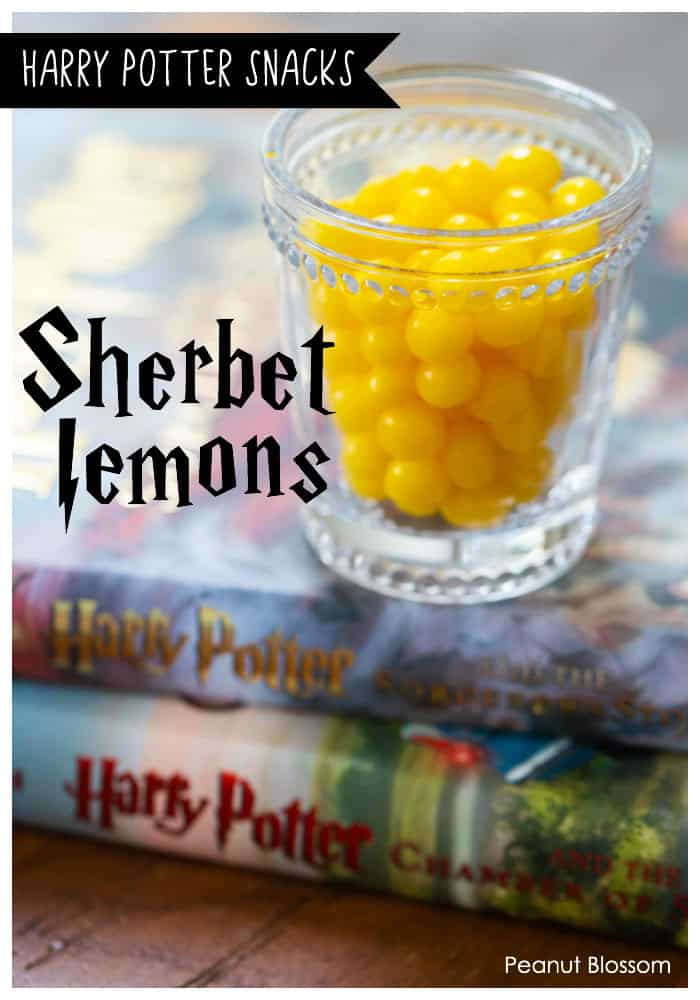 7. Dumbledore's Favorite Sherbet Lemons: We grabbed a box of Lemon Heads from the movie candy section of the store and I just poured them into a pretty cup I thought Dumbledore would adore.
8. Butterbeer: We bought old-fashioned bottles of cream soda to stand in for the Butter Beer. You could print cute labels to cover up the soda labels, but we kept it easy and just used our imagination.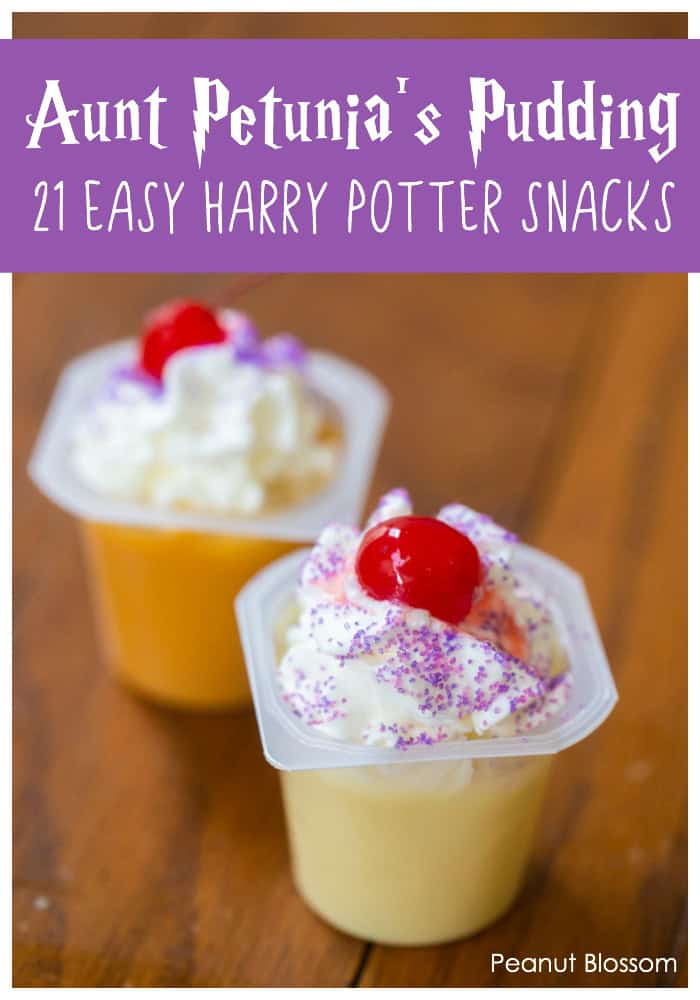 9. Aunt Petunia's Pudding: To cap off our Harry Potter movie party menu, I served up simple pudding cups topped with whipped cream, a cherry, and lavender sprinkles. The kids could choose from vanilla or butterscotch. Thankfully no house elves dropped by to pour the pudding on my living room couch.
If our menu isn't enough to make your wand twitch, here are a few more super easy Harry Potter snacks I rounded up for you:
10. Sorting Hat Sundaes: Top your favorite flavor of ice cream with a pointy sugar cone for the hat tip.
11. Every Flavor Beans: You can buy the gross but more authentic beanboozled jelly beans, or play it totally safe with your favorite jelly beans in a cup.
12. Jelly Slugs: Find gummy fish or slug-like shapes and imagine poor Ron and his backfiring wand.
13. Chocolate Snitches: Have the kids craft up some golden snitches like I used on the top of the Peanut's birthday cake! Takes just a TINY bit more effort but would look adorable on a snack tray.
14. Licorice Wands: Our family is addicted to the Pull n' Peel licorice, makes for a fun movie snack.
15. Butterbeer Popcorn: You can use your imagination with a bag of store-bought caramel corn tossed with white chocolate chips.
16. Peanut Butter Pretzels: Customize these super easy chocolate covered peanut butter pretzels with your family's Hogwarts House colors or just fun Halloween colors. Get the peanut butter pretzels recipe here.
17. Sorting Hats: Pour a bag of Hershey's kisses in a bowl.
18. Dragon Eggs: Egg-shaped Peanut M&Ms or leftover Easter candies (mini eggs or egg-shaped Reese's cups.)
19. Harry Potter's Birthday Cake: Buy a package of mini cupcakes and just add sprinkles.
20. Pumpkin Pasties: Either buy or make homemade pumpkin bread. You can use our very favorite pumpkin bread recipe here.
21. Polyjuice Potion: Any green juice you would let the kids have: Gatorade, Kool-Ade, etc.
BONUS: Harry Potter treats that take a little more time:
If you're willing to put in a little more time with your baking, you don't want to miss our other favorite Harry Potter treats:
Source: https://bloghong.com
Category: en