22 Best Italian Restaurants in Chicago, IL
From wood oven-baked pizza to piping hot calzones and al dente pasta, what's not to love about Italian cuisine? As it turns out, Chicago is home to one of the United States' largest Italian populations, which can mean only one thing: many incredible restaurants for you to enjoy this delicious cuisine. It's impossible to roam the Windy City without coming across Michelin-starred restaurants or eateries that locals will swear by. Here are some must-visit Italian restaurants in Chicago. We recommend that you call the attractions and restaurants ahead of your visit to confirm current opening times.
1.
Places to Eat Near Me: Formento's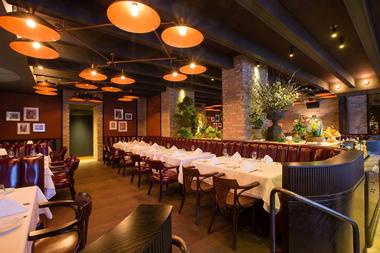 © Formento's
Situated in the hip and busy Fulton Market District in Chicago's West Loop, Formento's is, at its core, a homage to traditional Italian home cooking. Executive Chef Todd Stein features the light and bright flavors of Italy with the best ingredients he can get his hands on. Meanwhile, the recipes are all based on traditional family recipes from the owner's grandmother, while Chef Todd contributes new-age dishes to the menu as well.
In addition to a show-stopping menu, Formento's boasts a world-class wine menu with over 400 varieties from around the world. Marrying traditional Italian cooking with new-age cuisine, Formento's doesn't disappoint and makes every meal a special one.
925 W. Randolph Street, Chicago, IL 60607, Phone: 312-690-7295
You are reading "22 Best Italian Restaurants in Chicago, IL" Back to Top
2.
Restaurant Near Me: Osteria Langhe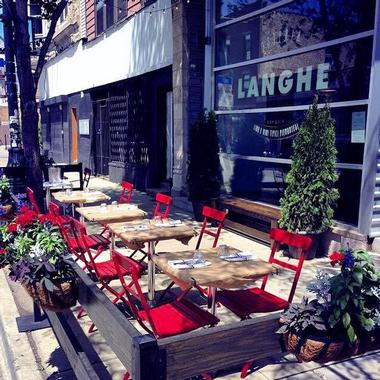 © Osteria Langhe
For those on the hunt for hearty and downright delicious North Italian fare, Osteria Langhe does not disappoint. The restaurant is located in Logan Square and focuses on slow food and fine wine with locally sourced fresh meats and produce at the heart of it all.
Cuisine at this restaurant focuses on the Piemonte region of Italy, with key dishes like snail confit with Arneis, leeks, carrots, herbs, and garlic bread. Other dishes to try at Osteria Langhe include the prosciutto-wrapped rabbit loin and the plin tossed with thyme, butter, and parmesan. To ensure that your meal is as enjoyable as possible, start it with a selection from the fantastic wine list and end it on a sweet note with citrus and vanilla fritters with tequila budino.
2824 W. Armitage, Chicago, IL 60647, Phone: 773-661-1582
You are reading "22 Best Italian Restaurants in Chicago, IL" Back to Top
3.
Good Food Near Me: Quartino

© Quartino
It's all about sharing a good meal with good company at Quartino Ristorante. Located in Chicago's busy downtown area, Quartino is a distinctive restaurant that says goodbye to the giant portions that many Italian restaurants are known for, turning instead to smaller, shareable plates. When dining at Quartino, make sure to enlist the help of friends and family to sample the fantastic cuisine that this restaurant has to offer.
Some dishes that are particularly well liked include the pork-stuffed ravioli, veal meatball sliders, and penne alla vodka. Of course, a bestseller like the fried calamari is a no-brainer, while the Nutella panino and house-made biscotti are a perfect way to end an already glorious meal. More Things to Do in Chicago
626 N State St, Chicago, IL 60654, Phone: 312-698-5000
You are reading "22 Best Italian Restaurants in Chicago, IL this Weekend with Friends" Back to Top
4.
Good Food Near Me: Sapori Trattoria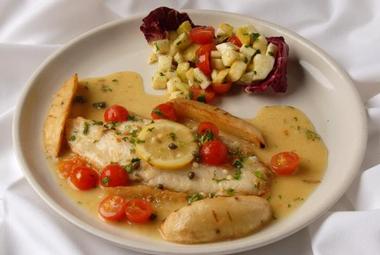 © Sapori Trattoria
Founded in 2001 by Chef Anthony Barbente, Sapori Trattoria is a cozy spot favored by locals in Chicago's Lincoln Park neighborhood. Despite being a Chicago native, Chef Anthony spent a part of his life on his grandfather's farm in Italy, soaking up anything and everything about the "Italian way." It was this experience that secured Sapori's success a couple of years later, despite a rocky beginning.
Today, Sapori Trattoria is well loved for the juxtaposition of their upscale food within a decidedly casual setting. Bestsellers from Sapori's menu include the luscious six-hour osso bucco along with homemade pastas like the cappellaci di zucca and the lobster ravioli. Diners who prefer seafood should also try the restaurant's signature dish, the zuppa di pesce, which boasts over 2 pounds of shellfish and fresh seafood.
2701 N Halsted, Chicago, IL, Phone: 773-832-9999
You are reading "22 Best Italian Restaurants in Chicago, IL" Back to Top
5.
Italian Restaurants Chicago: Monteverde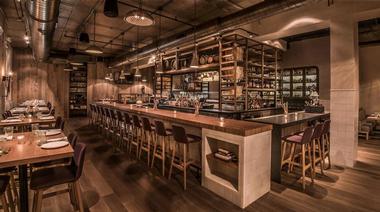 © Monteverde
Operating out of Chicago's trendy West Loop neighborhood, Monteverde
offers their guests a new way to experience Italian food. Chef Sara Grueneberg marries the traditions of Italian cooking with influences from her travels around the world. Her family heritage also plays a pivotal role in Monteverde's culinary offerings, resulting in adventurous new flavors.
With simple yet global ingredients and cooking methods that are not typically seen in Italian kitchens, Monteverde easily makes an impression with its guests and raises the bar for restaurant standards in the city. Don't miss out on their fresh, handmade pastas, which come in different shapes, sizes, and textures to suit different tastes.
1020 West Madison Street, Chicago, IL 60607, Phone: 312-888-3041
You are reading "22 Best Italian Restaurants in Chicago, IL" Back to Top
6.
Dinner Near Me: Coco Pazzo

© Coco Pazzo
With 20 years of culinary experience under its belt, Coco Pazzo has the distinction of being one of the first Tuscan-inspired eateries to open in the Windy City. Since then, Coco Pazzo has focused on cooking and serving straightforward and seasonal cuisine from Tuscany, drawing customers near and far including the country's top businessmen, A-list celebrities, and politicians.
Bestsellers of this fine dining establishment include gnocchetti tossed with tomato sauce, buffalo ricotta, and fresh basil. Coco Pazzo also has an impressive dessert menu with favorites like the house-made gelato and crowd-pleasers like the panna cotta with huckleberry sauce and caramelized citrus zests. One bite of any of Coco Pazzo's dishes is bound to send you straight to the Tuscan countryside.
300 W. Hubbard, Chicago, IL 60654, Phone: 312-836-0900
7.
Dinner Near Me: La Scarola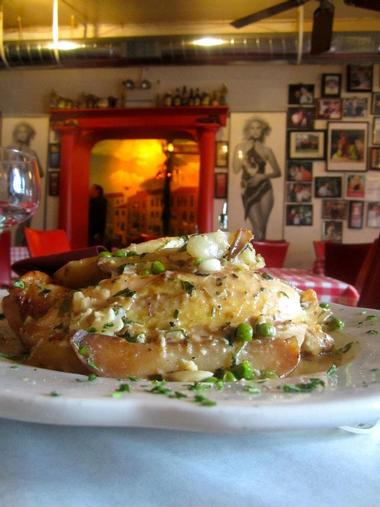 © La Scarola
With 18 long years in the business of cooking up fantastic Italian food, La Scarola takes pride in making sure that each visitor's dining experience is a memorable one. La Scarola is deeply ensconced in Italian tradition when it comes to their food.
Their menu is full of Italian favorites like sausage and peppers, bruschetta and Shrimp Armani for appetizers, and risotto primavera, Veal Mondelli, and more for mains.
Other favorites include the hearty pasta e fagioli, while the gamberi risotto is an absolute treat for the senses. Dine in for a great dinner or give them a call for catering and carry-out dishes that will make entertaining as easy as pie.
721 West Grand Avenue, Chicago, IL 60610, Phone: 312-243-1740
8.
Good Food Near Me: Nico Osteria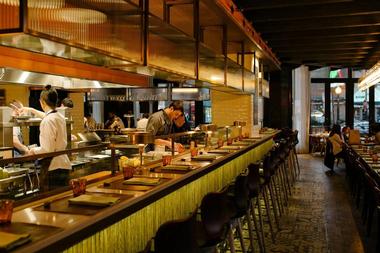 © Nico Osteria
In the heart of Chicago's Gold Coast neighborhood, Nico Osteria cooks up mouthwatering Italian seafood much to the delight of local guests as well as visitors from near and far. Diners can look forward to house-made pasta cooked al dente alongside impeccably cooked seafood among other classic Italian dishes. The rustic fare is beautifully plated and served in the elegant and welcoming setting of the Thompson Hotel.
With Chef Erling Wu-Bower at the helm of the restaurant, Nico Osteria offers a wide selection of dishes for breakfast, lunch, and dinner. While there's no arguing that every single dish on the menu is delicious, there's truly something incredible about their seafood dishes that diners simply mustn't miss out on.
1015 N Rush Street, Chicago, IL 60611, Phone: 312-994-7100
"22 Best Italian Restaurants in Chicago, IL" Back to Top or Romantic Getaways, Wedding Ideas close to me this weekend, honeymoon, anniversary Ideas, fun places near me
9.
Good Food Near Me: Piccolo Sogno


© Piccolo Sogno
When you think about all the little and big things that make an Italian restaurant truly great, there's no doubt that Piccolo Sogno checks all the boxes. From hand-tossed pizzas and homemade pastas to a vast wine selection that is exclusively Italian, Piccolo Sogno is completely dedicated to curating a unique dining experience that will immediately transport guests to Italy.
To dine on the best that Piccolo Sogno has to offer, try their signature ravioli that's been stuffed with four delectable cheeses, drizzled in Marsala glaze and butter, then topped with Parmesan curls and pine nuts. Guests who are looking forward to a meaty and high-protein meal should consider ordering the rosticciana, which features tender braised beef short ribs served with squash puree, red wine, and veggies.
464 North Halsted Street, Chicago, IL 60642, Phone: 312-421-0077
10.
Good Food Near Me: RPM Italian

© RPM Italian
The sister restaurant to RPM Steak, RPM Italian takes a fresh and modern approach to Italian food from their home in Chicago's River North neighborhood. RPM Italian is the first collaboration between acclaimed chefs Doug Psaltis, R.J., Jerrod and Molly Melman, and celebrity couple Bill and Giuliana Rancic, and features a chic design that sets the tone for an outstanding meal.
The chef-driven menu features contemporary dishes that are ideal for sharing while highlighting over a dozen fresh house-made pastas, slow-roasted meats, fresh seafood, and wild fish. RPM also offers an extensive wine list and delicious signature cocktails that completely enhance the overall dining experience.
52 West Illinois Street, Chicago, IL, Phone: 312-222-1888
11.
Restaurants Near Me: The Rosebud

© The Rosebud
At The Rosebud, it's all about the people. Founded by legendary Chicago restaurateur Alex Dana, The Rosebud has been an integral part of the Windy City's food scene for the better part of 40 years. Since its inception, The Rosebud has evolved into the city's premier food group and is beloved by locals, A-listers, politicians, and world leaders alike.
The Rosebud is situated in the heart of Little Italy and offers classic Italian-American food. Some must-try dishes include the Chicken Vesuvio and Square Noodles and the baked clams. Meanwhile, the tiramisu is a veritable classic and deserves a spot in every diner's meal for a sweet finish.
1500 W. Taylor Street, Chicago, IL, Phone: 312-942-1117
12.
Restaurants Near Me: Volare

© Volare
Old World Italian cuisine comes to life in Volare. Established in 1997, this modern restaurant presents the best of traditional Italian cooking to New World palates. Volare is all about simple presentation in their food and they do this best by accentuating the natural flavors in their ingredients.
The extensive menu features treats like the gnocchi alla vodka and spaghetti neri al pesce as well as traditional classics like veal chops and margherita pizza. The restaurant also takes every need into account, offering whole wheat and gluten-free options for those who prefer healthier substitutions or are sensitive to gluten. Catering, delivery, and take out are also available for all of Volare's guests.
201 East Grand Avenue, Chicago, IL 60611, Phone: 312-410-9900
You are reading "22 Best Italian Restaurants in Chicago, IL" Back to Top or Amazing things to do around me
13.
Italian Restaurants Chicago: Anteprima

© Anteprima
There is extraordinary Italian cuisine to be enjoyed at Anteprima. Serving honest Italian home-style cooked dishes, this restaurant has a well-placed bias towards locally sourced organic produce and believes in showing respect for the fine ingredients by showcasing their stunning flavors. Thanks to their commitment to seasonal produce, Anteprima's menu often changes, but the level of culinary prowess always stays the same.
When dining at Anteprima, go for their skillfully made pastas like the tagliatelle with duck ragu or the tagliatelle with prosciutto ragu. The pasta packets, with herb ricotta, chard, and asparagus sauce, are also equally delightful. Other favorites are opening menu selections like the grilled octopus, orchiette with lamb sausage, and wood-grilled whole fish.
5316 N. Clark Street, Chicago, IL 60640, Phone: 773-506-9990
14.
Italian Near Me: Bruna's Ristorante

© Bruna's Ristorante
Located in what many call the "real" Little Italy, Bruna's Ristorante is a mainstay in the Oakley Avenue area and has been satisfying voracious appetites since 1933. Their longstanding history in the neighborhood is more than enough proof of their culinary prowess, but for the doubters, one bite is all it takes to squash all doubt.
Bruna's has got all things Italian covered with their exceptionally tender veal limone and a great selection of pastas. Many also claim that Bruna's has the best tiramisu in the entire city, thus making it a must-order when at this delightful ristorante. Insider tip? Visit on Sundays for a taste of their authentic roast chicken with an old-school Italian recipe and all the wine you could ever want.
2424 South Oakley Avenue, Chicago, IL 60608, Phone: 773-254-5550
You are reading "22 Best Italian Restaurants in Chicago, IL" Back to Top
15.
Italian Restaurants in Chicago, IL: Harry Caray's Italian Steakhouse

© Harry Caray's Italian Steakhouse
Undoubtedly one of the most successful restaurants in town, Harry Caray's Italian Steakhouse has been one of the mainstays of Chicago's River North neighborhood since 1987. What makes Harry Caray's so popular are their prime aged steaks, chops, and other Italian favorites, all of which have earned this sophisticated restaurant the title of the Best Steakhouse in Chicago from the Chicago Tribune.
In addition to their steaks and chops, other must-tries at Harry Caray's include Harry's Chicken Vesuvio, prime flat iron steak, Sicillian-style veal chops, and the lamb chops oreganato. Dine on succulent meat while browsing the museum-quality collection of sports memorabilia inside the restaurant and find out exactly what sports fans, top athletes, and other A-list guests love so much about Harry Caray's.
33 West Kinzie Street, Chicago, IL 60654, Phone: 312-828-0962
16.
Italian Restaurants in Chicago, IL: La Cantina

© La Cantina
A charming dining experience is in store for all the guests of La Cantina. Run by the talented Chef Salvador Liberato, La Cantina is designed to look like a private Italian wine cellar complete with a cozy atmosphere. The only thing that beats the great ambience of the restaurant is its cuisine, which features "Village Classics" that have been on La Cantina's menu for over 50 years.
To make the most out of your visit to La Cantina, start your meal with a prime beef carpaccio, house-made burrata cheese, or even an iced fresh shrimp cocktail. For your main, take your pick from the "Village Classics" like the meat ravioli, cannelone, manicotti, or three-cheese tortelli.
Italian Village Restaurants, 71 W. Monroe, Chicago, IL 60603, Phone: 312-332-7005
17.
Italian Restaurants Chicago: Riccardo Trattoria

© Riccardo Trattoria
Classy, unpretentious and so undeniably good at what they do, the Riccardo Trattoria is like a page out of Italy with their impeccable cuisine. With chef and owner Riccardo Michi growing up in his family's restaurant in Milan and his many years of experience, it's no wonder that this restaurant is as popular as it is.
Adventurous eaters should definitely try an order of the restaurant's tripe Florentine, but for those who want to dig into Italian classics, an order of their veal honeycomb with rosemary-flecked focaccia is absolute heaven. Other dishes that merit a taste include the homemade veal-stuffed ravioli, the risotto of the day, and the savory short ribs. Don't forget to grab some of their tangerine sorbet for a sweet and tangy finish.
2119 N Clark Street, Chicago, IL 60614, Phone: 773-549-0038
You are reading "22 Best Italian Restaurants in Chicago, IL" Back to Top or More romantic weekend getaways
18.
Italian Restaurants in Chicago, IL: Rosebud on Rush

© Rosebud on Rush
Just a few minutes from Chicago's best hotels and the famous shops along Michigan Avenue, Rosebud on Rush is frequented by all kinds of guests, from locals to tourists to some of the world's biggest celebrities. As part of the Rosebud family, this restaurant is no stranger to high standards and successfully serves voracious appetites with magnificent flair every day.
Treats not to miss include their handmade pappardelle cavatelli, which really hits the spot, and the 8-finger cavatelli arrabiata, which features house-made ricotta dumplings, spicy marinara sauce, prosciutto, and jalapeños. Guests looking for an Italian childhood favorite should definitely consider ordering some of the restaurant's veal cutlets, too.
720 N Rush Street, Chicago, IL, Phone: 312-266-6444
19.
Italian Restaurants in Chicago, IL: Siena Tavern

© Siena Tavern
Splashy, busy, and pretty much always fully booked, the Siena Tavern is a hip restaurant in the River North neighborhood with an Italian Top Chef alumni, Fabio Viviani, at the helm of the operation. The restaurant centers around a "from-scratch" concept, which is ingrained in every part of the establishment, including the restaurant décor (like the herb wall behind the bar).
If you ask anyone working in the restaurant what they recommend, you can expect to have them suggest the gnocchi, and with good reason. These tender parcels of potato are served in a truffle cream sauce and topped with fried sage and pancetta. Make sure to order the bomboloni for dessert and savor every bite of these airy, oversized doughnut holes for a memorable end to your meal. Don't forget to make a reservation!
51 W Kinzie Street, Chicago, IL, Phone: 312-595-1322
20.
Italian Restaurants in Chicago, IL: Viaggio

© Viaggio
Established in 2008, Viaggio serves up irresistible Italian food from their home in the beloved West Loop area of Chicago. With their name literally translating as "journey," Viaggio promises to take all of its guests on a culinary adventure through Italy's many regions, but with an American twist. At the center of it all is Executive Chef Nicolas Biscaglio, a homegrown Italian cook with a passion for all things that have to do with Italian food.
Some dishes to try include well-known creations like the meatball salad, 8-finger cavatelli, and rigatoni with Sunday pork gravy. The pork chop parmesan is also a constant crowd pleaser and a Viaggio signature dish. New menu items are also worth a taste, with mouthwatering options like the salmon bruschetta and sautéed lake perch ready to please.
1330 W. Madison Street, Chicago, IL 60607, Phone: 312-829-3333
22 Best Italian Restaurants in Chicago, IL
You are reading "22 Best Italian Restaurants in Chicago, IL " Back to Top