23+ Best Online Course Platforms in 2022 (With Video Tutorials)
In the past year alone, online courses have made over $46 billion, according to Statista. The same study indicates that the e-learning market will likely grow to $240 Billion by 2022.
When I first started my online business, I focused 100% on selling online courses.  At the time, it seemed like a no-brainer because you don't need a large following to make a decent income, and I definitely didn't have that.
From the start, there were some months I could make over $500, which blew me away. But since then, things have changed, and now there are a DOZENS of online course platforms available.
But what is the best online course platform for you? Let's find out.
What are Online Course Platforms?
The best online course platforms help instructors create online courses to sell to their student body. You can think of them as traditional classrooms, but in a virtual environment.
Instructors are able to create an engaging virtual classroom environment by providing students with numerous media types like video, images, audio, downloadable files, text, and on some platforms, interactive elements like quizzes and whiteboards.
Just like in a traditional classroom, students will take the course and learn from the lectures, perform classroom exercises, take tests and quizzes, and take notes. Most of the platforms also allow for certificates of completion once the courses are complete as well.
What Are the Best Online Course Platforms?
Best Overall Online Course Platform With a Free Plan (FREE or $39/month).
Thinkific is my favorite free online course platform by far to sell courses. Granted, their free plan has its limitations, but it's a great place to begin if you don't want to buy anything just yet.
They boast 51,000 instructors and have helped people earn $340 million.
This tool is an all-in-one solution that is extremely easy to navigate, even for complete beginners. In addition, it allows you to customize your course to match your existing brand. 
This cloud-based online course creation software lets you manage your clients, payments, course materials, integrations, and much more from the user-friendly dashboard.
Thinkific Tutorial:
Key Features:
Drag and Drop Feature: Easily organize course content, digital downloads, and your own course website using this feature.
Course Expiry: This tool allows you to set an expiry for each course. 
Whitelabel Capabilities: You can white-label your course materials for a more professional look.
Facebook and Google Ads: The platform supports Google and Facebook advertising and more. 
Reporting and Tracking: Thinkific offers advanced tools for effective reporting and tracking. 
Unlimited Paid Courses – Thinkific doesn't limit the number of courses you can create at one time with all paid plans.
Pros of Thinkific:
Provides full access to HTML and CSS
Easy management and support for learners for a better learning experience
Supports more than 30 languages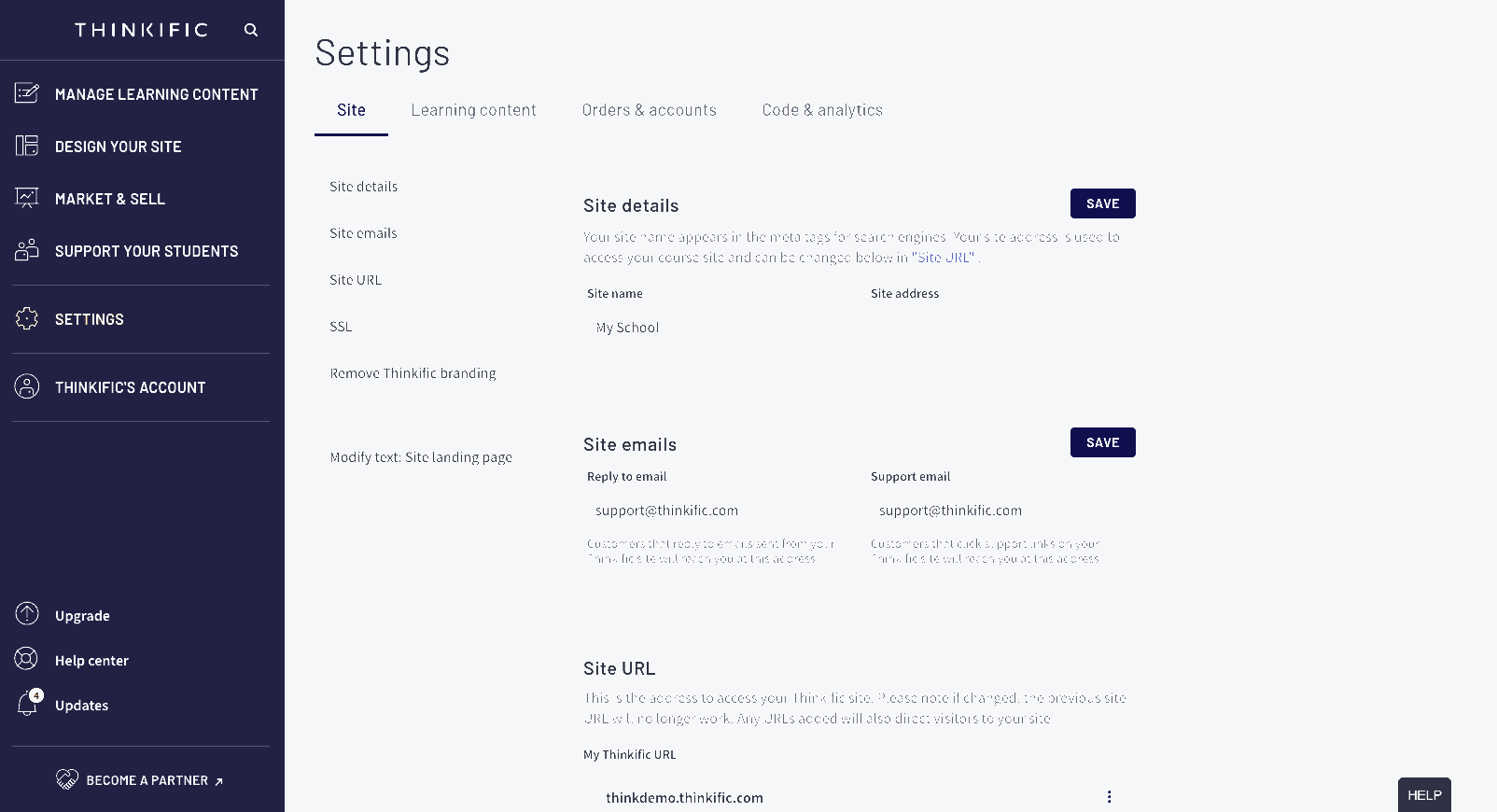 Robust marketing tools for automation
Free plan to start
Affiliate Marketing support for instructors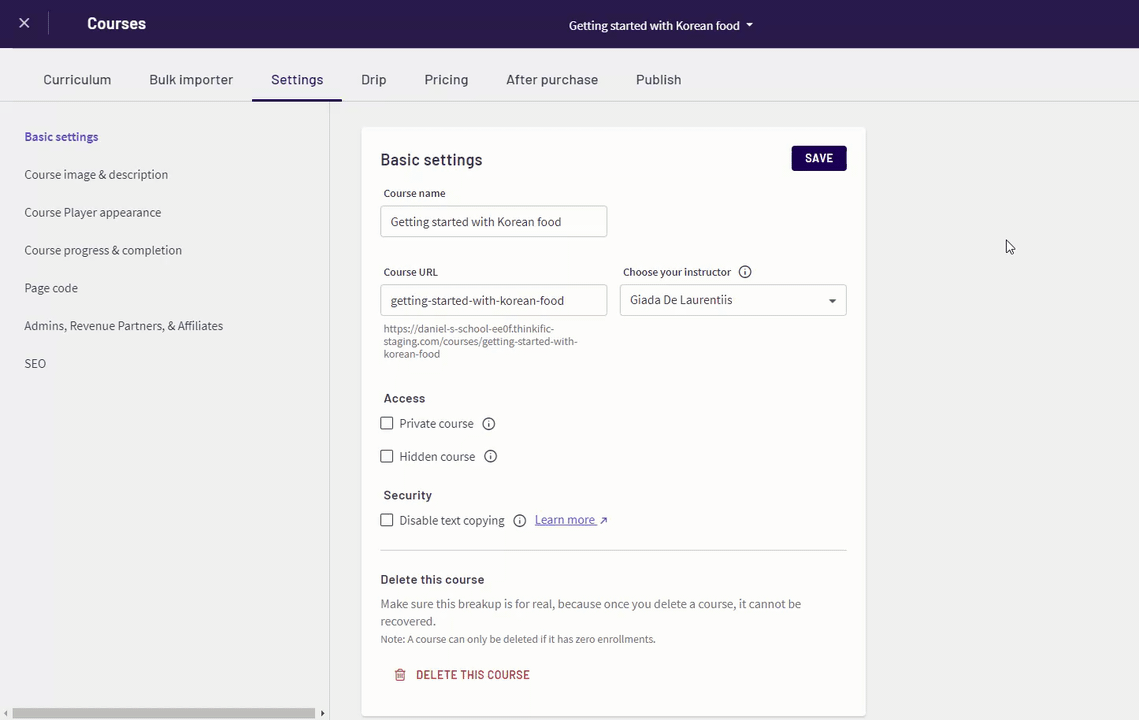 Pricing: 
Thinkific offers a free test drive that lets you try out all the software's core features without investing any money upfront. Plans start at $39 per month for the Basic package, and the Pro plan is $79 per month while the premier is $399/month. For anyone just getting started, the basic plan is your best bet as it limits transaction fees and has few limitations.
Or Read my In-Depth Thinkific Review to Learn More
Best Online Course Platform for Selling Interactive Courses (FREE Trial or $29/month)
LearnWorlds is a robust online course creation software designed to help you sell online courses with numerous interactive features. For instance, the video player and E-Book reader in the platform are interactive, providing a unique experience compared to other platforms. 
The course sales pages and payment process are optimized to get you high conversions and increase sales. Thanks to the simple drag-and-drop editor, anyone can easily create a course on this platform. No prior experience is needed. 
You get everything you need to build high-quality courses and sales pages to increase your course sales from your user-friendly dashboard, including responsive templates, interactive video functionality, and marketing automation. This software has all the tools necessary to satisfy every digital information publisher's needs. 
LearnWorlds Tutorial
Key Features
Interactive Video Player and Reader: The unique feature of this course creation platform is giving you the ability to let your students interact with the content you create. 
Powerful Page Builder: Fully customizable quick-start templates to help you create fantastic pages.
Multilingual Support: LearnWorlds offers excellent customer support in various languages. 
Assessment Engine: Advanced quizzes, exams, assignments, and more.
Built-in Social Media Network: You and all of your students can easily connect and communicate with each other. 
Javascript and CSS: You can edit course pages using javascript or CSS. 
Pros of LearnWorlds:
Easy logo and style customizations 
Ability to build a blog natively
Offering free courses is possible
Pre-ready course catalog available
Affiliate Marketing support for instructors
Copyright protection for content
Allows for interactive video content
Zero transaction fees for all paid plans
Pricing:
You can get started on LearnWorlds with their free plan. However, if you decide this is the platform for you, plans start at $24 per month. Plans come with numerous features like drip-feeding courses, and you can easily upgrade as your business grows. 
Or Read my In-Depth Learnworlds Review to Learn More
Best Online Course Platform for Beginners (FREE Trial or $29/month)
Teachable is a cloud-hosted solution that offers a user-friendly course builder interface built with beginners in mind.
As a course platform, this is (statistically) the most prominent platform to create online courses on the market. They have over 100,000 instructors on the platform and have helped people just like you and me earn over $500 million. Big names like the New York Times, Pat Flynn, John Lee Dumas use Teachable, and if they trust these platforms, you can too. 
All you have to do is insert your content in the ready-made templates, which you can then customize to look and function the way you want.
Everything can easily be set up via the dashboard, including payments, course sales pages, and your affiliate center. There's also an in-house payment processor to handle payments for you. 
Teachable has also recently added "Discover" – a storefront for online courses on their platform, and they're putting a lot of effort into it right now, so I think that's poised to grow in the future. I can only imagine that if your course got featured, it might be a great way to increase course sales.
Teachable Tutorial
Key Features
Import Content: Quickly import content from Google Drive, One-drive, and Dropbox into your learning management systems.
Create an Online Certification Program: Issue certificates to students who complete your course.
Multi-Media Lectures: Create engaging courses with video content, text, audio, and PDF files. 
Integrate Google Forms: Use Google Forms to get feedback from your students.
Convenient Payment: Accept payment from students in over 130 currencies. 
Pros of Teachable:
It offers a custom domain you can customize
One-click checkout process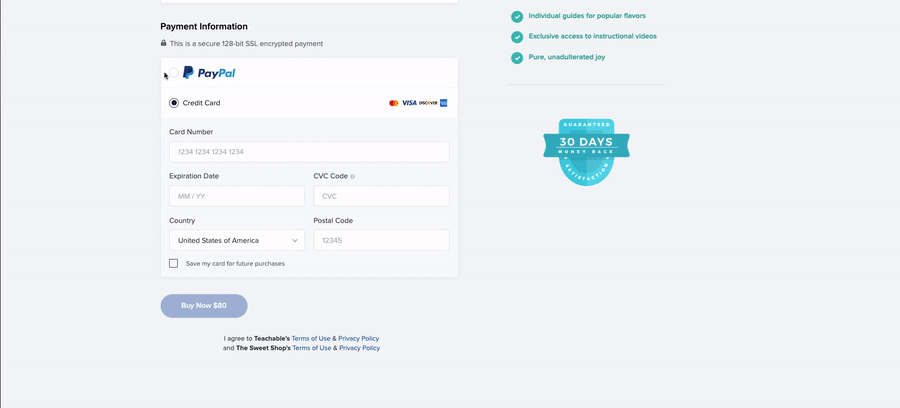 Intuitive navigation functions
Reliable technical and customer support
Powerful tracking and reporting
Affiliate Marketing support for instructors
Pricing:
Teachable plans differ in price based on different features, which is great because you only have to pay for the features you need. Plans start at free and then just $29. Each comes with unlimited students and courses, but they have a free trial you can try if you want to get started quickly and easily.
Or Read my In-Depth Teachable Review to Learn More
Best All-in-One Online Course Platform For Webinars, Memberships, Online Courses and More (FREE Trial or $39/month)
Podia is an easy-to-use software that has everything a digital publisher needs to create and sell online courses on their own course site.
As a course platform, Podia allows you to host a webinar, create downloadable content, establish a membership community, and even offers live chat for easy communication with your students to increase student engagement. With Podia, everything you need is at your fingertips and the live chat widget they offer is a very unique differentiator.
Key Features
Combine Courses: This software lets you combine similar courses. 
Digital Downloads: Easy downloads of PDFs, checklists, ebooks, and more. 
Locked Content: Grant or remove access to content in your course management system for any particular student. 
Email List Marketing: Podia has powerful built-in features like email marketing automation.
Multimedia Courses: Include video, audio, PDF, images, text, etc., in your courses. 
Pros of Podia
Easily customizable to match your brand
Live previews for your courses
Create individual 'posts' for students to increase student engagement
Integrate with various tools and services
Migration from other course platforms at no cost
Pricing: 
Podia plans start at $39 per month for the 'Mover' package. The 'Shaker' option is $79 per month, allowing you to scale your business. You can try out the platform with a free 14-day trial.
Or Read my In-Depth Podia Review to Learn More
Best WordPress LMS plugin for Businesses and Solo Course Creators ($159/year)
LearnDash is the most popular LMS WordPress plugin on the market right now. It's great for anyone who wants a course platform that allows them to run everything from their WordPress dashboard. With this self-hosted tool, you will quickly set up and run your courses and have complete control over the creation and customization process. 
This powerful tool doesn't have the limits of other hosted alternatives. You get an intelligent course builder with course completion badges and certificates. It integrates with countless plugins, and no technical skills are needed to get everything done. As a WordPress plugin, it's hard to top the functionality that LearnDash offers.
If you've already been using WordPress, navigating this course creation software will be a breeze. 
The LearnDash WordPress Plugin is best for instructors already using WordPress and want complete control over every aspect of their course business, including customization, branding, and customer information. In addition, Learndash has many add ons like the "Instructor Role" plugin created by WisdmLabs.
The instructor role that this plugin creates allows you to enable multiple instructors for your website and create online schools/courses with various teachers like Udemy and other course marketplaces.
Key Features
Course Awards: You can award anyone who passes a quiz successfully. 
Advanced Quiz: The software lets you create complex quizzes and assessments.
Course Progression: Prevent students from advancing until they've completed previous lessons/quizzes and learning modules.
Learner Progress: Keep track of learners' progress via the sleek profile area.
White-Labeling – You can white-label all materials to your own business. 
Unlimited Courses – Because this is a WordPress plugin, there's never a limit on the courses you can host.
Pros of LearnDash 
Give video, image, or text hints to students
A vast community of helpful users
Create custom messages for each learner
Users can review questions and answers on your course site
Arrange courses in any order you please
Pricing: 
The basic plan from LearnDash costs $159 per year. It includes one site license and unlimited online courses and users. As your business grows, you can upgrade to the Pro package, which costs $329 per year. 
Or Read my In-Depth LearnDash Review to Learn More
Best Premium All-in-One Online Course Platform With Numerous Special Features ($1 14-DAY TRIAL or $99/month)
Kartra is one of the best online course platforms because it doesn't just stop at courses. With Kartra, you have so much functionality at your fingertips, including checkouts, the ability to create a membership site, and you can even host your own affiliate program. This is why it's the best online course platform for those who intend to create a true community.
I feel that this platform is beneficial for those that are not simply looking to create courses but want to grow a business beyond the simplicity of a course platform. When you use this platform, you'll be able to use advanced tools and functionality for marketing your course, along with being an administrator.
Kartra is best for individuals looking to create online courses and a online community around their course with advanced functionality in the future to grow their business.
Key Features 
Internal Checkout Platform: Kartra allows users to checkout using software they've built which eliminates the need for a third[party integration.
Kartra Pages: This function gives users the ability to quickly launch high-converting landing pages, which should increase your ability to collect emails and get visitors to take action.
Funnels and Campaigns: It is extremely valuable to run different funnels and campaigns as it will allow you to control the path users take to convert them to students.
Memberships: With this all-in-one platform, you can go far beyond one or two courses. They allow you to create a membership site.
Helpdesk: Assisting students with tech problems is more common than you think. The platform has a helpdesk component as part of its core offering to assist with that.
Additional Integrations and APIs: While Kartra has many special functions, they understand you may want to work with other platforms you're familiar with. So, they offer integrations with hundreds of other platforms.
Pros of Kartra:
All-in-One platform, everything works together
Less stress and less tech a great solution to keep things simple
100% in the cloud, no need to worry about your work being deleted
Cheaper than all platforms combined to achieve the same functionality
Can scale as your course demand and community grows
Pricing:
On the most basic plan, Kartra costs $99 per month. They determine their pricing options based on visitors' actions on your platform, which is nice because you pay for your results. They have a 25% discount if you pay for an annual plan, and although they don't have a free plan, they do have a 14-day trial available for $1. Though one dollar is a bit of an annoyance, this platform is well worth it just for the trial.
Or Read my In-Depth Kartra Review to Learn More
Best Affordable All-in-One Platform For Those Looking to Build a Business. (FREE or $27/month)
Systeme.io is an all-in-one marketing software that has everything an entrepreneur needs to start and run their online business or be successful when trying to sell online courses.
Launched in 2018, it has steadily grown to 5000+ users who depend on its multiple features to run online businesses smoothly.
On the dashboard, you can find the funnel builder, email marketing tool, marketing automation tools, and much more. Here's an in-depth Systeme.io review as well.
Key Features:
Funnel Builder: This software lets you build course sales funnels and landing pages in under a minute with the powerful page builder.
Email Marketing: Systeme.io has a robust email autoresponder built into it. With it, you can send email newsletters, set up email campaigns, and send unlimited emails.
Product Selling: You can connect your Paypal or Stripe account and sell your products. You can also add upsells, downsells, and order bumps to your sales funnel.
Online Courses: You can build and launch the best online course for your audience.
Multimedia Courses: You can include video, audio, PDF, images, text e.t.c in your courses.
Pros Of Systeme.io:
An online course can be created within minutes
The tool is easy to use, so you don't have to be a tech enthusiast to use it.
Free migration from other platforms is offered as long as a paid plan is taken up.
You're able to integrate with other platforms; however, since almost everything you need is offered in the platform, there probably won't be a need for that.
Pricing:
Free Plan – $0. This plan is great for those that want to test out the platform and its functionality. It's a pretty generous plan for being free and includes sales funnels, unlimited course storage, and even the ability to run an affiliate program.
Startup Plan – $27. This plan is perfect for someone just starting and offers everything you'll need to run your business. In addition, you can have three membership sites on it.
Webinar Plan – $47. This plan offers the best value, and you're able to have 2 custom domains, run 3 evergreen webinars, and you can have 5 membership sites on it.
Enterprise Plan – $97. For bigger businesses, this plan allows 5 custom domains, unlimited membership sites, and you can run unlimited evergreen webinars.
Or Read my In-Depth Systeme.io Review to Learn More
Best Online Course Platform for Value with live streaming, and a mobile application (Free or 3% of each course sale )
No list of web-based course creation platforms would be complete without Graphy. Their all-inclusive solution provides a plethora of features for you to create an online course from scratch and market it beyond your existing network through their in-built marketing tools.
Even if you know very little about web development or coding, the no-code branded websites and apps that Graphy provides will be very helpful. They make delivery of online content as easy as pie.
Currently, this course creation platform boasts over 30,000 creators who make over $50 Million in revenue yearly, it's newer than some other platforms on this list but I think it's poised to become an industry leader in no time.  With a user-friendly dashboard and advanced instructor functionality, Graphy serves both new and existing instructors in the education economy.
Graphy Tutorial:
Key Features:
White-labeled websites and mobile applications with stunning pre-designed templates and beautiful customizations.
Multimedia course builder that supports all file types – Video, Audio, Images, PDFs and SCORM Packages.
Integrated payment gateways to let you collect both local and international payments.
360-degree multilayer security with content encryption and secure video streaming so that no one can steal your content.
Advanced built-in marketing tools to increase website traffic and get maximum course enrollments.
Online community building through public and course-wise forums.
Pros of Graphy:
Built-in Zoom feature to conduct live classes and also to integrate an existing license if any.
Unlimited courses, video and storage across all plans.
Dynamic Watermarking to prevent course piracy and unauthorized access.
Drag and drop course builder that supports quizzes, live tests, assignments and forms to make the course content-rich.
Downloadable reports and end-to-end learner management.
Drip content through Content Scheduling for complete content access control.
Affiliate dashboard and credit rewarding system to encourage students to share with others for maximum revenue
Custom certificates to acknowledge learner participation.
Custom domain integration & countless third-party integrations to improve workflow
Pricing: 
You can test out all of the Graphy core features with any of their plans. The Launch plan requires a $199 onboarding fee, but all other plans have very reasonable rates and are priced primarily on a percentage of each course sale.
Or Read my in-depth Graphy review to Learn More.
Best Online Course Platform on a Budget That Allows Unlimited Courses (FREE TRIAL or $49/month)
Teachery is one of the newest platforms on my comparison, and it's worth including. Teachery is an excellent choice for beginners because they purposely limit some confusing design and function aspects to give people exactly what they need. Plus, they also have zero transaction fees, which is always positive.
They differentiate themselves by using a guided tutorial to help new instructors get up and running quickly. Their most considerable differentiation from other platforms is they are highly beginner-friendly and help novice course creators get something up and start selling online courses to their audience.
A few nice things about Teachery are that they have no monthly fee, the platform is straightforward and intuitive, and uploading is simple with unlimited courses and files for your courses. 
Teachery is best for instructors who are entirely new at this online business stuff that want to get started quickly and without a transaction fee to worry about.
Key Features
Simple Templates: They give you two templates to create a course. This is to limit overwhelm and give you a simple solution.
Easy to Use Course Editor: They have a user-friendly course editor to quickly adjust things you need without tech headaches.
Payment Plans and Membership: This allows you to easily input a payment plan or create your private membership site for your students.
Sales and Landing Pages: This allows you to easily create new sales or landing pages to drive traffic that helps you with your course sales.
Pros of Teachery: 
Focused on Beginners
No extra transaction fees
Unlimited courses and unlimited students
Course builder focused on simplicity over advanced functionality
Drip email sequences
Many integrations
Pricing: 
Teachery plans start at $49 per month and include unlimited courses and uploads. They have a two-week trial you can take for free before making any payments.
Or Read my In-Depth Teachery Review to Learn More
Best All-in-One Online Course Platform for Selling Live Sessions (14-Day FREE Trial then $69/month paid Annually)
Yondo is an all-in-one video platform that allows you to easily create and sell online video courses from your own branded online store. Sell your courses alongside your Online Videos On-Demand, Webinars, Online Group Classes, and Live 1-To-1 Video Consultations.  
The platform takes the pain out of every step of the customer journey.  Customers will be able to purchase your online courses from your eCommerce site and video landing pages. With the ability to sell your courses as one-off purchases, time-based rentals, and even subscription memberships, Yondo allows you to customize the way you sell your online courses. The platform is completely browser-based and mobile-friendly, meaning customers can take your courses anywhere! 
It's no wonder why this is quickly becoming a go-to tool for professionals looking to expand their online services, considering all of these tools wrapped up into one easy-to-use platform. 
Key Features:
Branded Online Course Store: All your courses are listed on your own branded pages to make it easy to sell your content.
Live Webinars and Group Classes: Easily connect with your customers live to share your knowledge and teach on a more personal level
Integrated Payment Gateway: Keep 100% of your revenue by integrating Stripe and PayPal.
24/7 Platform Support: Contact a Yondo support officer whenever you need help or have any questions. 
Call to Actions:  Use call to actions to upsell your customers or link them anywhere you would like.
3rd Party Integrations: The Yondo platform integrates easily with tools like Dropbox, Google Analytics, ActiveCampaign, MailChimp, and many more.
Pros of Yondo:
Instantly create online courses and landing pages from your own branded template store
Secure integrated payment gateway to sell means you keep 100% of your revenue
Auto-Return automatically returns your customers to their last viewed location on your video course.
File Attachments that allow you to add equipment list, worksheets, or even a separate video or audio file that your customers can download
Record your webinars and instantly turn them into videos and courses, which you can sell from your online store. 
Display Call-to-Action offers throughout your online course to promote sales
Pricing:
Yondo has three Standard Plans (Starter, Professional, and Premium), which start at $69 per month (paid annually) and are great for Entrepreneurs and SMBs. They also offer Enterprise Level plans for larger companies who need additional allowances, whether that is more public videos or more team member accounts.
You can create your own Multi-vendor marketplace to allow third-party professionals to sell their services through your own white-labeled platform on Yondo's Platform Plan. 
Best Women-Owned, All-in-One system for building and selling online courses, memberships, & More (Free trial and then $49/month).
The Digital Course Hive is one of the best platforms to use if you want to stand out from your competition. It is the only drag-and-drop online course builder on the market, perfect for creating custom courses and memberships that will set you apart. 
This all-in-one system allows you to build websites, funnels, courses, and memberships all under one roof. You can also manage your calendar, send emails and automations, and even sell physical products. It is truly an all-in-one system.
Key Features:
Drag-and-Drop Course and Membership Builder: Digital Course Hive is the only drag-and-drop online course builder. Build unique online courses that set your students up for success. 
All-In-One System: Manage everything your online business needs to create and sell online courses. Digital Course Hive is a powerful system with a reasonable price tag.  
Built-In Calendar: Provide a branded calendar on your website for your clients to schedule time with you. No more calendar links that take your potential buyers off your website. 
Email Broadcasts and Automations: Send emails to your potential buyers and current students with Digital Course Hive's email broadcast and automation features.  
100s of Templates: Create webinar funnels, lead magnet opt-ins, online courses, memberships, emails and more from Digital Course Hive's professionally-designed templates. 
Pros of Digital Course Hive:
Over 15 payment processors including Klarna and Afterpay
A/B test your funnels and email broadcasts
100s of templates to choose from
Integrates with almost any application via Zapier
Sell physical products alongside your digital products
Pricing:
Digital Course Hive pricing starts from $39/month with an annual plan or $49/month. 
All-in-one online training platform that caters to solopreneurs, edupreneurs, and those that want to share their expertise (Starting at $17/month)
TrainerCentral empowers online trainers with a comprehensive DIY tool kit with end-to-end services to set up their online business. Online trainers can build their own website, upload course videos, create course structures, host live classrooms, manage learner-trainer communications, handle payments and subscriptions, and much more on one unified platform. The platform's integration flexibility and intuitiveness makes it the best choice for online trainers looking to launch or scale their teaching brand.
Key Features:  
Built-in live virtual classrooms: TrainerCentral offers a built-in live streaming tool to host classes and real-time communications with learners. Collaborative features such as polls, Q&A, and live chat make live sessions more engaging.
Breakout rooms: To make learning more synchronous, trainers can break students into smaller live participant groups for micro-sessions and team activities.
Website builder: To establish an online presence, trainers can design their own website using the no-code, drag-and-drop website builder tool. Trainers can also ensure consistent branding with custom website and email domains.
100% commission-free: TrainerCentral does not charge any sales commissions or apply any hidden charges.  
Trainer-learner communications: Trainers can create communication workflows and automate emails for different events and scenarios.  
Payment integrations: TrainerCentral supports payment gateways such as Razorpay, Stripe, Paytm, Forte, Authorize.net, PayPal Payment Pro, and PayPal Payflow Pro.
Top-notch security: TrainerCentral is GDPR compliant and follows robust security methodologies to ensure data privacy and security.
Pros of TrainerCentral:  
Easy and sequential course setup
End-to-end integrated teaching tools
In-built live classrooms
Automated email communications
Cost-effective 
Pricing:  
TrainerCentral offers three pricing packages:
1. Free plan: $0 USD
Unlimited learners
Up to 3 free courses
2. Starter plan: $16.67 USD/month when billed annually or $20 USD/month
Unlimited learners
Unlimited courses
Live virtual classroom (Up to 50 live participants)
3. Professional plan: $41.67 USD/month when billed annually or $50 USD/month
Enjoy all the benefits of the Starter plan, plus:
Live virtual classroom (Up to 100 live participants)
Custom domain (full rebranding)
Coupons and discounts
Multi-currency support
Or Read my In-Depth TrainerCentral Review to Learn More
A Complete LMS E-Learning Platform For B2B And Corporate Entities ($499/month).
Academy of Mine allows you to create your very own customized learning management system. It's ideal for professional development, continuing education, and certifications, as well as B2B training.
This makes it one of the best online course platforms for B2B, as you'll be able to white-label all your courses to match your brand and use courses to train teams if needed. The software allows you to build a fully-fledged website so you can host and market your online training program from one convenient place. 
This learning management system is customizable and scalable. Its user-friendly interface makes it great for beginners and expert marketers alike. It's also easy to share your expertise and knowledge with your students. This online course creation software is undoubtedly among the best ways for businesses and educators to market their online courses. 
Academy of Mine is best forany organization or individual that needs an e-learning platform that is custom-built for training courses. This includes coaches and businesses in education, healthcare, law, safety training, and more.  
Key Features
Integrated Website: Get a new fully-integrated site or connect your own.
Interactive Content: Engage students with interactive video, PDF, and PPT content.
Customized Features: Customize the different features to suit your specific needs.
Self-Paced Courses: Learners can complete courses at their own pace. 
3rd-Party Integrations: Academy of Mine software integrates easily with other tools. 
Pros of Academy of Mine: 
Custom-built solutions for different needs
Easy integration with other marketing tools
Gamification for higher student engagement
Certificate awards for course completion
Convenient self-paced courses 
Pricing: 
You can get started on Academy of Mine for $499 per month. The platform doesn't offer a free plan, but you can schedule a demo that will give you a glimpse into what's possible when using this software. 
An All-In-One Creator's Platform with a Free Plan (FREE or $25/ month)
FreshLearn is a robust upcoming platform for you to commence your online journey as a creator. You can get started by signing up for their absolutely free plan without having to punch in your card details.
Sporting an exponential growth curve within a very short span of time, they boast a family of 11,500+ creators.
This all-in-one platform comprises a user-friendly dashboard that lets you create and sell a number of digital products. These include on-demand and cohort-based courses, digital downloads, and live masterclasses, which you can customize your online learning platform with.
Plus, you can access some of the top-notch and advanced features to help you market your courses and engage your learners in an outstanding manner.
Key Features:
Drag and Drop Landing Page Builder: FreshLearn lets you plan and customize your own learning website landing page with this feature.
Blogging CMS: With FreshLearn, you can easily curate, and launch your own blogs to boost engagement.
Connecting to Your Custom Domain: You can simply link all of your digital products created on FreshLearn to your custom domain to enhance the overall learner experience.
Affiliate Marketing: You can also use FreshLearn to shoot up your earnings by setting up your own affiliate marketing program.
Gamification: With this feature, FreshLearn lets you optimize self-launched content on the platform to boost engagement.
Payment Integrations: FreshLearn also helps you simplify the payment process by letting you connect your Paypal/Stripe/Razorpay wallet directly with the platform.
Efficient Branding: Customize your own theme, logo, and email notifications to set your unique brandname right.
Advancement Assessments with Scoring Mechanism: Help your learners evaluate their progress with the help of assessments and records of their scores.
Certification: Reward the milestones of your students' learning journey with certificates upon completing a course.
Mobile Apps: You can also access FreshLearn on your iOS or Android smartphone via its dedicated mobile application.
Pros of FreshLearn:
Extremely intuitive and user-friendly UI
Zero commission applicable on sales
Facility to host unlimited number of paid online learning courses
Users can enjoy complete account migration without having to worry about missing any data
24/7 availability of super-responsive customer support
Fast addition of latest features and updates
Pricing:
If you have just embarked on the course creation journey, you can always get started with FreshLearn's free plan. Once you get a grip of the basics, you can upgrade with plans starting from $25 per month to get access to premium features like Gamification, Affiliate Program, Drip Content, Live Classes, and a lot more. 
Best Web-Based Online Course Platform For Professionals ($119/month)
Kajabi is a one of the best online course platforms with powerful features like automation to help you create and sell your online courses more effectively. The platform is a complete cloud-based system and has multiple customizable site themes that you can use to create beautiful and unique courses for online learning.
Thanks to the different levels of features, this tool is perfect for both beginners and advanced users alike. The user-friendly dashboard is ideal for non-technical users. Thanks to the drag-and-drop feature, you'll be able to get your customized digital courses (or digital downloads) up and running without the need for any special design skills. 
If it's your first time making online courses, Kajabi's marketing suite of tools will give you the advantage you need to get your knowledge in front of your target audience. 
Kajabi is best for any course creator who wants to use email marketing and advanced automation tools directly within their dashboard.
Key Features
Drag-and-Drop Editor: This allows you to build good-looking pages with no coding skills. 
Multiple Site Pages: Create as many pages as you like for your static site using their page builder.
Live Event Capability: Kajabi has a great function that allows you to add live events.
24/7 Technical Support: Users receive customer support around the clock. 
Powerful Email: The software has an in-built email marketing solution.
Pros of Kajabi
Great blogging and video streaming features as well as podcast hosting
Integrations for third-party services
Expertly designed templates and themes
Android/iOS mobile app
Marketing automation for higher sales
Pricing:
Kajabi's pricing options start at $119 per month for the Basic plan. The Growth plan is $159 per month billed annually. You can try out the platform for free for 14 days before you commit. 
Best Online Course Platform For Simplicity and Functionality. (FREE TRIAL or $77/month)
iSpring Market is an extremely easy-to-use but full-featured platform that allows you to set up an online course marketplace in a couple of clicks, upload learning materials in a flash, and start selling courses right away.
With an intuitive course builder, you can combine various types of content in any type of format into structured online courses. Unlike many other platforms, iSpring also supports interactive SCORM courses, quizzes, and role-plays built with an authoring tool.
All of your courses are exhibited on the online storefront, and each of them has its own page with a description, training program, and reviews. You can customize the look and feel of the marketplace to make it fit your brand perfectly.
iSpring Market has a great analytics engine. You can not only monitor your revenue data but also keep track of learner progress and results that can help you see what needs to be improved in a course to increase profits. If you're interested in learning more, I've written a full iSpring Market review that goes into further detail, as well as a review on iSpring Suite, which helps people create better courses faster.
Key Features
Full LMS functionality: The platform provides all the necessary tools to organize and manage the learning process.
Learning tracks: You can combine multiple courses into a long-term step-by-step curriculum with defined completion rules and deadlines.
User-friendly learner portal: All learners get access to their own convenient portal where they can view courses, see deadlines, and track their progress.
Webinars: iSpring integrates with Zoom, so you can host live webinars to promote your courses.
Gamification: You can award your course takers with points and badges to motivate them to learn even more effectively and keep them coming back.
Pros of iSpring Market
Intuitive interface for both sellers and learners
Supports all types of content, including SCORM courses
Easy style and domain customization
Detailed analytics and strong reporting
Coupons for course enrollment with discounts
Can automatically award certificates
No go-betweens or additional transaction fees which is rare on online course platforms
Pricing: 
The fee you pay depends on the number of active learners (only those who have logged onto the system during a month) and storage volume. Pricing is determined on a per month basis, is billed annually, and starts at $77 per month ($924 per year) for 500 users and 25 GB.
Or Read my In-Depth iSpring Review to Learn More
Best Affordable LMS and Virtual Classroom Software ($20/month). 
WizIQ provides a complete solution for businesses and tutors who want to deliver online classes. It also allows you to launch self-paced courses for your students. This is one of the best learning management systems because it has a user-friendly interface that gives you the ability to use your own branding in all your course materials. 
Students can access courses on any device and from any location. The training portal has a course builder, virtual classrooms, test and assessment builder, eCommerce and reports, and various other amazing features. 
You also get customized mobile application features. All in all, this is an amazing tool that can help you replicate a physical classroom learning management experience online. 
WizIQ is best for teachers and educators that want full engagement with their students via live interactive virtual classes.
Key Features 
Virtual Classroom: Deliver engaging live video lessons with HD video conferencing.
Mobile Learning Management System: Learners can access course content on the go. 
LSM eCommerce: Easily sell self-paced and instructor-led courses.
Reporting and Analytics: Track your learners' growth and performance easily.
Course Assessments: Create courses with multimedia tests and assessments in different formats.
Pros of WizIQ:
Real-time messaging for unlimited participants
Customizable learning management system portals
Train external stakeholders, partners, or promoters
Mobile learning management system capability
Discussion boards for easy communication
Video streaming
Pricing:
WizIQ pricing options are based on rooms, attendees, and registered users. It starts at $20 per month for the basic plan. They don't offer a free version, but you can try out the software with a free 14-day trial. 
Best Live Video Tutoring Online Course Platform. (FREE or $399 Lifetime)
A versatile eLearning platform builder with built-in features to sell not only self-paced courses but also take 1-to-1 live classes and group webinars. Sell courses on your own, invite other tutors on your platform, or do both.
Pinlearn is a one-stop solution to all your online learning business needs. Whether you want to sell self-paced courses, earn from live video lectures, or monetize group webinars, Pinlearn supports them all on a single platform.
It's an eLearning marketplace solution. You can sell not only your courses but can also allow other tutors to sign-up and sell their courses and classes. All tutors get a dedicated Tutor-Dashboard on the front-end to manage their profile, courses, classes, appointments, students, and earnings.
The platform gives everything a tutor needs for creating courses, hosting webinars, and taking 1-on-1 lectures via video conferencing. The integrated session recording option makes it even easier to save live lectures for future reference.
Key Features:
Course Management: Create and sell self-paced courses using integrated course-authoring workflow and course-monetization channels.
Live Video Conferencing: Schedule and host live lectures in private and group modes using an integrated video conferencing tool, calendar, and event manager. 
Dedicated Dashboards: Dedicated dashboards for the admin, tutors, and students to manage their respective profiles, data, and associated workflows.
Payment Gateways: Integrated multiple payment gateways to make, track, and manage online transactions seamlessly.
Detailed Analytics: Detailed analytic and report generation for respective users for associated data, events, transactions and transaction fees, earnings, and many more.
Marketing Tools: Integrated multiple marketing tools for SEO, adverts, promotions, notifications, and communications with the users.
Pros Of Pinlearn:
Your own course website can be deployed in only a few hours.
One-time payment to own the source code; no-recurring payment required.
They give 100% access to an unencrypted source code. 
Users are able to host the website on a compatible web server of choice.
The website, classes, and courses can be offered in multiple languages.
It can be used for targeting both the self-paced and live video tutoring market.
The platform is mobile responsive. Learn on any mobile, tablet, or computer device.
Pricing:
Since they provide source-code access, they don't have any trial offer. However, you can also find a FREE online demo on their website to test the actual software in action.
There is no recurring payment. You can purchase the source code by making a one-time payment of a respective package. You can upgrade your Regular package to a higher option (Premium package) in later stages, too. Currently, there are only two packages:
What are the Best Online Learning Platforms?
Teaching courses is a great gig; heck, I've been doing it for over 10 years. But sometimes you need to spend time learning as well. Whether that's to learn how to use a specific piece of software, how to grow an audience, how to create a funnel for your courses, or any other skill that'll help you achieve a professional or personal goal.
And this is where online learning platforms come into play.
An online learning platform is a place where online course creators and anyone else can go to find verified instructors to teach you about topics you're looking for guidance on.
An online learning platform is really nothing more than a course marketplace where people can learn skills. From a online course creator standpoint, the nice thing about course marketplaces is that have a large database of students already, which is great because it makes for a more collaborative learning environment, but it's also a great opportunity for instructors to get exposure to potential students as well.
Often times these platforms have a free plan for those focused on course creation, limited or no transaction fees (though they take a % of the course sale), allows for digital downloads, and is a viable choice for course creation.
I encourage you to use one of my recommended online course platforms above because you'll have control of all aspects of your business, but the list below of the best online learning platforms can be a great way to get started if you have no audience or if you're looking to learn something new.
Udemy's online learning platform allows you to easily create and publish courses on a wide variety of topics, such as marketing, business, entrepreneurship, web development, web design (even tutorials on web design software if needed), and much more. In addition, it allows students to go at their own pace, making it the ideal platform for busy people who want to advance their skills and knowledge in their spare time. 
In terms of online learning platforms, Udemy is far and away the largest online course platform marketplace.
As a course creator, you don't have to build your audience. Instead, create courses and take advantage of Udemy's massive audience of over 30 million students to start marketing your courses and make sales immediately. The platform is straightforward to use, and you're guided every step of the way during the course creation process.
Key Features:
Monitoring Tools: Udemy has robust monitoring tools to keep track of student progress.
Branding: The platform allows you to create and grow your brand.
Integrations: It allows various integrations with Google Docs, Microsoft Excel, etc.
Multiple Languages: You have the ability to teach courses in different languages.
Video Recording: The software has great features for recording high-quality video footage.
Pros of Udemy: 
Best online course marketplace 
Advanced behavior monitoring feature
Plan lectures in Google Docs or Excel
Easily record video lessons
Mobile learning app
Includes some of the most popular online courses in the world
Pricing: 
Udemy is free to use whether you use text or video lessons in your courses. You can get started creating courses right away. The website even offers free lessons on how to go about this. When you start selling courses, a revenue share goes to Udemy for the service they provide in connecting you to their massive marketplace. 
Skillshare is a great online learning platform that is dedicated to helping students to learn in an easy and engaging way and is at the top of my list. It offers courses on a diverse range of topics, including analytics, graphics design, eCommerce, cooking, music, and much more. They even have courses explaining how to make money blogging and even how to make a living from YouTube.
When you create a course here, it becomes part of the catalog, and as people watch your courses, you earn a revenue share of their membership fees. You can also earn $10 per membership referral as well. While earnings are typically low, this is a nice compliment to other platforms. 
Key Features
Active Engagement: Skillshare classes are designed to encourage active engagement primarily with video.
Mobile Learning: This allows students to continue learning anywhere and on any device. 
Earn Monthly: Instructors earn monthly royalties from their content.
Built-in Audience: Instantly start making sales from Skillshare's existing audience. 
Social Media Links: Link to your social media profiles to increase your exposure.
Pros of Skillshare: 
Passive income opportunity
On-the-go video learning from any device
Easy to scale and grow online course business
No technical skills needed to get started
Pricing: 
Skillshare lets you start learning with a free plan. You have unlimited access to all online classes for the first 14 days, and then you can pay $8.25/month for continued access. 
Coursera is an incredible online learning platform that allows instructors to teach content that's then featured at institutions like the University of Illinois, Duke, Google, IBM, University of Michigan, Stanford, and more.
While this is a great marketplace, the courses that are created as of the absolute highest quality, and the platform is invite-only for instructors. Aside from just courses, Coursera even offers online degree programs for students who attend.
From my understanding, instructors get 15% of the revenue that the courses generate, but the courses are free to MOST students on the platform. The revenue is typically made here when Coursera staff partner with educational institutions or companies or an individual purchases Coursera Plus. 
Frankly, this isn't a great place to teach if you're new to the online teaching world. They're very selective, and it's not easy to be invited, plus it doesn't appear to be as lucrative as other options. 
Formerly Lynda.com, Linkedin Learning is the best online course marketplace that's been integrated into the wildly popular professional social media network.
Similar to Coursera, Linkedin Learning is very selective about the instructors that they allow to join their platform, and while they pay the instructors well, it's not easy to be selected. I wasn't able to find out how much income instructors make, but one can assume it's a lucrative venture given the popularity of Linkedin as a whole.
Online course platform to learn Java programming for beginners and advanced Java programmers (Free)
CodeGym is an online Java course for beginners and middle-level learners, and also a web portal with useful information, around which a huge Java community has formed. The course is only about Java, it is a highly specialized project, unlike other platforms on the market.
CodeGym was created by a professional Senior programmer who loves (and, most importantly, knows how) to teach others.  CodeGym is really focused on the practical side of programming. The course consists of lectures and practical tasks, and is structured in such a way that about 80% of the time students are writing code.
There are more than 1200 coding tasks in the CodeGym course, from very simple ones that help you learn the syntactic constructions or paradigms discussed in lectures, to fairly complex mini-projects with step-by-step instructions. Among them there are a link shortener, a restaurant emulator, or a classic video game.
Most importantly, an intelligent validator is built into the course. It checks the user code for correctness and adequacy. If the problem is solved incorrectly, the CodeGym intelligent system picks up tips and clues to help the student complete the task. If that isn't enough, users can message fellow students or someone from the CodeGym team to help.
Key Features:
The Course contains 1200 Practical Tasks and over 500 hours in total Java tasks to complete
CodeGym code solutions are verified by a smart validation system. It gives student recommendations about solutions, helping them fix bugs.
Free Android app you can use to learn on go.
Huge Java community where students can find useful information or ask a question. 
Plugin for the most popular Java IDE IntelliJ IDEA that allows students to use a professional tool. 
Pros of CodeGym:
Smart Validation System 
1200+ coding tasks 
Huge Java Community
Pricing:
Codegym has three simple pricing plans, which are as follows:
1. Free plan: 
Trial level
access to community content 
free mini-courses on making classic video games
2. Premium Plan: $49/month  or  $499/year 
access to all CodeGym quests
IntelliJ IDEA plugin
task requirements
task recommendations
3. Premium Plus Plan: $99/month  or  $999/year 
everything included with Premium, plus:
ReCheck
analysis of your coding style
Types of Online Course Platforms
While "online course platform" is an all-encompassing term, it's important to understand that there are many different options for those that are looking to become a course creator and start teaching online. Just select which category works best for you, and you'll see my list of the best platforms, or watch the video to better understand them.
Dedicated Online Course Platforms: For 98% of people reading this post, this is exactly what you want. These are platforms that are solely dedicated to helping you create courses and your own online school. This includes Thinkific, Learnworlds, Teachable, and Teachery.
All-in-One Online Course Platforms: These are platforms that go beyond simple course creation tools. With platforms like this, you'll be able to create online classes but also run webinars, develop email sequences, and more. These include Podia, Kartra, Systeme.io, Yondo, and Kajabi.
WordPress Online Course Plugins: WordPress plugins are ideal options for anyone who wants to keep all of their course content within WordPress, and these are for folks who likely already have their own website. This includes Learndash.
Enterprise LMS Platforms: These are learning management systems that would be used to help businesses roll out training materials to their staff or sell courses online at scale and are less focused on individual small course creators. These include Academy of Mine and Wiz IQ.
Online Learning Platforms: These platforms are affordable online course marketplaces where students can go to learn skills while on a budget. They typically have hundreds or even thousands of instructors and an established student base but aren't the best for teaching because you don't have full control of your student information and pricing.
How to Choose an Online Course Platform
While all of the online course creation software in this post can be really helpful to those looking to start an online school, sometimes it's difficult to know what to look for when trying to find the right fit. The list below can help you understand what functionality you should pay the most attention to when choosing the right online course platform for you.
Established Reputation: Choose established online course platforms that have a good reputation and tons of positive reviews from real users. 
Ease of Use: Consider your own skill level, as well as that of your students. Choose course creation platforms that you and your learners will find easy to use. 
Appearance: You want a provider with tons of unique and professional-looking themes and templates, as well as full customization features. 
3rd-Party Integrations: Choose a platform with many 3rd-party integrations to other software and services, including student information systems, payment gateways, Mailchimp, Google Analytics, and other platforms to improve your student experience.
Marketing Automation: Some platforms come with marketing tools, such as email autoresponders, to help you automate different aspects of your course marketing like hosting webinars to sell courses, email marketing, and more.
Technical Support: This is vitally important for you and your students. Choose a platform that has a responsive and knowledgeable technical support team. 
Cost: Is the online course platform affordable, or does it require significant investment upfront or every month? 
Special Features: What other special features does the course creation website/software offer that differentiates it from others? Things like working with Zapier or having discussion forums come to mind.
Ready-made Market: This is something to consider if you don't have an audience of your own to market your course to and it will help you make the right choice between course creation software and a course marketplace. 
Since there is no one-size-fits-all solution when it comes to online course creation software and building the best online course, knowing what to look for will help remove the confusion and frustration from making the right choice. 
How to Create (and Sell) Online Courses
Creating an engaging course doesn't have to be hard. All you need is to have a step-by-step plan that you can follow to succeed. 
Whether you're a mission-driven edupreneur or a small education and training business that wants to make an impact by selling courses online, it is now possible because of all of the online course creation platforms avalable.
That said, let's examine exactly how you can create and sell your courses successfully.
Step #1: Choose Your Course Topic
(Source)
Think of three topics that you could teach. Choose something that:
You're passionate about;
You're knowledgeable about; 
You have lots of experience with.
Once you've come up with the three possible topics, your next step is to understand the competition and demand for those topics to create an online course that people want. 
This is important because you don't want to choose a topic you're passionate about that no one will be willing to spend money to learn. You also probably don't want to choose something that's obscenely competitive and you'll never get students for.
Step #2: Check For Market Demand
(Source)
The demand for any online course can be seen in a number of different ways but one of my favorite methods to find the most popular online courses is to go to Udemy.com and search for the topic that you'd like to teach.
From there, Udemy will give you results and you can see just how many people have opted into each course. While I don't love building courses on Udemy because they sell for a fraction of the price of what you can charge (usually $10), they can make you a successful online course creator because it's a great way to figure out demand for your own online school.
As an example, if you were creating courses about Microsoft Excel, your first step would be to search "Microsoft excel" in the top bar on Udemy.
The first thing you'll notice is all of the autocomplete suggestions, For instance, see how it says "Microsoft excel data analysis"?
This might give you a great idea to make a course that uses excel specifically for data analysis.
But let's not stop there, let's go a bit deeper.
I selected "Microsoft excel" from the dashboard and now it brings me to this screen.
Next, you'd filter the results based on "Most Reviewed"
Finally, you'd look at the results in the given category. As you can see in the results below, there are two generic courses but one specifically on Data Analysis and Excel Pivot Tables.
Using this method, you'll not only be able to see the top results for the online courses in your niche, but you'll also be able to see the lessons within which may help you add or remove sections you think will be relevant for your students. As a course builder, having these insights will put you ahead of most of your competition when selling courses.
You'd be shocked at just how many course creators chose a course platform, build their course, and then realize there is no demand.
Step #3: Come up With Learning Objectives 
Once you've decided on a topic with great profit potential, it's time to come up with learning objectives for your online course. As a course builder, you must determine who you're going to be teaching and what you want to help them achieve. 
Ask yourself one question;
Where do you want your learners to be by the time they get to the end of your course? 
For this, every college I'm a part of prefers to designe courses using Bloom's taxonomy. This helps students with their cognitive learning process and allows them to actually remember what you teach them.
(Source)
Start with the end in mind and focus on solving problems and creating content that addresses those problems. Not only will this be helpful for your sales pages, but it'll help you focus your attention where it's needed.
Don't try to share all the information you know with your students – all you need to teach them is what they need to know in order to achieve the result promised by your course. 
So, for instance, if you were teaching students how to use photoshop to edit lighting, your learning objective might be: "By the end of my course, learners will be able to use Photoshop to edit the lighting in photographs". 
This would mean you would specifically address the common problem of editing lighting in photographs.
While you could make a more in-depth "photoshop course for beginners", the key is to have one or numerous focus points and address those specifically.
Step #4: Outline Your Course 
Your next step to create engaging courses is to create an outline that will be the foundation for your online course. This process involves deciding how you're going to visualize and structure your course content. 
I usually create an outline in excel similar to what you see below.
(Source)
Make sure to address learning objectives clearly in each section of your outline. Here is an example of an outline template for creating your course.
Step #5: Decide on Learning Material
Now that you have your sections all planned out, it's time to decide on how you will teach each lesson. 
Are you creating a PDF, Video, or text course? Or a mix of all of these?
Do you need to include a quiz? 
Will students require exercises, activities, or study guides?  
How can you reinforce the lessons? 
What types of materials will be best for the students to practice what you're teaching? 
Answering these questions will help you map out the kinds of materials and media formats you'll need for your course so you can start gathering the necessary equipment.
Take the time to think about this for each section of your course. This way it's less overwhelming
Step #6: Filming/Recording/Writing the Course
Now that you've gathered everything you need, you can get started filming, recording, or writing the lectures. As a course builder, you need to ensure that you're using the best equipment to produce high-quality content. 
You may also need screencasting software such as Camtasia Studio or Jing. If you need to capture audio, make sure you have the best quality microphone to create the content you need. 
Remember that this is a course, so people like to learn by DOING, not by being told what to do. So, it's best to include tutorials/screenshots showing how processes can be done and not just talking about doing them.
To avoid overwhelm, it's best to focus on one lesson at a time and make it a goal to complete one lesson per day.
Trust me, I've created at least 50+ courses and if you look at the course as a whole this is a very easy point to get overwhelmed. Focus on ONE thing at a time and you'll be able to work through it.
Step #7: Editing the Course
Once you've written, recorded, or filmed your course, it's time to edit it to ensure that you deliver only high-quality content packed full of value. 
Make sure your course flows perfectly and focus on things like visual hierarchy, alignment, spacing, and other content formatting best practices. 
If you're not adept at video editing, you may want to enlist the help of a freelance professional who will get the job done well.  I personally always outsource the editing of my course videos, otherwise, it's a huge drag on time and can be quite painful.
The thing about video editing is that it's a universal language. By this I mean you can easily find someone in another country who will happily work for a fraction of the cost of a US-based editor. For me, I always use Upwork.com and find someone based in the Philippines as English is taught to them at a very young age.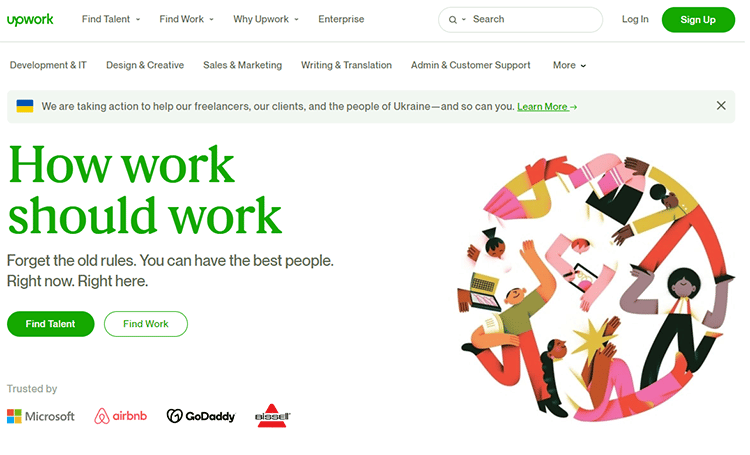 If you're including written text, get a copy editor to proofread your text before publishing your course to avoid embarrassing grammar and spelling mistakes. The last thing you want is to look like an amateur instructor because of poorly edited course content.
Step #8: Set up the Course on an Online Course Platform
Now that your course is done, you can set it up on whatever you decide is the right online course platform for you. There are things to consider at this stage, such as the pricing, transaction fees, student success tools, and naming of your course. 
Needless to say, I don't want to cover that here as it's been covered throughout this entire article.
Once you've settled on the right choice among all of these online course platforms, you can proceed to upload your content onto the course platform.  
Step #9: Launch Your Course
Now comes the fun part – launching your online course! The first thing you must decide is whether you're going to launch your course as a product launch or an evergreen course. 
If you choose to go for an event-based launch, it means course enrollment will be closed after a specific window. Evergreen course sales are always available for learners who want to join.
Step #10: Sell Your Course
Once you've launched on a course creation platform, that means that students are going to come flocking to it with cash in hand, right?
Wrong.
The truth is, creating your course is only half of the battle. Now, you have to take the labor of love that you've been working on and find a way to sell a online course to those who are looking for them.
If you want to have a successful online course business, this is what separates the very successful creators from the hobbyists.
But, how can you sell online courses to people if no one knows who you are?
Here's my list of things you must do to sell your course.
Understand the Student Outcome
(Source)
Before you begin trying to sell the course you've created, understand what it's going to deliver to your audience. In other words, how will their life change for the better once they've finished the course you're providing?
Figuring this out is crucial to your course sales because it's going to mold all of your future messaging and help you speak to the audience about the most important thing in your course; the outcome. Help them understand what new skills they'll have after taking your course that'll enable them to achieve the outcome they desire.
Most of the time, online course creators are really just selling tutorials for the sake of online learning. Sure, many of the courses have lecture-type content, but we ultimately sell tutorials of what we do so that other people can replicate our tactics. Make sure to explain this to your students and mention over-the-shoulder training videos.
Focus on Quality
(Source)
Even the best online course platforms can't help you if you create a bad course. Doing the bare minimum when creating your online course isn't going to cut it. As a course builder, you need to take time to invest in some equipment in order to create the best possible course possible. Does this mean you need to spend thousands of dollars on a brand new camera? No, but you do need to have quality content in order to keep students engaged and happy.
Microphone: Audio is extremely important when it comes to online courses. If people hear a constant echo or the audio is fuzzy, it can distract them from the lesson you're providing. For this, I recommend you look on Amazon to find the best microphone you can afford in your situation. I personally use the Blue Yeti mic in all of my videos and it does a pretty good job, do I'd start there if it's in your budget,
Webcam: Is a webcam necessary? Honestly, probably not. You can get by with your phone and the video in most of those is just as good as any webcam is. The problem though is that if you use an external phone you then have to sync your audio for the course lessons. For this reason alone, I recommend you get the Logitech C922x. This is the same webcam I have and although it isn't perfect, it's got a reasonable price and gets the job done.
Screen Recording Program: When you teach online courses, it's very common to want to show your screen to go over a tutorial or explain a concept. For this, screen recording software can help. Personally, I like to use Camtasia when I do this because it allows for me to be a "talking head"
Deliver Immense Value
If you want to get students that are happy with the online course you've created, you need to provide them with as much value as possible. Whenever you're selling curses, make sure you put your all into each course and create something that's amazing. Pour every ounce of effort into the course to make it something that you're proud of now and will be proud of in the future.
As a course creator, if you create something great not only are you going to keep the students who paid for your course happy, but you'll be talked about highly all over social media and people will look to you when they are in need of expertise.
Have a "Home Base"
Aside from choosing from this list of online course platforms, having your own website/blog or YouTube channel is an absolute necessity in my eyes when selling courses. By having a place where people can connect with you at any time, it'll allow them to do a "deep dive" into who you are and better understand just how much expertise you actually have.
This is what I've been able to do with the One Hour Professor website.
As a bonus, your home base is one of the best ways to get new prospects into your ecosystem. Think of your YouTube channel and/or blog as an introduction to who you are. Utilizing YouTube or Google SEO allows you to make it so that search engines send people your way day after day for years to come.
If you don't have one yet, here's how to start a blog, and if you're looking to start a YouTube channel, here's how to make money on the platform.
I personally think a blog is your best bet to begin as it's the easiest way to make money, but either platform will work.
Gain Trust and Credibility
If you want people to listen to you when you are trying to sell online courses, they need to trust you. Make sure that you explain in your content why you're an expert and why they need to listen to you. Discuss your professional experience, certifications, life experience, and any times that you've been featured as an expert for your knowledge.
You'll notice on my own site I point out some of the more prominent places I've been featured. Needless to say, this helps people understand that you're a trusted source.
Launch to an Audience
(Source)
For most, this is the hardest part about launching online courses. You have an idea, you chose the best solution from all of the online course platforms, you create a course, but you launch to a room full of no one and the course falls flat on it's face.
This is why it's so important to have a blog or YouTube channel to start.
If you start with another platform to create an audience, when you finally do launch your online courses, you'll have a lot of people who know, like, and trust you. Take your time at this stage to build some type of an audience prior to launching your online courses.
Or, if you want to fast track things, you can consider choosing a webinar platform and use social media or paid ads to drive people to an email list and build a relationship that way.
Lastly, you can always launch to an online platform like Udemy or Skillshare if you'd like, which is nice because they have a built-in audience, but the problem there is that you're going to sell your course for maybe $10/$15 each and that's makes it really difficult to justify considering how much time it takes to create a course.
Nurture Your Leads
(Source)
When you have an audience of any sort, realize that each person is a potential lead to purchase your course and treat them as such.
No, this doesn't mean that you should bombard them with sales offers constantly.
Instead, it means that you should get them on an email list (here's a list of the best email marketing software if you need it) and nurture the relationship over time and deliver a ton of value. This makes it much easier when you launch your course to an audience of people that are thankful for all of the value you've given them.
Let's take me, for example. As of now, I offer a few free courses on my site.
But why do I offer free courses?
Because it allows people to get a TON of value by simply giving me their email address. It builds trust with my audience and helps them understand what level of detail they can expect from me as a course builder.
While none of these free courses are on a course platform, they allow me to gain trust and credibility from my audience.
The beauty here is that when I'm selling courses, people remember the level of quality I delivered in the free course and are much more willing to pay as they already trust that I'll deliver something great.
Encourage Referrals
(Source)
Do you know what's one of the easiest ways to sell your online courses? Ask for people to do it for you.
In other words, create an affiliate program with your preferred online course platform and tell your students about it. You'd be surprised how many of those folks would love to promote your course to others when you offer them a fat commission like 50% or more.
Summary And Top Picks
Now that I've given you an in-depth explanation of the best online course platforms to start your own online course business, I hope that you're able to better understand which one will fit your teaching style.
Before you commit to any single online course platform, make sure you understand their course creation capabilities, how they help you market and sell online courses, how the platform supports instructors, and what student management capabilities there are.
While these factors alone won't sell courses for you, they're instrumental in being a successful online course instructor.
Here Are is my List of the Best Online Course Platforms
Creating and selling online courses is a great way to leverage your knowledge and skills to create a profitable business.
While there's no shortage of online education platforms available for instructors, choosing from the best online course platforms is just the beginning. Once you've chosen one, it's time to dive in and begin sharing your knowledge with the world.
If you still aren't sure which one is right for you, consider reading my online course platform comparisons below. I wrote these to compare the best options head-to-head so you can see what would be more fitting for your business.