23 Best Seafood Restaurants in the United States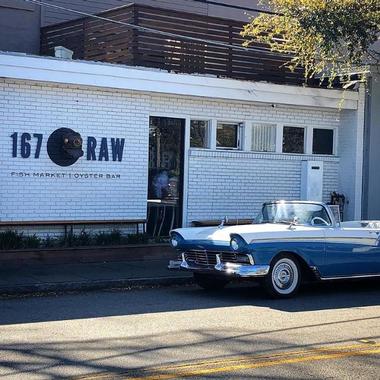 America's best seafood restaurants can be found on coastal waters, in midwest cities, and in the desert oasis of Arizona. Whether you're looking for quaint oyster bars with friendly conversation or lively seafood restaurants with music and history, they all provide the freshest seafood fare and flavorful dishes of the various regions. Classic shrimp dishes, local regional favorites, and even a few tavern-style menu items can be found among these award-winning establishments. Expertly skilled chefs artfully prepare the finest seafood meals and friendly welcoming staff provides the highest quality service in the country. We recommend that you call the attractions and restaurants ahead of your visit to confirm current opening times.
1.
167 Raw, Charleston, South Carolina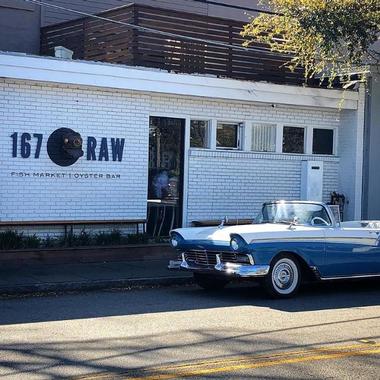 © 167 Raw
167 Raw in Charleston is an off-shoot of the original oyster bar and fish market located in Nantucket. This cozy restaurant serves up wild oysters pulled from the cool waters and steamed southern-style. The steaming loosens the oyster from its shell and the smoke from the open fire adds to the sweet and salty flavor. The 167 Raw also serves up local favorites like lobster rolls, tuna burgers, and fish tacos. The restaurant's bar features local drafts and a selection of wines and champagnes. Guests can take a seat at the gleaming white 12-seat bar or grab a chair at one of two community tables where friendly conversations blend with the welcoming ambiance.
193 King St, Charleston, SC 29401, Phone: 843-579-4997
2.
Bob's Clam Hut, Kittery, Maine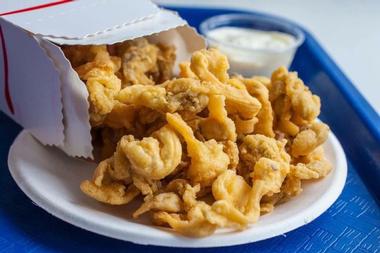 © Bob's Clam Hut
Bob's Clam Hut was founded in 1956 before Route One grew to the bustling busy shops of today. The restaurant remains committed to serving the familiar fried seafood in the traditionally simple style the people of Maine have come to enjoy. Bob's clams are delivered fresh each day to ensure the best quality of hand-selected seafood available. The restaurant continues to use Bob's original recipes with menu items such as lobster stew and his signature fried clams. Bob's Clam Hut is devoted to caring for the environment by becoming fully solar-powered and using biodegradable products and alternatives to plastic.
315 US-1, Kittery, ME 03904, Phone: 207-439-4233
You are reading "23 Best Seafood Restaurants in the United States" Back to Top
3.
Matunuck Oyster Bar, South Kingston, RI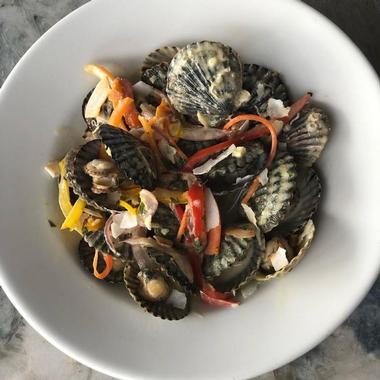 © Matunuck Oyster Bar
Matunuck Oyster Bar is fully stocked with Rhode Islands best oysters, cherrystones, littlenecks, and shrimp. The restaurant complements its pond to plate oysters with farm to table vegetables and herbs. Great care is taken in growing the highest quality seafood and organic vegetables to create the finest recipes. Menu items include classic calamari appetizers and an unprecedented quinoa crab salad mixed with vegetables and a lemon vinaigrette. Soup, salads, and sandwiches feature local seafood and the freshest organic vegetables from their farm. Seafood entrees range from jambalaya served over rice to Alaskan king crab legs. A selection of steak, pasta, and chicken dishes round out the dining options.
629 Succotash Road, South Kingstown, RI 02879, Phone: 401-783-4202
You are reading "23 Best Seafood Restaurants in the United States" Back to Top
, OH
4.
Neptune Oyster, Boston, MA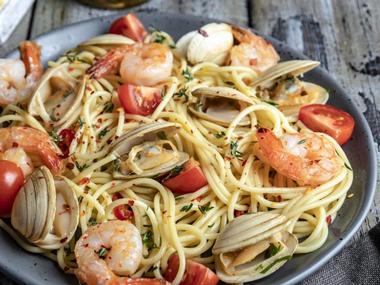 © koss13/stock.adobe.com
Neptune Oyster is a quaint and coveted venue showcasing the most refined seafood in the Boston area. The nautical shades of blue and white adorn the decor with mirror accents throughout the restaurant. Neptune's signature warm buttered lobster rolls and popular cornmeal johnnycakes immersed in honey butter and adorned with bluefish and sturgeon caviar have earned national recognition. The menu is comprised of local seafood dishes made from the freshest Atlantic seafood. The wait to get a seat at Neptune Oyster might be long but the high-quality food and service from the friendliest staff make it all worth it.
63 Salem St, Boston, MA 02113, Phone: 617-742-3474
You are reading "23 Best Seafood Restaurants in the United States this Weekend with Friends" Back to Top
5.
Angry Crab Shack, Mesa/Phoenix, Arizona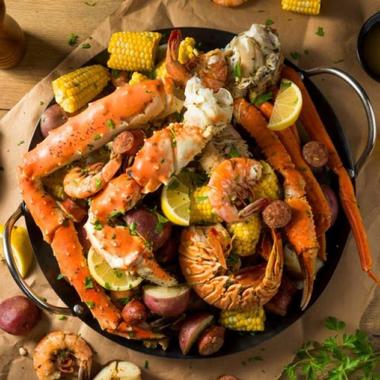 © Angry Crab Shack
Angry Crab Shack is Mesa, Arizona's seafood claim to fame and offers the best cajun dishes throughout the Valley of the Sun with 10 locations. The lunch menu features a choice of gumbo or clam chowder and a modest selection of fresh crisp salads. For a quick lunch packed with flavor, guests can custom build a bowl made from a choice of meat or crispy tofu sauced and seasoned from the list of options. The full dinner menu, available all day, starts with a vast appetizer list of seafood favorites. It also offers sandwiches, seafood bowls, and a variety of dinner baskets served with their signature fries.
2740 S Alma School Rd, Mesa AZ 85210, Phone: 480-730-2722
You are reading "23 Best Seafood Restaurants in the United States" Back to Top
6.
Coni's Seafood, Inglewood, CA

© sitriel/stock.adobe.com
Coni's Seafood uses the freshest ingredients imported from Mexico to prepare authentic Nayarit-style Mexican seafood. From backyard beginnings to passing the torch to his daughter, Coni's Seafood has been serving award-winning dishes to the community of Inglewood for over 30 years. The menu begins with a selection of ceviche appetizers and other small plate seafood favorites like campechana and tacos de marlin. Their selection of shrimp dinners offers an array of flavors from buttery garlic to spicy red or jalapeno with cheese and sour cream. The list of beverages available includes fresh-squeezed lemonade and a selection of Mexican beers.
3544 West Imperial Highway, Inglewood, CA 90303, Phone: 310-672-2339
You are reading "23 Best Seafood Restaurants in the United States" Back to Top
7.
Seafood Restaurants: Fiola Mare, Washington D.C.

© Fiola Mare
Fiola Mare is Italian chef, Fabio Trabucchi's tribute to the exquisite dining found on the coast of the Mediterranean. An everchanging menu to reap the freshness of seasonal ingredients defines the taste of Italian seafood. The menu features vibrant colors of artistically presented dishes of the finest vegetables, seafood, and prime rib brunches with organic raw juices, delicate pastries, and decadent desserts. The bar serves cocktails inspired by the light and simple refinement of the sea. The spirits and wine lists were acquired with a focus on flavor and freshness inspired by Italy and accented by American and global customs.
3050 K Street NW, Suite 101, Washington DC 20007, Phone: 202-525-1402
8.
Hogfish Bar and Grill, Key West, FL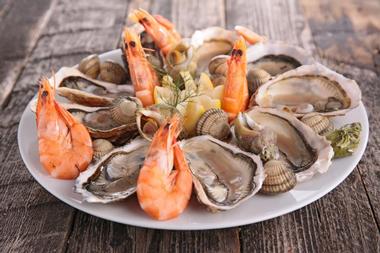 © M.studio/stock.adobe.com
Hogfish Bar and Grill, located in the Florida Keys, is locally owned and features waterfront dining of Key West's old-world style and flavor. This laid-back local hot spot serves a menu of boat-to-table entrees and small plate seafood classics like fried calamari and ceviche. Popular Florida dishes like conch fritters and grouper cheeks are a few of the chef's specialties. The namesake dish has a similar flavor to scallops and is served on fresh Cuban bread and topped with swiss cheese, onions, and mushrooms. Taco lovers will delight in the selection of Baja style tacos served with rice and beans.
6810 Front Street, Stock Island, FL 33040, Phone: 305-293-4041
"23 Best Seafood Restaurants in the United States for Locals & Tourists – Restaurants, Hotels" Back to Top
, Michigan beaches
9.
Le Bernardin, New York, NY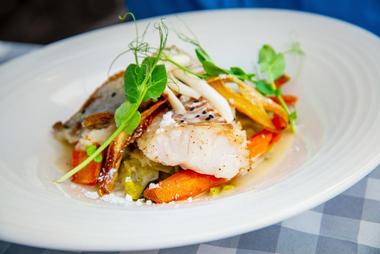 © ilolab/stock.adobe.com
Le Bernardin was first created in Paris by siblings Maguy and Gilbert LeCoze whose instant success led to taking their flavor to New York. The simplicity of only serving fresh fish that is prepared with reverence reflects the ideals that the seafood is the star. The menu offers guests a choice between several Chef Tastings, with or without wine pairings, 3-course lunches, and 4-course dinners. In 2014, the restaurant expanded its services with a newly added chic event space for special occasions and business meetings. They also introduced a sophisticated wine bar featuring a light menu and sharable plates that complement the growing list of wines.
155 W 51st St, New York, NY 10019, Phone: 212-554-1515
10.
Seafood Restaurants: Mama's Fish House, Paia, HI

© Mama's Fish House
Mama's Fish House is the dream come true restaurant of Floyd and Doris Christenson who sailed the South Pacific for four years in search of the perfect island home. In 1973, the young family opened up a fresh fish restaurant among Maui's sea of steakhouses. Since day one, Mama's Fish House has served Polynesian-style entrees made from the daily catch of local fishermen. The variety of fish brought in daily include tropical Ono, brightly-colored Mahi-Mahi, and reef dwellers like Lehi, Uku, and Onaga. Still today, the daily menu features the fresh catch of local fishermen served in the same loving way as Mama.
799 Poho Place, Paia, HI 96779, Phone: 808-579-8488
"23 Best Seafood Restaurants in the United States" Back to Top or Romantic Getaways, Wedding Ideas close to me this weekend, honeymoon, anniversary Ideas, fun places near me
11.
Mariscos Chihuahua, Tucson, AZ

© Mariscos Chihuahua
Mariscos Chihuahua began as a small family-operated food stand that served ceviche, seafood, and cocktails next to a popular fruit stand in Nogales, Mexico. Word of their delectable menu spread quickly among the people and eventually grew into a full restaurant. When some of the family moved to Arizona, so did Mariscos Chihuahua. Generations later, the family still serves the traditional recipes made famous nearly 50 years ago, including their ceviche, shrimp marinated in lime juice and tossed with tomato, onion, cucumber, and seasonings. The dinner menu offers a selection of fish, shrimp, and chicken dinners served with salad, rice, and french fries.
1009 N Grande Ave, Tucson, AZ 85745, Phone: 520-623-3563
12.
Pacific Beach Fish Shop, San Diego, CA

© Pacific Beach Fish Shop
Pacific Beach Fish Shop opened in 2010 with the freshest local catch. The build-your-own menu lets patrons choose a fish or seafood. Then pick a marinade and select the style in which it is served, grilled or fried as a taco, a salad, a sandwich, or plated as a dinner. Diners can also choose from Fish Shop Favorites like Pineapple Express taco or the Poké Bowl made with fresh raw Ahi immersed in soy sauce, spiced with ginger and crushed red pepper, topped with Sriracha aioli and avocado lime drizzle served on jasmine rice and seaweed salad with cucumbers and wontons.
1775 Garnet Ave, 92109 San Diego, Phone: 858-483-1008
13.
Pêche Seafood Grill, New Orleans, LA

© Pêche Seafood Grill
Pêche Seafood Grill was designed with inspirations from South America, Spain, and the Gulf Coast by chefs Donald Link, Stephen Stryjewski, and Ryan Prewitt. The menu is built from the fresh local catch and produce from sustainable farming to create classic seafood entrees and old-world recipes cooked on an open hearth. Dining options include a raw bar with seafood salad and crab claws, small plates and snacks to start things off, soups and farm-fresh salads, and entrees featuring Louisianna catfish and Gulf shrimp. This award-winning restaurant gives back to the community through the Link Stryjewski Foundation that strives "to help nourish, educate, and empower the youth of New Orleans."
800 Magazine St, New Orleans, LA 70130, Phone: 504-522-1744
14.
Providence, Los Angeles, CA

© Providence
Providence serves the finest acquired seafood prepared with sophistication and respect by a renowned chef. Chef Cimerusti insists on only using wild-caught, sustainable seafood and fish from American waters to ensure the highest quality for generations to come. The lunch menu serves up classics like oysters on the half shell and clam fritters with entrees such as Vermilion Rockfish or diners can choose the four-course tasting. The dinner menu starts with exquisite delicacies like farm-raised caviar and Italian white truffles served a la pasta, risotto, or omelet. In the evening, Providence offers three tasting menus with or without wine pairings.
5955 Melrose Avenue, Los Angeles, CA 90038, Phone: 323-460-4170
You are reading "23 Best Seafood Restaurants in the United States" Back to Top or Amazing things to do around me
15.
Seafood Restaurants: Red Fish Grill, New Orleans, LA

© Red Fish Grill
Red Fish Grill is located on the first block of the famous Bourbon Street and features fresh seasonal fish and seafood. Diners can take a seat at the spacious oyster and cocktail bar adorned in marine life decor on raw brick walls. The menu is comprised of farm-fresh ingredients and the local fishermen's catch to create their signature dishes, bbq oysters, hickory grilled redfish, and seafood gumbo with alligator sausage. Their decadent double chocolate bread pudding is the final touch to any meal at Red Fish Grill. The lunch menu offers soups, salads, and sandwiches and the dinner menu brings out the wide selection of Gulf fish and shrimp entrees.
115 Bourbon St, New Orleans, LA 70130, Phone: 504-598-1200
16.
Safe Harbor Seafood Market & Restaurant, Mayport, FL

© Vasiliy/stock.adobe.com
Safe Harbor Seafood Market & Restaurant is recognized as the best seafood in the Jacksonville area caught daily and prepared in a casual environment. For more than 25 years the market sold fresh fish and local seafood to the Atlantic Beach communities. The restaurant emerged in 2013 serving up Florida favorites, cooked to order with picturesque views of the water to watch the boats come in from fishing. The menu offers appetizers like gator tail and shrimp nachos and a large selection of dinner baskets served with french fries, coleslaw, and hush puppies. Soups, salads, tacos, and sandwiches available provide a wealth of flavor and style.
4378 Ocean Street #3, Mayport, FL 32233, Phone: 904-246-4911
You are reading "23 Best Seafood Restaurants in the United States" Back to Top
17.
Seafood Restaurants: Sambo's Tavern, Leipsic, DE

© FabioAlfanoPH/stock.adobe.com
Sambo's Tavern is a popular tourist stop restaurant and tavern on the Leipsic River, open seasonally from mid-April to late-October. Their renowned crab cakes and steamed crab bring travelers from all over the country. Locals have enjoyed the high-quality seafood and the friendly service of the staff for over 50 years. A sampling of tavern favorites are found under Munchies like fried clams, chicken wings, and pepperoni pizza. Steam pots are overflowing with shrimp, oysters, and crabs while platters of mixed seafood are served up with hushpuppies and choice of two sides. The bar offers wine by the glass, craft beers on tap, specialty drinks, and classic cocktails.
283 Front St. Leipsic, DE 19901, Phone: 302-674-9724
18.
Select Oyster Bar, Boston, MA

© Select Oyster Bar
Select Oyster Bar is the culmination of Chef Michael Serpa's dream to open his own style of seafood joie de vivre. The old-world brick walls of the humble restaurant are embellished with images of Jaques Cousteau and movie posters from The Life Aquatic. The menu steered away from average everyday dishes and set sail with tantalizing masterpieces like the Hemingway, a copious amount of seafood highlighted by blue crab salad and a dressed Maine lobster. This towering feast of oysters, shrimp, and dayboat scallop ceviche has a little taste of all the best for a table full of family and friends.
50 Gloucester Street, Boston, MA 02115, Phone: 857-239-8064
You are reading "23 Best Seafood Restaurants in the United States" Back to Top
19.
Shaw's Crab House, Chicago, IL

© Shaw's Crab House
Shaw's Crab House combines a laid-back casual oyster bar with the sophistication of a jazz-infused seafood restaurant. The procurement of seafood covers the best fishing grounds in the country with Alaskan King crab legs, Florida stone crab, the northeast's famous Maine lobsters, and Maryland's blue crab. The extensive menu offers daily varieties of cold-water oysters, seasonal fish and seafood selections, as well as exquisite desserts baked in-house. The bar features a list of signature drinks along with beers, wine, sake, and cider. Guests enjoy live jazz and blues music that fills the air every Sunday, Tuesday, and Thursday evening from 7-10.
21 E Hubbard St, Chicago, IL 60611, Phone: 312-527-2722
20.
Swan Oyster Depot, San Francisco, CA

© ALF photo/stock.adobe.com
Swan Oyster Depot has made a lasting mark on the San Fransico neighborhood of Polk Gulch since its reemergence after the devastating earthquake of 1906. The same 18 bar stools and marble counter have sat generations of patrons who enjoy the fresh seafood and charismatic staff, This iconic restaurant has more than what you see on their wall-sized menu. Over 100 years of special requests and customer creations built a secret menu that keeps seafood lovers coming back. The Sicilian Sashimi made with thinly sliced salmon, tuna, and scallops drizzled with olive oil, topped off with cracked pepper and capers has become a well known off the board favorite.
1517 Polk St, San Francisco, CA 94109, Phone: 415-673-1101
21.
Seafood Restaurants: The Place, Guilford, CT

© The Place
The Place got its start in the 1940s when an old sailor named Whitey had an impromptu roadside clam bake and grew into the unique outdoor eatery it is today. In 1971, the restaurant got its current name to honor the word's of its founder, "There's no place, quite like this place, anywhere near this place, so this must be The Place." Brothers Gary and Vaughn continue to serve up the roasted clams Whitey made famous plus an expanded menu of lobster, fish, steak, and chicken. Fifty tables with tree stump seats keep the spirit of the old sailor's clam bake alive and well.
901 Boston Post Rd., Guilford CT, 06437, Phone: 203-453-9276
You are reading "23 Best Seafood Restaurants in the United States" Back to Top or More romantic weekend getaways
22.
The Shrimp Factory, Savannah, GA

© Sergey/stock.adobe.com
The Shrimp Factory can be found in one of River Street's historic cotton warehouses of the 1820s. This waterfront restaurant's casual atmosphere and coastal ambiance are enriched by the original pine beams and gray brick construction. Lunch offers a selection of shrimp dishes and fried seafood favorites. Signature dinner entrees are paired with freshly baked bread and a Caesar salad tossed tableside. Chef Tisha has worked her magic in the kitchen for over fifteen years with specialties like shrimp and grits and Savannah Stuffed Shrimp filled with decadent blue crab. Desserts by the creators of River Street Sweets joined The Shrimp Factory when the Strickland brother and sister duo took over in 2013.
313 E River Street, Savannah, GA 31401, Phone: 912-236-4229
23.
Seafood Restaurants: The Walrus and the Carpenter, Seattle, WA

© The Walrus and the Carpenter
The Walrus and the Carpenter is the result of three friends set on building a cozy neighborhood oyster bar with lively fun and fantastic dining. Family and friends came together to create a handcrafted establishment featuring custom-built cabinetry and furniture. The centerpiece of the decor is a coral-like metal chandelier found in a Los Angeles antique yard. A daily menu changes with the seasons of the seafood and fish offering a selection of oysters, garden-fresh salads, shellfish entrees, and signature dishes like duck liver mousse with apricot jam, pickled maitake mushrooms, and toast. The restaurant's bar serves a long list of wines, classic cocktails, local draft beers, cider, and house-made sodas.
4743 Ballard Ave NW, Seattle WA 98107, Phone: 206-395-9227
23 Best Seafood Restaurants in the United States
You are reading "23 Best Seafood Restaurants in the United States " Back to Top