29 BEST Vegetarian Restaurants in Portland, Oregon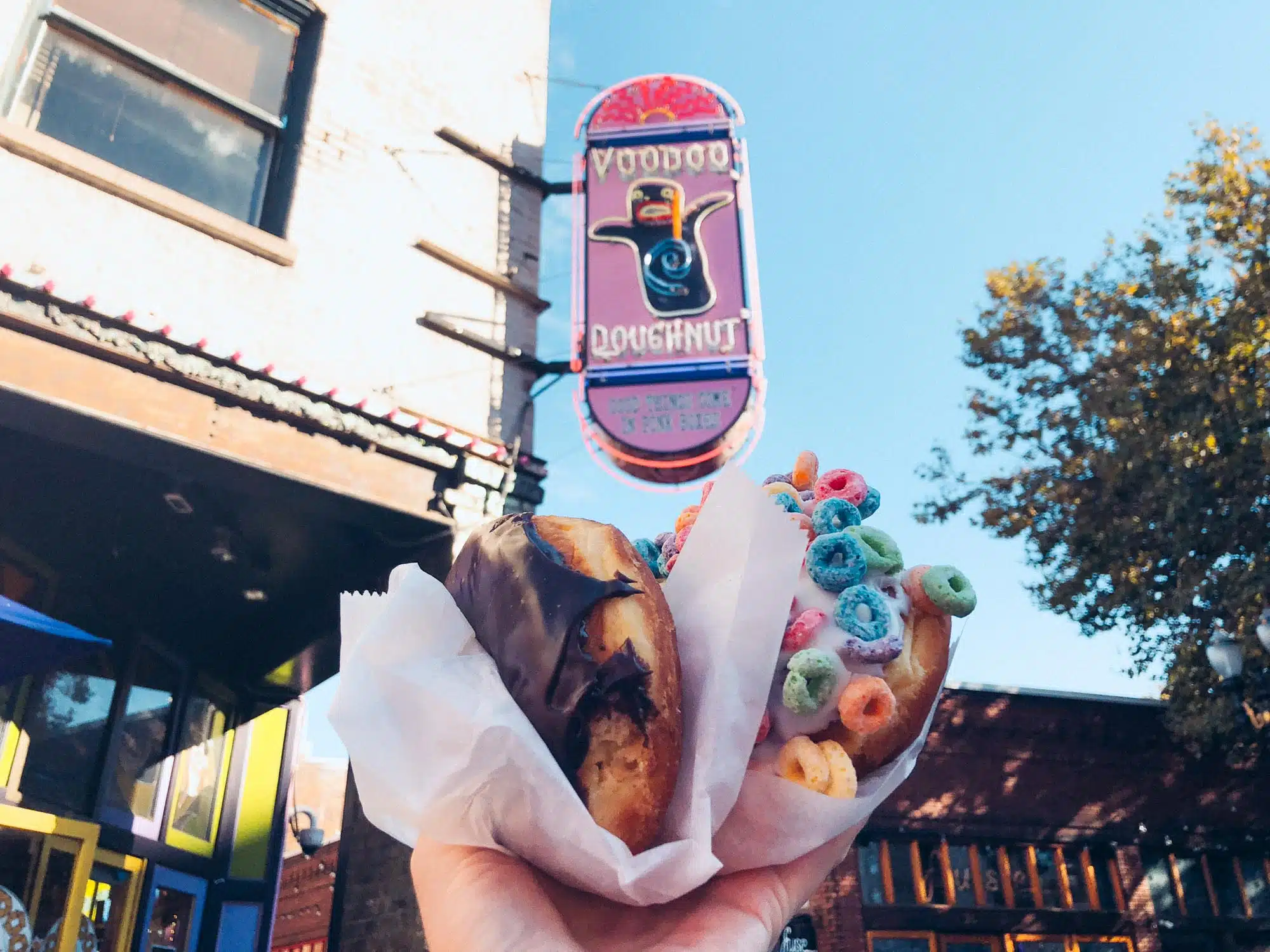 Last updated on June 27, 2022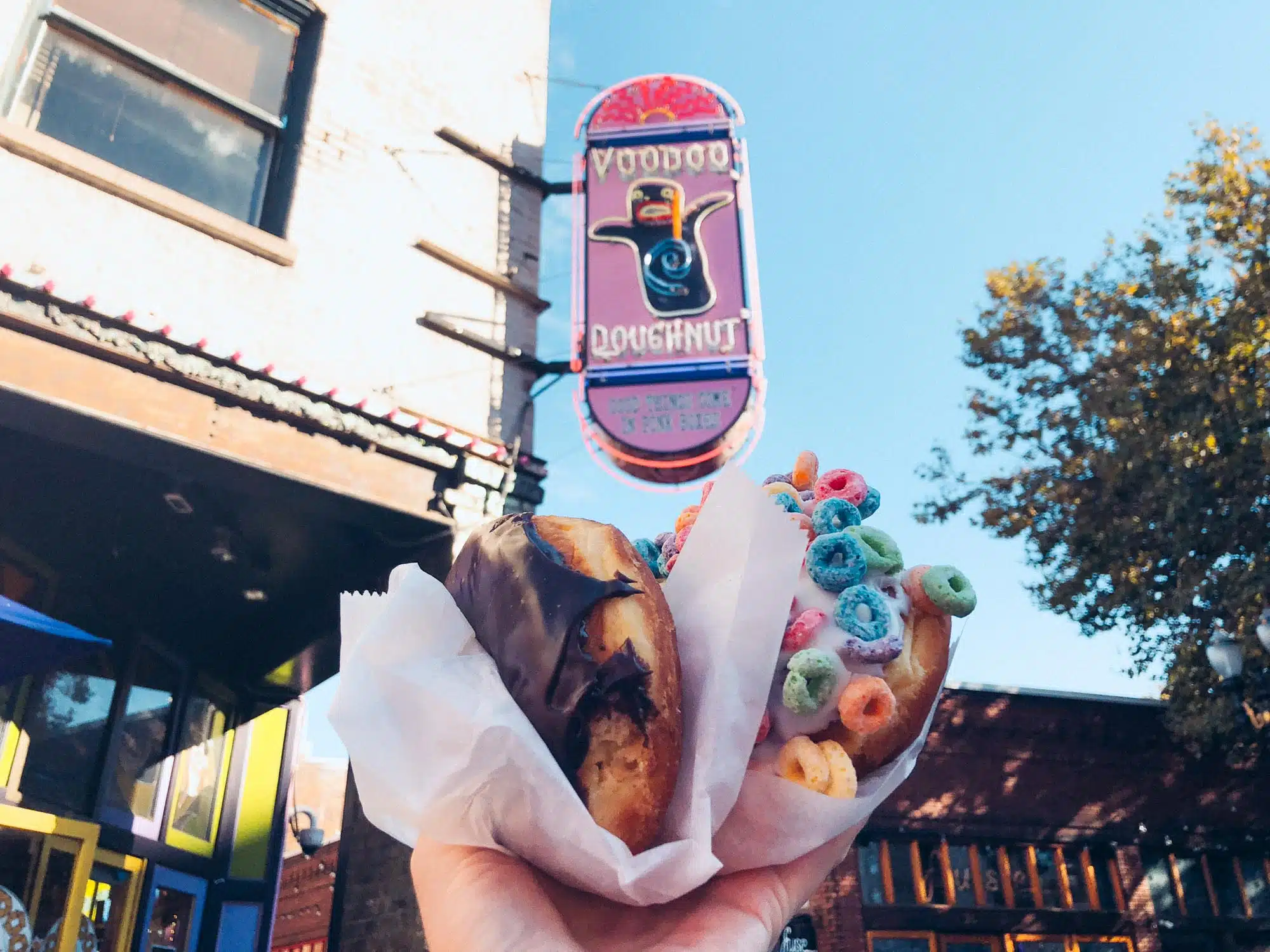 Portland has become a well known foodie destination, best known for its high-end food carts, serving dishes from around the world. Some give rise to restaurants while others stick to their humble roots. And there's an incredible restaurant scene too.
From gourmet donuts to some of the best examples of international cuisine you'll find outside their native countries, Portland is a real treat for the palette. And the city's progressive nature means that all diets are catered for, from vegetarian to vegan to paleo.
There's a dizzying amount of places to choose from and we often ate in more than one place for each meal, trying a dish in each place – we were determined to discover the best restaurants in Portland! We've also put together a guide about the best of what to do in Portland and a curated selection of the best Portland Airbnbs.
The 29 best vegetarian restaurants, Portland, Oregon
We're vegetarian, so while these restaurants aren't all exclusively vegetarian, they all serve good vegetarian options, and most have vegan food too. It'd be easy to write a post about the best purely vegetarian and vegan restaurants in Portland as there are so many, but we found some of the best veggie food at restaurants that were also serving meat, so this post is our pick of the best vegetarian friendly restaurants in Portland.
Portland is also famed for it's food carts, so we've included those, and cafes too. Regardless of whether or not you're veggie, these are some of the top restaurants in Portland.
We have focussed on the areas of downtown Portland, the Alberta Arts District, and Hawthorne / Division, but I've also added a section for other areas of Portland to highlight a few standout places.
Best vegetarian-friendly restaurants in Portland's Alberta Arts District

Proud Mary Coffee
Proud Mary Portland is the first outpost of one of Melbourne's best brunch spots. We went there in Australia and seized the opportunity to try it again in Portland. The food and coffee was just as good as the original, including inventive brunch options such as grilled semolina gnocchi with chanterelles, lemon and parmesan.

Pine State Biscuits
Not to be confused with what the English call biscuits, American biscuits are somewhat like a savoury scone and Pine State Biscuits is known for having some of the best. They're not my favourite thing, but I enjoyed tasting an American classic. It's a good option for trying a traditional dish on the Portland vegetarian scene.

Sweedeedee
Sweedeedee is a cute little cafe in North Portland serving homestyle breakfast and brunch. The breakfast burrito was excellent and the egg sandwich also comes highly recommended. Expect to queue on the weekends.

Barista
This atmospheric coffee house serves expertly-made coffee from behind a walnut bar. It's one of four Barista cafes in the city and a very good place to people watch.

Salt and Straw
Oh my, my mouth waters just thinking of Salt and Straw. Hands down some of the best ice cream I've ever had. They have a classics menu, plus seasonal specials, which for Halloween included an ice-cream with grasshoppers! I stuck to the tamer, but still inventive options, including freckled woodblock chocolate, and almond brittle with salted ganache. They also have vegan options.
Handsome Pizza
Home to both excellent pizza and delicious cakes, Handsome Pizza is worth straying from the main Alberta Street area. It's next door to a popular Thai place called Hat Yai where people rave about the chicken.

Bollywood Theater
This Indian street food restaurant aims to offer an authentic Mumbai experience, including a backdrop of Bollywood film and food served off traditional steel plates. There are two branches of Bollywood Theater in Portland, one in Alberta Arts and the other in Hawthorne.
Case Study Coffee
Case Study Coffee is one of Portland's most popular coffee roasters, serving third wave, seasonal speciality coffees. There are three branches, and we loved the one in Alberta Arts District.
The Bye and Bye
The Bye and Bye has an 100% vegetarian menu, served in a popular hipster bar setting in the Alberta Arts District. There's a selection of hearty bowls, plus vegetarian takes on classic sandwiches like a reuben and a veggie meatball sub. It's right next to the Tiny House Hotel where we stayed, and has extensive patio seating. It's one of the most popular vegetarian Portland restaurants.
Best vegetarian restaurants in south east Portland (Hawthorne / Division)

Fried Egg, I'm in Love
With probably the best name in Portland, Fried Egg, I'm in Love serves perfectly made fried egg sandwiches with a variety of different toppings.We stayed just steps from the food truck in Hawthorne and went back twice it was so good. The food truck in Hawthorne has now closed, but they've opened a restaurant at 3549 SE Hawthorne Blvd and there's a food cart downtown on Pioneer Square. It's one of the best vegetarian food carts in Portland.

¿Por Que No?
A strong contender for my favourite Mexican food on the West Coast, ¿Por Que No? Taqueria is a Portland institution, serving a delicious array of tacos and small Mexican plates in a colourful, lively restaurant.

Blue Star Donuts
Voodoo Doughnuts has the style, but, in my opinion, Blue Star dominates with taste, serving gourmet donuts including flavours such as raspberry rosemary buttermilk, cointreau creme brûlée, and blueberryy bourbon basil. They also have great vegan doughnuts (making it one of the best stops for Portland vegan food).

Tov Coffee and Tea
Housed on an old London double decker bus, Tov is a quirky cafe specialising in Egyptian and Turkish-style coffee. It's right next to a group of food pods, so perfect for picking up a coffee while you wait.

Pok Pok
Pok Pok is well known as one of the best places to eat in Portland and one we definitely wanted to try. Unfortunately, there aren't that many vegetarian options, but the ones we did try (Khao Soi Jay and papaya salad) were both delicious, so it makes up in taste what it lacks in variety. 

Potato Champion
If you're looking for some high-end fries, Potato Champion is the place to go. It's a food cart within a pod on Hawthorne and specialises in topped Belgium fries.
Apizza Scholls
For pizza on Hawthorne, we recommend Apizza Scholls, which serves top quality Italian-style thin crust pizza.

Harlow
We ate a delicious lunch at this consciously-minded cafe, specialising in hearty but healthy gluten-free vegetarian food. Harlow Portland has a great range of bowls, using quinoa or brown rice as a base and a variety of greens, beans, veg and sauces. There are also lots of dairy-free options using things like cashew and almond cheese. It's the sister restaurant of Prasad, which serves great juice and vegan food in downtown Portland.
Ava Gene's
Consistently named as one of Portland's favourite restaurants, the high-end italian-style Ava Gene's has adopted the strapline, "locally sourced, aggressively seasonal", which is oh so wonderfully Portland. While not entirely vegetarian, it has a focus on vegetables and the owner/chef has a popular cookbook, Six Seasons of Vegetables.
Best vegetarian restaurants in downtown Portland and the Pearl District

Voodoo Doughnuts
Perhaps the most famous of Portland's food is Voodoo Doughnuts, an unconventional doughnut store selling all sorts of wacky inventions, such as Oh Captain, My Captain (topped with Captain Crunch) and the cream-filled Cock-N-Balls. It's so popular, you can expect a lengthy queue, although when we went there mid-week, we were able to walk straight in. Personally I think the gimmicks outweigh the taste (I prefer Blue Star), but they're still really good doughnuts and certainly worth a try.
Alder Street Pod
The Alder Street Pod is home to around 60 food carts, serving all sorts of cuisines from around the world. The Whole Bowl is a hearty veggie option, but it's the chicken rice at Nong's Khao Man Gai that we heard most people raving about (but sadly, there's no veggie option).

Pioneer Square food carts
There's a small but good selection of food carts on Pioneer Square, including some of our favourites from other parts of the city, such as Fried Egg, I'm in Love and The Whole Bowl.
Best vegetarian meals in other areas of Portland

Pip's Original Doughnuts
I'm a huge fan of Blue Star, but for a different type of donut, head to Pip's Original Doughnuts, which serves freshly made warm mini donuts, drizzled with chocolate or cinnamon sugar. They were one of the highlights of our stay.
Farm Spirit
Of all the places we didn't get to try in Portland, Farm Spirit Portland is the one I was saddest about. The inventive Portland vegan restaurant is one of the most highly recommended vegan places in the city and the tasting menu looks amazing. It's a high-end celebration of vegetables and nearly everything on the menu comes from no more than 100 miles away.
Friends tell us its incredible, but the only issue is getting a seat. It operates on a ticketing system – like booking for the theatre – and tickets are released around 2-4 weeks in advance. If you can, this is a must on the vegan Portland to do list!
Blossoming Lotus
Blossoming Lotus Portland is one of the best vegan Portland restaurants, and has many raw options, including the popular live nachos (live, confusingly means raw on the menu). Serving a range of small and large plates of world cuisine, it's a place that you can appreciate, vegan or not.

Homegrown Smoker
American BBQ food is something vegetarians don't normally get to enjoy, but at Homegrown Smoker, you can enjoy veggie versions of all the american classics. Try seitan burgers, macnocheese and other meat alternatives such as soy curls and tempeh.
Epif
Epif Portland does what Portland does best – taking a world cuisine and adding its own unique spin. In this case, its taken Andean cuisine and made it vegan, which is normally a tricky combination to come by. It does it well and as such is one of Portland's favourite vegan restaurants.
Stumptown Coffee
Finally, don't go to Portland without trying its famous Stumptown coffee. There are six Stumptown cafes in the city, plus many more that serve its coffee. It's a good gift for those back home. 

The best vegan restaurants in Portland, Orgeon
Most of the restaurants on this list have vegan options, but the most notable for vegan food in Portland are: Harlow, Farm Spirit, Blossoming Lotus and Epif. For vegan sweet treats go to Back to Eden bakery, Blue Star or Salt and Straw.
What are some restaurants in Portland where a vegetarian and a meat eater can have a good meal together?
If you're part of a group with both vegetarians and meat eaters in Portland, loads of the restaurants in this article would suit you both. Our top picks would be: Pok Pok; Ava Gene's; ¿Por Que No?, and Bollywood Theater. For desert, head to Blue Star or Salt and Straw.
Vegetarian and vegan delivery in Portland
Because we were travelling with our baby, going out for dinner in the evenings wasn't always possible unless we ate super early. Instead, we took advantage of the different delivery services in the area and ordered food to our AirBnB. It was a good way to be able to try lots of the above restaurants. There's plenty of vegetarian and vegan delivery in Portland. The different services we used were: Caviar; Postmates and Grubhub.
Enjoyed this post? Share it on Pinterest.
I've also written a three-day Portland itinerary, with all the best things to do in the city.
If you like this post, you might also be interested in my California road trip itinerary or this guide to how to get the best out of 10 days in Japan. Both include lots of vegetarian recommendations.