30+ Best Online Courses to Take to Get a Job in 2022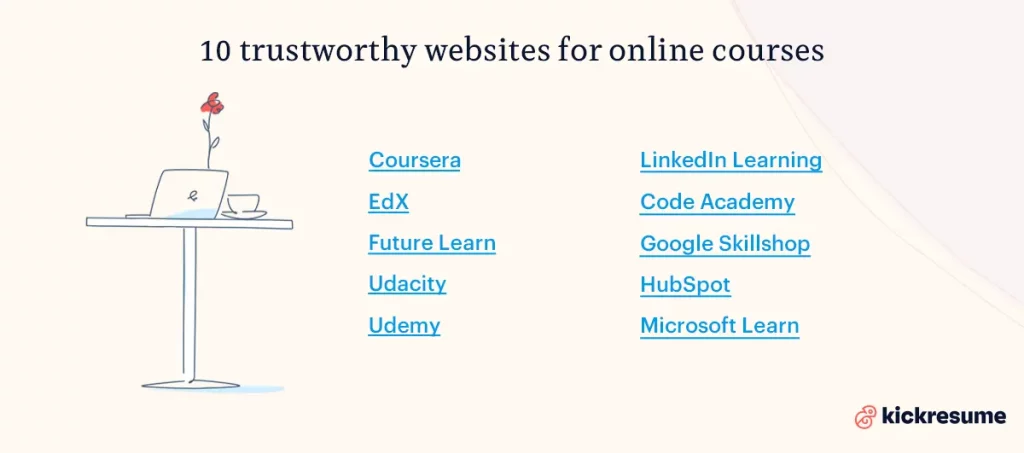 Online learning is transforming the way we build our careers. It's accessible, affordable and helps us boost our skills. It can even help us get hired. Because of that, we're bringing you a list of the best online courses to take to get a job in 2022.
If you're asking yourself "What online course is most likely to help me get a job?" — the answer is, any of them will. You just need to pick one that suits your job, industry and needs.
In our list of online courses, you'll find courses from trustworthy learning platforms and top companies, courses in various industries, training for students, experienced professionals, and also free training courses for the unemployed.
We'll also tell you which courses are free and paid, which of them offer certifications and how you can later present these new courses on your resume in the best possible way.
Note: We wrote this article four years ago and many job seekers found it useful. Now we've updated it and added more recent courses that will boost your chances of getting a job even in 2022!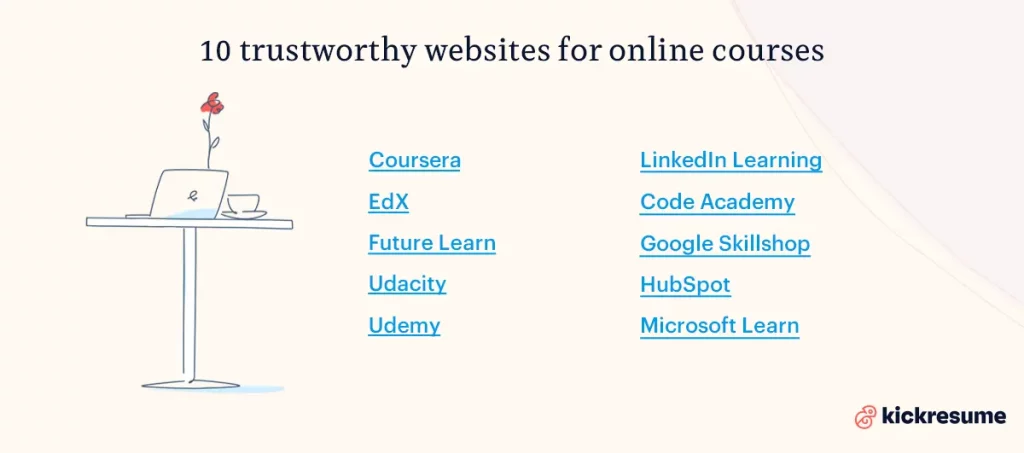 Table of Contents
Click on a section to skip
Table of Contents
10 trustworthy websites for online courses
When it comes to getting a job, not all resources are equally valuable in recruiters' eyes.
How do you persuade potential employers that you've done more than watched a few unvetted YouTube videos on how to code an app? The answer is getting an online course from a trustworthy website or a well-known brand.
A single course from one of these 10 trustworthy websites is sure to look dynamite on your CV:
1. Coursera
An online learning platform that hosts more than 4,000 courses from universities such as Stanford and Yale, or from well-known companies. You can enroll in either self-paced or timed classes ranging between 4 and 12 weeks. Moreover, Google, Meta and other well-known companies launched various courses for professional certificates in data analytics, digital marketing, IT, and other sectors. Google says their courses are equivalent to 4 year degrees.
2. EdX
Co-founded by Harvard and MIT, this online learning platform offers 3,000+ free online courses from more than 140 institutions including NYU, Yale, or even well-known companies like IBM. Top EdX 10 courses in 2021 were related to computer science, blockchain, machine learning, emotional intelligence, or entrepreneurship.
3. Future Learn 
A private company with over 50 years of experience in distance learning and online education. Future Learn offers a wide range of online courses, microcredentials and ExpertTracks from leading universities and organizations from around the world, including Amazon, Microsoft, or British Council. You can also receive a certificate of achievement (although you need to upgrade, mark over 90% of course steps, complete all questions and receive a score of over 70%).
4. Udacity 
The outgrowth of free computer science classes offered in 2011 through Stanford University, now focusing on vocational courses for professionals. Udacity has around 200 free online courses, but doesn't offer certificates. They also run a Nanodegree certificate program — it's a bit more expensive, but you'll find there courses in various fields from top companies like Google, Facebook and AT&T. Moreover, they guarantee you'll get a job with it (otherwise you'll get a refund).
5. Udemy 
A global marketplace for online learning and mastering new skills. At Udemy, you can choose from a massive and varied catalog of over 185,000 self-paced courses taught by expert instructors. They have courses both for students and experienced professionals. Courses can be paid or free, depending on the instructor (with paid, you'll also get a certificate). Although, they probably won't be as impressive as other certificates, since they come from real-world experts and not well known institutions or brands.
6. LinkedIn Learning
A learning platform from LinkedIn that offers over 16,000 courses in business, technology and creative skills taught by industry experts. They come in 7 languages and each course includes a number of short videos that make it easy to adopt new knowledge. If you open your LinkedIn, it even suggests relevant courses for you, based on the skills and experience in your LinkedIn profile. Although it's paid, you get one month of free trial and printable certificates for each online course.
7. Code Academy
Great for aspiring developers. They offer free coding classes in 12 programming languages including Python, C#, Java, or HTML. They partnered with various brands like Amazon or Adafruit. This online academy offers coding tutorials with easy-to-follow instructions, immediate feedback and a tested curriculum. Its community forum is the place for learning, helping, and sharing experiences with Code Academy and coding in general. They also have a paid "pro" version if you want to access personalized plans and realistic projects.
8. Google Skillshop 
Google's free learning center is a credible and well-known platform. Here you'll find in–depth lessons produced by Google product experts for using Google's tools like Google Ads, Google Analytics, Google Marketing Platform, or Waze. You'll also get a free Google certification upon completion.
9. HubSpot Academy
This learning center from HubSpot offers numerous courses in sales, marketing, and customer support. You'll find there short courses to get a job or improve your skills, but also in-depth lessons that offer free certifications upon completion. You'll also get an industry-recognized badge that you can add to your LinkedIn profile. You only need to register to access courses, otherwise they're completely for free.
10. Microsoft Learn
A learning center from Microsoft that offers three types of learning — online courses, certifications and live events. Some courses are free, some are paid. But you'll find there courses both for beginners and advanced users. They offer courses mainly for their products, but this can be particularly useful if you use Microsoft tools at your work or in the field. Also, Microsoft's certificates are accredited and recognized by employers. 
Completed an online course?
Put it on a resume that catches the eye!
Create resume
Best online courses to take to get a job
Cool, so these sites and well-known brands are offering myriads of appealing courses. But how are you supposed to know which ones are better than others?
The following hand-curated list contains the most valuable online courses that will get you a job, and some of them won't cost you a dime. They're divided into 8 categories:
Programming and computer science
Web development
AI and data science
Design
Digital marketing
Communication
Languages
Healthcare and medicine
Many of these online courses even offer a certificate!
What's the difference between a course and a certificate?

An online course is an online class that will teach you new skills or gain some new knowledge. Some courses also provide a certificate upon completion. A certificate validates the skills you've learned and can be also shared on your social media.
New certificate? Update your resume quickly.
Get Kickresume mobile app and have your resume stored in the cloud. Edit it anytime, anywhere.
Get Kickresume mobile app
How to add online courses and certificates on a resume
Including online courses and certificates on your resume helps you set yourself apart from other candidates, shows you want to improve your skills and knowledge, and also helps you tailor your resume to the job you're targeting.
If you want to add online courses and certificates on your resume, either include them in the education section or create a separate section called "Courses & Certificates" (if you have more of them). 
List them in reverse chronological order and include:
Name of the certification
Authority
URL or code (if you have any)
Any relevant dates
Description (optional)
In the end, it should look something like this: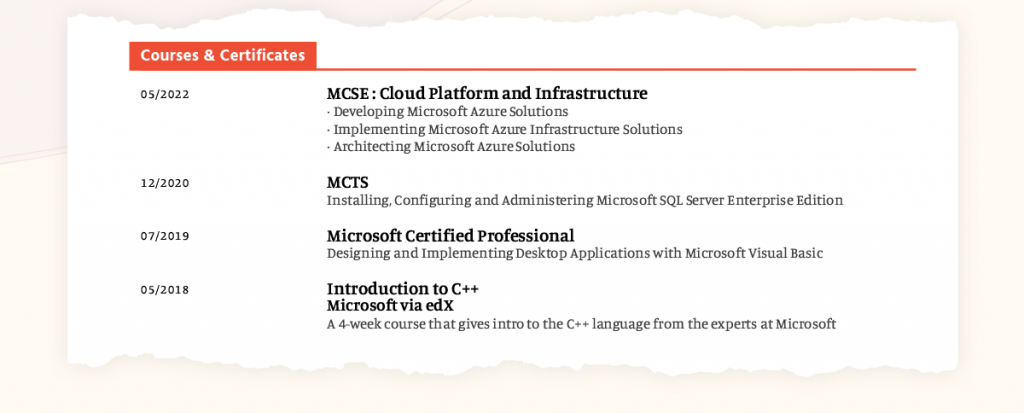 Career & Resume Writer

Jakub Kapral is a former professional linguist and a career writer at Kickresume. He has written almost 100 diligently researched resume advice articles and his texts are visited by thousands of people every month. Jakub is a natural teacher who looks to help those who want to enhance their career prospects. He's also an avid drummer and a proud father of two.