32 Oats Recipes for Breakfast & Snack By Swasthi's Recipes
Oats recipes – Collection of 32 healthy, delicious, quick and easy oats recipes to try. Oat like whole wheat or brown rice is a whole grain and comes with tons of health benefits. There are a few different kinds of oats that are available in the market. Often readers ask me about the kind of oat to use for a particular recipe. So sharing them briefly here with pictures.
This Post: 32 Oats Recipes for Breakfast & Snack By Swasthi's Recipes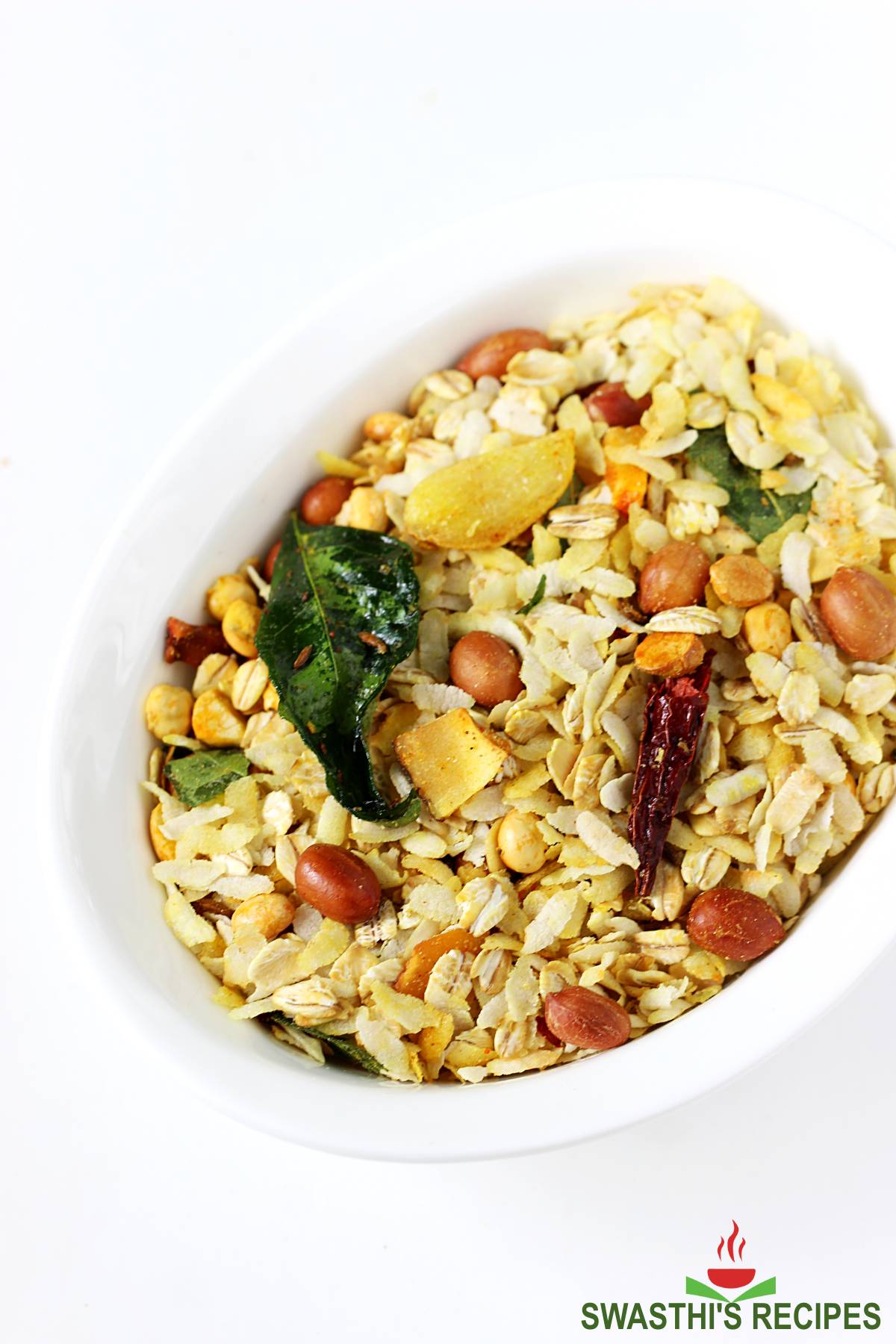 Kinds of oats
Steel cut oats
These are coarsely cut groats with a sharp steel blade. If you look at the nutritional profile on the pack of a steel cut oats, it is the same as the whole groats. The cook time of this is slightly lesser than the whole groats as they are cut.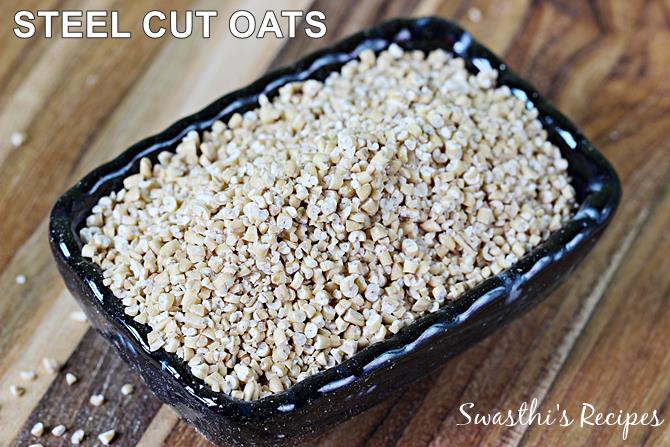 Whole oat groats
These are hulled oat kernels meaning the outermost layer that is inedible is removed from the whole grain oats. These are chewy and go great in salads, slow cooked stews and pilafs.
The cooking time of oat groats is quite long as much as 50 to 60 mins apart from the soaking time. These need a good overnight soak before cooking. If you try to cook these without soaking then they take much longer.
These are easier to cook in a pressure cooker or in a instant pot.
Scottish oatmeal
The whole groats are stone ground to coarse meal, great to make porridge and stews. Cooking time is about 15 to 20 mins.
I use these to make chicken oats soup or lentil oats soup.
Regular or Rolled oats
These are made similar to the Indian Poha. They are steamed and then rolled to flatten them. So they can be eaten as such without cooking. They also cook quite fast. It is always good to use these organic since we do not rinse them and are consumed directly.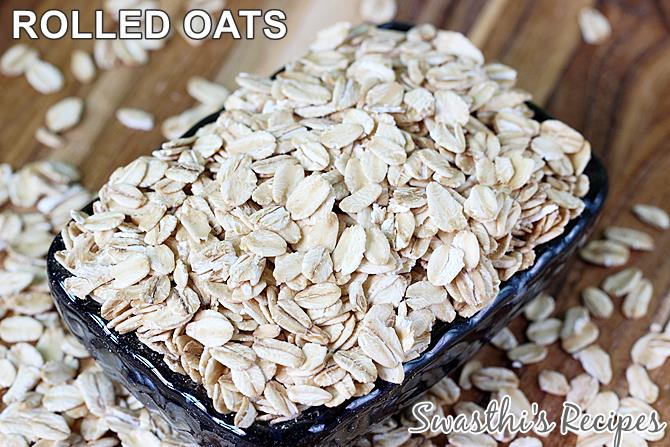 Quick cook oatmeal
These are steamed for longer and pressed more to make them flakes than the previous kind. You can find on the pack of quick oats that the nutritional profile is almost the same as the rolled variety.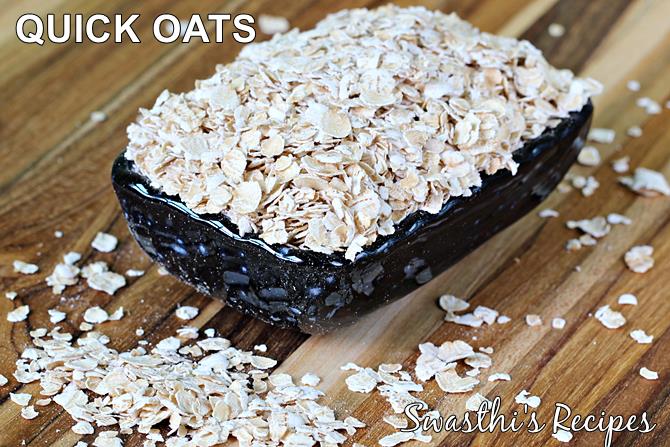 The best kind of oats to use are the whole groats or steel cut oats as they are least processed and keep us full for longer. The next choice should be rolled variety.
Quick cook or instant variety are more processed and is almost similar to any processed food and is good to avoid them.
Making a bowl of oatmeal is the easiest and can be made within 10 minutes with zero monitoring.
But most of us may not prefer to eat a porridge regularly. Here are 32 healthy easy oats recipes that we have been enjoying at home for years now.
Bookmark this page for updates on more Oats recipes.
32 Oats recipes – Breakfast
The collection includes recipes suitable for breakfast, brunch, lunch or dinner. You can also find 3 ladoo varieties, pancakes, muffins, idli, dosa, uttapam, porridge, chivda etc.
Oats upma is an easy & simple dish made similar to a basic South Indian Rava upma. This recipe can be made using any kind of oats. This post includes 2 recipes with quick oatmeal and rolled oats. You can make it plain or with mixed vegetables.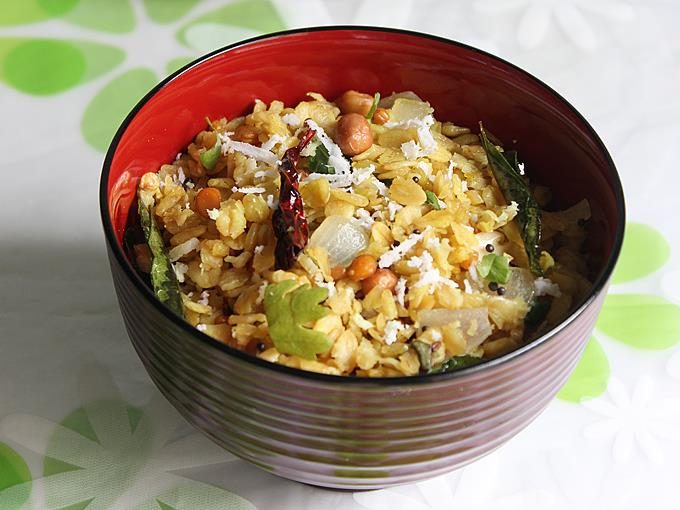 Oats dosa is a thin crisp crepe made with powdered oats, spices & herbs. This post shares 2 oats dosa recipes – Instant dosa and with leftover dosa batter. Both turn out delicious and crispy. These are great for breakfast or meal. Serve them with a chutney.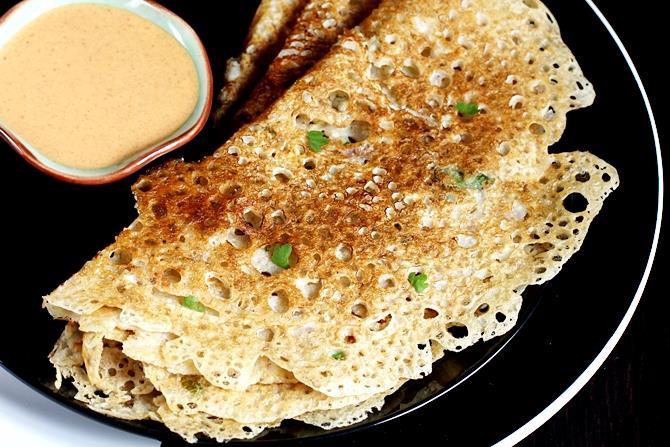 Oats Masala Dosa : South Indian Style crispy dosa made with oatmeal and spiced potato stuffing. These are similar to the South Indian masala dosa. These are great to have for brunch or dinner.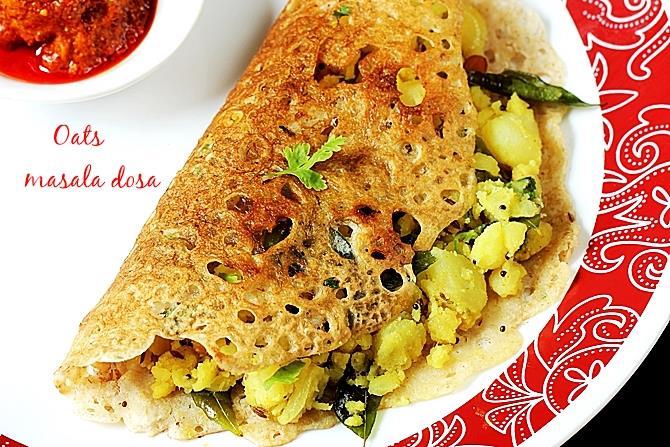 Coconut oats – Quick breakfast recipe using rolled oats, fresh coconut and basic spices. It can be served with curd. This is similar to the south Indian coconut rice.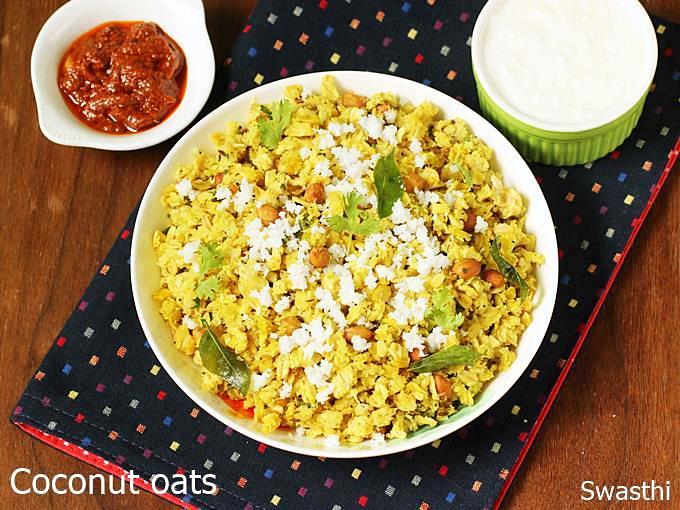 RED : 10 Healthy Snacks You Can Buy on Amazon, According to a Dietitian
Oat egg omelette : This super quick 10 minutes oats recipe will be your new favorite if you love egg omelets for breakfast. You can serve these for a meal with a bowl or soup or just with any meal. We also love this sandwiches and kathi rolls.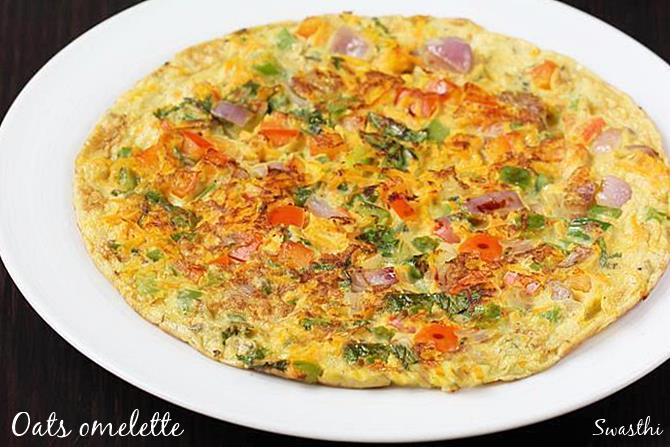 Oats Idli recipe is a variation to the traditional south Indian steamed breakfast Idli. These can be served for breakfast or even for a meal with tomato chutney or coconut chutney.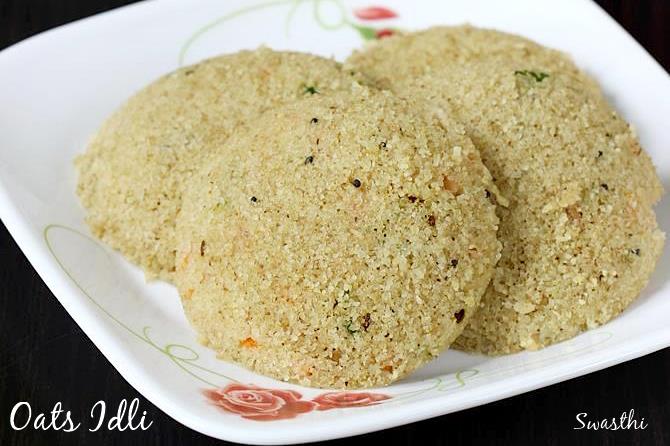 Oats uttapam : A quick uttapam made with oatmeal. This post includes 2 recipes. You can also make them with left over dosa batter.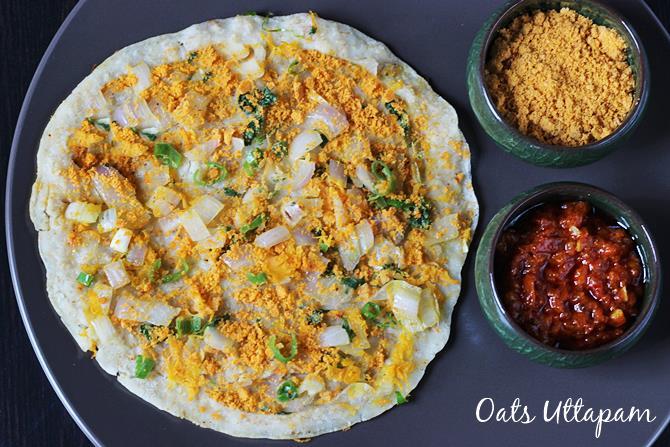 Overnight Oats – No cook recipe. All you need to do is assemble the ingredients the previous night and refrigerate. You are set to enjoy the wholesome nutritious breakfast in the morning. A perfect week day breakfast and you can also carry it to work in a mason jar.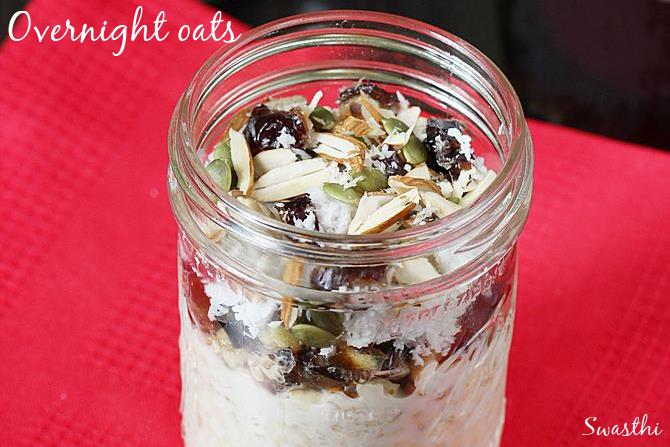 Oats besan cheela – Enjoy these quick, healthy, delicious and crisp savory pancakes made with gram flour and oatmeal. They make a great breakfast or a snack.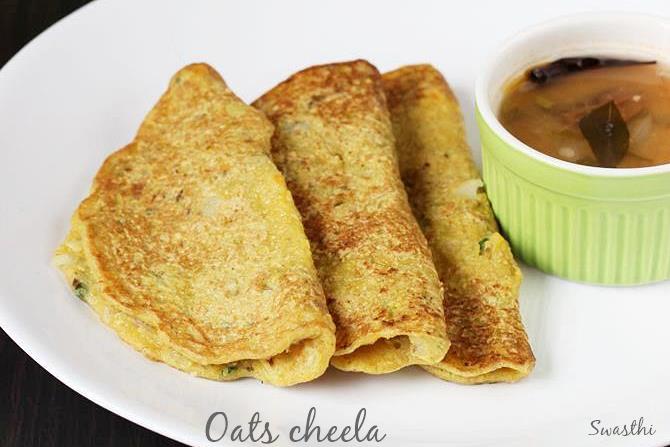 Vegetable oat porridge : Great breakfast for those who do not like sweet porridge. You can make this with veggies of your choice. This oats porridge can be made with any kind of oats including steel cut oats.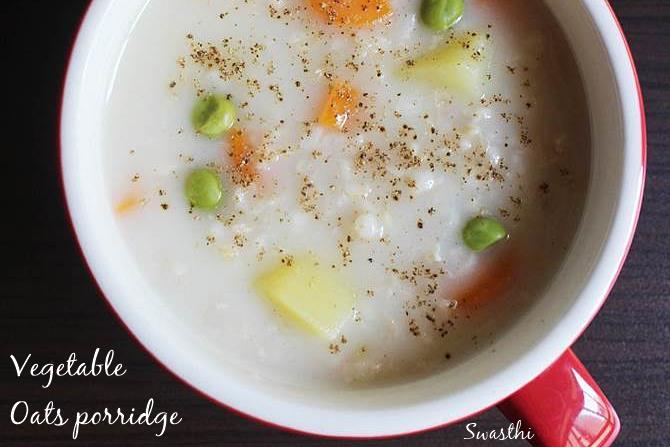 Breakfast oatmeal with dried fruits : If you are new to cooking oats, then this super easy oats recipe can be a quick guide to make healthy breakfast oats. You can find the timings for stove top & instant pot versions for all kinds of oats.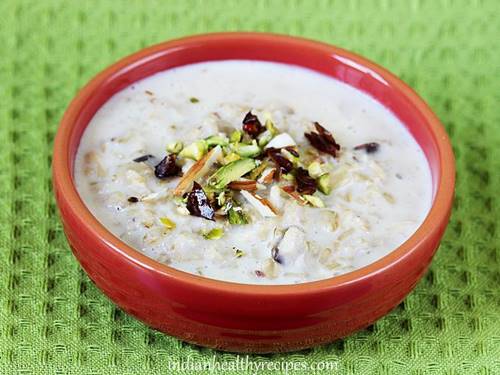 Chocolate oats – Delicious oatmeal made with rolled oats, milk, nuts and chocolate. This is great to enjoy once in a while when you are too bored with your regular boring oat meal.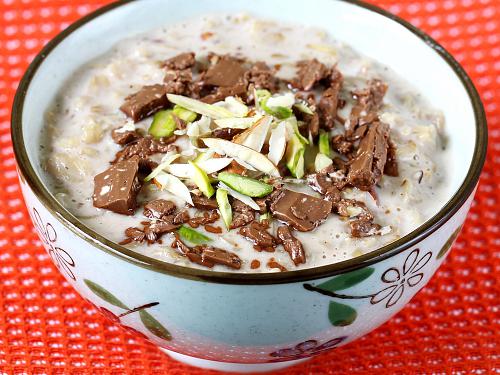 Oats fruit smoothie – If you have tried a oatmeal smoothie before and has never liked it then do try this with seasonal fruits & juice. You can use any fruits you have in hand like mangoes, banana or apple.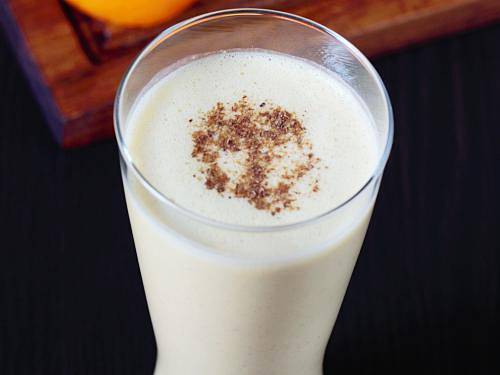 Oats & scrambled eggs : This bhurji oats recipe is great for those who love to add some protein to their morning breakfast oats. This dish has mixed veggies, some scrambled eggs, spice powders and oats.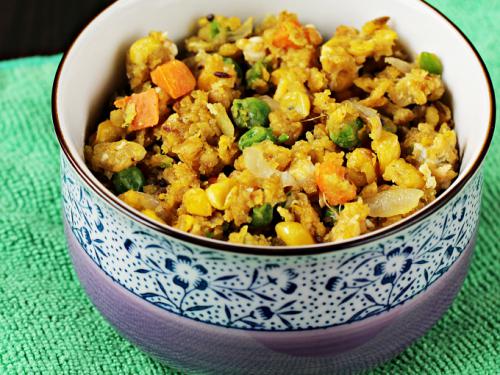 Oats & egg porridge is another quick recipe for those who love the egg custard. Stirring in an egg in the oats porridge will not only increase the nutrition value but also makes the oatmeal creamy.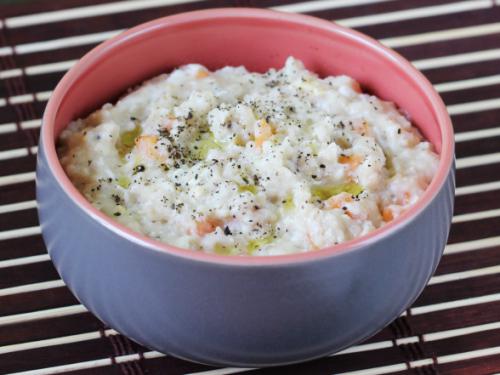 Oats kheer or oats payasam is a rich delicious pudding made with oats, ghee, nuts, cardamom powder and milk. This can be made with jaggery or sugar.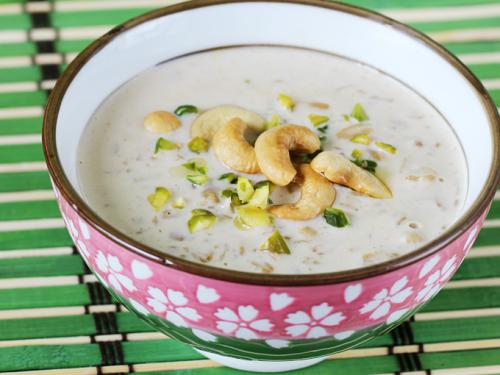 Oats recipes for Lunch or dinner
Savory Steel cut oats – The most delicious lentil and steelcut oats one pot recipe that you can with any vegetables you like.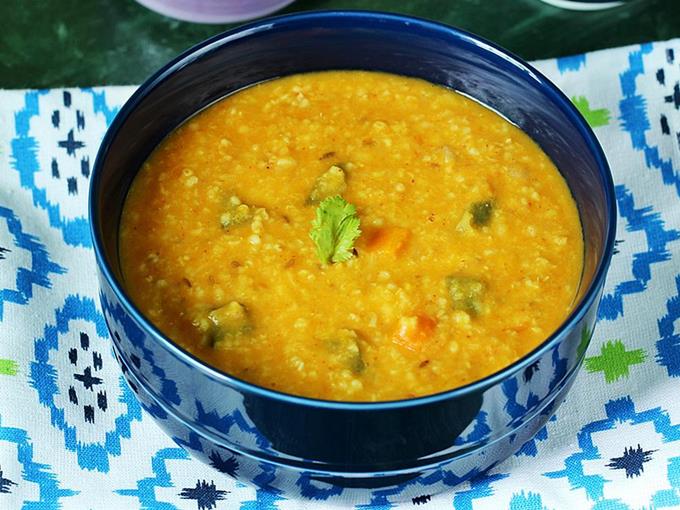 Oats Bisibelebath : Oatmeal and lentils cooked with mixed vegetables and spice powders.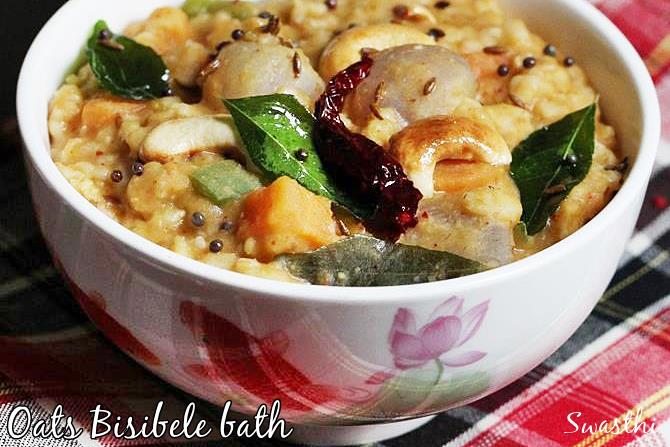 Curd oats recipe is a simple delicious dish made by mixing cooked oats in yogurt. It is then tempered with basic spices and herbs.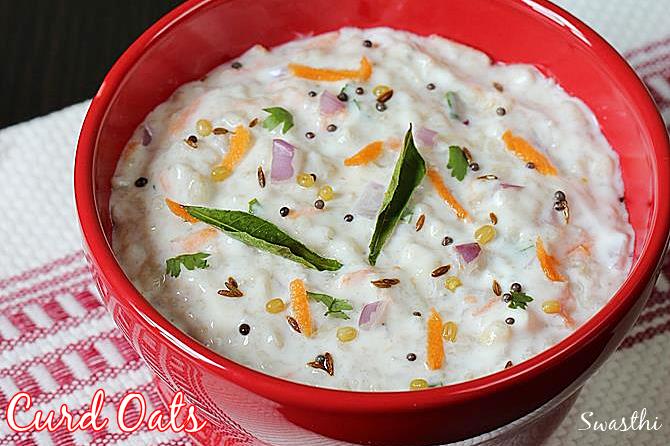 Masala oatmeal : Oatmeal cooked with Indian masala aka spices. Makes a good breakfast.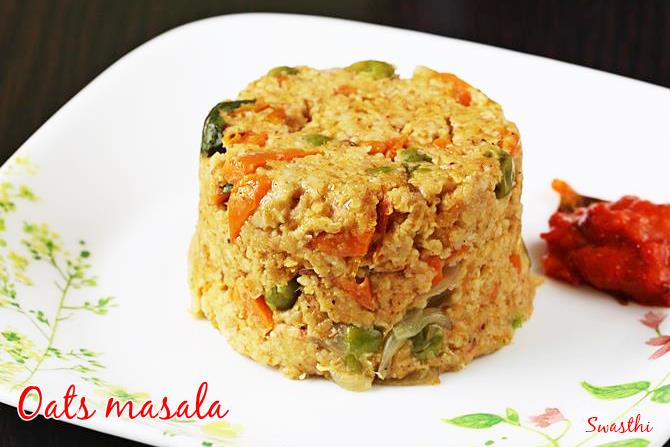 Oats Khichdi : North Indian style Khichdi made with mixed vegetables and moong dal. You can also use any other dal you prefer.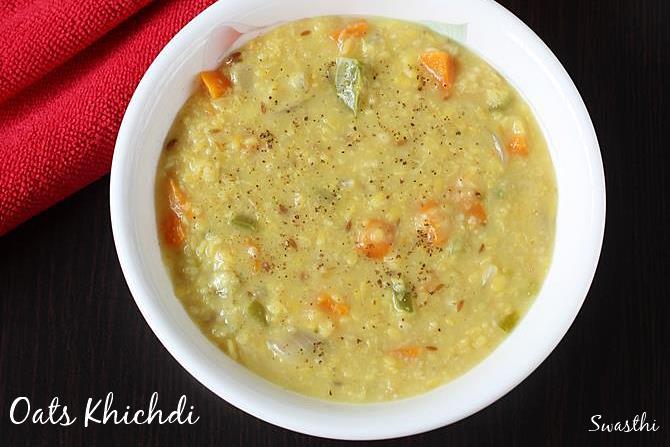 Curd oatmeal for babies :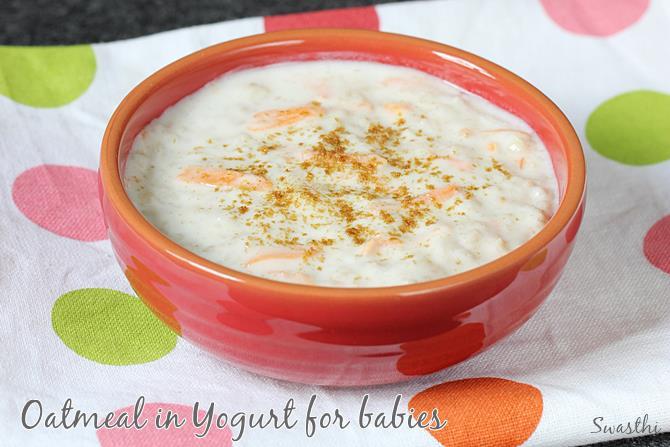 Oatmeal pancakes : The best healthy pancakes I ever made. This post includes a recipe to make your own healthy chocolate syrup at home. These can be served with chocolate syrup, jam , honey or maple syrup.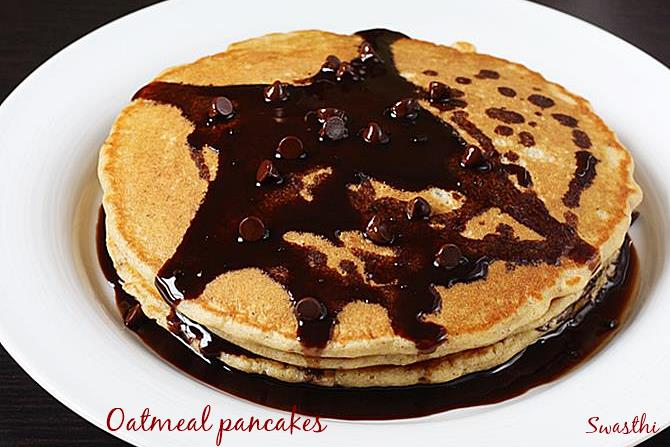 Oats vegetable soup: This mixed veggie & oatmeal soup is great for a quick dinner or meal. We usually serve it with some bread toast, sandwiches or salad.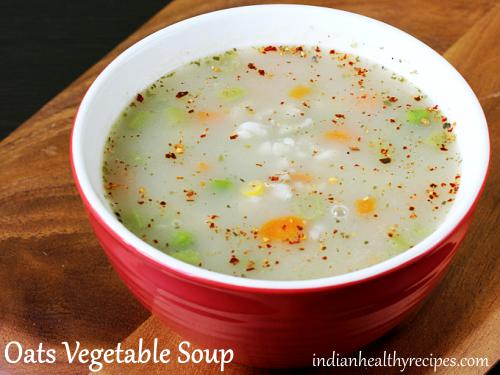 Apple oat recipe If you love fruit flavours then you may like this.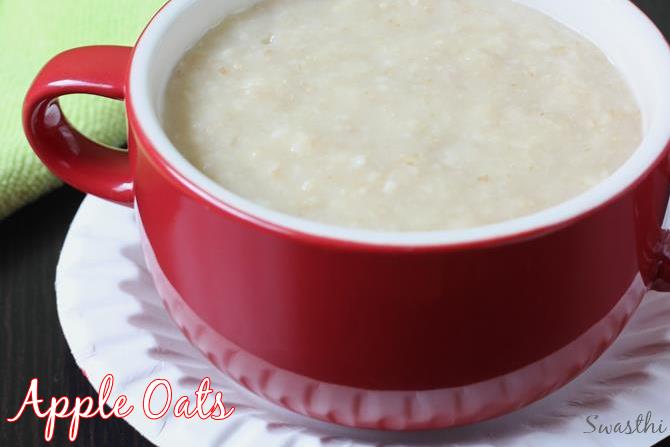 Oats pongal : South Indian style pongal made with moong dal, pepper corn and ginger. Makes a quick lunch or dinner.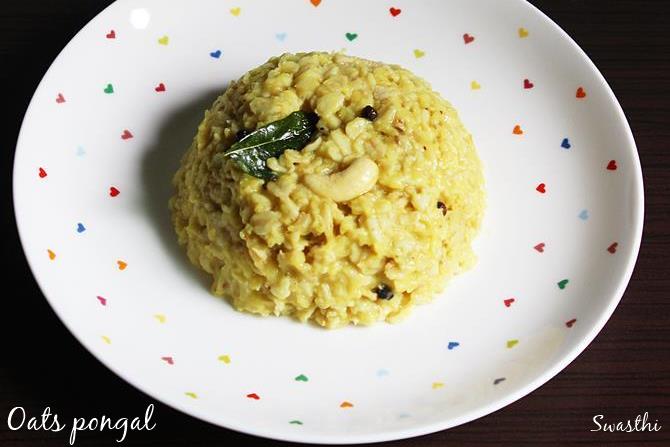 Milk oat porridge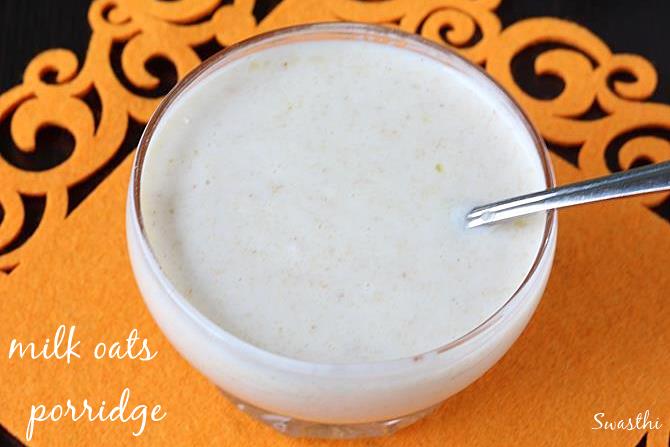 Oats pesarattu recipe : Pesarattu is a popular dosa variety from Andhra pradesh. An addition of oatmeal makes it even more healthy.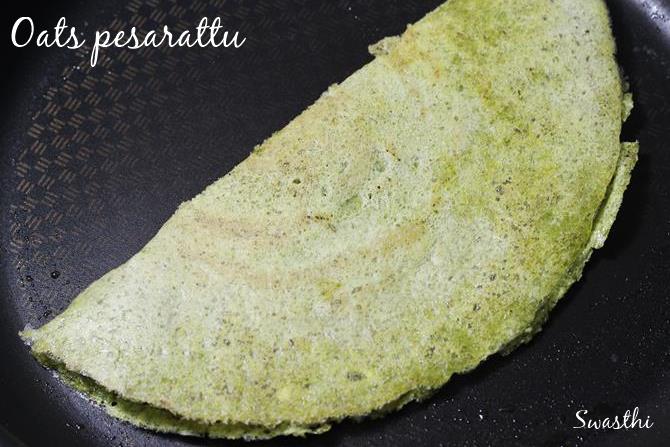 Snacks – Oats recipes
Oats poha chivda : This delicious snack is made of rolled oats, poha, peanuts, curry leaves, dried coconut and spices. Enjoy this with your cup of masala chai.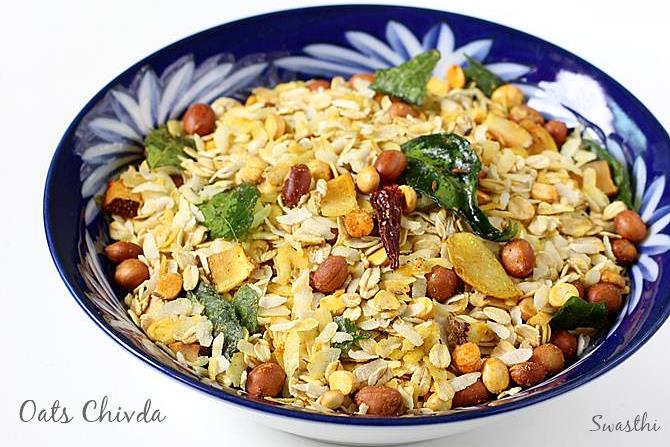 Granola made on stove top : Usually granola is baked in oven, but this recipe helps you to make it on stovetop or on a gas stove. It is made with jaggery instead of maple syrup or honey.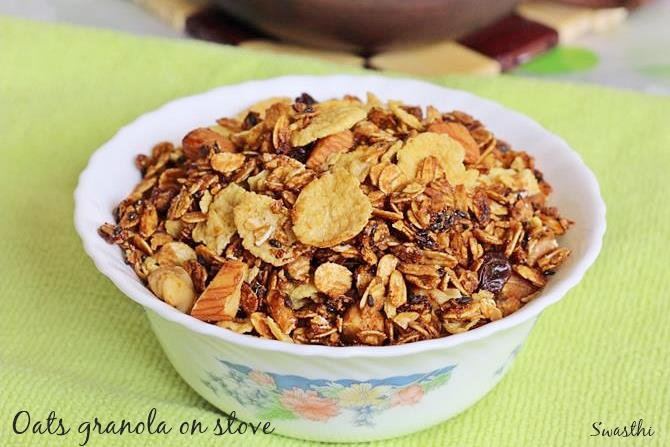 Oats coconut ladoo: These are a must try festive delight, a variation to the coconut jaggery ladoo.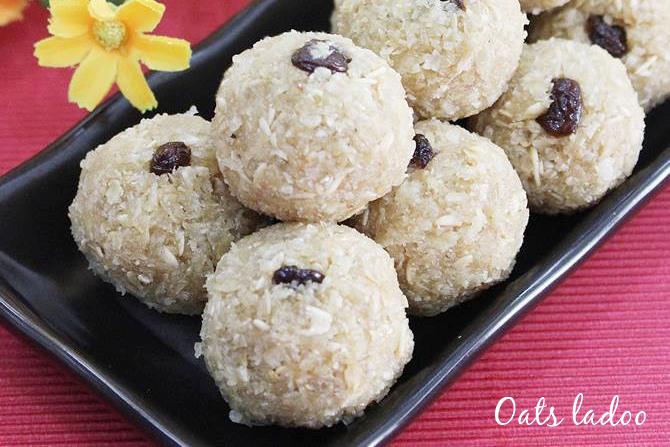 Oat dry fruits ladoo – Made with dry fruits and oatmeal, no added sugar.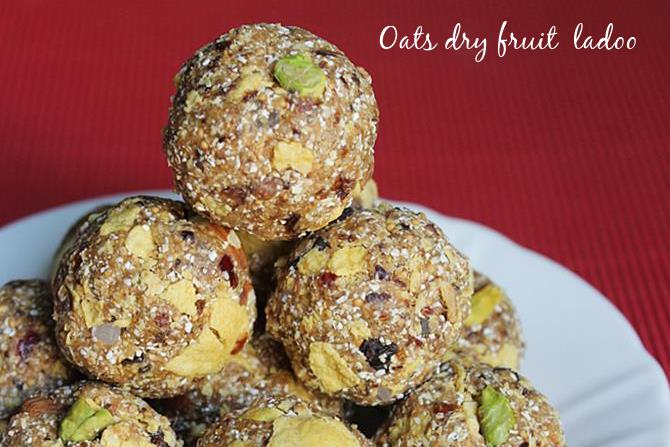 Oat sesame ladoo : These can also be made with peanuts or any other nuts. They are made with jaggery and no ghee or any other fats are used. Makes a great mid morning or evening snack for kids and everyone.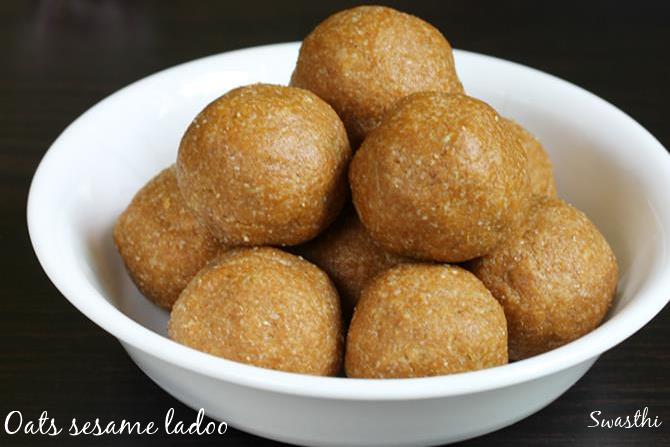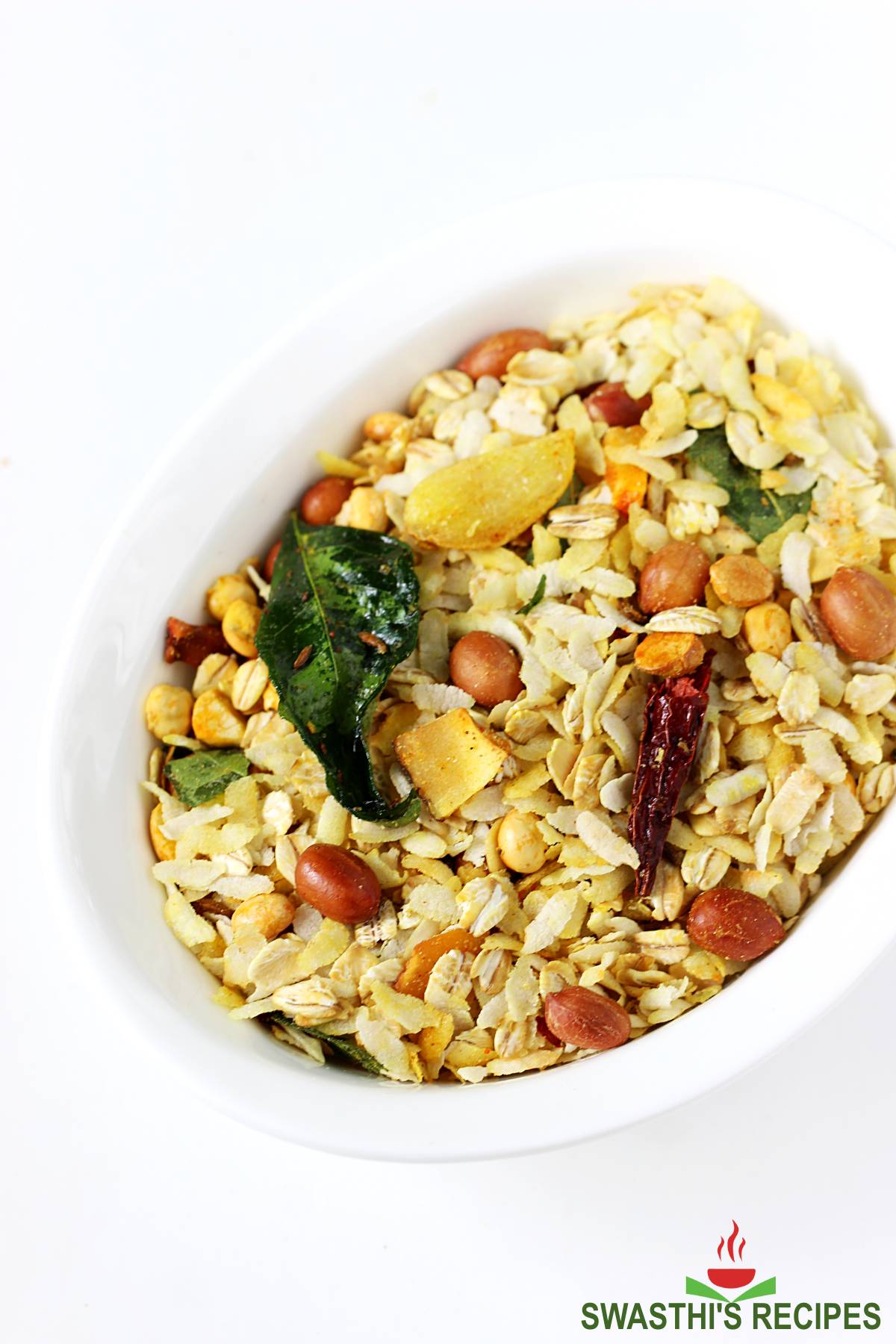 Source: https://bloghong.com
Category: en