34 Healthy (and Low-Sodium!) Trader Joe's Vegan Finds
Dairy Aisle

CANNED & JARRED GOODS
Canned Jackfruit *
This Post: 34 Healthy (and Low-Sodium!) Trader Joe's Vegan Finds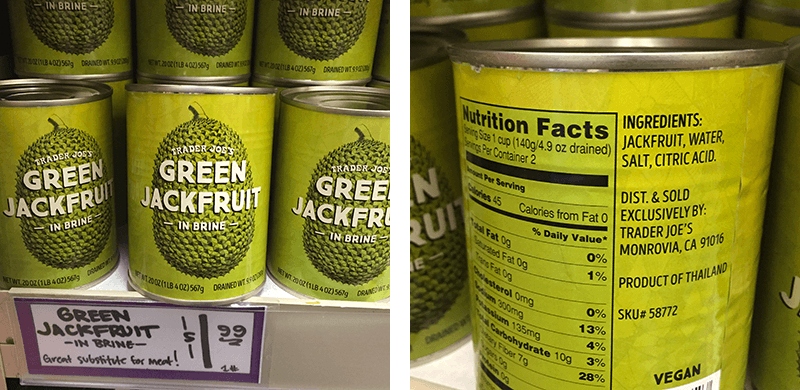 A cousin of figs and breadfruit, green jackfruit takes on the appearance and texture of shredded meat (like pulled pork) when it's cooked. Keep a can on hand to use in BBQ dishes calling for braised or pulled meat. FOK follower Erin Morril says she loves how inexpensive and easy it is to cook jackfruit into BBQ tacos, and it's also great on a toasted whole-grain bun with caramelized onions, lettuce, and tomato slices. Or try swapping out half the chickpeas in our "No-Tuna" Salad Sandwich recipe for half a can of pan-sautéed jackfruit for a surprisingly tuna-like texture.
Sriracha Sauce *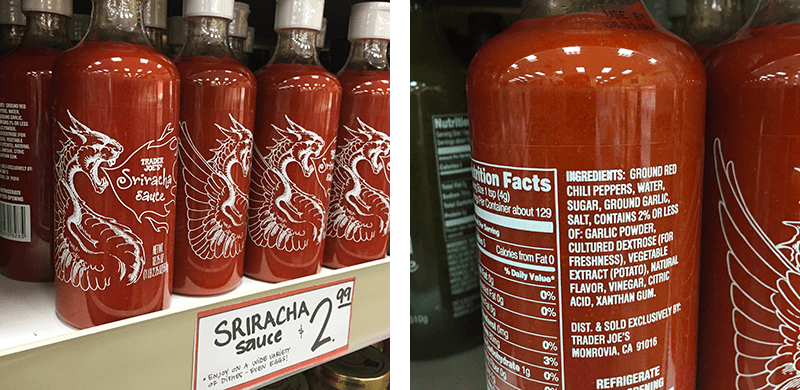 When you're in the mood for spicy-sweet heat, this classic Thai chili sauce hits the spot. Used in recipes or as a condiment, a few drops of sriracha sauce will spice up soups, stews, bean dishes, grain bowls, and more.
Peanut Butter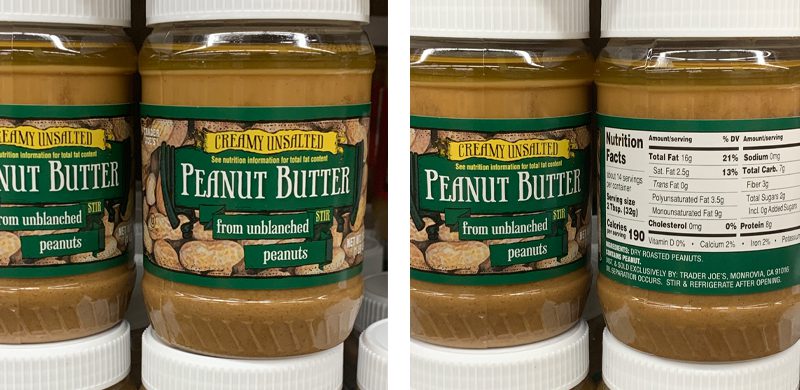 It can be hard to find peanut butter that doesn't have refined sugar or other gunk, but this vegan Trader Joe's champion isn't messing around. "One ingredient, very tasty, and easy to stir," says FOK Editor in Chief Elizabeth Turner. It also comes in a crunchy variety if that's more your speed. Perfect to spread on whole wheat toast, eat with a banana, add to nice cream, or swipe onto sticks of celery!
Almond Butter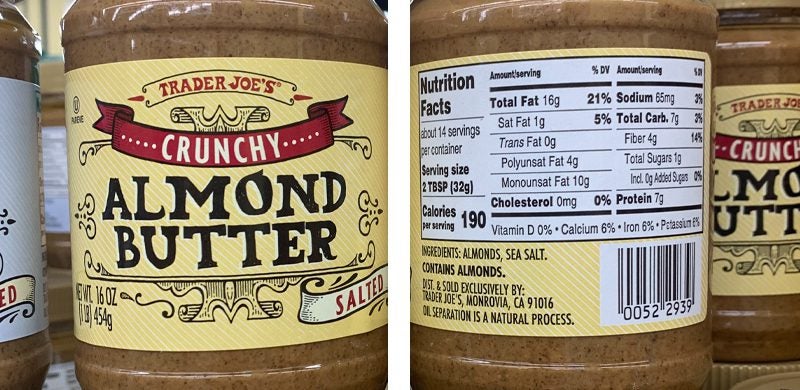 If you're allergic to peanuts and are looking for a delicious nut butter that isn't loaded with unhealthy extras, Trader Joe's has your back with their amazing crunchy almond butter. "Great price and the salt isn't too much. They also make a creamy version," says FOK Editor in Chief Elizabeth Turner.
Yellow Cling Peach Halves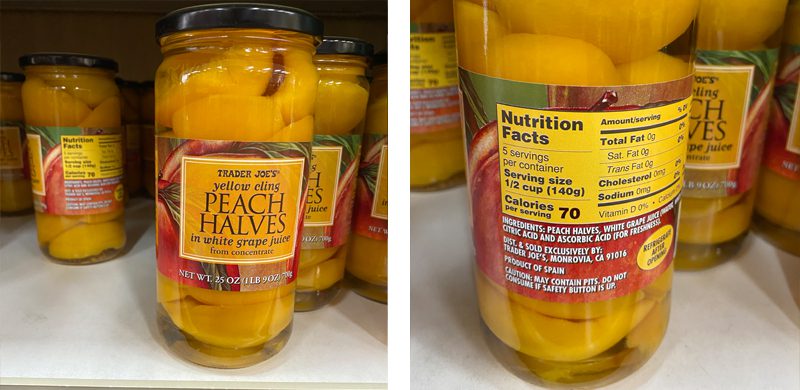 This juicy vegan Trader Joe's product preserves the flavors of summer. Tender peach halves are kept fresh by white grape juice so they stay plump even when the fruit trees have been picked clean. With no added salt or sugar, this is a winner for WFPB eaters! One caveat: We don't recommend consuming fruit juice on its own (whole fruit is better), but you could repurpose grape juice or use it to enhance a homemade salad dressing or sauce.
Fire Roasted Diced Green Chiles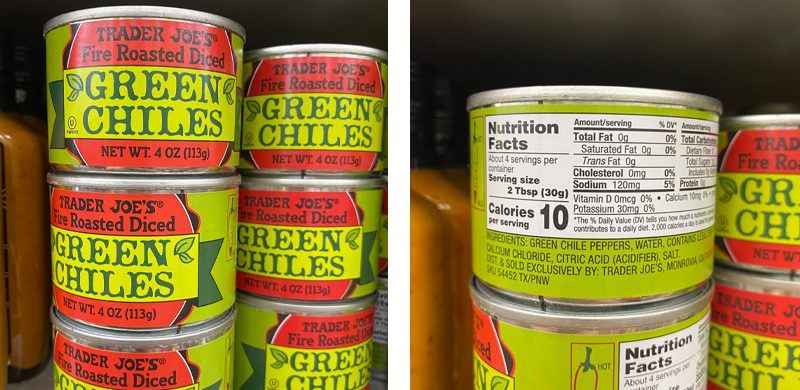 Add a little smoky pizazz to your next batch of chili or enchiladas with these yummy fire-roasted green chiles. While they're spice level is on the mild end of chile peppers, they still have enough kick to bring extra warmth to a tasty stew. These are also great served over a breakfast tofu scramble when you want to add a little Southwestern 
Organic Tahini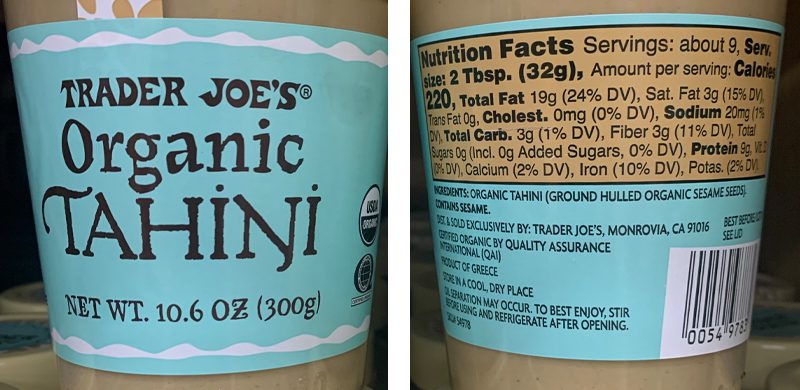 Tahini is a staple for WFPB eaters, and Trader Joe's always has it in stock. This single-ingredient condiment is made by grinding toasted sesame seeds into a nutty paste that's perfect for mixing into salad dressings or using in other Mediterranean-inspired meals. Make sure you always have this plant-based essential on hand!
BREAD AISLE
Ezekiel 4.9 Sprouted Whole Grain Bread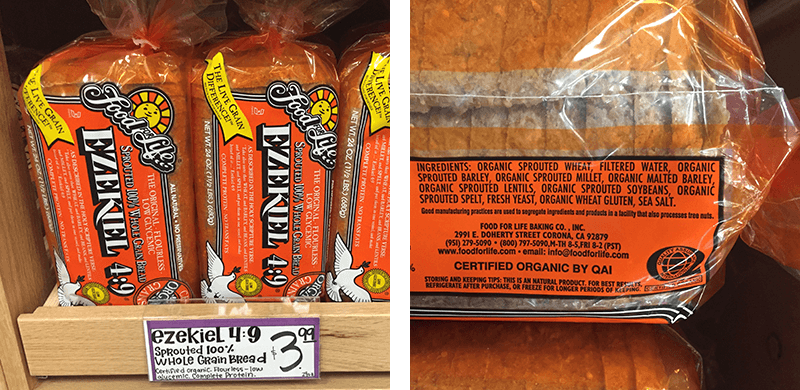 Loaded with sprouted whole grains and free of oil and added sugars, Food for Life Ezekiel 4.9 Sprouted Whole Grain bread is minimally processed, tender, and delicious. On Facebook, FOK follower Wendy Dodge describes it as "a staple I always have on hand."
Oil-Free Whole Wheat Pita Bread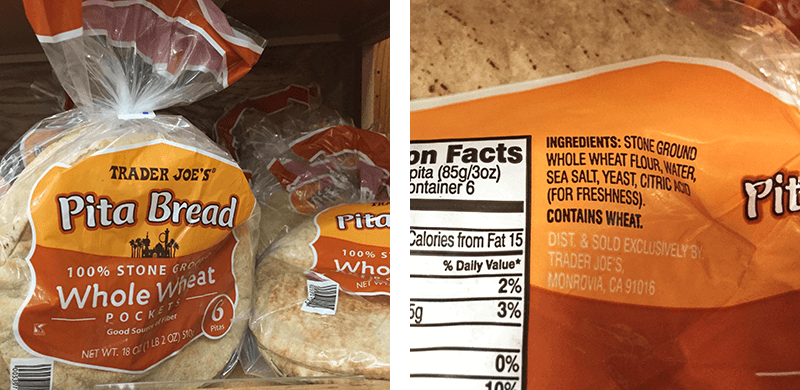 Pita bread is traditionally made with oil, but this whole wheat option is completely oil-free, making it one of FOK follower Heather Morgan's favorite Trader Joe's finds. Fill it up with your favorite veggies, or use it as a base for Simple Vegan Pita Pizzas.
PASTA & GRAINS AISLE
10-Minute Farro & 10-Minute Barley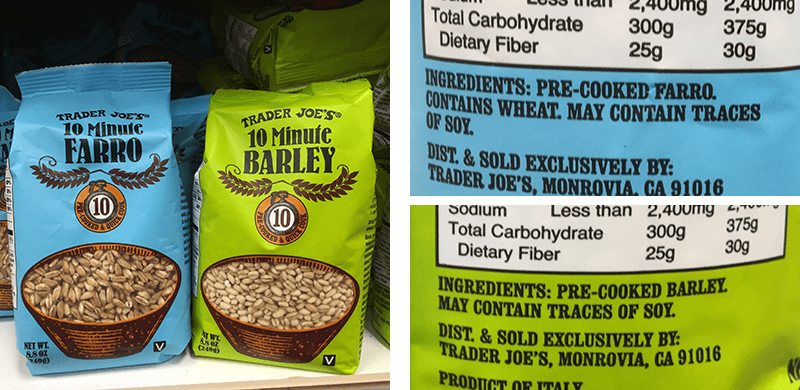 Partially cooked farro and barley make it easy to mix up your grain routine, and they're ready in half the time of traditional brown rice. Use either grain for a hearty salad with kale and roasted veggies, or try them in a breakfast bowl with leftover veggies or your favorite fruit.
Red Lentil Pasta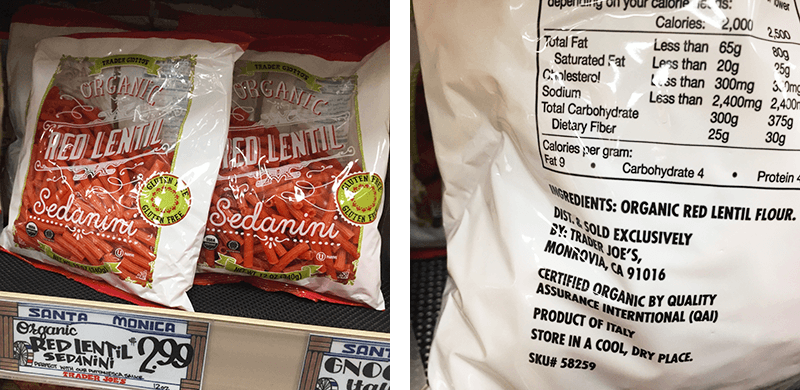 This bright twist on classic penne pasta gets its rich color and satisfying, slightly nutty flavor from organic red lentil flour—and nothing else. FOK Project Coordinator Manon Yona uses it in pasta salads with peas, basil, corn, bell peppers, and arugula. She describes the dish as "simple but delicious, and it makes for great leftovers."
Oil-Free Spaghetti Sauce with Mushrooms *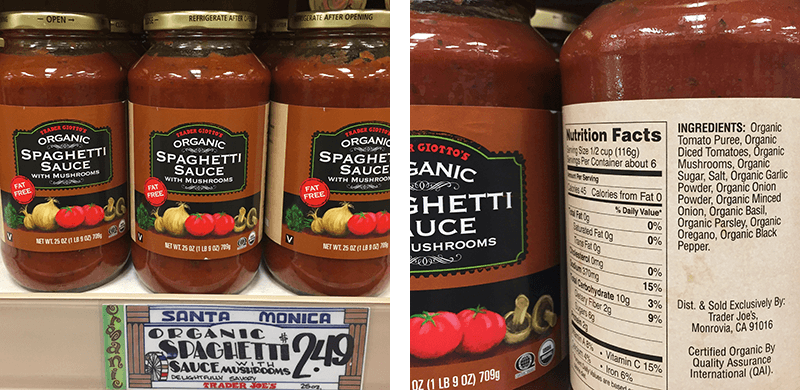 Start reading the ingredient lists of store-bought pasta sauces and you'll realize how rare it is to find one that doesn't contain oil. That's why we recommend this tasty, convenient option from Trader Joe's. "It's the only store-bought spaghetti sauce I have found that's oil-free," notes FOK follower Amy Ayers-Hale on Facebook.
Whole Wheat Couscous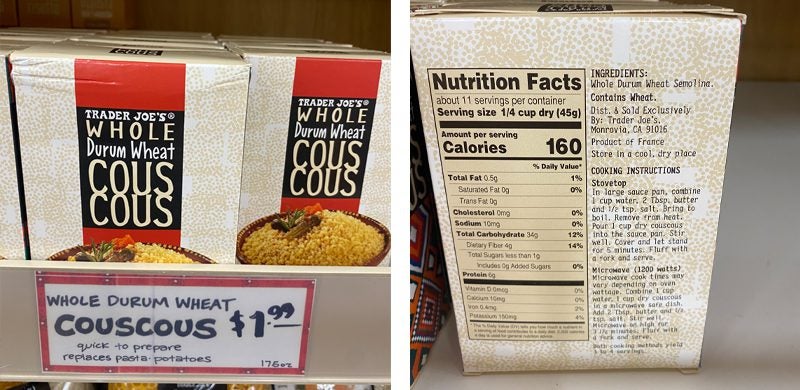 FOK follower Melissa Hayden Trader gave us the heads-up on this great WFPB product at Trader Joe's. It can be tricky to find couscous that doesn't use refined flour, but this great option features whole durum wheat semolina so you can enjoy your Mediterranean cuisine without any unhealthy ingredients.
Hearts of Palm Pasta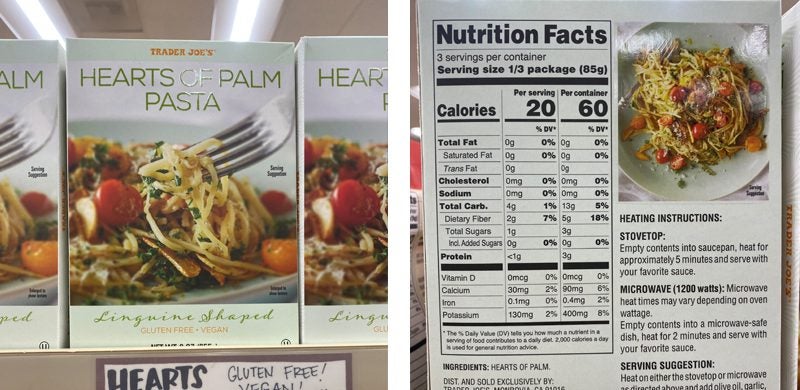 Move over zoodles, there's a new kid in town! This single ingredient "pasta" is vegan, gluten-free, fat-free, and salt-free! Tender hearts of palm are spiralized into a familiar linguine shape that makes a perfect al dente replacement for grain-based noodles.
REFRIGERATED PRODUCE
Steamed French Lentils *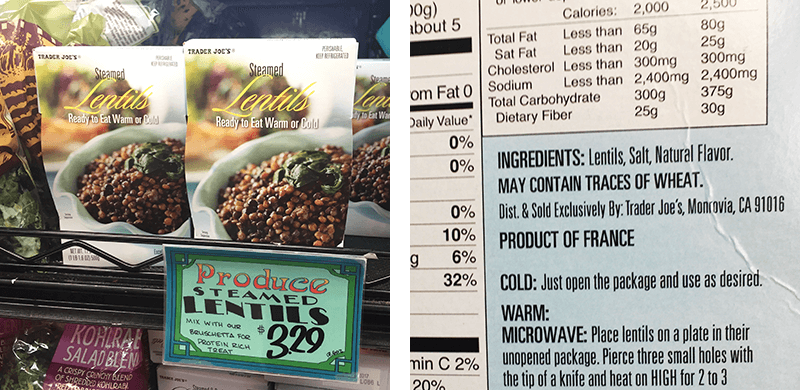 These perfectly steamed French lentils are ready to eat cold, room-temperature, or quickly warmed in the microwave. Throw them into salads, heat them up for a tasty addition to a bowl, or serve atop toast with fresh herbs and sautéed mushrooms. "They are the best!" notes FOK follower Mēgan Healy Sinsley.
Kohlrabi Salad Blend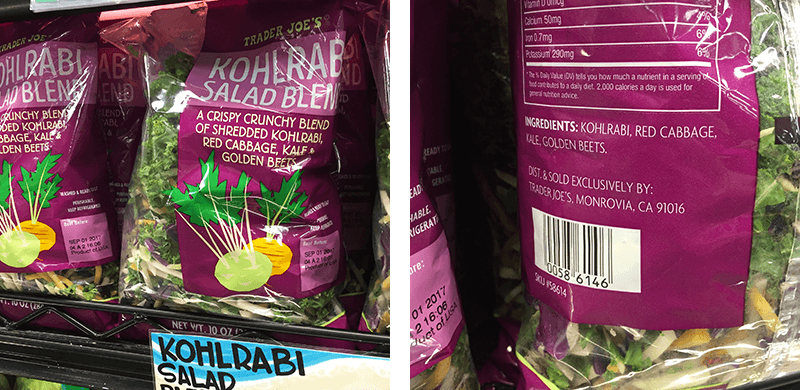 We want to thank FOK follower Michele Walsh for alerting us to this rainbow-hued blend of shredded kohlrabi, red cabbage, kale, and golden beets. The hearty greens are perfect for pack-and-go salads because they stay nice and crisp till lunchtime. You can also quickly steam or sautée them for a colorful addition to your favorite grain bowl.
Riced Cauliflower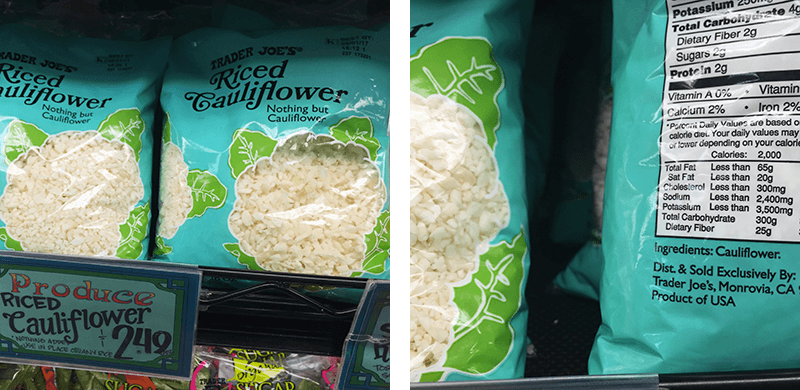 Sure, you can "rice" your own raw cauliflower in a food processor, but Trader Joe's was one of the first grocery stores to offer riced cauliflower in the salad aisle. Sprinkle raw on salad for instant crunch, or sauté in vegetable broth to make delicious cauliflower "rice." For a kid-friendly meal, FOK follower Blanchette Seymour recommends one of her son's favorite homemade lunch combos: cauliflower rice tossed with hummus and sweet potatoes.
Jicama Wraps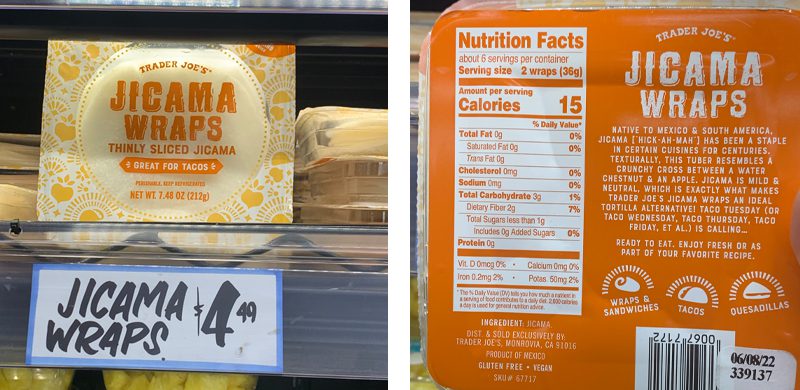 "Perfect thin rounds of fresh jicama make a nice alternative to tortillas for wraps and rolls, especially in the warmer months" says FOK Editor in Chief Elizabeth Turner. This exciting vegan Trader Joe's find features just a single healthy ingredient (you guessed it, jicama!) and gives you 12 wraps for five bucks.
Organic Broccoli Slaw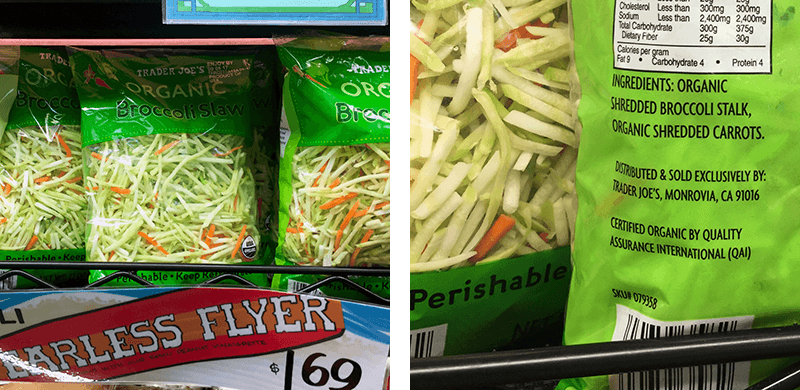 This shopping list barely scratches the surface of all the clever options Trader Joe's offers in the way of pre-chopped produce. Next time you're in the store, definitely do some exploring on your own, but in the meantime, we recommend this Organic Broccoli Slaw, which is great in salads and cooked entrées alike.
FROZEN FOODS
Frozen Fire-Roasted Corn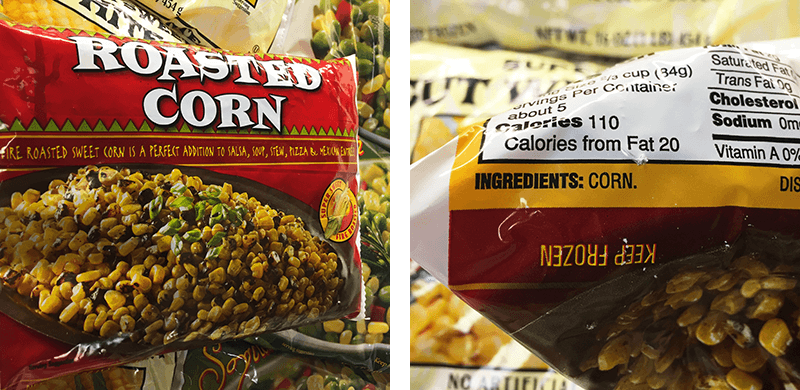 Trader Joe's frozen Fire-Roasted Roasted Corn gets a little extra flavor oomph from the roasting process and looks beautiful in soups, stews, salsas, and more. For readers and many on the FOK team, this is a much-loved freezer staple.
Frozen Hashbrowns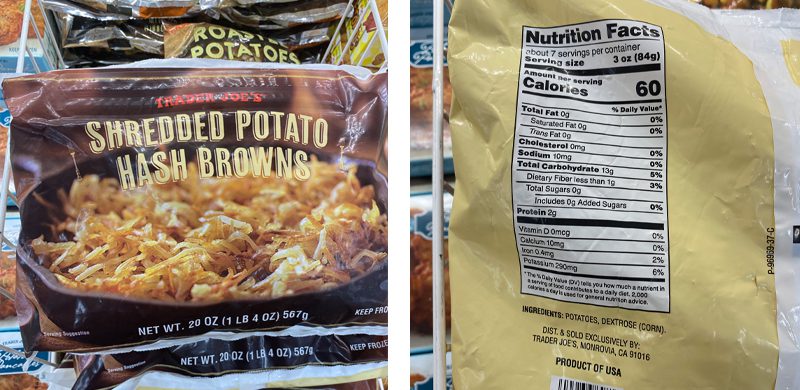 FOK follower Beth Ridgely White says she loves this frozen find because it has 0 grams of sugar and no oil or salt. These tender potato shreds are perfect for breakfast when seasoned with garlic powder, paprika, and a sprinkle of freshly ground black pepper. Serve alongside a tofu scramble and fresh fruit to really start your day on a delicious note.
Organic Acai Puree Packets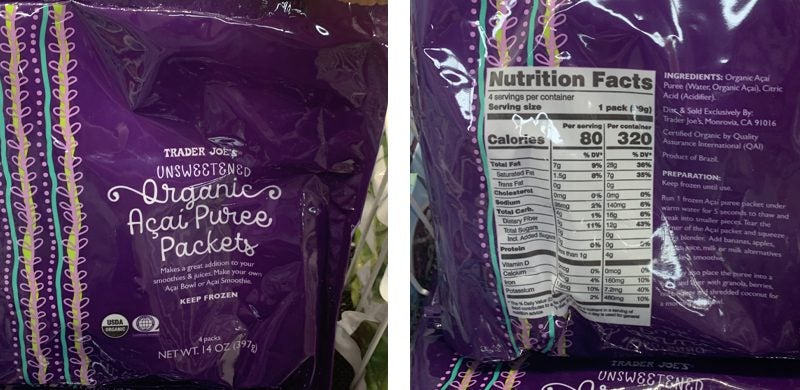 "Acai packs can be expensive and often have added sugar. These are just one ingredient—not to mention cheap," says FOK Editor in Chief Elizabeth Turner. Toss it in the blender to smooth it out and top with fresh fruit, oats, nuts, seeds, and anything else that will bring your smoothie-bowl dreams to life.
Rice Medley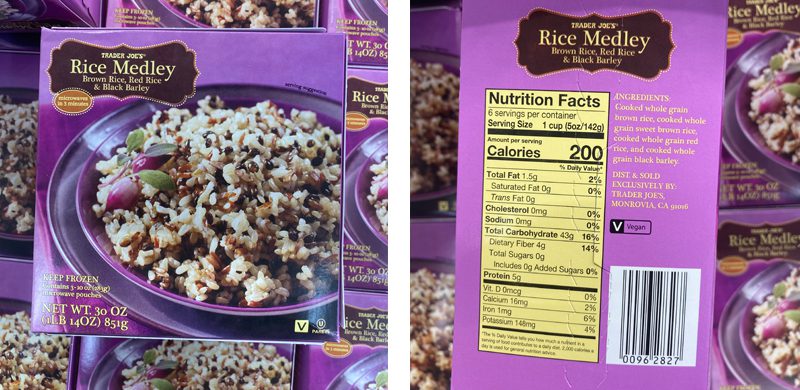 Tired of waiting for rice to cook on the stove? Pop one of these frozen precooked rice packets in the microwave and you'll have a bountiful bowl of tender, nourishing whole grains in a matter of minutes. Four varieties of whole grain rice—brown rice, sweet brown rice, red rice, and black barley—give this vegan Trader Joe's find a uniquely nutty flavor that pairs perfectly with a plant-based curry or stir-fry.
RED : We're Actually Getting a New Course in Mario Kart 8 Deluxe?!
Whole Grain Crispbread *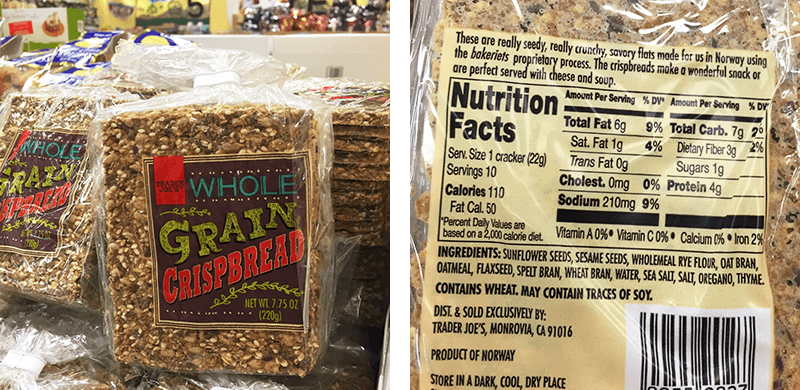 These thick and versatile crackers tend to sell out fast, so keep your eyes peeled—you can typically find them on the shelves in the frozen aisle above the freezers. Serve 'em up as a healthy appetizer with hummus, sliced tomatoes, and cucumbers—or do like FOK Editor in Chief Elizabeth Turner, who crumbles them over salads and soups for an instant, oil-free alternative to croutons.
NUTS & DRIED FRUIT AISLE
Dried Dark Sweet Cherries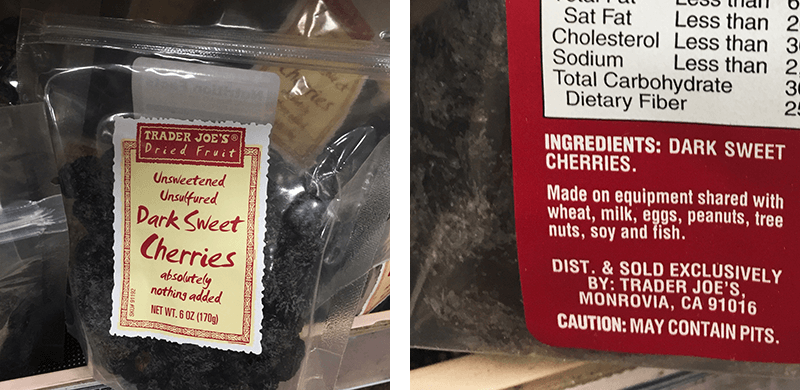 This sweet-tart treat contains no added sugar and makes a great topper for salads or morning porridge. FOK follower Elizabeth Harris described these dark cherries on a green salad as "pure heaven."
Raw Cashew Pieces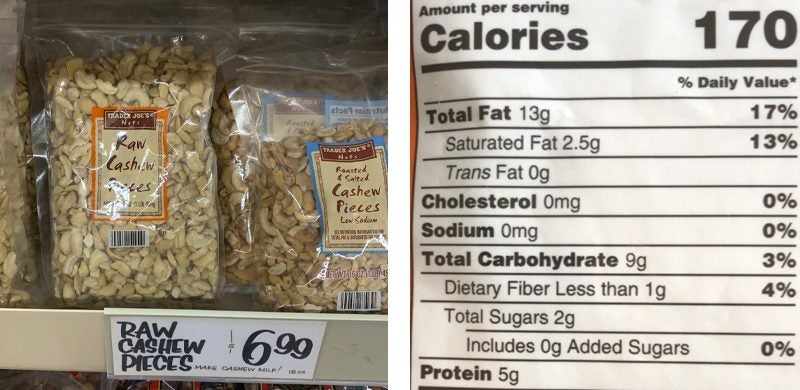 Whether you're adding a creamy component to a soup or endeavoring to create vegan cheese, you'll most likely need raw, unsalted cashews. The popular tree nut can be quite expensive, but the bag of raw cashew pieces at Trader Joe's is reasonably priced. "Perfect for soaking and blending," says FOK Editor in Chief Elizabeth Turner.
Nutritional Yeast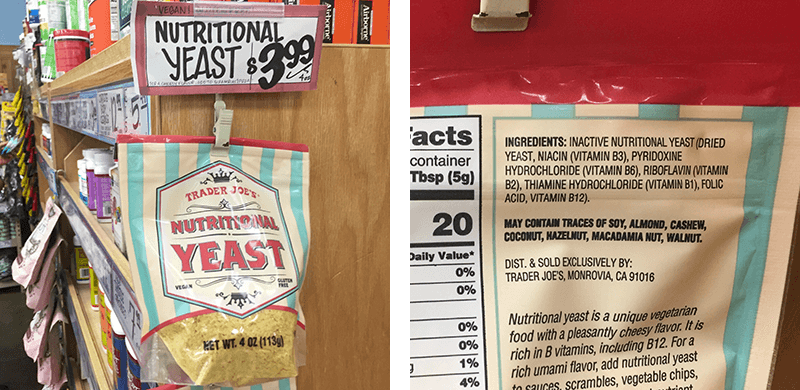 FOK followers Anita Fabian and Kathi Kriesel Schmeling both named this Trader Joe's item a vegan pantry essential. Packed with cheesy-umami flavor and a great alternative to Parmesan on popcorn and pasta dishes, nutritional yeast is also a good source of vitamin B12.
BREAKFAST BASICS
Shelf-Stable, Unsweetened Soy Beverage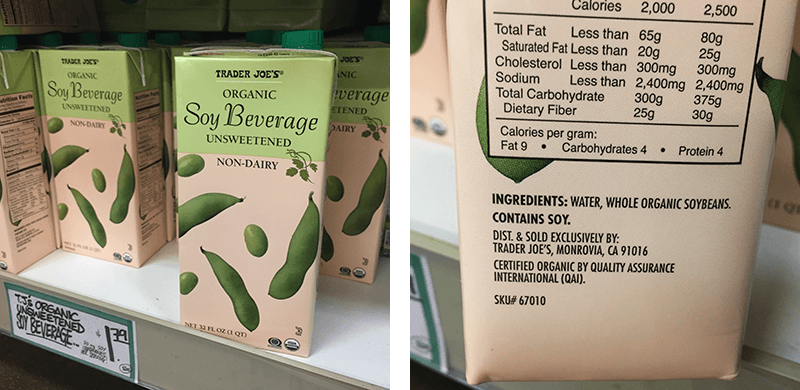 Shelf-stable soy milk in the 32-ounce carton is the perfect size for people who can't get through a half-gallon carton in the 7 to 10 days allotted for freshness. For this reason, it's FOK follower Deborah Mungo Huddleston's favorite Trader Joe's product. Most supermarkets sell shelf-stable soy milk for $3 or more. This classic option is under $2, and organic to boot. Keep a couple in your pantry for all-out-of-soymilk emergencies.
Gluten Free Organic Rolled Oats with Ancient Grain & Seeds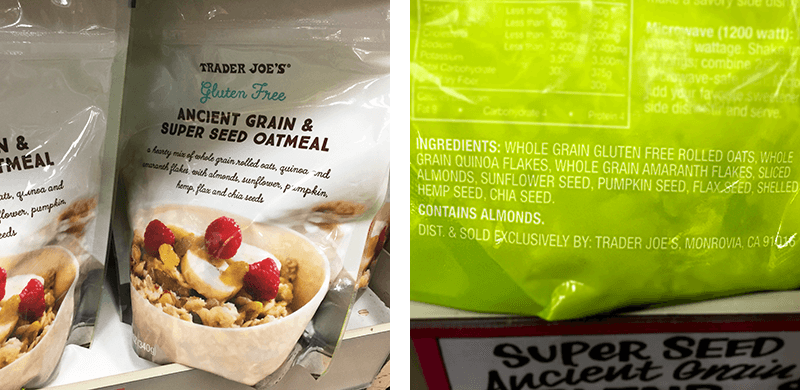 This tasty take on a classic breakfast food is great for on-the-go days when you need an easy meal that will keep you fueled. FOK follower Yvonne Johnson adds a little allspice, a dash of raw sugar, and some dried berries. "It's amazing!" she writes on Facebook. You can also try it with a little peanut butter and a sliced banana for a satisfying morning meal.
DELI
Eggplant Hummus *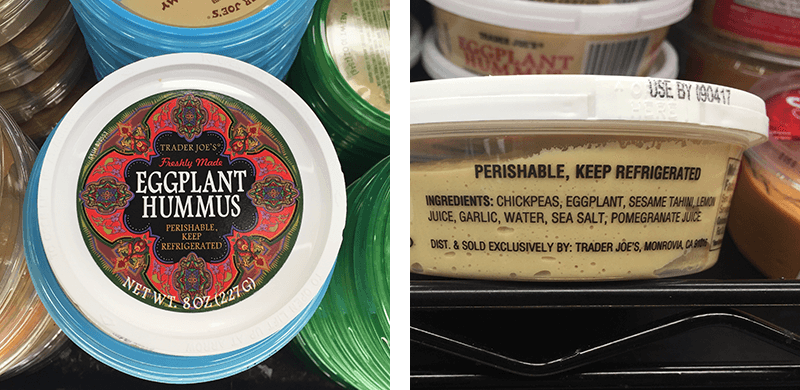 If you like hummus and baba ganoush, you'll love this flavorful spread that contains no added oil—just a bit of tahini for richness. Enjoy it with pita triangles and fresh veggies, use it as a whole-grain toast topper, or spread it on sandwiches.
Tahini Sauce *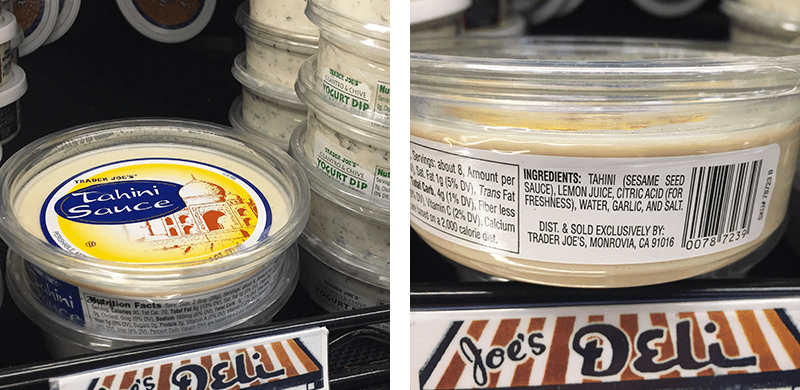 Multiple FOK followers called out how much they loved this lemony, garlicky tahini sauce. You can eat it with rice crackers, chopped veggies, or cook it into your favorite Mediterranean dish. You can even use it in place of pure tahini to make our savory Hearty Nachos.
CHIPS/SNACKS SECTION
Lundberg Organic Whole Grain Rice Cakes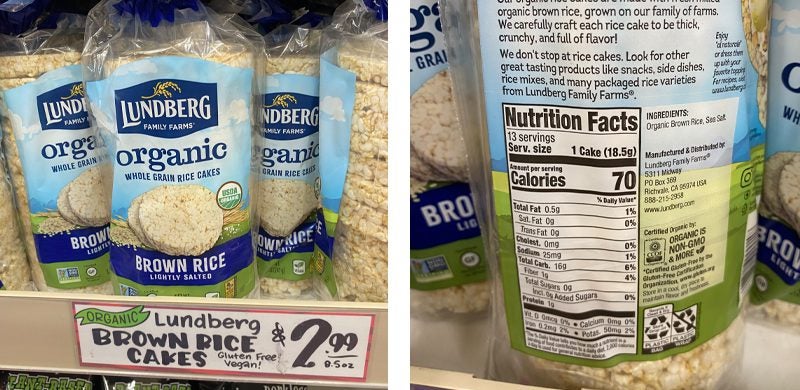 Do you get a little peckish between lunch and dinner? Made with organic brown rice and a hint of sea salt (just 25 mg sodium per serving) these fluffy, crunchy rice cakes are a great vegan Trader Joe's snack that will tide you over between meals. Enjoy them just as they are, or top a cake with a dollop of nut butter and sliced fruit for a heavenly treat. They're also good crumbled into salads or creamy soups.
SPICE SECTION
21 Seasoning Salute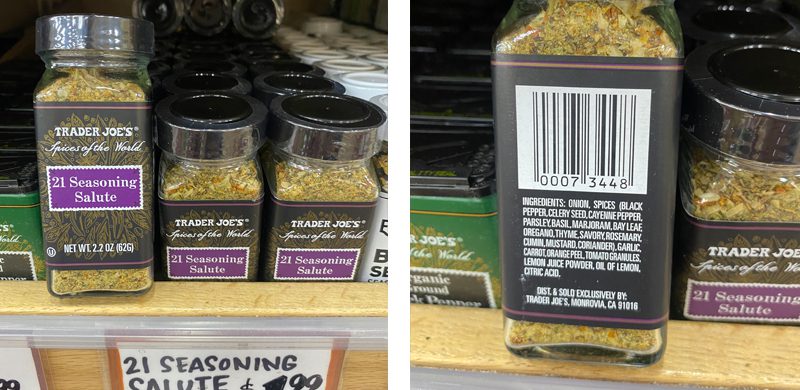 Spice up your cooking with this delicious, salt-free seasoning that FOK follower Susan McDaniel says she "uses on everything." The savory blend of onion flakes, thyme, oregano, black pepper, celery seed, coriander, and more makes it perfect for sprinkling on grilled veggies, stirring into polenta, or adding big flavor to soup.
DAIRY AISLE
Organic Creamy Cashew Yogurt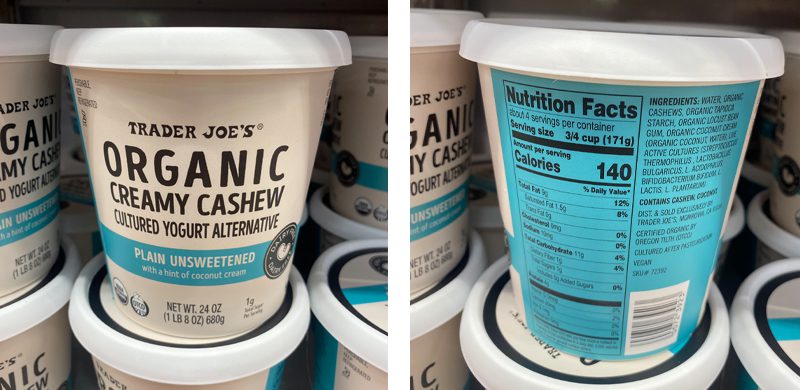 When a recipe calls for unsweetened, unflavored plant-based yogurt, here's an interesting option from TJ's. It's enriched with a small amount of coconut cream (fifth ingredient on the list), so it definitely falls on the special-occasion end of the WFPB spectrum. The 1.5 grams of saturated fat per container comes both from the cashews and the coconut cream.) But plain vegan yogurt can be hard to find in small packages, so we think it's worth sharing.
* Editor's Note: Products marked with an asterisk are relatively high in sodium. In general, we recommend limiting sodium intake so that it averages out to 1 mg of sodium per calorie consumed. For example, a food that contains 100 calories per serving ideally would not contain more than 100 mg of sodium.
However, because we tend to combine ingredients in a single meal, other low- or no-sodium foods may balance out a food that goes over the limit, especially in the case of condiments and sauces. Use your judgment, and aim for 1 mg sodium per calorie consumed over a day or even a week. For foods like canned beans or jackfruit, rinsing with water can help reduce sodium content.
Source: https://bloghong.com
Category: en