44+ Best Farewell Letter Samples (for Boss, Employee, Friend, Etc.)
When it comes to relationships, professional or otherwise, how you end them is just as crucial as the first impression you ever made. Whether you're leaving your job, place of residence, school, or home state, you want to maintain the positive connections you created while you were there. You can do this by sending your employer, colleagues, friends, or residents a well-written farewell letter.
This Post: 44+ Best Farewell Letter Samples (for Boss, Employee, Friend, Etc.)
Advertisements
A farewell letter or email is a message sent to friends, relatives, neighbors, clients, employers, colleagues, or employees informing them that you will be leaving and moving on to a new job, home, or location. The intent is to alert them to your departure, commemorate the time you spent together, and promote future contact.
Are you retiring, graduating from school, or moving to another company? The following Farewell Letter Samples and Writing Tips should help you draft your message?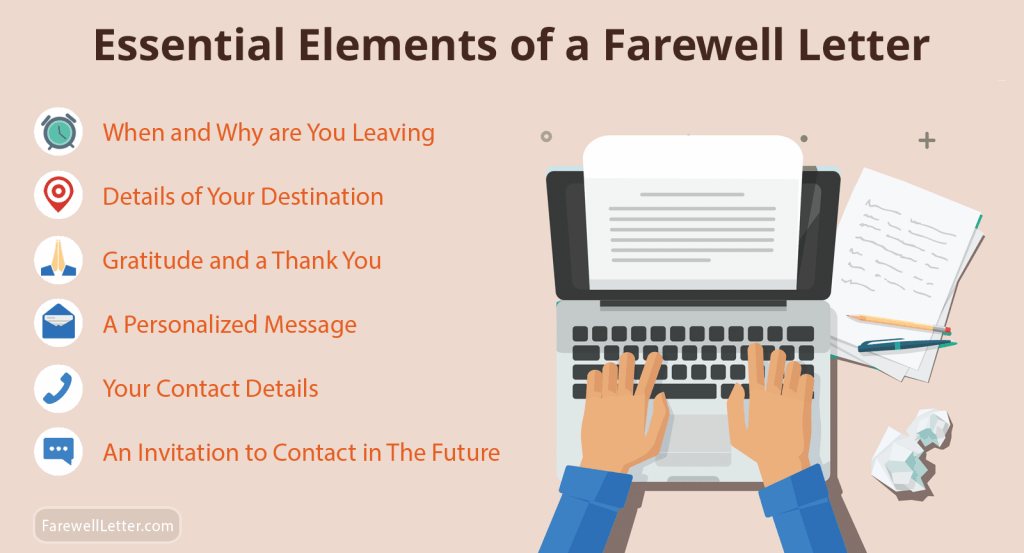 Farewell Letter Recipients
There are many people you would want to say goodbye to when leaving a particular situation. For example, if you are leaving your former place of employment, you may wish to bid farewell to your colleagues, employer, and supervisor. On the other hand, a graduating student may send the same letter to their teacher and former classmates, and so on.
Before drafting your farewell letter, take the time to assess your situation and the relationships you have established, then determine the appropriate recipients for your message. Some people you may want to consider include your:
Colleagues
Supervisor, manager, or employer
Clients or customers
Landlord or residents
Teacher of students
Friends, relatives, or neighbors
Vendors and distributors
Farewell Letters: By Type (24)
When Should You Send Your Farewell Letter?
Once you determine the people who should receive your letter, you need to pin down when you should send it. A farewell letter to your colleagues is typically sent before the last workday but not more than three days prior. You want to send it early to allow the readers a chance to say goodbye in person.
Remember to notify your employer and meet all the company requirements before sending your letter, so your boss doesn't learn about your departure from other sources.
What to Include in a Farewell Letter
A farewell letter, although designed to mark the end, should not read like a lengthy eulogy. You are moving on, but you want the reader to know that they can remain in your network. You also don't want to bore them with a lengthy document that could easily find itself in the bin.
Consider including the following details in your farewell message:
A short subject line that highlights your departure
Proper salutations reflecting your relationship with the reader
Details about your departure: when and why are you leaving?
Details of your destination
Gratitude for the time spent with the reader
A personalized message
Your contact details
An invitation to contact you in the future
Proper closing remarks, your name, and signature, if the letter is formal.
Writing Tips for a Farewell Letter
Most people have a hard time saying goodbye because although they know what to say, they don't know how to say it without sounding sad or depressed. Consider the following tips when drafting your farewell message:
Always show gratitude for the time you spent with the reader.
Keep your letter short, simple, and to the point.
Encourage the reader to keep in touch with you after you leave.
Tailor your message to the reader by including some memories or shared jokes
Time your letter so the reader has time to say goodbye in person but not too much time that things become awkward
Use an optimistic and cheerful tone.
Customize your tone to fit the relationship you share with the reader
Always provide details of where you are going, unless that information is personal.
Never bury the news of your departure past the first paragraph or under vague metaphors.
Sample Farewell Letters
Now that you know what to include in your farewell letter and how to word your message, the next step is implementing this information into a real-life letter. The following samples should give you a glimpse of how to say goodbye to different people:
Sample Farewell Letter to Boss
1 January 2031
Grace Dylan
ABC Company
123 Tree Street
Chicago, IL 6589
Dear Mrs. Dylan,
As you already know, I will be leaving my post as sales manager at ABC Company on 3 January 2031. I am writing to thank you for the guidance and knowledge you have provided me with since my first day in the company six years ago. I will be forever grateful.
Although I am sad to leave the team behind, I am excited about the new opportunities at our Europe branch. Please feel free to contact me at collinspaul@gmail.com if the need arises.
Thank you once again.
Sincerely,
Collins Paul
Sample Farewell Letter to Employee
1 January 2031
Henry Teal
342 Highway Road
Jersey City, NJ 89000
Dear Mr. Teal,
RED : Safemoon Price | Safemoon Coin Price,USD converter,Charts | Crypto.com
Today marks the end of your 18-year stint at PVR Solutions Ltd. While I am sad to see you go, I am excited for you as you embark on your retirement journey. We will remember your reputation for hard work, determination, and loyalty forever.
Looking back, I am reminded of the growth you have brought to the accounts department during your employment. You single-handedly landed us the most lucrative account in the history of the company. Please know that your efforts will mark our work from here on.
Congratulations, and thank you for your loyalty.
Best wishes
Mary Cooper
Sample Farewell Letter to Colleagues
1 January 2031
XYZ Industries
675 Jolley Road
Wilmington, NC 35434
Dear Engineering Department,
I am writing to inform you that I will be leaving XYZ Industries on 3 January 2031. I have made so many memories working with all of you that it will be sad to let go. Nonetheless, I am hopeful that my departure will not mark the end of our relationship.
I want to thank each of you for your support, especially Jane Randolph and Philip Tristan, who have helped me in more ways than I can describe. As I begin my new job at Halifax Trades, I wish all of you nothing but the best.
Best wishes
Cynthia Lake
Sample Farewell Letter to a Friend
1 January 2031
David Cooper
789 Purple Street
Houston, TX 7890
Dear Dave,
It still feels like yesterday when I bumped into you and spilled my coffee all over your shirt. I can't believe it's been 12 years already. While I am sad that you are being transferred to New York, I applaud your loyalty and commitment to the medical fraternity. I will miss you.
I know for a fact that Sunday movie nights will never be the same without you. Please keep in touch and find time to visit every once in a while. All the best in your new job.
Love you,
Chelsea
Sample Farewell Subject Lines
The subject line of your Farewell Letter should be short but informative enough to tell the reader what you are writing. Depending on your relationship with your boss, some examples include:
Thank You and Farewell
Keep in Touch
End of an Era
Leaving ABC Company
Last Day at ABC Company
Sample Farewell Email
2 August 2031
From: derekpowell@abccompany.com
To: deniserauch@abccompany.com
Subject Line: This Isn't Goodbye
Dear Derek Powell,
As you know, I will be leaving ABC Company on 4 August 2031. I am very grateful for the time we spent together these 7 years and the lessons you imparted to me. I will miss you and the team greatly.
After my wedding, my partner and I decided to take time off and travel. While I am very excited about this chapter, I could not be happier about my time at the company.
RED : Update – Review: Acre, Farm-to-Table in San Jose del Cabo, Mexico – Brad A. Johnson
I am very proud of the projects we completed together, including launching the Positive Outlook campaign. I will not forget the impact the work we did has had on my life.
Although I am leaving, I will not be a stranger, and neither should you. Please reach out to me at deniserauch@personal.com any time.
Best wishes,
Denise Rauch
More Farewell Letter Examples & Templates
The recipient of your farewell message will always dictate its contents, tone, and delivery time. Do you know which letter to send and when? Consider the following types of farewell letters:
Farewell Letter to Boss
This is a document sent to your employer thanking them for the time and experience you shared with them over your employment. Although it may be written within the same time frame, a farewell letter to a boss is not similar to a resignation letter. It is less formal and has a more thankful tone.
Farewell Letter to Employee
This is a farewell message sent by an employer to the employee who is leaving, appreciating their contributions to the company and wishing them the best in the future. It could be sent when an employee is retiring, moving to a new company, or being transferred.
Farewell Letter to Colleagues
A farewell letter to colleagues is a document sent to your coworkers informing them that you will be leaving the company. Depending on your preferences, you can send it to an entire team or individual colleagues.
Farewell Letter to a Friend
This letter is usually sent to someone close who you have known very well previously, informing them that you will be leaving soon. Unlike the first three letters, it shouldn't be short and formal and can have an emotional tone.
Farewell Letter to Residents
Most farewell letters to residents are sent by people who previously worked on a property, such as foremen, property managers, and security guards. The message's purpose is to inform the residents of that property that you will no longer be providing your services there.
Farewell Letter to Customers/Clients
This letter can be written by an employee or business owner to a customer or client informing them that you will be leaving the company or closing the business. For employees, you can only send this letter if your departure from the company affects the client directly.
Farewell Letter to Teacher
A farewell letter to the teacher is written to say goodbye to a teacher, associate teacher, or lecturer if they or you, the sender, are leaving the school. Common situations that necessitate this message include when the teacher is retiring, moving to a new town, or when the student is graduating.
Farewell Letter to Students from Teacher
This letter is the reverse of the previous one as it is sent by a teacher to their students, bidding them goodbye because they, the teacher, are leaving the school. It can be sent when the teacher is retiring, moving to a new class, or transferring to a different school.
Retirement Farewell Letter
A retirement farewell letter can be written by the person retiring or by the retiring employee's friends, colleagues, or employer. In the first instance, the retiring employee informs the readers of their departure. A colleague can use a retirement farewell letter to thank and appreciate the retiring coworker for the time spent in the company.
Frequently Asked Questions
Can I say happy farewell?
Yes, you can say happy farewell when the situation causing you to leave a person or place is positive, and you are leaving things on positive terms.
What do you say to a colleague in farewell?
When resigning or retiring from a company, it is professional to send your colleagues a farewell letter informing them of your departure. The letter should indicate your last date, the reason for leaving, new contact information, and best wishes.
How do you say goodbye without saying it?
If you don't want to say goodbye in words, you can craft your farewell so that it focuses on the next time you will see the person, e.g. 'until we meet again' or 'see you soon.'
How do you say goodbye professionally?
You can say goodbye professionally through a letter or email telling the reader when and why you should be leaving. The message should be short, to the point, and positive.
How to Say Goodbye When Someone You Love is Dying?
If someone you love is terminally ill and bound to pass away, it is important to know that saying goodbye is a process. Here are some tips to help you:
• Be honest – Your loved one will love talking to someone that can share their fears about the current situation. It is important that you be honest about the situation.
• Be reassuring – Don't try to argue or deny your loved one's situation and instead reassure them that you are present and love them.
• Be positive – Share some memories, jokes, or funny stories you shared with your loved one, so they also remember and are happy in their last moments.
• Keep talking – Studies have shown that the sense of hearing is the last to go when someone dies, so keep talking to your loved one, making sure they feel surrounded in their last moments.
• Speak from your heart
What do you say in a final goodbye?
When saying a final goodbye to a loved one, some things you can say include:
• I love you
• Thank you
• I am sorry/ I forgive you
• I understand you need to go
What can you do when someone dies and you didn't get to say goodbye?
In the event you were unable to say goodbye to a loved one before they passed away, you will likely be left in a lot of pain. Some ways to deal with your grief and say a final goodbye include:
• Going to a quiet, private location where you can take a moment to remember your loved one and say what you need to say.
• Starting a journal to record your memories of your loved one.
• Writing a diary entry, poem, or letter about your loved one.
• Sharing memories of your loved ones with other people to maintain a connection to them
Key Takeaways
As you can see from the Farewell Letter Samples and Writing Tips above, drafting a farewell letter should be a joyous occasion. Write from the point of gratitude and hope for an even better future with the people you are leaving behind. It is also crucial that you personalize your letter, send it early, and include your contact information.
Source: https://bloghong.com
Category: en