5 Best Pinellas County Golf Courses | St Pete FL Golf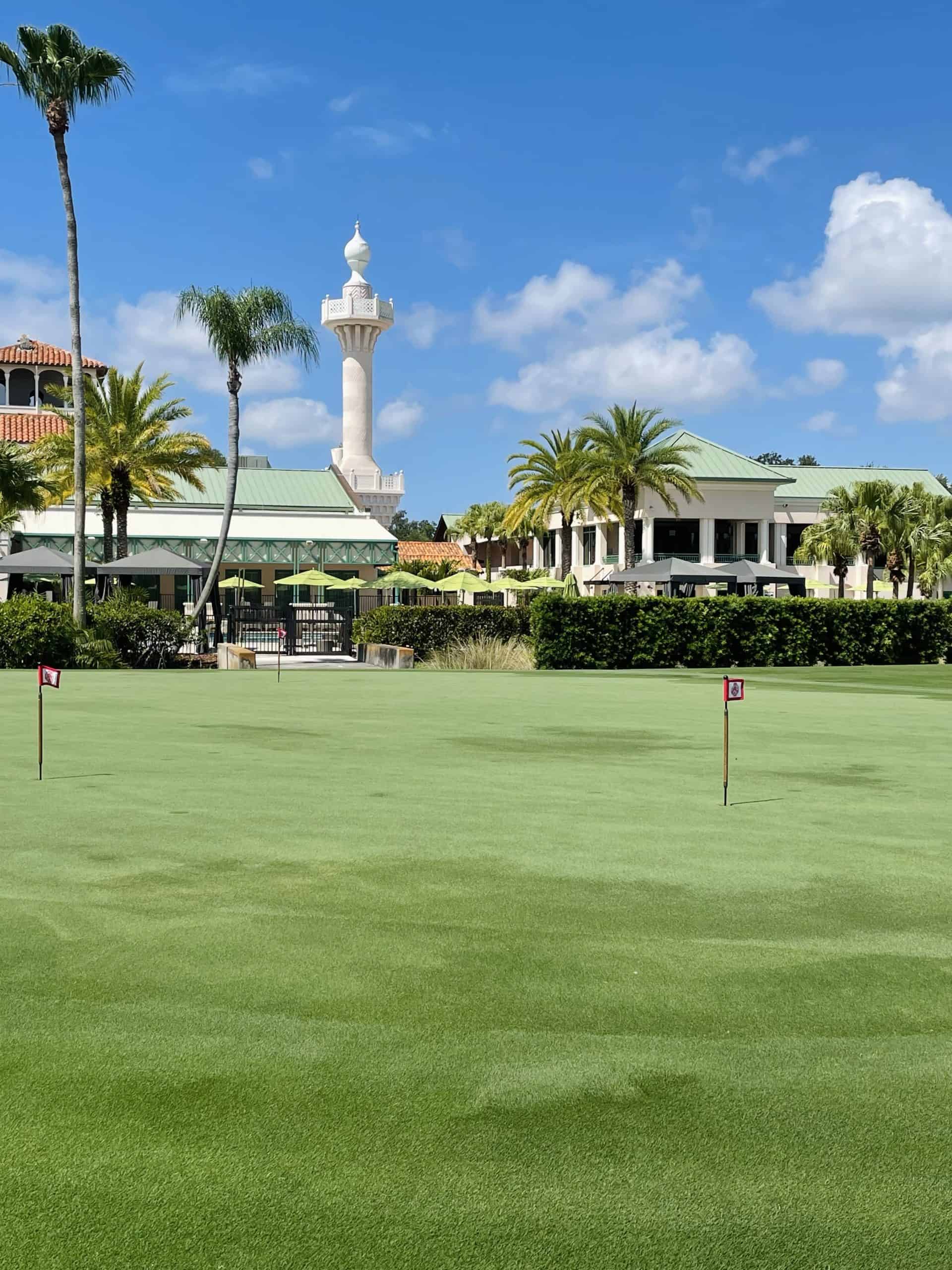 By: Colleen Gilbert | Passion for Genealogy
Pinellas County Golf Courses are some of the best in Florida. If you are considering golfing in the St Petersburg Florida area you are in for a delightful surprise.
Beautiful Pinellas County
Pinellas County is located in Tampa Bay on the west side of Florida. Pinellas County offers a wide choice to travelers with a plethora of golf courses throughout the county. This area is full of sunshine all year. For this reason, St Petersburg is known as the "Sunshine City" for having held the record on 361 consecutive days of sunshine. While temperatures can be hot and semitropical, this area boasts some of the best gulf-coast beaches with coastal breezes.
Originally I traveled to St. Petersburg in the late 1960's with my Father. At that time he was trying to help his elderly uncle sort out his life. As a teenager I wasn't very enchanted with the area as I surmised at the time that it was a haven for old people and wheelchairs. Boy has that ever changed!
Fast forward some 60 years and you will now find the most upscale vibrant city on the Gulf Coast. It is also minutes away from some of the most beautiful white sandy beaches in the world such as Pass-a-Grille Beach and St Pete Beach for sun lovers such as myself. Then throw in the large updated, Tampa International Airport (TPA) for easy access and you have a mighty fine place to live or visit.
Putting this all aside I have to mention one of my favorite passions is golf. My husband and I are avid golfers and part-time boaters, so we were striving to find a club that could check off our boxes meaning golfing and boating.  
Although South Tampa Bay and St. Petersburg have lots of water, a few developers managed to squeeze in a few private golf courses on the very limited land which was available.  My husband and I decided to visit local golf courses to determine which was the best for us.
Golf Courses in Pinellas County
There are a total of 43 Pinellas county golf courses. Of those 43, ten of them are private courses which require a paid membership.
Additionally, there are three short par 3 courses which include: Cypress Links Golf Course, Twin Brooks Golf Course, and Pinecrest Golf Course.
5 Best Pinellas County Golf Courses
Being a golfer with over 40 years of experience, these are my top 5 favorite Pinellas County golf courses. All five are private golf courses or semi private golf courses. Keep reading to find out what my favorite public golf courses are in Pinellas county.
1. Isla Del Sol Yacht & Country Club
General Information
Isla Del Sol Yacht & Country Club
6000 Sun Blvd, St. Petersburg, FL 33715
Main Line: (727) 906-4752
Golf Pro Shop: (727)864-2417
Membership Information: (727)828-0002
Course Details: 18 holes – 6,392 yards, par of 71
Isla Del Sol Yacht and Country Club is conveniently located in Southern Pinellas County heading towards St Pete Beach. It is just slightly north of Tierra Verde FL. Here at this private member club, you can enjoy a waterfront world-class private establishment.
Isla Del Sol offers a first-class 18-hole golf course, yacht club, tennis courts, waterfront dining facilities, a private fitness center, and a beautiful pool overlooking Boca Ciega Bay!
The Isla Del Sol Yacht Club is a deep water marina in the Bay. The yacht club mooring has been recently renovated and has 76 slips which can accommodate yachts up to 65 feet.
The Isla Del Sol Tennis Club consists of nine lighted, Har-Tru Courts and pro shop. Here they offer summer youth camps, clinics, round robins, active singles and doubles competitions, and other events held throughout the year.
The Isla Del Sol Golf Course was originally built in 1977. The 18-hole Isla Del Sol golf course features 6,392 yards of golf from the longest tees for a par of 71. It was designed by Mark Mahannah, ASGCA.
The golf course is in great condition and has well groomed greens. Although not the longest course in the group it makes up for it with its subtle breaks of the greens and the layout of the fairways. This club is reasonably priced and offers some of the friendliest members to be found. For a private membership, we found this to be the best bang for your buck.
Update: The 12th and 18th holes are currently being revamped and will be ready in the next few months. The pool restaurant and bar are also currently under renovation. We anticipate these finishes to be the icing on the cake for this beautiful location.
2. Pasadena Yacht & Country Club
General Information
Pasadena Yacht & Country Club
6300 Pasadena Point Blvd S, Gulfport, FL 33707
Main: (727) 381-7922
Golf Shop: 727-381-TEES (8337)
Course Details: 18 holes – 6,339 yards, par of 72
 The Pasadena Yacht & Country Club is situated in Southern Pinellas County, centrally located minutes from downtown Gulfport and a short-drive from downtown St Petersburg or Treasure Island. The Country Club offers a peaceful, beautiful atmosphere on close to 300 acres of subtropical landscaping.  Located off Boca Ciega Bay you will experience refreshing breezes, beautiful sunsets, and more at this premier club.
     
Pasadena Yacht and Country Club is a private Member club with top quality amenities. Here they have hosted PGA & LPGA golfing events. Celebrities known to have played there include Babe Ruth, Arnold Palmer, Walter Hagen, Michael Jordan, and Babe Dedrikson Zaharias.  
It has all the amenities as the country club above and also its own harbor. It was purchased in 2016 and since then there has been wonderful improvements. Members are thrilled with the newer high standards and beautiful new amenities.
The golf course has been heavily renovated; the pool and clubhouse have had many improvements. Although we have not tried their food, our friends claim the Pasadena Country Club has some of the best food in the area.
3. Vinoy Golf Club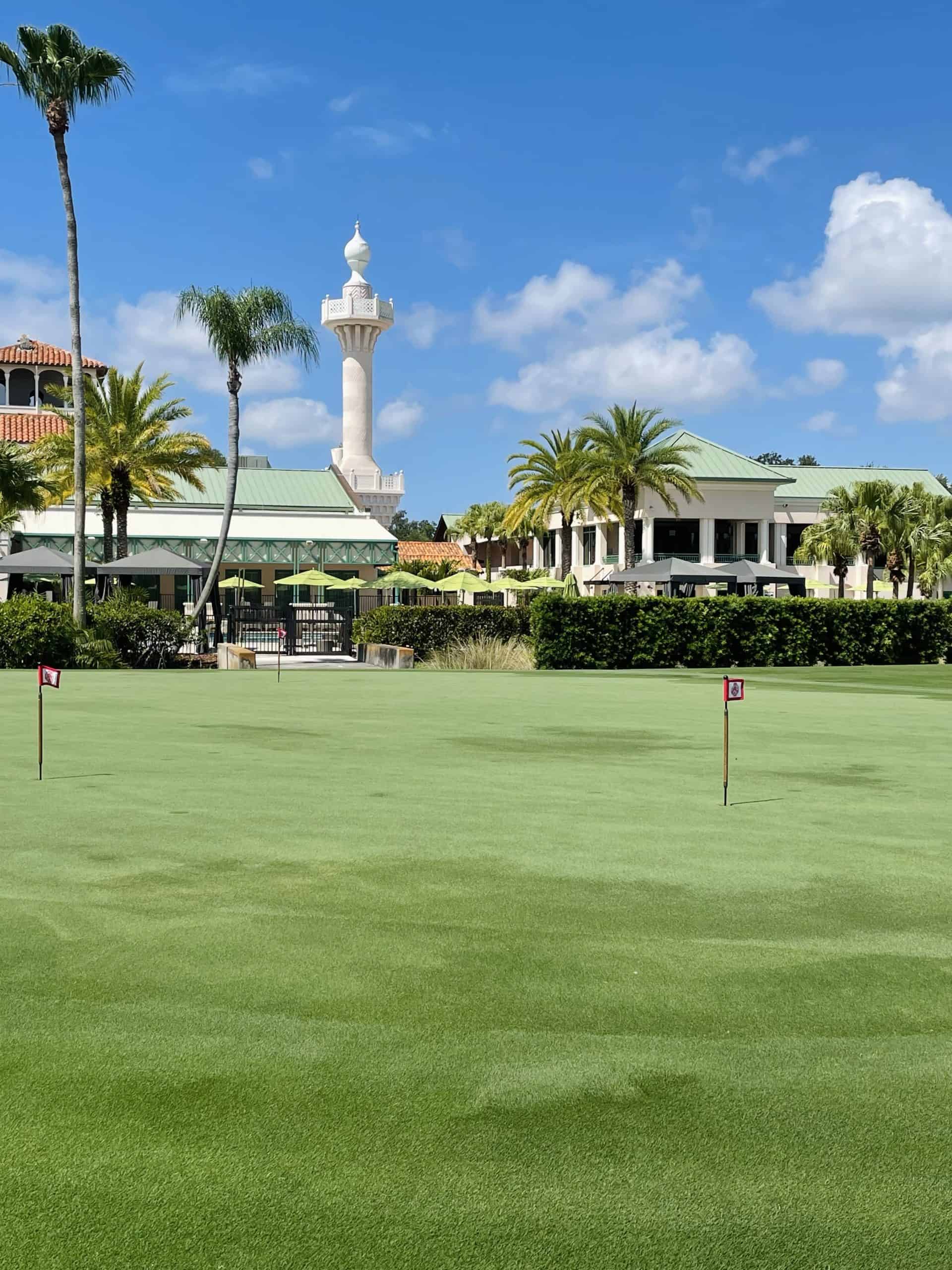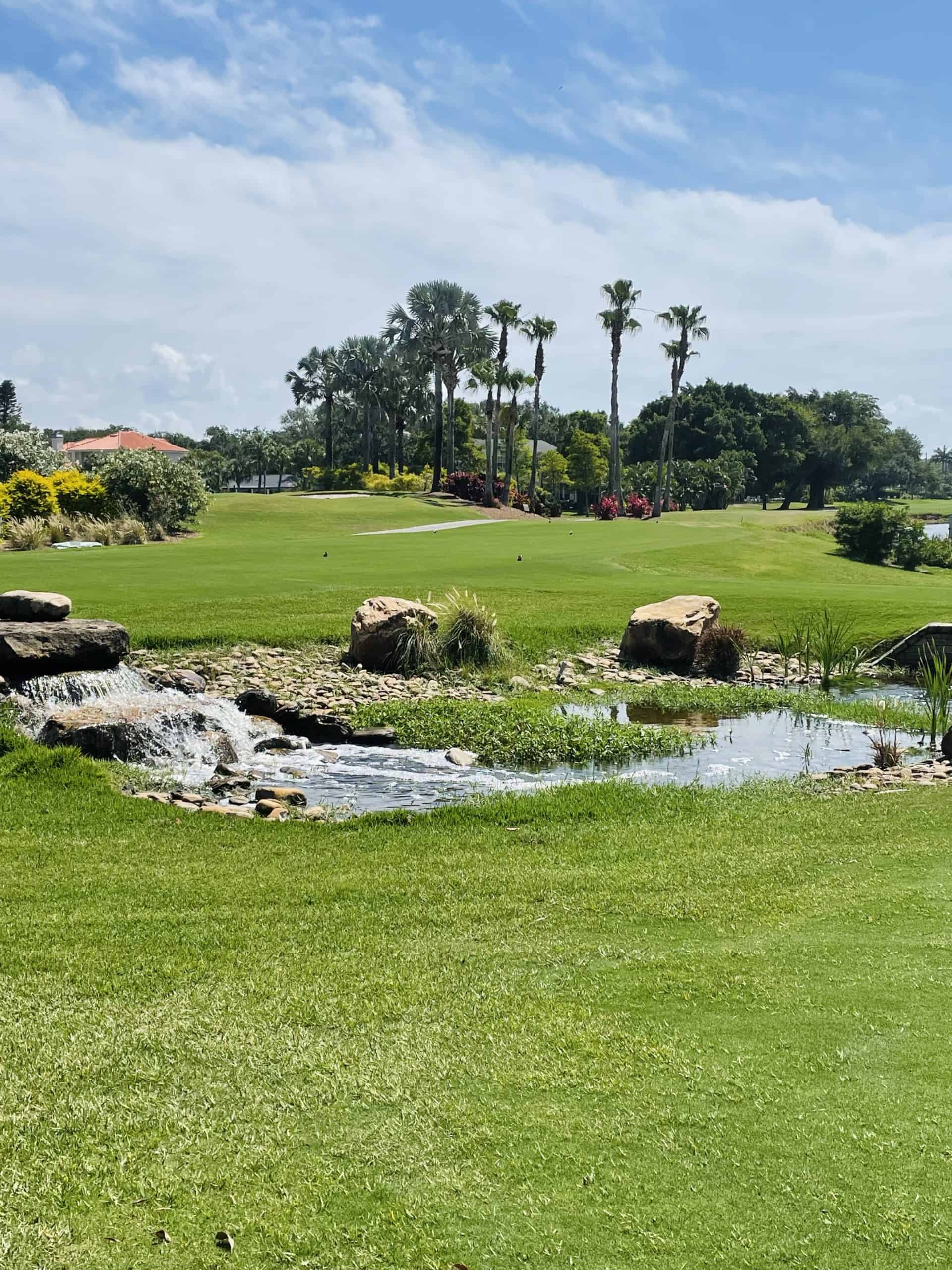 General Information
Vinoy Golf Club
600 Snell Isle Blvd NE, St. Petersburg, FL 33704
(727) 896-8000
Course Details: 18 holes – 6,590 yards, par of 72
The Vinoy Golf Club is an 18-hole golf course originally created by John R. Van Kleek, and re-designed by Ron Garl. Polish up your game with this 18-hole par 71 course that challenges most avid golfers. With its Moorish style charm, this is one of the most beautiful clubhouses with an upscale dining and pro shop.
This superb country club on Snell Isle is affiliated with the Renaissance Hotel located downtown St. Petersburg, FL. The course is challenging with lots of water holes and tight fairways. It is well maintained with an outstanding staff.
The amenities include a pool, driving/chipping areas, new golf simulator, tennis and fitness clubs. The downside of joining this impressive club is competing with hotel guests and a higher membership fee.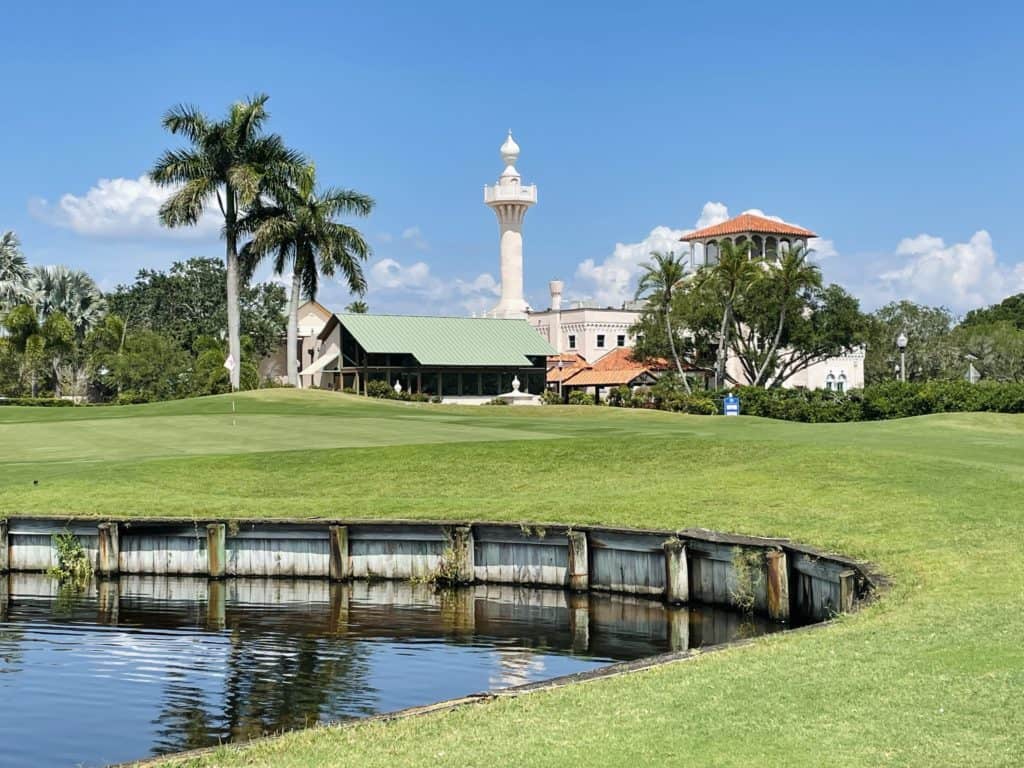 4. Feather Sound Country Club
General Information
Feather Sound Country Club
2201 Feather Sound Dr, Clearwater, FL 33762
Main: (727) 573-5666
Course Details: 18 holes – 6,921 yards, par of 72
Feather Sound Country Club is located centrally in Pinellas County between Clearwater and Saint Petersburg FL. This beautiful family-friendly club offers a Joe Lee Signature Championship Golf Course and clubhouse. Originally it was established in 1974, and since then has maintained being one of the premier private member clubs.
Feather Sound Country Club is currently closed as of this writing for renovations of the fairways and greens. The clubhouse also is being updated. No reviews at this time.
5. St. Petersburg Country Club
General Information
St. Petersburg Country Club (Previously known as Lakewood Country Club)
2000 Country Club Way S, St. Petersburg, FL 33712
(727) 867-2111
Course Details: 18 holes – 6,718 yards, par of 72
St. Petersburg Country Club was built in 1924. Located in one of the older neighborhoods near downtown St Peterburg, it is full of deep history. Some of this history includes Sam Snead and Ben Hogan who played here years ago. The course was designed by architect, Herbert Stong, a professional golfer with the Royal St. George's Golf Club in Kent, England.
It is surrounded by lovely old oak trees and plenty of wildlife, just what you would expect from an old Florida course. The layout itself is pretty straight forward, which is good for all handicap levels. Currently, the greens, fairways, and tees could use some work. The club amenities include a pool, fitness, tennis, and driving range.
Looking for the best public golf course in St Petersburg FL?
There are a lot of public golf courses in Pinellas County. The best public golf course is Mangrove Bay and Cypress Links. These two public golf courses are 18-hole and 9-hole golf featuring a driving range, pro shops and snack bars.
Note: Mangrove Bay Golf Course will be closed from May through October 2022 as they resurface putting greens and the practice green.
General information:
875 62nd Avenue NE
St. Petersburg, FL 33702
(727) 893-7800
Hours: 6:30 am – 6:00 pm
Driving Range Closes: 7:30 pm
Course Details: 18 holes over 6,779 yards with a par of 72 (Mangrove Bay) & 9 holes over 1,311 yards with a par of 27 (Cypress Links)
Pin In for Later!
Disclaimer: The information in this article was accurate when published but may change without notice. All opinions are our own. Some of the links on this website are "affiliate links." This means that if you click on the link and do a purchase, I will receive an affiliate commission at no extra cost to you. This helps me keep my website running and to continue to share my traveling knowledge with you. I thank you for booking your flights or hotels using the links on my website. Regardless, I only recommend products or services I believe will add value to my readers. This article is the property of erinstraveltips.com and is protected by U.S. Copyright Law. Re-publication without written permission is against the law.
Please leave this field empty
Join the Newsletter
Subscribe to get our monthly newsletter so you don't miss the awesome travel tips!
What's your name?
Email Address
*
We don't spam! Unsubscribe at any time.