5 Gordon Ramsay Restaurants in Las Vegas (6 is Coming)
shares
We all know Gordon Ramsay. Perhaps it's from one of his many reality TV shows such as Hell's Kitchen, MasterChef, Kitchen Nightmares, or one of the countless other options. Or, maybe we simply know him as a world-renowned chef.
Regardless of how you know him, he's got many restaurants worldwide that are definitely worth checking out. So, we're going to look at some offerings in Sin City itself. That's right, Vegas baby!
Who is Gordon Ramsay?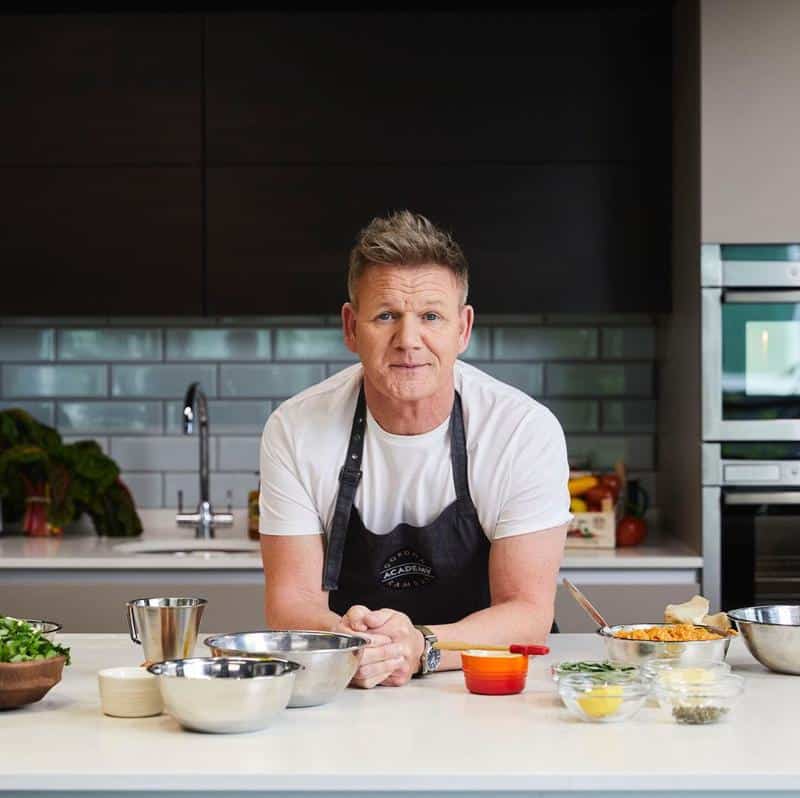 Surprisingly, he had not intended to initially become a chef. His dream was to become a professional Soccer player; however, due to an injury, he was unable to fulfill his dream. Instead, he studied Hotel Management and, shortly after completing, was given his first job working at the Wroxton House Hotel.
Eventually, he moved away from hotel management. He found himself working under top chefs like Marco Pierre White, who had lit a new fire in him. Through hard work, he helped some of his mentors achieve Michelin Star status in their restaurants before finally deciding to branch out and open his own. Restaurant Gordon Ramsay became a quick hit and, within its first few years open, was awarded 3 Michelin Stars.
Ramsay was a quick-growing success, eventually appearing on TV for the first time in 2001 and quickly developing a more prominent role for Ramsay's Kitchen Nightmares. Hell's Kitchen was soon to follow, which was adapted further to suit American Audiences.
By this time, he had successfully established multiple chain restaurants across the globe. His fame only grew with time, and he is still one of the world's most prominent and talked about chefs.
While he has a fiery temper, he is said to be a rather genuine, down-to-earth person. He has assisted many young culinary enthusiasts further themselves. In addition, he is a family man who devotes much of his time to his kids and wife.
Gordon Ramsay Restaurants in Las Vegas
Gordon Ramsay Hell's Kitchen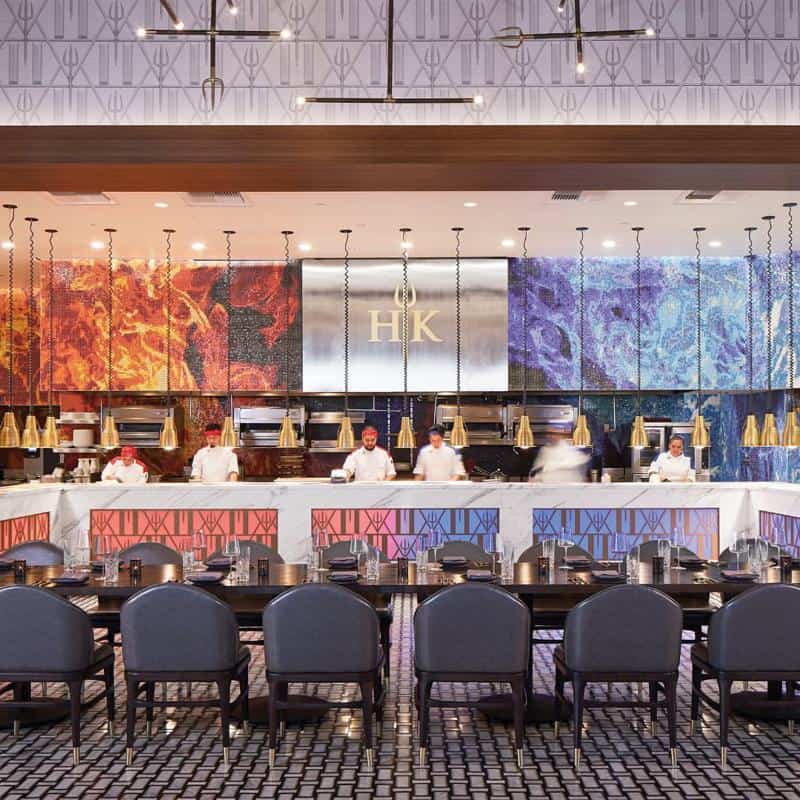 Location: 3570 Las Vegas Blvd S
Hours: 11:00 am to 11:30 pm
Price: $$$$
Gordon is famed for one thing other than his fiery personality. That would be the Hell's Kitchen concept that has stirred up his favor worldwide just on hearsay alone. So, of course, we expect nothing less from this esteemed chef. And for all those who had ever once dared to wonder what being on an episode of Hell's Kitchen would be like? Well, this restaurant is for you.
With its iconic blue and red split, you'll be eagerly choosing a side to support even though there isn't any competition. This menu boasts some of the show's meals and some of Chef Ramsay's signature dishes. So if you've always been curious to try his Global Beef Wellington sensation, you'll find it here, smacked proudly between an array of other crowd-pleasers.
Ata Ramsay restaurant you're paying for quality, which is why you'll only find the freshest, most decadent ingredients of the lot in this kitchen. If it's a bit overwhelming, we highly recommend the tasting plates. You'll get to try some of the restaurant's signature dishes and not feel pressed for choice.
The staff are incredibly efficient and ensure that their tables are well taken care of. Noting this restaurant's popularity, you'd be more than stoked with the speedy service you receive. The chefs are passionate about their dishes and are there to uphold the Ramsay name. The venue has pristine views of the Strip and seats 300, so you'll find there is plenty of space to dine here.
Also Read: Best Restaurants in Caesars Palace Las Vegas
Gordon Ramsay Steak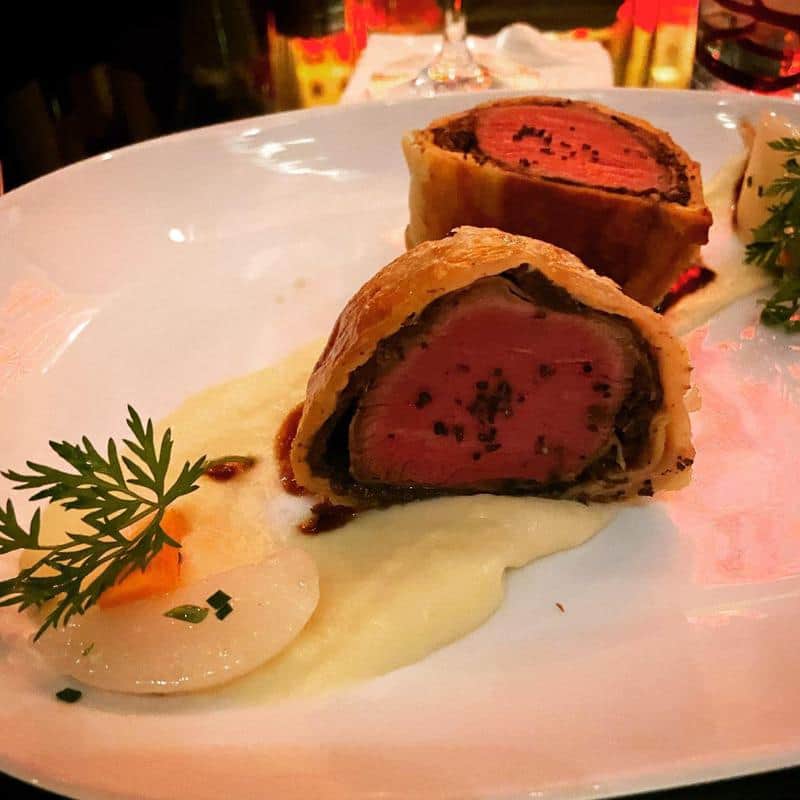 Location: 3655 Las Vegas Blvd. South
Hours: 4:30 pm to 10:30 pm daily
Price: $$$$
RED : Hudson Valley Restaurant Week returns
When it comes to fast-paced, energetic dining environments, you can never go wrong visiting Gordon Ramsay's steak. Located in an opportune spot on the Strip, this restaurant has continued to thrive using Chef Ramsay's incredible menu and culinary feats to wow its guests for years. As a result, it is an extremely popular establishment, sitting right behind Hell's Kitchen in terms of favorites.
The menu itself is a masterpiece, featuring some of Gordon's most famed dishes, including his steak tartar and scotch egg. In addition, there is an option for a tasting menu and wine pairing. Four beautifully prepared courses all paired perfectly with a wine that accentuates the flavors wonderfully. However, we know that tucked between the menu pages, there are more than enough options to get your tastebuds tingling.
As usual, Chef Ramsay has delivered nothing but the best in terms of high-quality ingredients, with the wagyu beef having a marbling score of 9. We highly recommend the Tomahawk steak for meat lovers, and if it's seafood you crave, don't skip over the lobster.
The setup takes strong influence from London, the entranceway itself as a tribute to the London Underground. It leads the eye into the very purposefully decorated venue, with plenty of seating to accommodate Chef Ramsay's eager patrons.
Gordon Ramsay Fish & Chips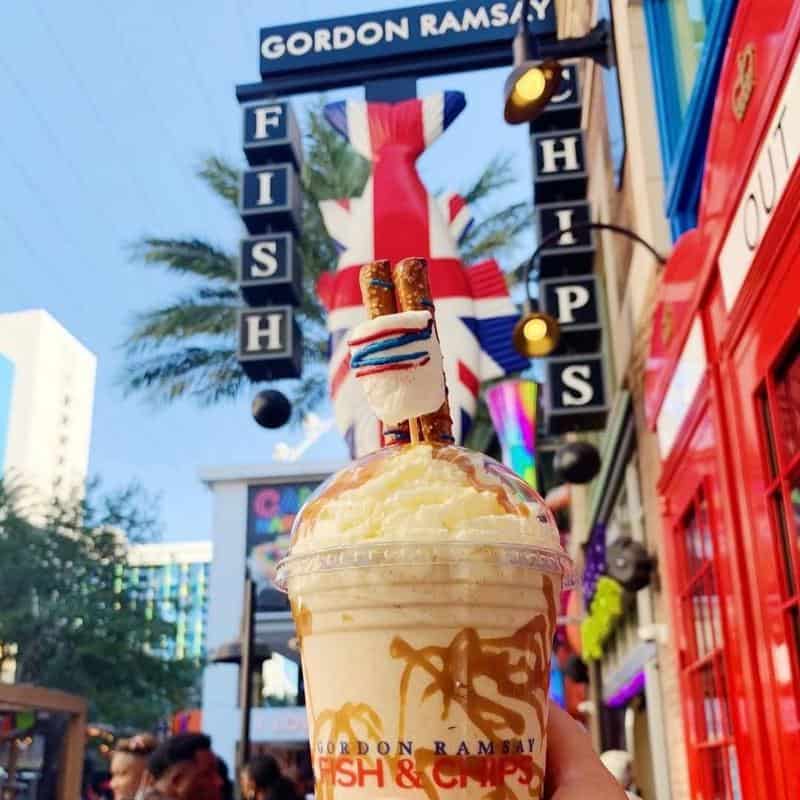 Location: The Linq Promenade,3545 Las Vegas Blvd. South
Hours: 11:00 am to 10:00 pm
Price: $$
The lovely thing about Gordon Ramsay's Fish & Chip is what it embodies. He has a knack for bringing life to his restaurants and dishes through the experience, which is exactly what he did with this casual dining venue. So whilst it lacks the luster of his higher-end establishments, there's a reason for it. The restaurant itself is supposed to remind you of your local Fish and Chips place in Britain, and we can certainly say he's been successful there.
It is a seafood restaurant, so you won't be finding much more on the menu than that. But, of course, its feature item is the Chef's globally recognized and simplistic fish and chips meal which even gets served in a little take-out box the way it truly should be.
Over and above the food, you can indulge yourself in an array of specialty milkshakes that put Shake Shack to shame. Admittedly, they're overindulgent, and the flavors may seem a bit out of the ordinary, but that's what we're here for. A dining experience like nothing else. Luckily for fussy patrons, they also have limited chicken and sausage options if you don't fancy seafood.
See Also: Bobby Flay Las Vegas Restaurants
Gordon Ramsay Pub & Grill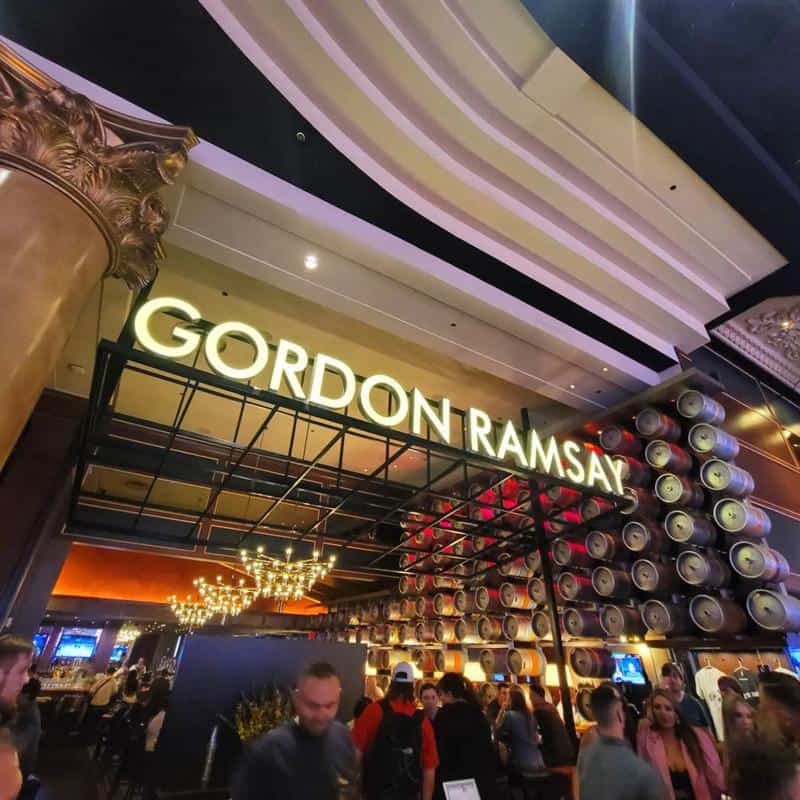 Location: 3570 South Las Vegas Boulevard
Hours: 11:00 am to 10:15 pm
Price: $$$$
What if we took pub food? And made it high-end? Well, the idea was conceptualized by Gordon Ramsay at his Pub & Grill in Las Vegas. Here you can feast on your not-so-average pub grub and wonder why other restaurants don't add the same flair and flavor to their meals.
The venue is open for both Lunch and Dinner services, with an option to remove choices by simply picking the 3 Course Meals. These are some of Chef Ramsay's most beloved dishes, all thrown into one menu for those who feel slightly overwhelmed at the thought of choosing between Hellfire Wings or Short Rib Kettle Chip Nachos. Sounds divine, right? Well, that's because it is.
Nothing here sits at your standard pub grub level, with incredibly fresh and tasty ingredients being used in all the recipes. It also begs the question of why you don't see the usual American-style food on the menu. That's because, like most of his other establishments, this is wholly inspired by the UK and the food itself is more akin to what you'd find sitting in London than New York.
Gordon Ramsay Burger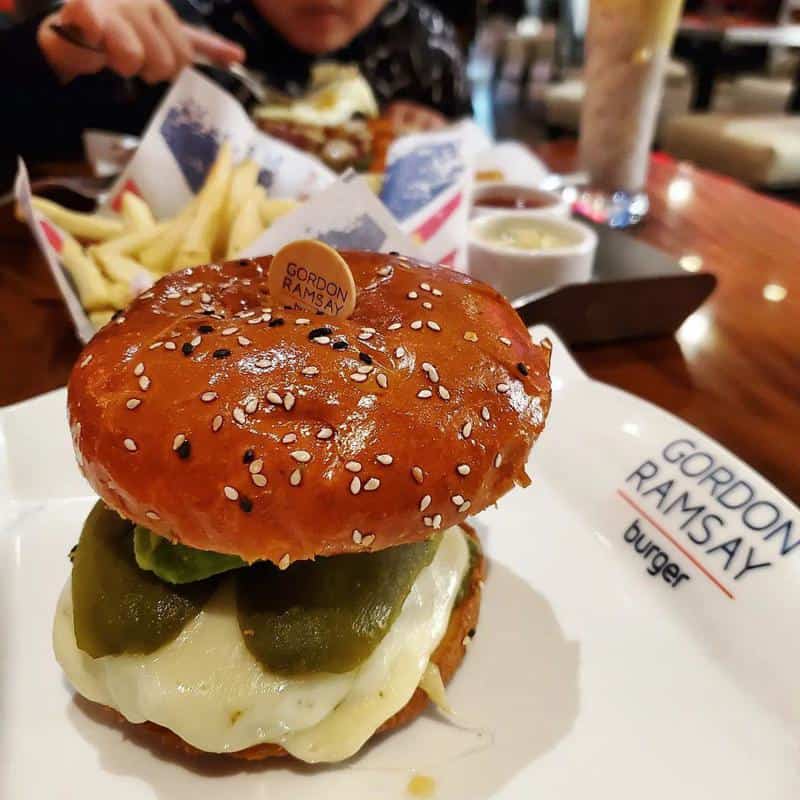 Location: 3667 S Las Vegas Blvd
Hours: 11:00 am to 11:00 pm daily
Price: $$
Now, this is what we're talking about when it comes to fiery and exceptional burger joints in Las Vegas. Of course, nothing less has been expected from Chef Ramsay. He has successfully established an incredible recipe for making burgers that prompted him to dedicate a chain to it.
You can have an option of switching beef for chicken when it comes to his burgers. While he's tried to stick to ensuring patrons get delicious American-style food, we would be lying if we said he didn't add some British fusion to it. Of his signature burgers, the Hell's Kitchen burger is one of the most popular. It has a bit of a bite, so don't be shy when ordering it.
Not a fan of spicy food, but that's okay. There's plenty more to choose from, including a Farmhouse Burger. If you're in a snackish mood, you can select from onion rings, wings, and tater tots, which are incredibly delicious and worth every bite.
Gordon Ramsay Burger is one of his more casual dining experiences; the prices are affordable, and the venue is simplistic. It's a place where people with love for great food can sit and enjoy a basic meal turned gourmet.
Also Read: Guy Fieri Restaurants Las Vegas
What is next for Gordon Ramsay in Las Vegas?
RED : Phương sai (Variance) là gì? Công thức tính phương sai
Gordon Ramsay fans may be pleased to know that there will soon be a new Ramsay brand restaurant at Harrah's Las Vegas. And not just any restaurant. Chef Ramsay is expanding his Gordon Ramsay Kitchen brand, where you will be pleased to find some new and interesting specialty dishes.
This concept restaurant is bound to be a hit amongst fans who really enjoy the comfort of home cooking. Why? Well, the entire idea of Gordon Ramsay Kitchen is based on his home life and the delicious delicacies he whips up in his personal kitchen for friends and family.
It's a more intimate look into his cooking, as each dish is a personal preference that isn't there just for the idea of fine-dining. He wants his fans to experience good, honest, genuine cooking while still managing to get out of the house. While many people are skeptical due to the location, Chef Ramsay has never shied from a challenge, and we can certainly expect the same excellence of Hell's Kitchen in this establishment.
FAQs
What is the dress code for Hell's Kitchen?
Hell's Kitchen is one of Gordon's finest dining experiences and should be treated as an event. While officially, there is no set rule of what to wear when going to Hell's Kitchen, there's an unspoken law that sees most of its patrons dressing their best to come to dine here.
Is Hell's Kitchen a Michelin Star restaurant?
Hell's Kitchen is one of Las Vegas' better-known Michelin Star restaurants. It is a 3-star Michelin establishment with Chef Ramsay boasting over 15 Michelin Stars in total across his restaurants.
Who runs Gordon Ramsay Steak, Las Vegas?
Chef Ramsay recognizes talent when he sees it and has been known across the world for providing enthusiastic young chefs with opportunities for growth in their industry. So it isn't a surprise at all to know that he has handed the reins to a Hell's Kitchen Winner. Trenton Garvey has been capped as head chef and has major plans in the works to further improve the experience at Gordon Ramsay Steak in Las Vegas.
Is there a dress code at Gordon Ramsay Steak?
Like with most of his restaurants, there is no written rule dictating what patrons can and cannot wear to dinner service. However, the place itself exudes class, so patrons have self-inflicted a habit of dressing in a somewhat casual black tie.
Does Gordon Ramsay go to Las Vegas?
Chef Ramsay does spend a fair amount of time in Las Vegas throughout the year for multiple reasons. Whether paying a visit to his establishments and ensuring they're upholding the Ramsay standard or simply enjoying a vacation, you might find yourself bumping into the chef on the Strip.
How many restaurants of Gordon Ramsay's are still open?
Gordon is the proud owner of 35 restaurants worldwide. His establishments have all successfully managed to escape the pandemic relatively unscathed. If anything, they've come back stronger, and knowing this restauranteur, we can certainly expect more popping up in the future.
What awards has Gordon Ramsay won?
Gordon Ramsay is an excellent chef and TV personality. He has gained a following through his short-fused antics and adventures across the globe. He is one of the highest-earning Chefs in the world currently. He has been nominated and awarded on multiple occasions for his shows and food.
He boasts over 15 Michelin stars across his restaurants, with some holding onto 3 Michelin stars each, which is the highest culinary honor that can be bestowed. He is a three-time winner of the Catey award, one of the UK's most prestigious hospitality awards. Queen Elizabeth II has bestowed upon him the Order of the British Empire. Over the years, he has tallied dozens of nominations for his well-beloved TV shows.
What are some of Gordon Ramsay's TV shows?
One of Chef Ramsay's most popular shows on TV is the culinary competition Hell's Kitchen, where the beloved chef is infamous for his outbursts and insults. However, he also has "Kitchen Nightmares," wherein he tries to assist struggling restaurant owners to turn their luck by revamping their businesses. He has also been a judge on various versions of Masterchef, has had his own cooking shows, and so much more.
Overall he's an excellent TV personality that is loved by many and has blessed the internet with hilarious one-liners in some of his rage-fuelled rampages. He most popular shows have been the series under the 'Nightmare' umbrella which includes Kitchen Nightmares and Hotel Nightmares.
Conclusion
Gordon Ramsay is a highly esteemed chef who has won over the hearts of many through his honest, quality cooking and through his numerous entertaining TV shows. Whilst he has a bit of a reputation for being hot-headed, it adds to his character. Nothing is more comforting than knowing a chef is extremely passionate about his food.
As a result, it makes perfect sense for Las Vegas to play host to a range of his restaurants. It is, after all, a city of luxury where people can indulge in their wildest fantasies. So we don't know about you, but the idea of trying some of Chef Ramsay's Mac and Cheese sounds like a dream come true.
shares
Source: https://bloghong.com
Category: en