7 of the Best Golf Courses in Branson, MO
Branson has golf year-round, and it's mild enough to keep some courses open in the winter. Golfers looking for an enjoyable experience can choose from several layouts in the mountains and valleys: Par 3 courses, Championship courses, and nature courses for all skill levels.
This Post: 7 of the Best Golf Courses in Branson, MO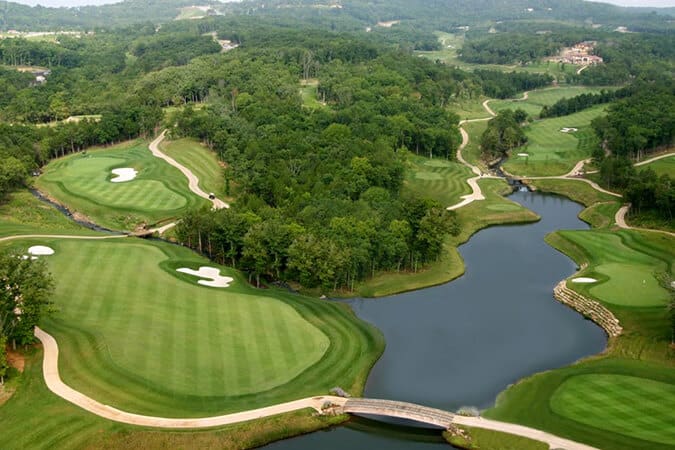 1. Buffalo Ridge Springs
1001 Branson Creek Blvd, Hollister, Missouri 65672
Course (formerly Branson Creek), transformed by the guiding hands of visionary conservationist Johnny Morris and renowned golf course architect Tom Fazio, features a challenging Par 71 championship layout, with five sets of tees etched into the beautiful Ozarks landscape with a view second-to-none. Services: A full range of services are available at Buffalo Ridge Golf Club, including golf instruction, an extensive practice range, rental clubs and shoes, beverage carts, on-course player assistance, group arrangements, golf packages, and catering.
2. Branson Hills Golf Club
100 North Payne Stewart Dr, Branson, MO 65616
RED : 10 Biggest Technology Companies
The Branson Hills Golf Club is an excellent public course honoring Legendary Missouri Golfers. Designed by Chuck Smith with design consultant Bobby Clampett, the system incorporates the natural landscape of hills, rock outcroppings, creeks, waterfalls, and lush vegetation, presenting the perfect challenge for golfers of all experience levels and expertise. The 18 holes of Branson Hills are each uniquely titled with names like Trevinos Tease, Paynes Pit, and Chelsea's Kiss. You'll also discover an elegant clubhouse featuring a restaurant and a lounge area with card tables, televisions, and a bar.
3. Holiday Hills Golf Club
630 E Rockford Dr, Branson, MO 65616
Initially constructed in 1938 by Don Gardner, Holiday Hills was rebuilt from tee to green and reopened in 1997. The new "user-friendly" course features flat to mildly rolling terrain with various holes to challenge the low and high handicapper. With wide, open fairways and large, undulating greens, this 'forgiving' course offers four tee boxes on each hole to accommodate every level of play. Beautiful landscaping, lakes and creeks, several waterfalls, and massive trees border many of the lush Bermuda fairways. Holiday Hills provides an enjoyable round for all. This is a "must play" course while in Branson!
4. Ledgestone Golf Course
1600 Ledgestone 105, Stonebridge Pkwy, Reeds Spring, MO 65737
A Branson Golf Course unlike any other. Described by Golf Digest as a "masterpiece of mountain golf architecture," LedgeStone's 18-hole championship layout offers the kind of golfing experience where "players don't want the round to end." With panoramic vistas of the ancient Ozark Mountains and the spectacular natural beauty of serene water, faultless Bent Grass greens, and tree-lined Zoysia fairways, LedgeStone inspires Branson golfers and non-golfers alike. Along with your woods, irons and putter, be sure your golf bag includes a camera when you tackle this Branson golf course! 
5. Pointe Royale Resort and Golf Club
142 Clubhouse Dr, Branson, MO 65616
RED : Des Dutch Essenhaus
Pointe Royale Condominium Resort & Golf Club, designed by Ault-Clark and Associates and constructed by Carter Golf, is a "shot-maker" course. With Lush Bentrass greens and Bermuda fairways, eight water holes, sand and grass bunkers, and tees for all levels of play, Pointe Royale is a world-class golfing experience. This challenging 18-hole, 6,067 yards par 70 course is regarded as the original championship course in the Branson area. The rolling fairways, mature trees, bunker placements, and numerous water hazards offer average golfers a challenge, so club selection and a savvy golf strategy are a requisite part of the game. 
6. Thousand Hills Golf
245 Wildwood Dr. S, Branson, MO 65616
Imagine setting your tee down on the first hole, pulling out your driver, addressing the ball, and charging into battle with this Golf Digest award-winning Robert E. Cupp-designed 18-hole course. Test your skill on the Zoysia grass fairways. Out-wit the Crenshaw Bentgrass greens. The game is on! Amenities: At Thousand Hills, you'll find a complete Pro Shop, rental equipment, individual and group lessons, a fully-stocked clubhouse, practice putting greens, and Mulligan's Snack Bar (open April-November), the perfect 19th Hole getaway.
7. Top of the Rock Golf
150 Top of the Rock Rd, Ridgedale, MO 65739
A part of the Big Cedar Resort, Top Top of the Rock is a Jack Nicklaus designed, nine holes, par-three golf course. One of only eleven courses in the nation to be recognized by the Audubon Signature Cooperative Sanctuary Program, Top of the Rock offers a challenge to every level of golfer. Set high above Table Rock Lake, the course provides spectacular views amidst pristine, naturally preserved golfing conditions.  Top of the Rock pro shop features the latest top-of-the-line logo golf apparel and goods, including restaurants, snack bar, clubhouse, banquet room, and locker rooms. 
Source: https://bloghong.com
Category: en