9 Best Restaurants For Sushi In Asheville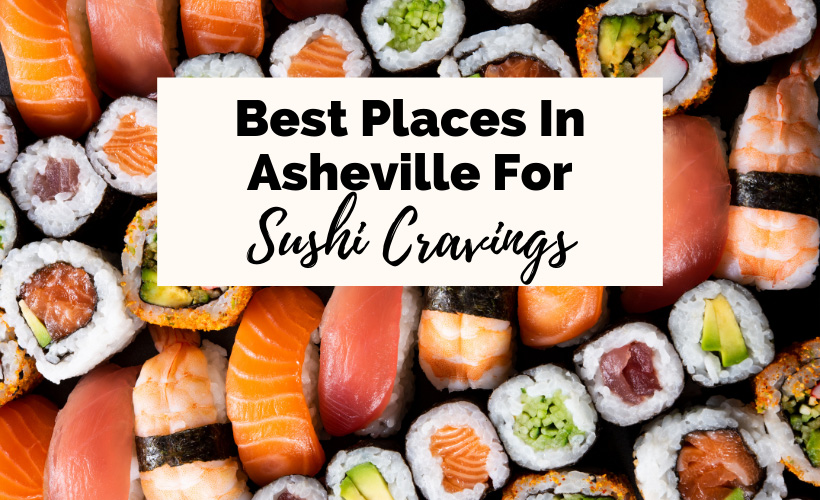 Where can you get delicious sushi in Asheville? Explore the best Asheville sushi restaurants for dine-in and takeout – from locals.
Do you have a favorite meal in the entire world? One that you could eat over and over again?
We most definitely do. We could eat sushi, dim sum, poke bowls, and Pho every single day. Don't tell our *very* Italian families…
In fact, we love these dishes so much that even when we are traveling to Paris, Palermo, Reykjavik, Dublin, and Jakarta, we have to find the best sushi and Pho restaurants.
You can bet that when we first visited Asheville, there was no way in heck that we were moving here unless we loved their Asian and sushi spots. Of course, AVL is foodie heaven. The city does not disappoint.
We have the best sushi in Asheville. AVL even boasts of a sushi restaurant or two that specializes in poke bowls and sushi burritos. Count us in! You also know how this story ends: we live here now.
Below, discover the best sushi restaurants in Downtown Asheville as well as around the city that we frequent.
Of course, "best" is subjective, and we'd love to know your top Asheville sushi restaurants in the comments. Plus, find honorable Asheville sushi spots that others loved but we were so-so about.
So, if you are looking for sushi in Asheville, NC these are our top recommendations. Let's get started!
If you are a foodie, you'll love checking out all of the best Asian restaurants in Asheville.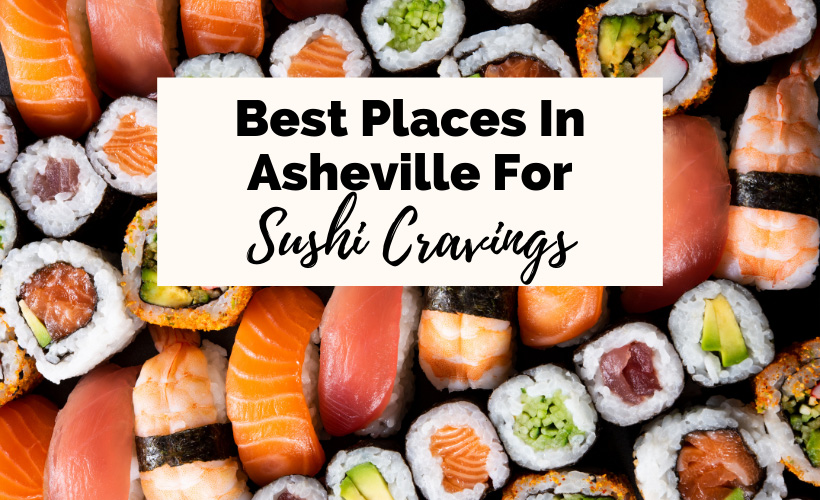 Are you looking for the best sushi in Asheville, NC? Check out our favorite Asheville sushi restaurants. Warning: this post may make you hungry.
This post may contain affiliate links that earn us a commission at no extra cost to you.
See our Top Places To Stay in Asheville.
Don't miss out on these Asheville properties on Booking.com, too.
Looking For Sushi In Asheville, North Carolina? Here Are Our Top Asheville Sushi Restaurants:
Yum Poke Spot is one of our favorite takeout sushi restaurants in Asheville. Photo by Nick Levine Photography.
**Before heading to any of Asheville's sushi restaurants, please remember to check websites for hours and the most up-to-date information. While we try to update Uncorked Asheville frequently, hours and menus are subject to change.
1. The Madness Asheville
West Asheville Address: 275 Smokey Park Hwy Ste 251, Asheville, NC 28806
North Asheville Address: 1020 Merrimon Ave Suite 104, Asheville, NC 28804
Website: https://www.themadnessavl.com/
Phone Number: (828) 418-3166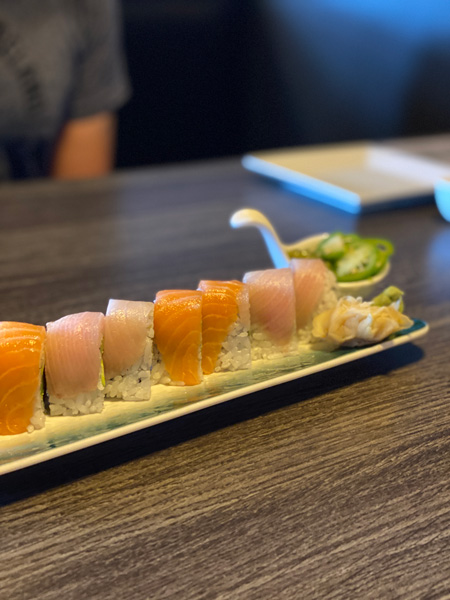 We recommend ordering both a burger and a few sushi rolls to share.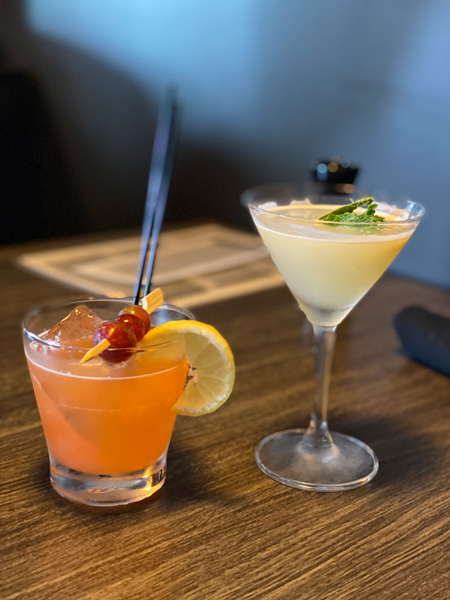 Don't forget the cocktails at The Madness AVL.
Where can you find gorgeous cocktails, burgers, and the best sushi in Asheville? The Madness!
One of the newer West Asheville sushi restaurants, this recommendation won't disappoint — even if the location is a tad congested.
The Madness is trendy, a bit hipster, but also casual delicious. First and foremost, these boozy travel writers are all in for their cocktails. Call us suckers…
But, their sushi is absolutely delicious too. Fresh, the right color (Christine dated a sports fisherman — she knows), the right texture, and the right everything.
Order unique specialty rolls, everyday sushi rolls, and beautiful appetizers that are served like pieces of affordable but fancy art.
Plus, if you have non-sushi lovers with you — gasp — their burgers are equally delicious. Those fries.
We order a little of everything. They have a bar, too, and a newer North Asheville location. The Madness is truly one of our favorite Asheville lunch spots.
**Lately, their consistency and service have been a tad off for us as well as some of readers and friends, which is a bummer. We cannot promise you'll have the smoothest experience as of late. We are keeping our eyes (and stomachs) on it.
2. Yum Poke Spot
Downtown Address: 45 Asheland Ave. Unit 101, Asheville, NC 28801; Phone Number:  828-505-2277
South/Arden Address: 100 Julian Shoals Dr., Arden, NC 28704; Phone Number: 828-676-3800
Website: https://yumpokespot.com/

Looking for favorite sushi in Asheville as locals? Yum Poke Spot's build-your-own bowls are the highlight of our day. We also love to get these via takeout. Photos by our friend, Nick Levine Photography.
Honestly, we always love the best of both worlds. We covet sushi and burritos, in case we weren't clear about that earlier. So, what could be better than meshing together our two loves?
For the best poké and sushi in Asheville, Yum has both build-your-own sushi burritos and poke bowls.
What is a poké (besides the greatest food on earth?!). Poké is Hawaiian and includes raw, sometimes marinated fish, mixed with rice and a handful of healthy toppings.
We are not going to lie: We love to dump globs of ginger sauce on them.
At Yum, you can build a little or giant bowl to eat there or to-go filled with proteins like tuna or salmon. They have tofu, tons of veggies, and salad (instead of rice) options, too.
Then, add a boatload of toppings onto your white or brown rice or salad. Our favorite mix-ins are carrots, mango, roe, cucumber, avocado, seaweed salad, fried garlic, and scallion. We tend to go overboard.
You can easily find vegan, gluten-free, and lactose-free options, too. Don't miss all of Asheville's vegan & veggie restaurants here.
We literally crave these bowls after a hard day's work.
Because Yum Poke Spot is a Downtown Asheville sushi restaurant, look for street parking; or, use one of their free spots in the parking lot across the street.
Uncover more of the best Downtown Asheville restaurants and cafes.
Tired of generic Asheville travel itineraries? Experience Asheville like a local with our free Asheville Favorites checklist, including restaurants, breweries, and hiking. Plus, get local updates – including events and hidden gems – straight to your inbox. Sign up here.
3. Green Tea Sushi Asheville
Address: 2 Regent Park Blvd, Asheville, NC 28806
Website: https://www.greenteajapanese.com/
Phone Number: (828) 252-8300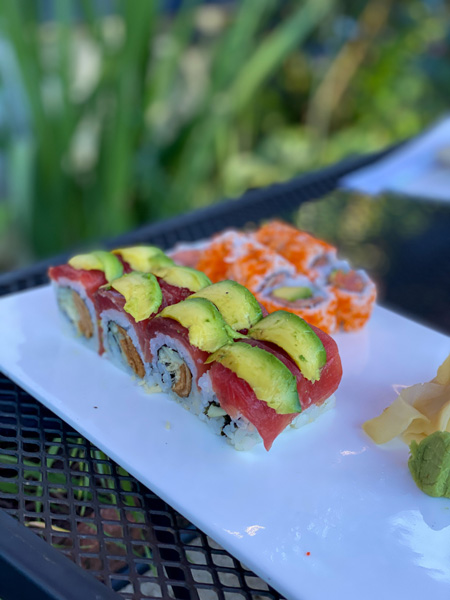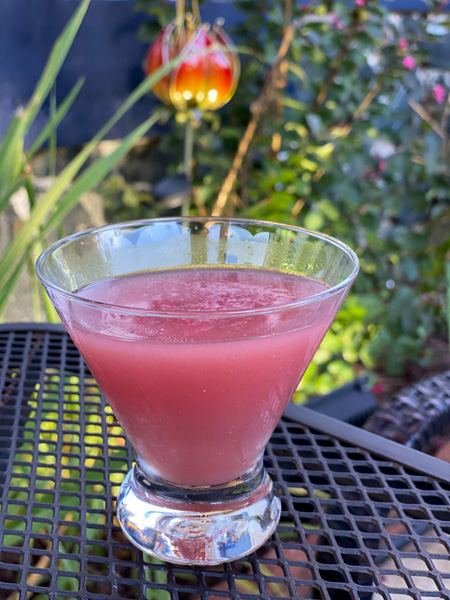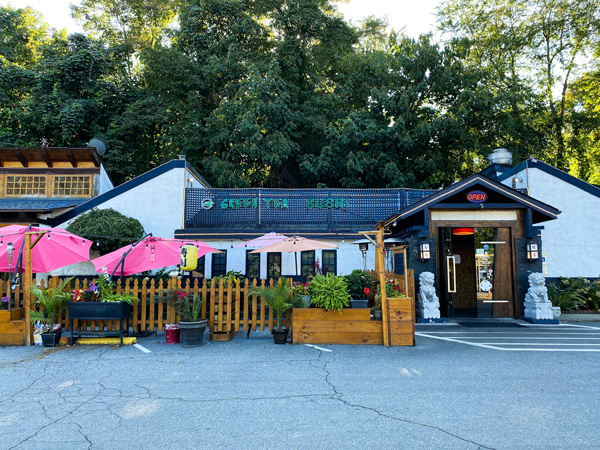 For outdoor patio dining and delicious cocktails, head to Green Tea Sushi in Asheville.
Green Tea Sushi boasts of being one of the best sushi restaurants in Asheville. We agree!
Located in hipster West Asheville, head to Green Tea for their delicious cocktails and outdoor patio. A more local spot that's also family-friendly, people flock here around 6 PM on a weeknight.
Like The Madness, Green Tea Sushi has one of the largest appetizer lists that we've seen. Think dumplings, popcorn shrimp, tofu, crab cakes, and garlic shrimp.
Then, choose from an extensive list of sushi rolls. They also have noodles, teriyaki, Bento boxes, and fried rice. Don't forget dessert.
4. Zen Sushi Asheville
Address: 640 Merrimon Ave, Asheville, NC 28804
Website: http://www.zen-sushi-asheville.com/
Phone Number: (828) 225-6033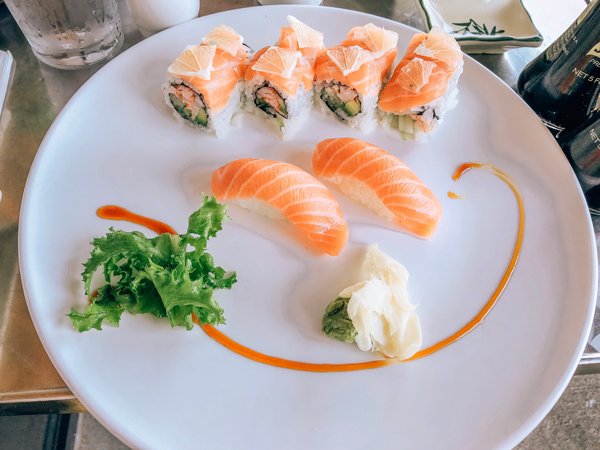 You cannot go wrong with any of the delicious rolls at Zen. In the spring through fall, you can sit outside.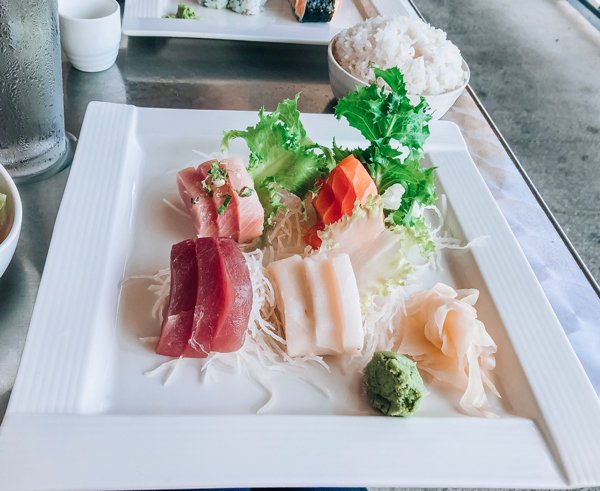 One of our favorite lunch specials at Zen Sushi in North Asheville is their sashimi lunch.
Another one of the best restaurants for sushi in Asheville, we practically live at Zen Sushi.
The Hop Ice Cream Cafe — which serves vegan ice cream — is located right below them, making this Asheville sushi restaurant a no-brainer and win-win.
Zen labels its menu with vegetarian, raw, and gluten-free options. They are a little…kitsch…inside, too.
If you are looking for a fast lunch special, Zen Sushi has a two or three-roll menu with soup and salad.
One of our favorite lunch meals here includes the Zen Sashimi Lunch with tuna, yellowtail, salmon, and whitefish served with a steaming bowl of rice.
For dinner, we love their wide array of specialty sushi rolls. Of course, Zen Sushi also has hibachi options (no tables with food being flung at you, though), sashimi, soups, noodles, salads, and Bento boxes.
Don't forget the beer, wine, and sake. For my husband who has Celiacs, this is a great gluten-free AVL restaurant.
While Zen takes reservations via phone, we have never needed them. Yes, they get a little busy, but we haven't had a wait yet. Did we just jinx ourselves?!
Did we mention that their prices are super cheap, too? Don't forget to save room for the ice cream. OH, AND, Asheville Pizza and Brewing (the Merrimon taproom with the movie theater) is also nearby.
5. Mr. Sushi Asheville
North Asheville: 354 Merrimon Avenue Suite 50, Asheville, NC 28801; Phone Number: 828-505-0871
South Asheville: 1578 B Hendersonville Rd, Asheville, NC 28803; Phone Number: 828-575-2282
Website: https://www.mrsushinc.com/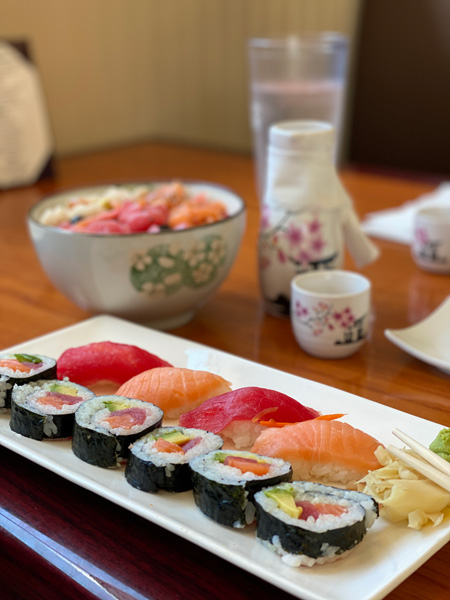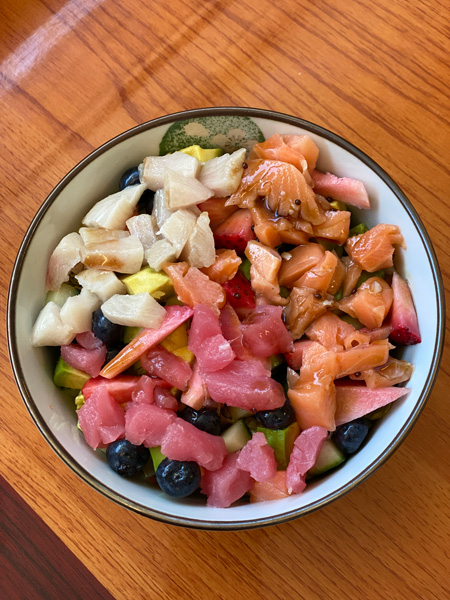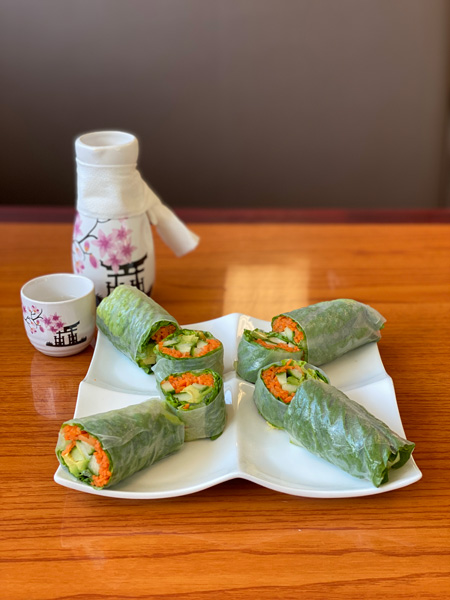 If you are looking for sushi in Asheville, Mr. Sushi has a little bit of everything.
Are you questioning our Asheville sushi recommendations right about now? I mean, c'mon, with a name like 'Mr. Sushi,' this restaurant must be the clickbait of sushi, right?
WRONG. For takeout and delivery sushi in Asheville, we vote Mr. Sushi.
There are multiple locations for Mr. Sushi in Asheville, and we couldn't wait for Merrimon Ave. to open.
Full disclosure: while Downtown Asheville is where it's at, North Asheville is our jam. There are fewer tourists, more locals, free parking, and just overall hidden gems.
Mr. Sushi has a menu that we don't even know what to do with. It's huge and delicious. Are we the only ones who judge a sushi restaurant by their yellowtail?
We over-order at Mr. Sushi, which is hard to avoid. We love their rice paper summer/spring rolls, poke bowls, and specialty rolls. We cannot even begin to pick what's the best to eat at Mr. Sushi.
You'll chuckle at the 60s kitchen and subway tile decor as some of the most pleasant staff members make your lunch or dinner. Zen Sushi is down the street from these guys too. They have their own parking lot in the back.
6. Umi Sushi (Hendersonville)
Address: 633 N Main St, Hendersonville, NC 28792
Website: https://www.umihendersonville.com/
Phone Number: (828) 698-8048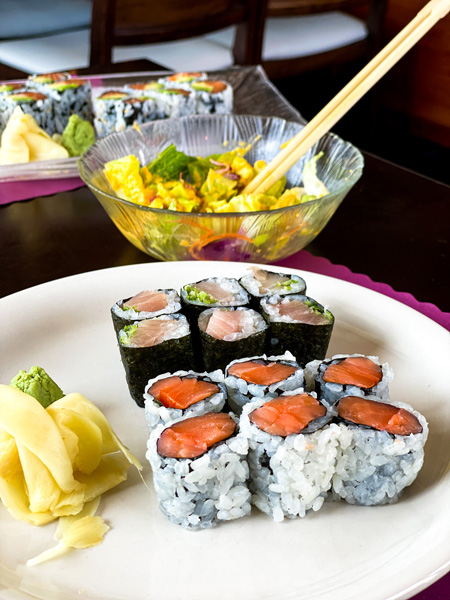 For one of the best sushi restaurants near Asheville, head to Umi in Hendersonville.
Did you know that similar to Asheville, Hendersonville is known for its amazing restaurants and hopping breweries?
They also have one of our all-time favorite sushi restaurants near Asheville: Umi! And yes, this is a busy location in Downtown Hendersonville.
Umi is a go-to for the freshest sushi rolls and lunch specials. For dinner, they serve up large specialty rolls and are considered a sushi fine dining establishment. Umi also has outdoor dining. They will get extremely busy.
Umi Sushi is a great option if you want to day trip outside of Asheville and explore DuPont's waterfalls or the Hendersonville wineries or fall apple orchards.
7. Red Ginger Dimsum & Tapas
Address: 82 Patton Avenue Suite 100, Asheville, NC 28801
Website: http://www.redgingerasheville.com/
Phone Number: 828-505-8688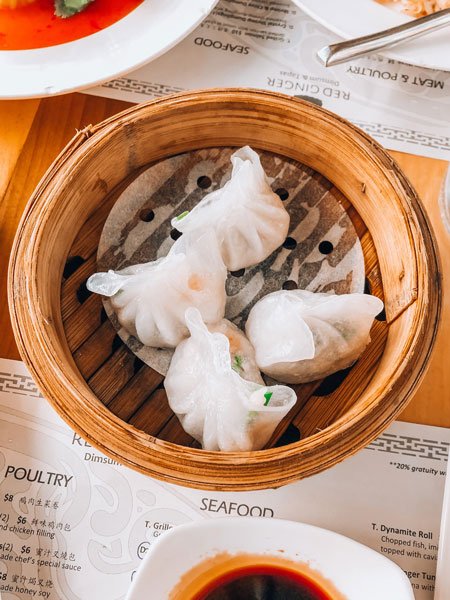 Wait a second…isn't that a dumpling?! Although we've ordered sushi at Red Ginger, we sadly don't have any pictures. Oops. So for now, you can spy their infamous dumplings that you can order with a plate of sushi in Downtown Asheville.
One of our all-time favorite Asian restaurants is Red Ginger Dimsum and Tapas. If you are looking for dumplings or sushi in Downtown Asheville, NC, Red Ginger is where it is at.
We will stay out all day just to get our dumpling fix.
Unlike the other three Asheville sushi restaurants that we love, Red Ginger isn't quite known for being a sushi spot nor is sushi their main cuisine or showstopper.
What makes Red Ginger unique, though, is that you can order a variety of Asian tapas, including sushi.
Find fried rice, every type of delicious dumpling, sushi rolls, Asian pancakes, bento boxes, summer rolls, and vegan, vegetarian, and gluten-free options.
Red Ginger staff members recommend that you order at least two to three plates per guest, and of course, it's more fun if you share.
Even tiny plates are quite sizable, and again, we love to over-order. Get the dumplings with your sushi. Just do it.
Red Ginger offers reservations Monday through Thursday, but we've always walked in with no trouble. If you are an early eater, you can easily find a seat at Red Ginger, especially at non-peak hours and on weekdays.
Since Red Ginger is located in Downtown Asheville, we recommend parking in the Coxe Ave garage or paid lots nearby. For Asheville parking lots, you can pay via machine or app. Always read the signs, too.
8. Soba Sushi & Noodles (Weaverville)
Address: 76 N Main St, Weaverville, NC 28787
Website: https://sobaweaverville.com/
Phone Number: (828) 484-7557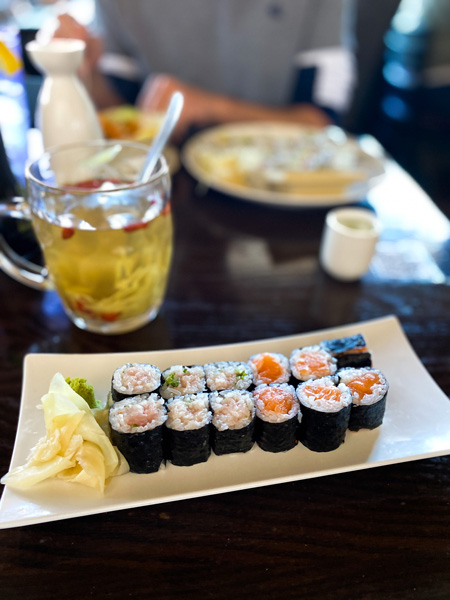 Located just 10-15 minutes outside of Asheville in Weaverville, Soba Sushi is the best for fresh rolls and ginger and honey tea.
Another one of the absolute best sushi restaurants near Asheville, head to Soba Sushi & Noodles.
This Weaverville restaurant won't disappoint for lunch or dinner. Plus, if you crave soups, ramen, and noodles, Soba features a little bit of everything.
Choose from sushi rolls, sashimi, lunch specials, and noodle dishes including Pad Thai, Teriyaki, and Lo Mein.
We highly recommend ordering Soba Sushi's hot tea — green tea or ginger. The ginger and honey tea is super sweet and chock full of fresh shredded ginger. Your tummy will thank you.
On a gorgeous day, sit outside on Soba Sushi and Noodle's patio. Or, enjoy the warm and plentiful indoor seating filled with windows.
Soba has their own parking lot, but there is also street parking, including a nearby free lot.
Most importantly, Soba Sushi & Noodles is a favorite local Asheville sushi spot if you are looking for something less touristy than Downtown Asheville's Wasabi Japanese Restaurant.
Explore even more of Downtown Weaverville, including a brewery, coffee shop, and dog park bar.
Honorable Mentions For Sushi In Asheville
9. Wasabi Japanese Restaurant Downtown Asheville
Address: 19 Broadway Street, Asheville, NC 28801
Website: http://wasabiasheville.com/
Phone Number: (828) 225-2551
14 years in the running, Wasabi has been officially awarded the best sushi in Asheville for 7 years straight by numerous publications.
We are not 100% sold on that claim. We've had OK sushi here, but it's not personally our favorite or even go-to sushi restaurant in Downtown Asheville.
These guys are a convenient sushi spot if you are touring Downtown Asheville and want to make a quick pit stop for food.
**Please know that Hana Japanese Restaurant in Downtown Asheville is permanently closed.
You may also wish to check out Ukiah Japanese Smokehouse, which serves raw fish along with Japanese and American BBQ fusion food.
While not fully an Asheville "sushi restaurant," Ukiah is one of Asheville's great date night restaurants too.
Delivery Services For Sushi In Asheville, NC
Looking for delivery options for your sushi? These are the two apps that we use the most:
North Carolina has its own takeout app and delivery service, Takeout Central. Download the free app, and you'll see all of the areas and restaurants they serve, including Asheville. Like other food apps, place your order in the app, add a payment method, and drop any notes for the restaurant or driver.
Along with Takeout Central, we also use GrubHub. Sometimes they have slightly different menus — even though the restaurant is the same — and/or they service different establishments.
Within Asheville, you can also use Uber Eats and DoorDash, but we mostly rely on Takeout Central and GrubHub for the best Asheville delivery options.
Don't miss all of these delicious restaurants for takeout in Asheville.
Save These Asheville Sushi Restaurants For Later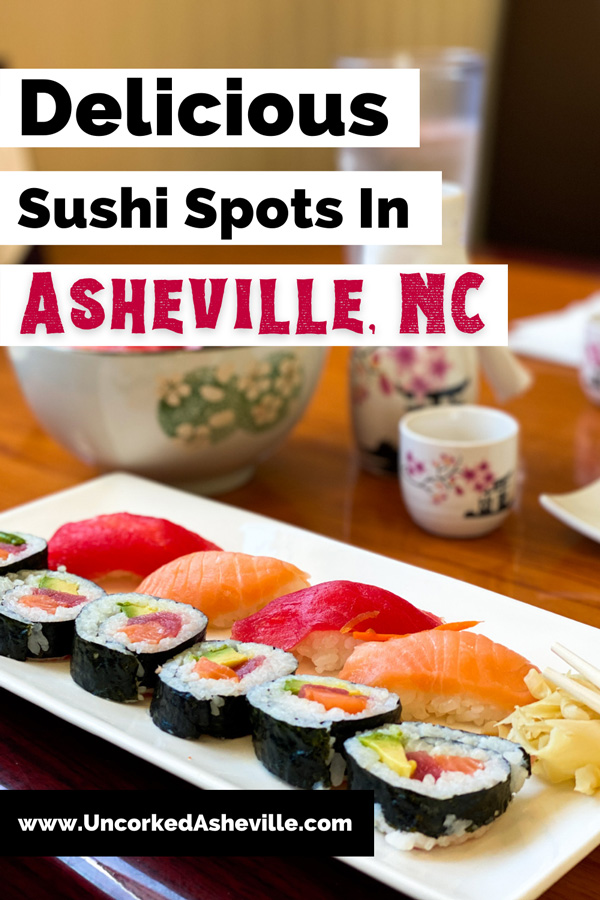 Did you find a new spot for the best sushi in Asheville? Save our Asheville sushi restaurant list for later, and eat like a local with Uncorked Asheville.
Are You Ready For Some Sushi In Asheville, NC?
What sushi restaurants in Asheville have you tried? Do you have a favorite AVL sushi spot? Are there any that you don't love as much?
See our Top Places To Stay in Asheville.
Don't miss out on these Asheville properties on Booking.com, too.
More Foodie Posts You May Enjoy:
Asheville Food and Drink Guide
Top Asheville, NC Restaurants
Best BBQ Restaurants In Asheville
Delicious Thai In Asheville
Asheville Indian Restaurants You Don't Want To Miss