A Beginner's Guide to Golfing around Boston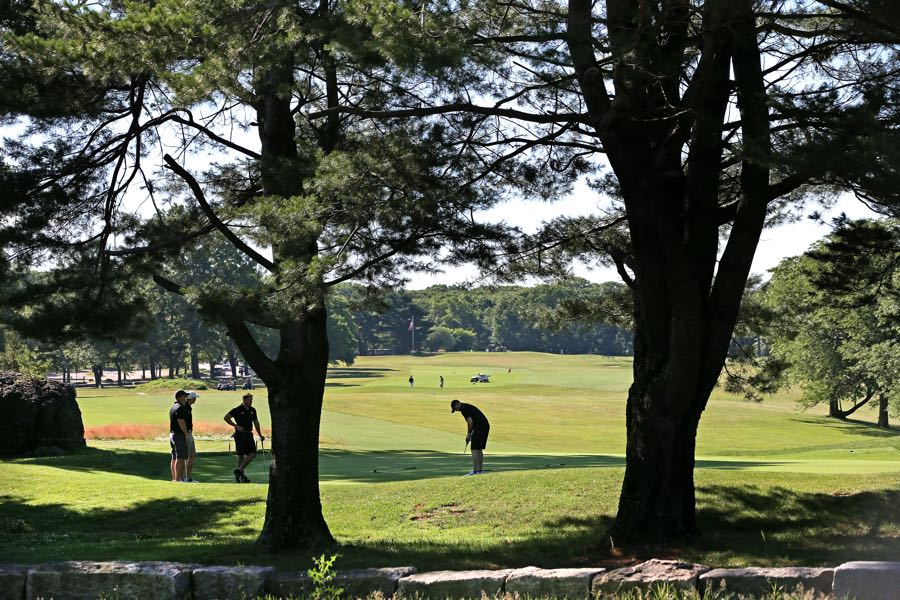 A Beginner's Guide to Golfing around Boston
If you've joined the thousands of rookie golfers just getting into the sport during COVID, here's what you need to know.
Keep your weekends full of the coolest things to do around Boston with our weekly Weekender newsletter.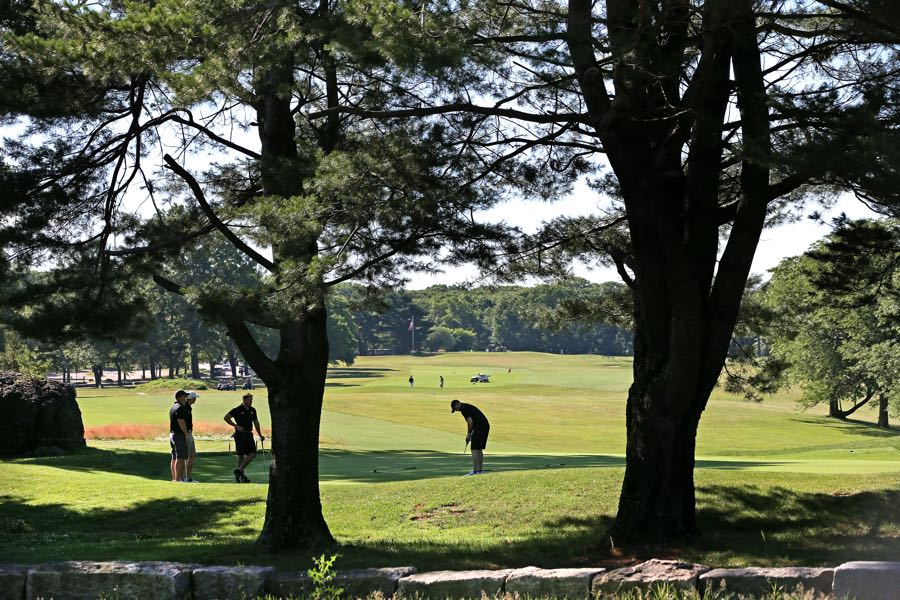 Got the golfing bug? You're not alone.
Golf courses in Boston and around the country reported off-the-charts foot traffic during the pandemic, as rookies and seasoned golfers alike embraced the sport as a safe way to blow off some COVID-era steam and get out of the house. Not since the "Tiger Effect" of the late 1990s have courses seen this kind of interest in hitting the links, and Boston—a city with not one but two historic municipal courses—is no different.
But if you're thinking about jumping on the bandwagon and giving golf a try in the Boston area, there are a few things you should know before hauling your clubs to the tee box. So we asked Scott Allen, the head golf pro at the George Wright Golf Course and Boston's director of golf, for some advice, and added some tips of our own.
Just how popular did golf get?
It's been a banner year at Boston's George Wright and William J. Devine golf courses. For a while there, golf was one of a handful of activities you could do more or less normally, even as other pastimes vanished in lockdown. The virus didn't spread very easily in the open air and sunshine, and golf courses had both by the acre. Plus, with lots of people working from home, or out of work, there were more excuses than ever to sneak in some rounds during what would normally be the workweek.
So even after state mandates that shaved about six weeks off the season, and with rules that required groups to be spaced out at wider intervals than usual, foot traffic at both courses was off the charts, up from about 67,000 rounds in 2019 to nearly 80,000 in 2020.
"I've never seen anything like last year," Allen says. "It was definitely a unique situation and a learning experience. And we were seeing a lot of younger people coming out here."
All signs point to a similarly busy season this year. So far in 2021, both courses recorded about 21,000 rounds of golf, up from about 13,000 by this time in 2019. And it's not even June.
How do you avoid looking like a rookie on the course?
"Unfortunately, they're pretty easy to identify," Allen says, with a laugh. He says new golfers often forget how important it is to move quickly through the course, so as not to create traffic jams and slow everyone else down. His advice is simple: Move quickly. And if you're having trouble hitting the ball where you want it to go, and your strokes are moving into the double digits, just pick it up and move along.
"Once in a while, we'll have to go out and explain things to them," he says. "We tell new golfers that the etiquette of the game is, in the beginning, as important as learning how to hit the golf ball."
Should new golfers take lessons?
Allen says yes. Heading to the course without at least some instruction, "is like putting somebody behind the wheel of a car and telling them to go drive," he says. "You're gonna wreck. So you need some guidance."
Most golf courses have pros on staff who offer lessons. Rates vary, depending on the course and whether you're opting for one-on-one or group sessions. Driving ranges and indoor golf facilities typically offer lessons, too.
Barring that, Allen says people who golf with friends who know what they're doing tend to do much better than those who show up completely in the dark. As for how long the learning stage lasts, he says all golfers are different. Some pick it up almost immediately, while others need a lot more instruction. Eventually, he says even the most hopeless rookies get the hang of it.
Allen also says YouTube has become a great source of tips, no matter how long you've been golfing. "I watch golf lesson videos all the time," he says. "You never stop learning this game."
Where can you practice?
If you want to work on your swing, big driving ranges are a good place to hone your skills. The closest ones to Boston include the Lynch Municipal Golf Course in Brookline, McGolf in Dedham, Stone Meadow in Lexington, KOHR Golf in Natick, and the DiLisio Golf Range in Salem. Boston can strongly recommend the driving range at Granite Links in Quincy—come for the ample opportunities to work on your drive, stay for the open-air bar and skyline views.
For year-round practice within city limits, you can also head to CityGolf, an indoor training and video golf space downtown.
 

View this post on Instagram

 

A post shared by Granite Links (@granitelinks)
Should you buy clubs or rent them?
Allen strongly suggests renting, to start. Most public courses have clubs available to rent on site. They aren't great, but neither are you! And besides, buying all new clubs can get pricey pretty quickly, especially in a sport where you're already paying to hit the links and the driving range. If you'd rather not use a cheap set, services like ClubHub offer to deliver higher-end clubs to your door.
Once you're ready to invest in some clubs of your own, Allen suggests getting "fitted," or adjusted to suit your height and swing characteristics. It's a service that these days is widely available at golf stores in the area, and he says for an aspiring serious golfer, it's worth every penny. The PGA Tour Superstore in Braintree has just about everything you might need, and it's right off of 93 and near the Red Line, depending on how you want to get there.
Where should new golfers golf?
You can always sharpen your skills at smaller 9-hole courses, but Allen says inexperienced golfers are always welcome in Boston. Between the two city-run courses, he recommends the William J. Devine (commonly referred to as "Franklin Park") because it's more wide open than the George Wright course, and a little less challenging.
What are some of the best public courses around?
Boston recommends some of your top publicly accessible options here. If you're willing to take a trip outside 495, one of our favorites is Red Tail Golf Club in Devens. Also, for what it's worth, Golf.com recently ranked George Wright the 59th best public course in the Northeast, no small feat for a city-run course.
The Boston area is also home to several exclusive golf clubs, but bear in mind that membership can be expensive. Better to get acquainted with the sport before shelling out tens of thousands of dollars on initiation dues. That is, unless you've got friends on the inside who can bring you along.
Where do the pros play around here?
If you're feeling very confident about your new hobby, and want to channel your inner Phil Mickelson, here's our list of where the pros like to play in Greater Boston.