Easy Fried Rice + Video – Restaurant Style Fried Rice in Minutes!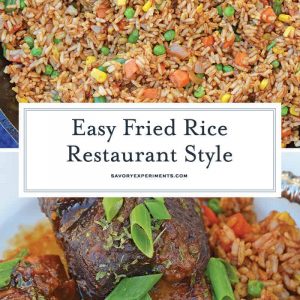 Chinese Fried Rice (restaurant style) is an essential recipe for any home cook. Although it is very simple in theory, many folks have trouble getting the restaurant style rice they crave.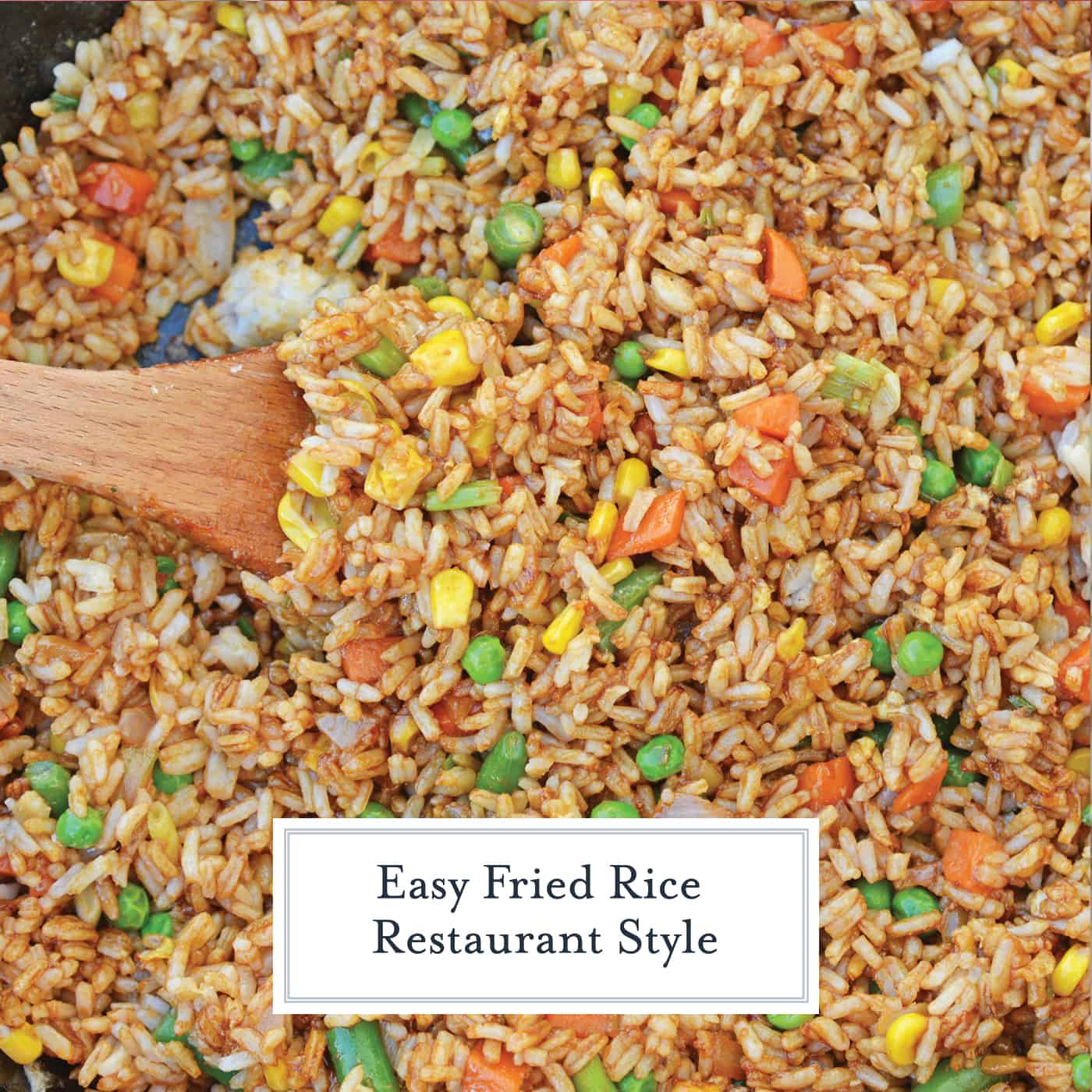 Easy Fried Rice is the best restaurant style fried rice you'll ever make! Just 15 minutes and a great way to clean out the vegetable drawer.
There are a few tricks to getting the perfect fried rice every time and I am going to share them with you. That is why you are here, right? To figure out who to get the perfect restaurant fried rice at home?
Make sure you PIN Easy Fried Rice! 
The first, and what I think is the most critical to getting perfect fried rice: COLD RICE!
Many say it needs to be day-old rice, but I find that making it the same day and chilling it works just the same. If you have leftover rice, you can use that.
A medium-grain rice tends to work best. I prefer to use Jasmine rice (sticky rice), but this batch was actually made with instant white rice and turned out just as delightful. I paired it with my Honey Ginger Short Ribs– so tasty!
So why cold rice? J. Kenji from The Food Lab sums it up best, "First, there's evaporation: the rice gets dryer.
Second, we've got starch retrogradation: gelatinized starches that have swollen up and softened during cooking will recrystallize as they cool, turning the rice firm and less sticky."
PRO TIP: Using cold rice works best for fried rice. To do it quick, lay it in a single layer on a rimmed baking sheet and place in the fridge for 30 minutes. 
These rice grains will be their own, perfect little pellet and not turn to mush. The dehydration will allow some of the other flavors to absorb.
So what is my trick if I am making fried rice the same day? I cook the rice according to the package and then I spread it out in a thin layer on a large rimmed baking sheet.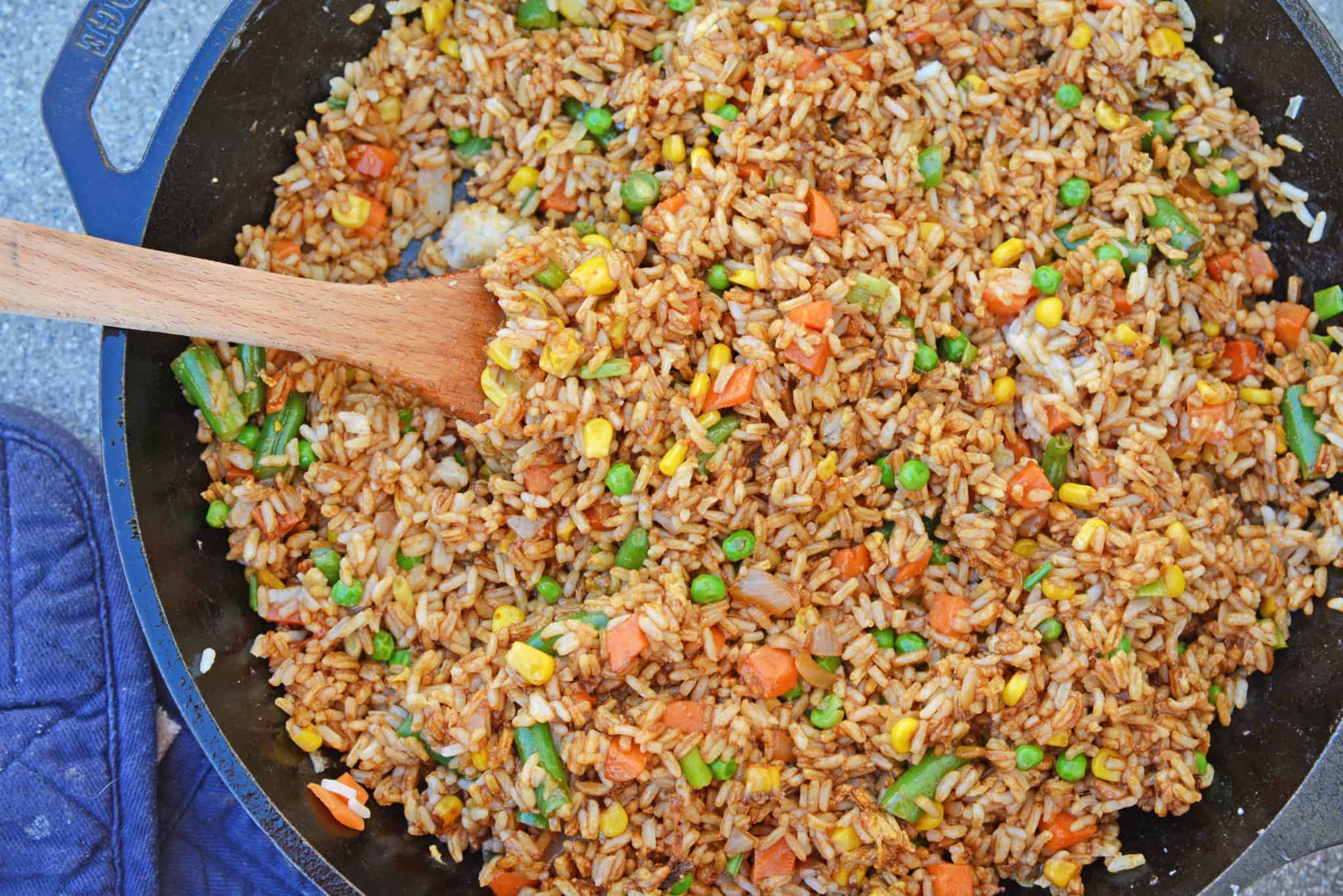 I place this is the refrigerator, or even sometimes the freezer, to speed the process up. Give yourself at least an hour to get a good chill. It still requires some thinking ahead, but not nearly as much as a day!
Next is the soy sauce. Not all soy sauce is created equal. This became really apparent to me after a recent trip to Japan when none of the soy sauces were recognizable. 
They were less salty and thick, nearly syrupy. But the flavor, oh my goodness. It's hard to go back to the regular American brands. 
While I still love traditional American soy sauces (reduced sodium, of course) for marinades and general uses, my new favorite is Mushroom Flavored Dark Soy Sauce.
Flavorful, it is perfect for adding acid to soups, sauces, salad dressing and of course, Easy Fried Rice!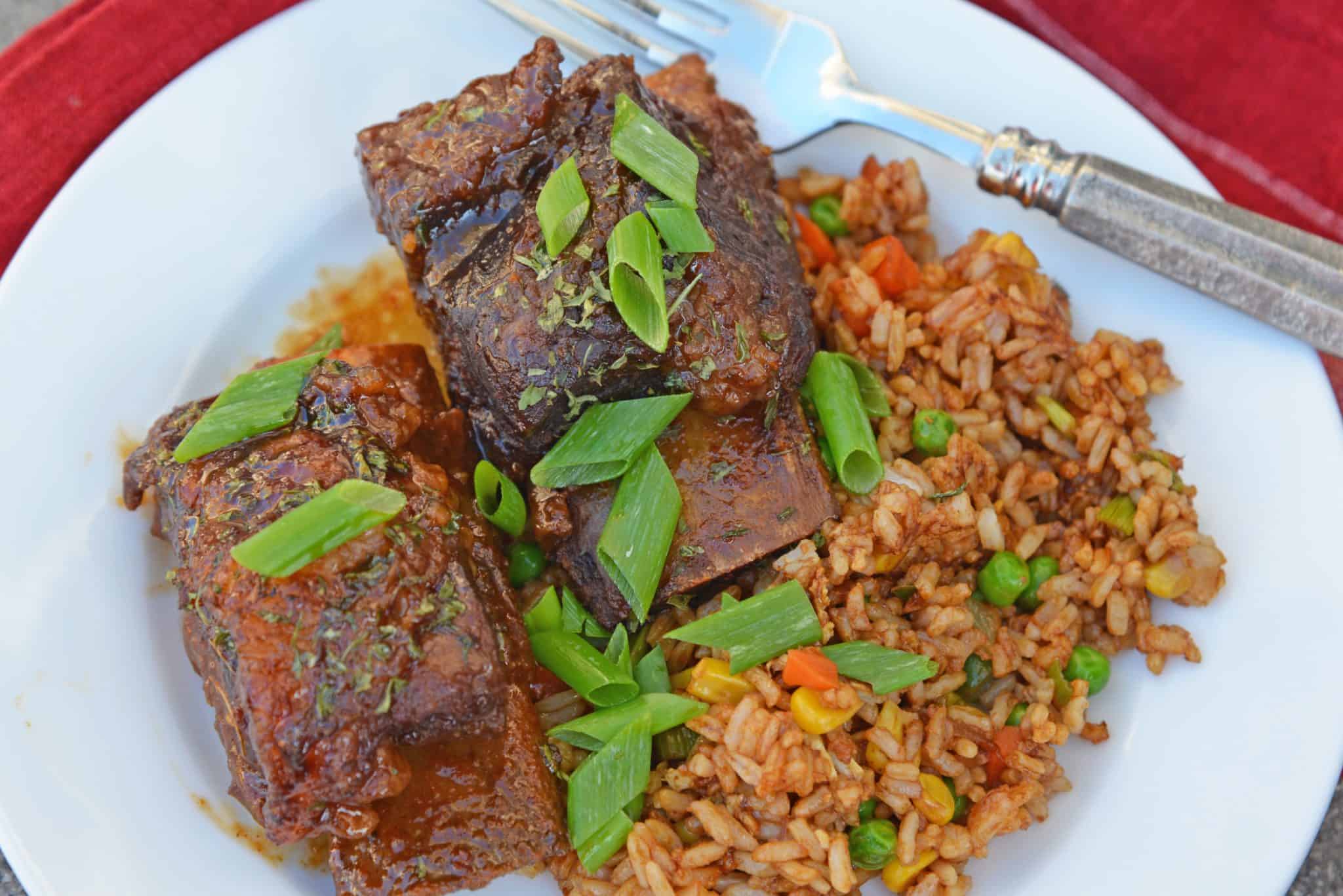 Whichever soy sauce you use, make sure to taste it first and adjust the amount based on saltiness and flavor. Start small knowing you can always add more, but you can never take away.
For a little switch up, you can also use a Teriyaki Sauce for a sweet Fried Rice. Only add 1-2 tablespoons.
Easy Fried Rice is not only a great recipe for using up leftover rice, but also to use up odds and ends of vegetables. One veggie I always use in my fried rice recipe is onion. 
However, the type depends on what I have on hand and it commonly a mixture of several, adding even more sophisticated flavor. Red, leek, scallion, shallots, white, yellow, chives, they will all work!
Similarly, use whatever other vegetables you have on hand. Bell peppers, carrots, peas, green beans, broccoli, zucchini, corn, really just about anything! If you are using diced and raw, add it with the onions and saute to soften.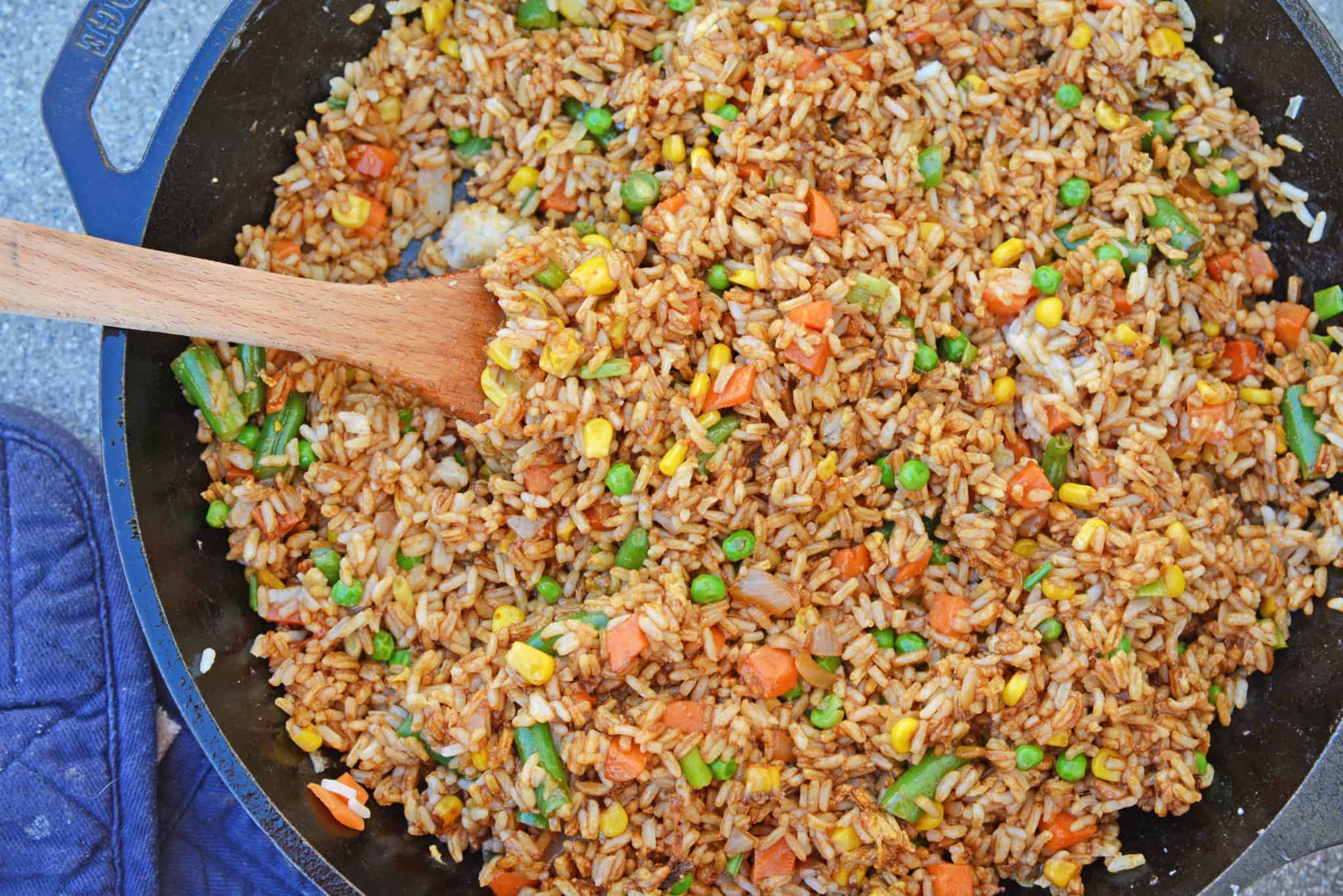 I also use frozen vegetables, because I always have those in my freezer. A six ounce bag of mixed veggies does the trick for me!
Many claim you need a wok to distribute the heat evenly. Nope, you don't. In fact, depending on what type of stove you have, using a wok could prevent the heat from distributing! I actually prefer my handy cast iron skillet.
PRO TIP: Frozen vegetables have just as much nutrient value as fresh vegetables, sometimes even more! Vegetables and fruits start to lose nutrients the moment they are harvested, but freezing stops the process. 
And lastly, if you want to add a protein to make Easy Fried Rice into your entree, be my guest! Cook it ahead of time and add it at the very end.
Seafood, especially shrimp, beef, pork and chicken seem to be the most popular types of fried rice. If you want the restaurant style red pork, look for Chinese Sausage in the meat case.
Top it off with scallions (green onions) for the ultimate side dish.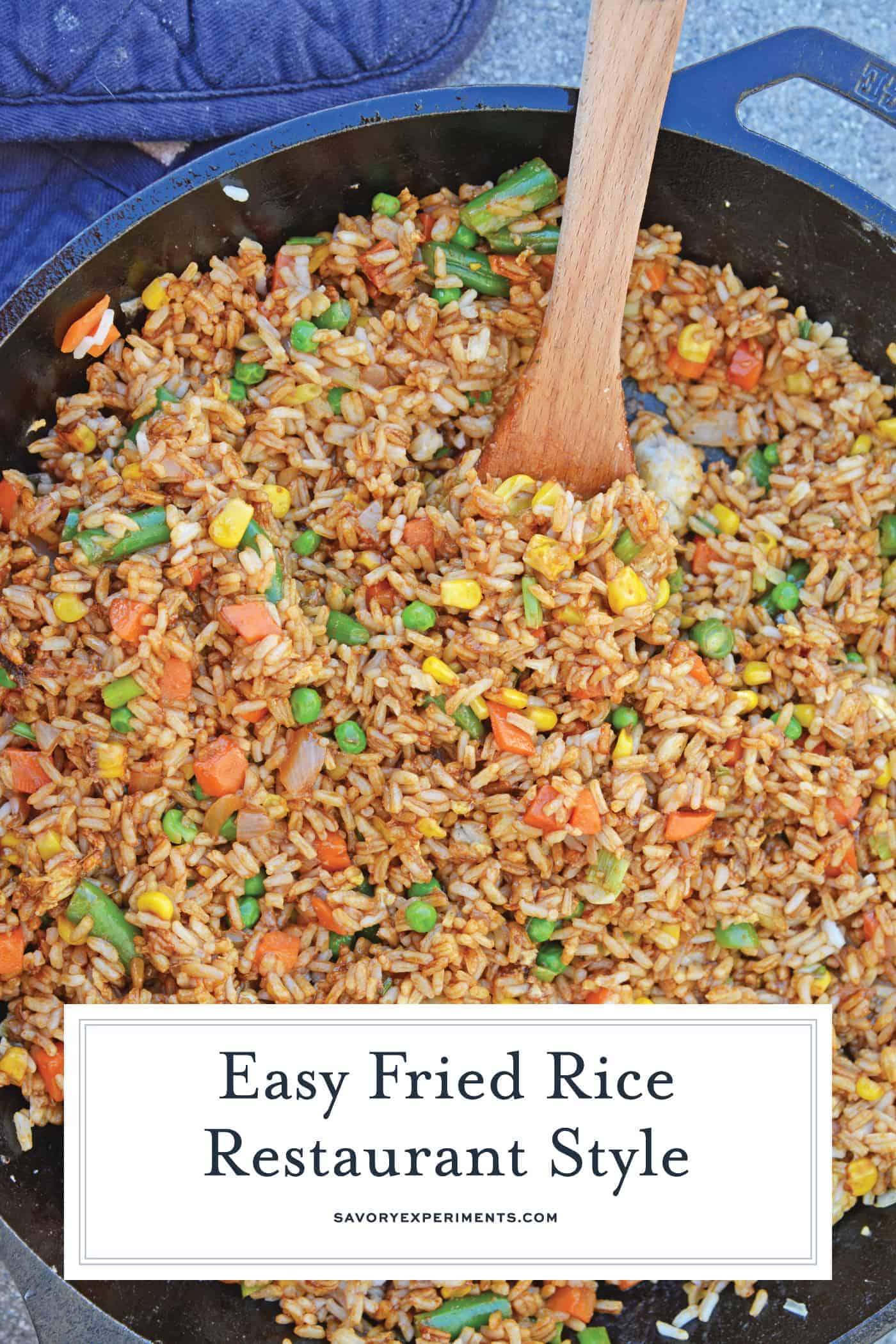 Mushroom Soy Sauce – You'll love this stuff, I promise!
Cast Iron Skillet – a workhorse in the kitchen, you won't believe how much you use it for!
Silicon Handle for Cast Iron – One thing you'll have to get used to is that the handle gets hot. A slip on silicone cover will prevent painful burns.
Rimmed Baking Sheet – Really, every kitchen should have one (or three!), but here you'll use yours for cooling the rice.
If you loved my easy fried rice, you'll also love these other easy Asian recipes:
Teriyaki Sauce
Teriyaki Sauce can be made into an easy teriyaki marinade or glaze. Perfect for teriyaki chicken, an easy stir fry recipe or even making homemade beef jerky.
Authentic Chinese Dumplings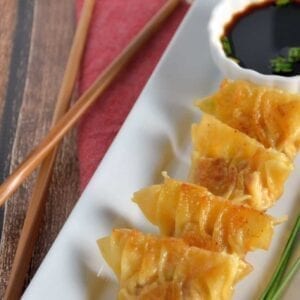 Authentic Chinese Dumplings is a recipe straight from a Chinese restaurant owner. Learn how to make perfect little folds and the fry and steam techinque of cooking. 
Avocado Crab Rangoon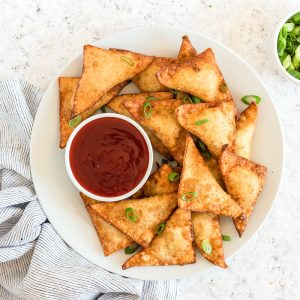 Crispy wontons stuffed with a cream cheese, avocado and lump crab meat filling. Fry, air fry or bake and serve with your favorite dipping sauce.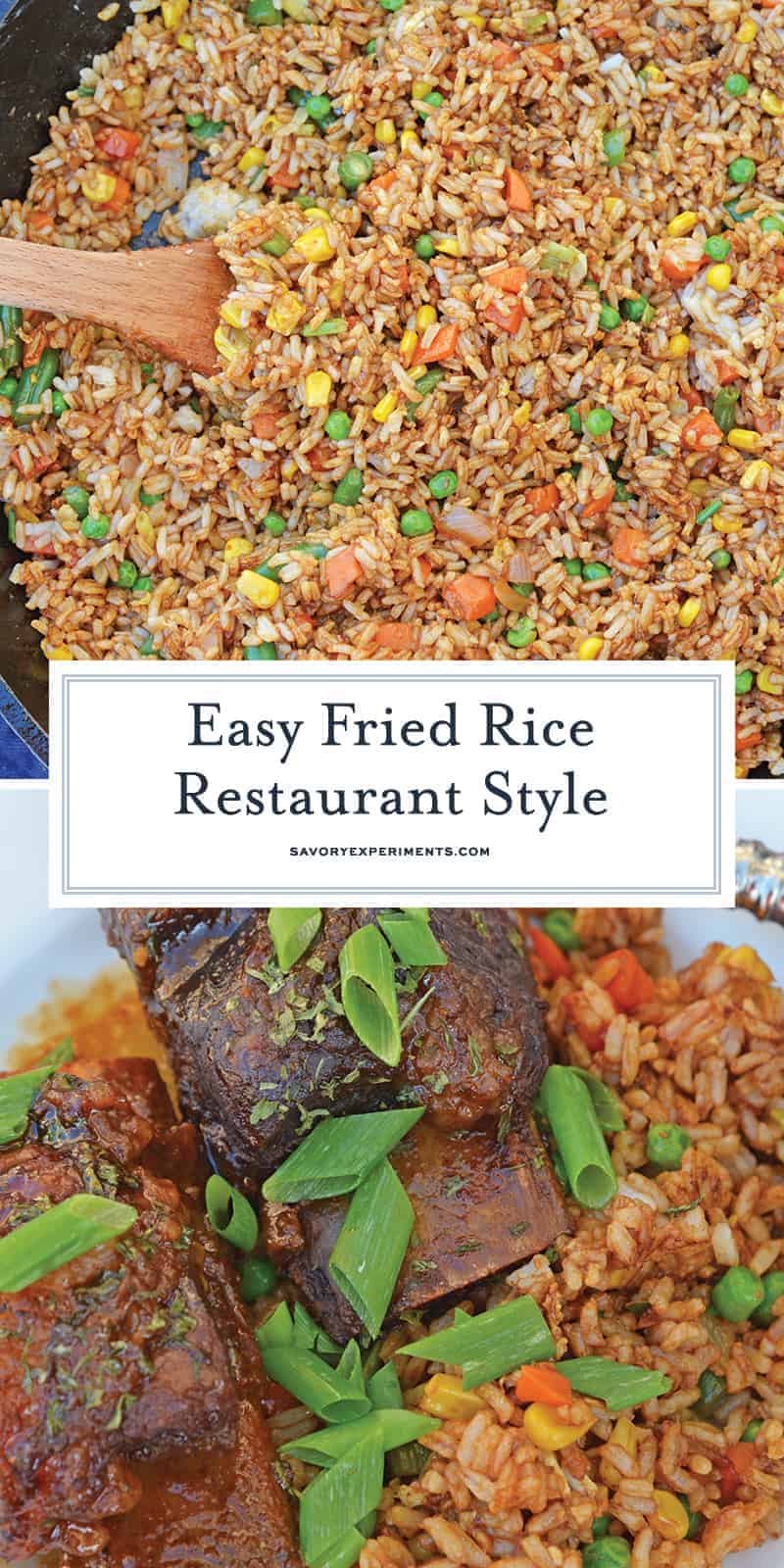 Questions you might have about how to make fried rice: 
Is fried rice gluten free? Rice is gluten free, but make sure you check your soy sauce and other ingredients to make sure they are also gluten free. 
Is fried rice keto? Fried rice using rice is not keto, but Cauliflower Fried Rice is! 
How do I reheat fried rice? You can reheat it in a saucepan with a little extra water so it does dry out or in the microwave. 
Can you freeze fried rice? Rice can get a gummy and hard texture when thawed. 
Do I have to use sesame oil? No, you can use all vegetable oil if you prefer.
Can I use brown rice instead of white rice? You can certainly use brown rice if you prefer!
Also try our Low Carb Cauliflower Fried Rice and Pineapple Fried Rice!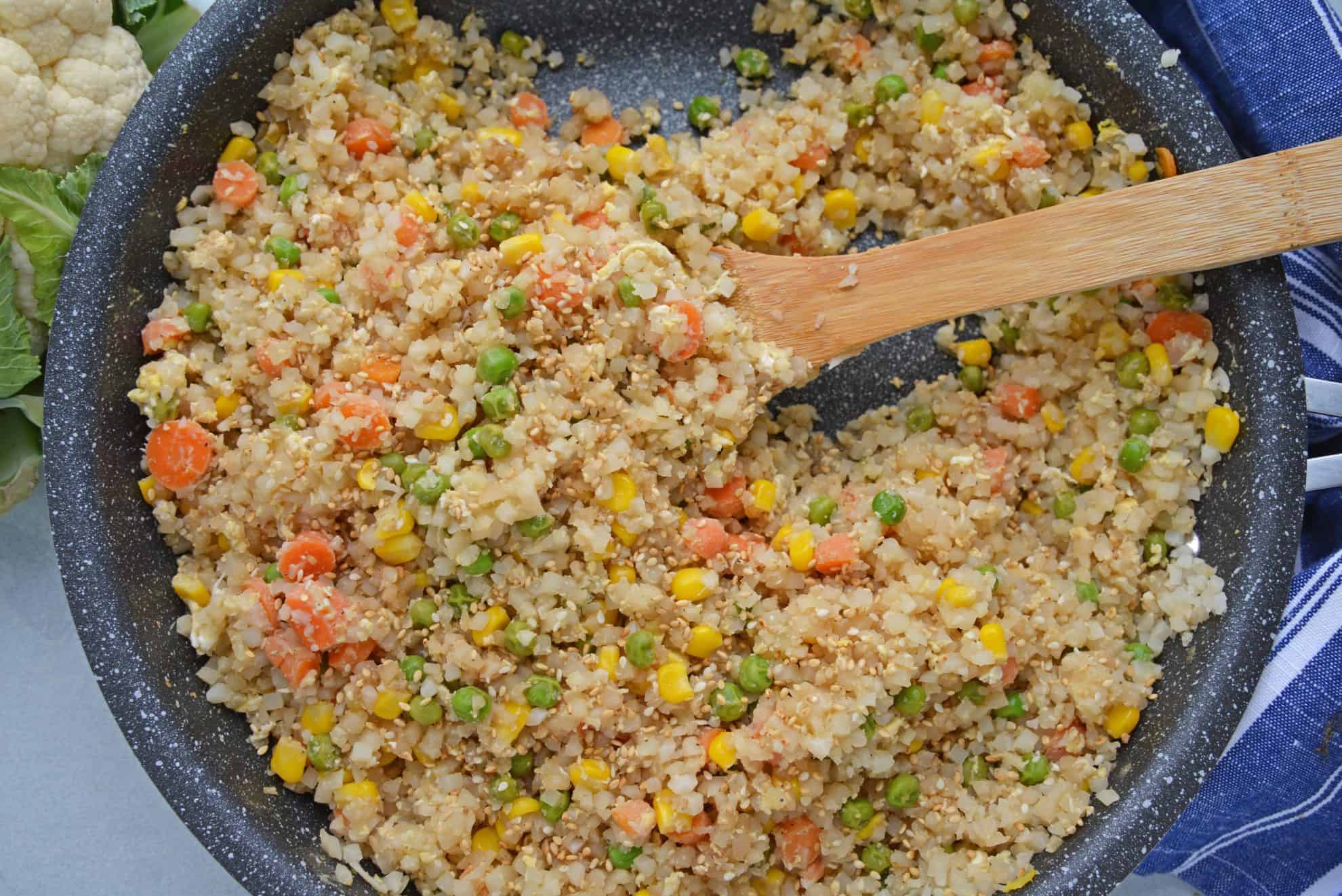 Get our FREE 8 Day E-Course on How to Be a Better Home Cook. Sign up HERE!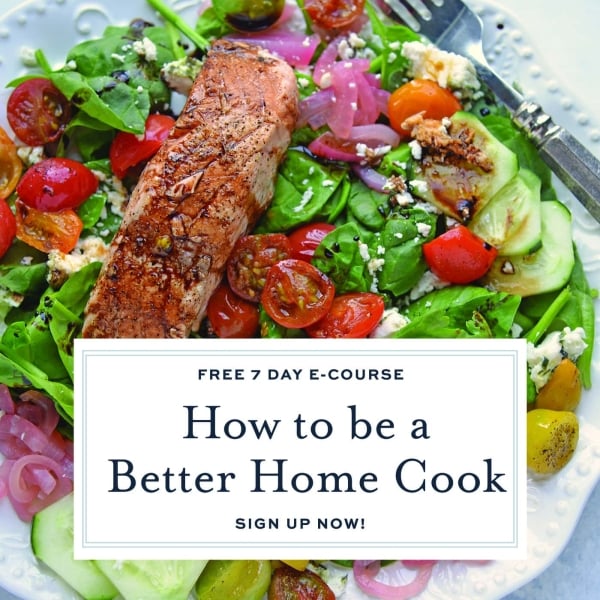 CONNECT WITH SAVORY EXPERIMENTS!
Be sure to follow me on social media, so you never miss a post!
Facebook | Twitter | Youtube 
 Pinterest | Instagram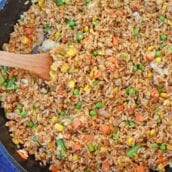 Print Recipe
from
votes
Easy Fried Rice – Restaurant Style
Easy Fried Rice is the best restaurant style fried rice you'll ever make! Just 15 minutes and a great way to clean out the vegetable drawer.
Prep Time
5
mins
Cook Time
15
mins
Total Time
20
mins
Servings:
4
Calories:
302
kcal
Cook Mode
Prevent your screen from going dark
Ingredients
3

cups

cooked white rice

, cold

2

tablespoons

vegetable oil

1/2

cup

onion

, chopped

6

ounces

frozen vegetable mix

, or fresh vegetables

2

teaspoons

sesame oil

1-2

tablespoons

soy sauce*

1/2

teaspoon

white pepper

2

eggs

, lightly beaten

1

cup

cooked chicken, shrimp or Chinese sausage

, optional
Instructions
In a small bowl, whisk together sesame oil, soy sauce of choice and white pepper. Set aside.

In a large skillet, cast iron pan or wok, heat vegetable oil over medium-high heat. Add onions and saute until opaque and soft. If you are adding raw vegetables or a cooked protien, add them at this step as well.

After onion has cooked, add frozen vegetables. Stir until defrosted, approximately 3-4 minutes.

Add cold rice, using a spatula to toss the rice with other ingredients. Do NOT stir, instead toss or flip to prevent the starch from making the rice too soggy.

Add lightly beaten eggs, continuing to flip until eggs are nearly cooked. 

Pour sesame oil mixture over top of rice, continuing to flip and toss until all grains are uniformly colored. If you do not use a dark soy sauce, yours might not be as dark as mine.

If you've tried this recipe, come back and let us know how it was! 
Video
Notes
I prefer Mushroom flavored dark soy sauce 
Nutrition
Calories:
302
kcal
|
Carbohydrates:
41
g
|
Protein:
8
g
|
Fat:
11
g
|
Saturated Fat:
6
g
|
Cholesterol:
81
mg
|
Sodium:
304
mg
|
Potassium:
200
mg
|
Fiber:
2
g
|
Sugar:
1
g
|
Vitamin A:
2280
IU
|
Vitamin C:
5.9
mg
|
Calcium:
39
mg
|
Iron:
1.1
mg