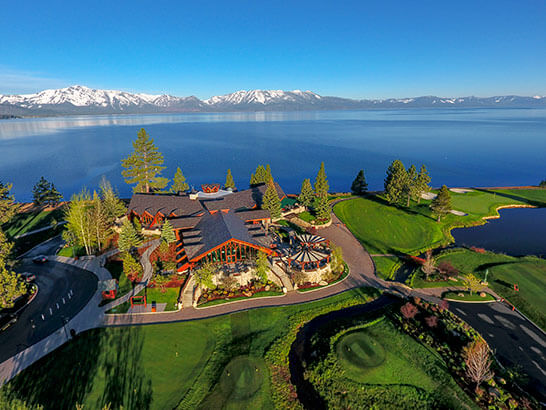 Lake Tahoe Golf Course is set in a wide, lush meadow. The Truckee River winds through it and the Sierra and especially Mt. Tallac, the signature peak of the South Shore, are front and center throughout its 18 holes. For those that like to hammer their drives off the tee Lake Tahoe Golf Course at 6741' is the place. It's located at 2500 Emerald Bay Rd between Meyers and South Lake Tahoe. The golf course has a full-service pro shop, lessons, club rentals, and one can walk or ride the course.
For those looking for value, Bijou Municipal Golf Course located at 3464 Fairway Ave offers terrific bang for your buck! $18 gets one 9 holes on South Lake Tahoe's oldest golf course. Seniors and kids are a few bucks less. It's a walking course and if you don't have a cart or want to lug your bag around; pull carts rent for $5. Playing Bijou is something like playing in a wide, verdant meadow with views of the Kit Carson Range and Heavenly Mountain Resort's famous Gun Barrel ski run in the background. One of the nice things for those that aren't too skilled at dropping their ball accurately is most of the course is open and one can generally find balls that veer to the sides. For those more skilled, there are holes that require precision and planning. Regardless, it's a fun place to play.
American Century Championship Celebrity Golf Tournament at Lake Tahoe
Love your irons and accuracy? Tahoe Paradise Golf Course located at 3021 US Hwy 50 is a good place to challenge your skills over 18 holes. Many of the fairways are framed by majestic pines and the Sierra and Mt. Tallac is visible from a number of holes. Tahoe Paradise is another terrific bang for your buck golf course, especially for skilled golfers that have the ability to navigate through the pines. Rates vary by time. In 2020 the 8 am to 2 pm rate of $65 was the most expensive. Twilight play was only $35. One has the choice of walking the course or renting a cart. Tahoe Paradise is a full-service course. There is a pro shop and snack bar where hot dogs are a staple.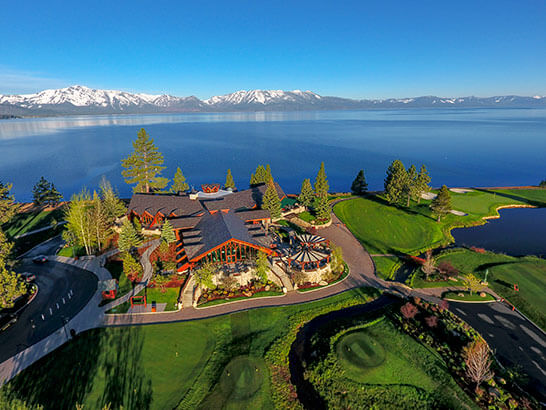 Edgewood Tahoe
For those that want the luxury golf experience that includes picture-postcard beauty, the Edgewood Tahoe Golf Course is one of the rare places to play golf on the planet. Holes 9, 18, and 17 run along Lake Tahoe's shoreline, and the remaining holes remain in sight of the lake while traversing through towering pines. Small lakes and creeks flourish on a number of holes. Golf Digest rates it one of America's top courses and it's hosted a Senior PGA Championship as well as hosting the American Century Championship for over thirty years. It has a maximum length of 7,529', but can be played at just over 5,000.' The course has an outstanding pro shop, club rentals, and lessons. The clubhouse is a stunning example of classic Sierra design with pine beams and granite accents. Another thing that separates Edgewood Tahoe from most golf courses is the opportunity to stay and play. One can satiate themselves in splendor at the five-star Lodge at Edgewood Tahoe. There's elegant dining, a spa, and magnificent views from just about everywhere on the property. Perhaps, the only downside of this splendiferous experience is having to leave at some point. During 2020, a round of golf ranged from between $225 to $300 depending on the day and time of day.