Hungry for Ethiopian cuisine? Check out the top 5 restaurants in NYC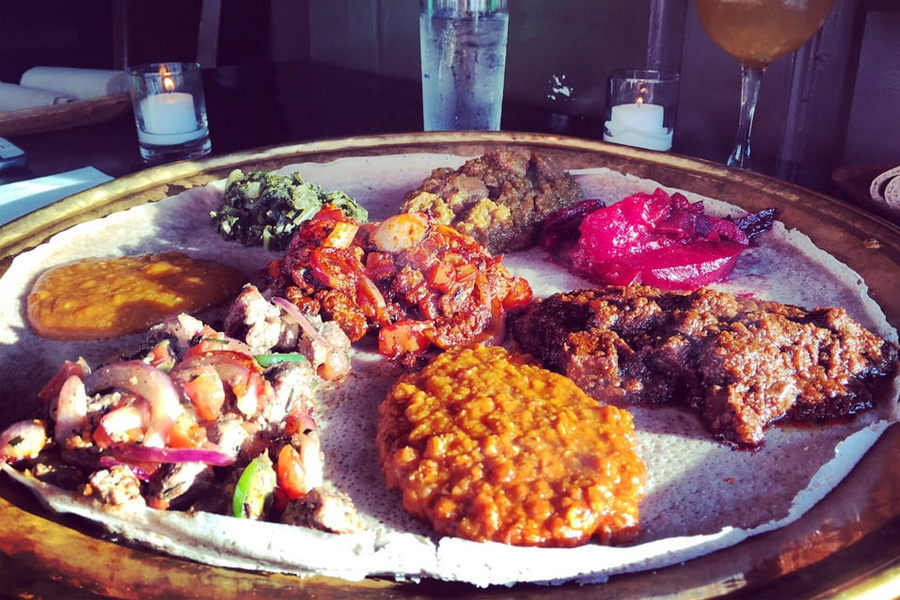 Looking to satisfy your appetite for Ethiopian fare?
Hoodline crunched the numbers to find the top Ethiopian restaurants around New York City, using both Yelp data and our own secret sauce to produce a ranked list of where to venture for the East African cuisine.
1. Injera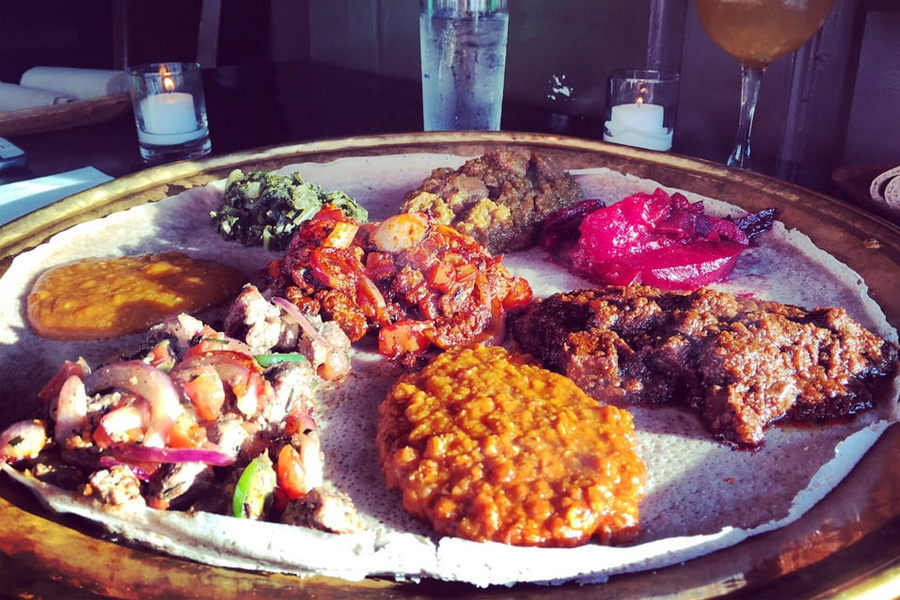 Photo: Cass S./Yelp
Topping the list is Injera. Located at 11 Abingdon Square in the West Village, this is the highest-rated Ethiopian restaurant in New York City, boasting 4.5 stars out of 471 reviews on Yelp.
Open since 2014, the restaurant includes a full-service bar and is decorated with African masks and lanterns. Start with a veggie sambussa: a thin, flaky dough crust stuffed with lentils, onion, green chiles and spices and pan-fried until golden. For your main course, check out the marinated lean beef cubes sauteed with onions, tomato and peppers.
2. Bunna Cafe
Photo: angie w./Yelp
Next up is Bushwick's Bunna Cafe, situated at 1084 Flushing Ave. With 4.5 stars out of 451 reviews on Yelp, the Ethiopian restaurant has proven to be a local favorite with its plant-based menu.
All dishes are served with injera, a sourdough flatbread made of teff and barley flour. Sample all nine vegan dishes with the feast for two, including gomen (steamed collard greens with garlic, ginger and onion). Wash down your meal with coffee, a specialty cocktail or T'ej, a sweet, rich, fermented golden honey wine.
3. Ghenet Brooklyn
Photo: johanna b./Yelp
Park Slope's Ghenet Brooklyn, located at 348 Douglass St. (between Fourth and Fifth avenues), is another top choice, with Yelpers giving the Ethiopian spot four stars out of 436 reviews.
Check out the doro tibs: grilled strips of boneless chicken breast glazed with awaze. Or sample the kitfo: Ethiopian steak tartare seasoned with mitmita and nitir kibe. Vegetarian dishes are also on offer.
"Hands down the best Ethiopian restaurant in NYC!" wrote Yelper Sem C. "The service is warm and wonderful — sometimes a little slow but perfect when enjoying an Ethiopian meal. The food is absolutely delicious, authentic dishes and also some innovative options as well." 
4. Awash Ethiopian Restaurant
Awash Ethiopian Restaurant on the Upper West Side is another go-to, with four stars out of 407 Yelp reviews. The restaurant at 947 Amsterdam Ave. (between 106th and 107th streets) opened in 1994 and now has locations in the East Village and Brooklyn.  
On the menu, look for the specialty kifto with ground beef, jalapeños and onion seasoned with Ethiopian spices and butter, or choose five plant-based dishes with the veggie combo. 
5. Zoma
Finally, over in Harlem, check out Zoma, which has earned four stars out of 353 reviews on Yelp. According to its website, the establishment stays true to traditional Ethiopian flavors, using a multitude of herbs and spices that stem from Ethiopia's place on ancient trade routes and Ethiopian refined butter.
Try the house special made with cubed filet mignon pieces marinated in Ethiopian honey wine, green peppers, red onions and Zoma's special sauce.
You can find the Ethiopian spot at 2084 Frederick Douglass Blvd.
"Best Ethiopian food I've had in the United States … try everything, and thank me later," wrote Yelper Chinyere E.