Phoenix and Scottsdale golf courses – Clublender
It's always golf season in Phoenix, Scottsdale and the surrounding area. With about 200 courses in the area, golfers have an embarrassment of riches from which to choose. Desert courses with mountain views offer challenging layouts for everyone from beginners to single-digit handicappers, as well as some of the finest resorts around for after 18 holes.
Even if you've visited before, the golfing experience in most of Arizona changes season to season. From January through April, courses are in prime condition for the flocks of snowbirds who arrive from all points north, and green fees are at their peak. In the summer, courses transition to Bermuda grass and lower their rates to lure golfers tough enough to endure 18 holes in triple-digit heat. In the fall, courses often close for a few weeks to over-seed and to begin growing new rye grass. When such courses do open, fairways can be wet and there are often cart path-only rules. Whenever you visit, twenty or thirty courses in the Phoenix area are consistently ranked among the best in the country and are well worth the heat or the fees, whatever they may be.
Don't see your favorite course in the area? Please let us know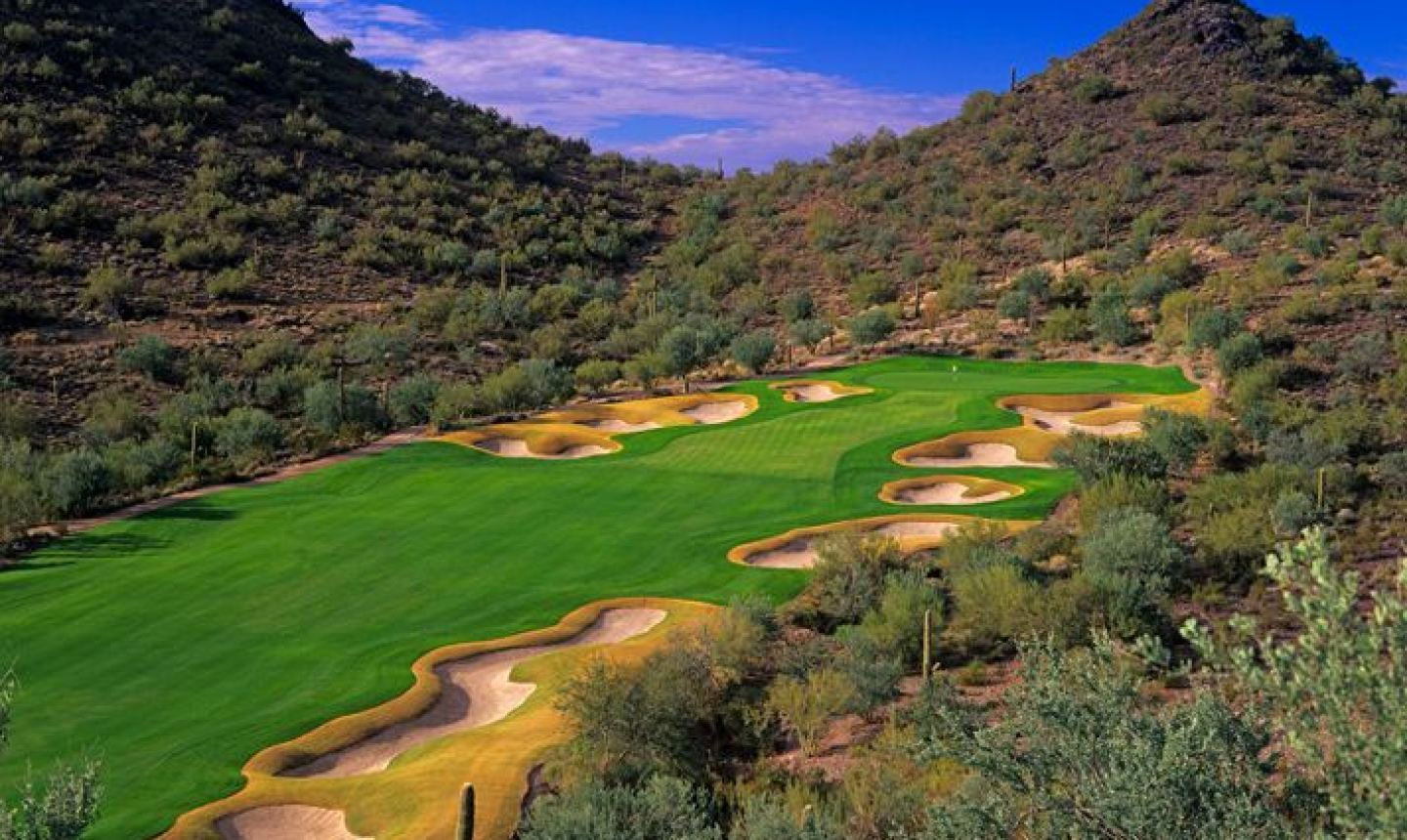 Quintero Golf Club
Public Courses
Aguila Golf Course
8440 S 35th Ave, Laveen Village, AZ 85339
phoenix.gov/parks/golf/phoenix-golf-courses/aguila
(602) 534-6116
Ak-Chin Southern Dunes Golf Club
48456 AZ-238, Maricopa, AZ 85139
akchinsoutherndunes.com
(480) 367-8949
Arizona Biltmore Golf Club
2400 E Missouri Ave, Phoenix, AZ 85016
azbiltmoregc.com
(602) 955-9655
Arizona Grand Golf Course
8000 S. Arizona Grand Parkway, Phoenix, AZ 85044
arizonagrandgolf.com
(602) 431-6480
ASU Karsten Golf Course
1125 E Rio Salado Pkwy, Tempe, AZ 85281
asukarsten.com
(480) 921-8070
Bear Creek Golf Complex
500 East Riggs Road, Chandler, AZ 85249
bearcreekaz.com
(480) 883-8200
Bellair Golf Club
17233 N 45th Ave, Glendale, AZ 85308
bellairgolf.com
(602) 978-0330
Camelback Golf Club
7847 N Mockingbird Ln, Scottsdale, AZ 85253
marriott.com/golf-hotels/phxcb-jw-marriott-scottsdale-camelback-inn-resort-and-spa/camelback-golf-club/5256759/home-page.mi
(480) 596-7050
Cave Creek Golf Course
15202 N 19th Ave, Phoenix, AZ 85023
phoenix.gov/parks/golf/phoenix-golf-courses/cave-creek
(602) 534-8820
Coldwater Golf Club
N. Clubhouse Drive, Avondale, AZ 85323
coldwatergolfclub.com
(623) 232-0511100
Continental Golf Club
7920 E Osborn Rd, Scottsdale, AZ 85251
continentalgc.com
(480) 941-1047
Coronado Golf Course and Lighted Driving Range
2829 N Miller Rd, Scottsdale, AZ 85257
coronadogolfscottsdale.com
(480) 947-8364
Desert Canyon Golf Club
10440 N Indian Wells Dr, Fountain Hills, AZ 85268
desertcanyongolf.com
(480) 418-1325
Dobson Ranch Golf Course
2155 S Dobson Rd, Mesa, AZ 85202
mesaaz.gov/things-to-do/dobson-ranch-golf-course
(480) 644-2291
Eagle Mountain Golf Club
14915 Eagle Mountain Pkwy, Fountain Hills, AZ 85268
eaglemtn.com
(480) 816-1234
Encanto Golf Course
2745 N 15th Ave, Phoenix, AZ 85007
phoenix.gov/parks/golf/phoenix-golf-courses/encanto-18
(602) 534-4653
Encanto 9-Hole Golf Course
2300 N 17th Ave, Phoenix, AZ 85007
phoenix.gov
(602) 262-6870
Foothills Golf Club
2201 E Clubhouse Dr, Phoenix, AZ 85048
thefoothillsgc.com
(480) 460-4653
Golf Club of Estrella
11800 S Golf Club Dr, Goodyear, AZ 85338
estrellagolf.com
(623) 386-2600
Golf Club at Johnson Ranch
30761 W Golf Club Dr, San Tan Valley, AZ 85143
johnsonranchgc.com
(480) 987-9800
Grand Canyon University Golf Course
5902 W Indian School Rd, Phoenix, AZ 85033
gcugolf.com
(623) 846-4022
Grayhawk Golf Club
8620 E Thompson Peak Pkwy, Scottsdale, AZ 85255
grayhawkgolf.com
(480) 502-1800
Greenfield Lakes Golf Course
2484 E Warner Rd, Gilbert, AZ 85296
greenfieldlakesgolfcourse.com
(480) 503-0500
Ken McDonald Golf Course
4607, 800 E Divot Dr, Tempe, AZ 85283
tempe.gov/city-hall/public-works/golf-tempe/ken-mcdonald
(480) 350-5250
Kokopelli Golf Club
1800 W Guadalupe Rd, Gilbert, AZ 85233
kokopelligc.com
(480) 926-3589
Las Colinas Golf Club
21515 East Village Loop Rd N, Queen Creek, AZ 85242
lascolinasgolfclub.com
(480) 987-3633
Las Sendas Golf Club
7555 E Eagle Crest Dr, Mesa, AZ 85207
lassendas.com
(480) 396-4000
Legacy Golf Club
6808 S 32nd St, Phoenix, AZ 85042
golflegacyresort.com
(602) 305-5550
Legend Trail Golf Club
9462 N Legendary Trail, Scottsdale, AZ 85262
legendtrailgc.com
(480) 488-3445
Lone Tree Golf Club
6262 S Mountain Blvd, Chandler, AZ 85249
lonetreegolf18.com
(480) 219-0831
Longbow Golf Club
5601 E Longbow Pkwy, Mesa, AZ 85215
longbowgolf.com
(480) 807-5400
Lookout Mountain Golf Club
11111 N 7th St, Phoenix, AZ 85020
tapatiocliffshilton.com
(602) 866-7500
Los Caballeros Golf Club
1551 S Vulture Mine Rd, Wickenburg, AZ 85390
loscaballerosgolf.com
(928) 684-2704
McCormick Ranch Golf Club
7505 E McCormick Pkwy, Scottsdale, AZ 85258
mccormickranchgolf.com
(480) 948-0260
McDowell Mountain Golf Club
10690 E Sheena Dr, Scottsdale, AZ 85255
mcdowellmountaingc.com
(480) 502-8200
Mountain Brook Golf Club
5783 S Mountainbrook Dr, Gold Canyon, AZ 85118
mountainbrookgolf.com
(480) 671-1000
Ocotillo Golf Club
3751 S Clubhouse Dr, Chandler, AZ 85248
ocotillogolf.com
(480) 917-6660
Orange Tree Golf Course
10601 N. 56th Street, Scottsdale, AZ 85254
orangetreegolfcourse.com
(480) 948-3730
Painted Mountain Golf Resort
6210 E McKellips Rd, Mesa, AZ 85215
paintedmountaingolf.com
(480) 832-0156
Palm Valley Golf Club
2211 N Litchfield Rd, Goodyear, AZ 85395
palmvalleygolf.com
(623) 935-2500
Palo Verde Golf Course
6215 N 15th Ave, Phoenix, AZ 85015
phoenix.gov/parks/golf/phoenix-golf-courses/palo-verde
(602) 249-9930
Papago Golf Course
5595 E Moreland St, Phoenix, AZ 85008
papagogolfcourse.net
(602) 275-8428
Paradise Valley Golf Course
3505 E Union Hills Dr, Phoenix, AZ 85050
paradisevalleygc.com
(602) 992-7190
Quintero Golf Club
16752 AZ-74, Peoria, AZ 85383
quinterogolf.com
(928) 501-1500
Rancho Manana Golf Club
5734 E Rancho Manana Blvd, Cave Creek, AZ 85331
ranchomanana.com
(480) 488-0398
Raven Golf Club
3636 E Baseline Rd, Phoenix, AZ 85042
ravenphx.com
(602) 243-3636
Rolling Hills Golf Course
1415 N Mill Ave, Tempe, AZ 85281
tempe.gov/city-hall/public-works/golf-tempe/rolling-hills
(480) 350-5275
Royal Palms Golf Course
1415 E McKellips Rd, Mesa, AZ 85203
royalpalmsgolfcourse.com
(480) 964-1709
San Marcos Golf Course
100 N Dakota St, Chandler, AZ 85225
sanmarcosgolfresort.com
(480) 963-3358
Scottsdale Silverado Golf Club
7605 E Indian Bend Rd, Scottsdale, AZ 85250
scottsdalesilveradogolfclub.com
(480) 778-0100
Shalimar Golf Club
2032 E Golf Ave, Tempe, AZ 85282
shalimarcountryclub.com
(480) 838-0488
Starfire Golf Club
8516, 11500 North Hayden Road, Scottsdale, AZ 85260
starfiregolfclub.com
(480) 948-6000
Stonecreek Golf Club
4435 E Paradise Village Pkwy S, Phoenix, AZ 85032
stonecreekgc.com
(602) 953-9111
Sundance Golf Club
900 S Sundance Pkwy, Buckeye, AZ 85326
sundancegolfaz.com
(623) 328-0400
Sunland Springs Village Golf Course
11061 E Medina Ave, Mesa, AZ 85209
sunlandspringsgolf.com
(480) 984-4209
SunRidge Canyon Golf Club
13100 Sunridge Dr, Fountain Hills, AZ 85268
sunridgegolf.com
(480) 837-5100
Superstition Springs Golf Club
6542 E Baseline Rd, Mesa, AZ 85206
superstitionspringsgc.com
(480) 985-5622
Talking Stick Golf Club
9998 East Talking Stick Way, Scottsdale, AZ 85256
talkingstickgolfclub.com
(480) 860-2221
The 500 Golf Club at Adobe Dam Regional Park
4707 W Pinnacle Peak Rd, Glendale, AZ 85310
the500club.com
(623) 492-9500
The Duke at Rancho El Dorado
42660 W Rancho El Dorado Pkwy, Maricopa, AZ 85239
thedukegolf.com
(480) 844-1100
TPC Scottsdale
17020 North Hayden Road, Scottsdale, AZ 85255
tpc.com
(480) 585-4334
Trilogy Golf Club at Vistancia
12575 W Golf Club Dr, Peoria, AZ 85383
trilogygolfclub.com
(623) 328-5100
Troon North Golf Club
10320 E Dynamite Blvd, Scottsdale, AZ 85262
troonnorthgolf.com
(480) 585-5300
Verrado Golf Club
4242 N Golf Dr, Buckeye, AZ 85396
verradogolfclub.com
(623) 388-3000
Viewpoint Championship Golf Course
650 N Hawes Rd, Mesa, AZ 85207
viewpointgolfresort.com
(480) 373-5555
We-Ko-Pa Golf Club
18200 E Toh Vee Cir, Fort McDowell, AZ 85264
wekopa.com
(480) 836-9000
Western Skies Golf Club
S 31st St, Gilbert, AZ 85296
westernskiesgolf.com
(480) 545-8542
Westin Kierland Golf Club
15636 N Clubgate Dr, Scottsdale, AZ 85254
kierlandgolf.com
(480) 922-9283
Whirlwind Golf Club at Wild Horse Pass
5692 W North Loop Rd, Chandler, AZ 85226
whirlwindgolf.com
(480) 940-1500
Wigwam Golf Club
451 N Old Litchfield Rd, Litchfield Park, AZ 85340
wigwamgolf.com
(623) 935-9414
Wildfire Golf Club
5350 E Marriott Dr · Phoenix, Arizona 85054 USA
wildfiregolf.com
(888) 705-7775
Private Courses
Anthem Golf & Country Club
2708 W Anthem Club Dr, Anthem, AZ 85086
clubcorp.com/Clubs/Anthem-Golf-Country-Club
(623) 742-6200
Gainey Ranch Golf Club
7600 E Gainey Club Dr, Scottsdale, AZ 85258
clubcorp.com/Clubs/Gainey-Ranch-Golf-Club
(480) 951-0022
Golf Club At Chaparral Pines The
504 N Club Dr, Payson, AZ 85541
chaparralpines.com
(928) 472-1420
Mirabel Golf Club
37100 N Mirabel Club Dr, Scottsdale, AZ 85262
mirabel.com
(480) 437-1500
Scottsdale National Golf Club
29001 122nd St, Scottsdale, AZ 85262
sngc.com
(480) 443-8868
Tatum Ranch Golf Club
29888 N Tatum Ranch Dr, Cave Creek, AZ 85331
tatumranchgc.com
(480) 585-2399