Remembering Howard Johnson's – Mr. Local History Project


Introduced to America in 1925, it wasn't until 1954 when the first HoJo's motor lodge made it to the scene.
Enjoy as we take a look back at the iconic orange roof franchise. Source: Highway Host
Who doesn't remember driving the car and ending up at the famed orange roof of the famed Howard Johnson motor lodge or restaurant. From Weirs Beach, New Hampshire to Daytona Beach Florida, all the way out to Anaheim, California it was the famed orange roof where you could stay at the motor lodge or grab some of the best clam boat and ice cream on the planet. So for a Jersey guy, I was surrounded by the orange roof not only in New Jersey, but it was wherever we drove. And we drove a lot. Ah the memories. Let's take a look back.
1950s Television Ad – Howard Johnson's
Early Years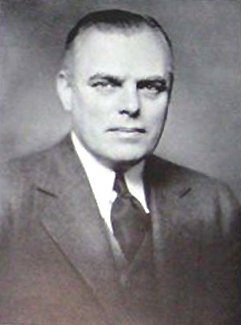 Founder: Howard Deering Johnson of Boston, MA.
Founded by Howard Deering Johnson, it was the largest restaurant chain in the U.S. throughout the 1960s and 1970s, with more than 1,000 combined company-owned and franchised outlets. Johnson wanted to expand his company, but the stock market crash of 1929 prevented this. Did anyone mention that he was a grade school dropout? Yes he was, but that didn't stop him from becoming a franchising pioneer that introduced the restaurant industry to centralized purchasing.
The first Howard Johnson's on Wollaston Beach in Quincy, Massachusetts back in the 1920's with his 28 flavors of ice cream – Source: Boston Globe
With a $2,000 loan Howard opened the "Howard D. Johnson Co. Patent Medicines and Toilet Articles" shop.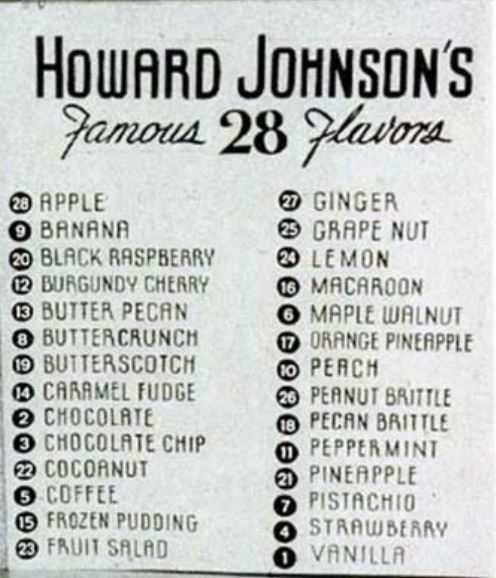 The famed "original 28 flavors" – Source: Howard Johnson's
After waiting a few years and maintaining his business, Johnson persuaded an acquaintance in 1932 to open a second Howard Johnson's restaurant in Orleans, Massachusetts. The second restaurant was franchised and not company-owned. This was one of America's first franchising agreements.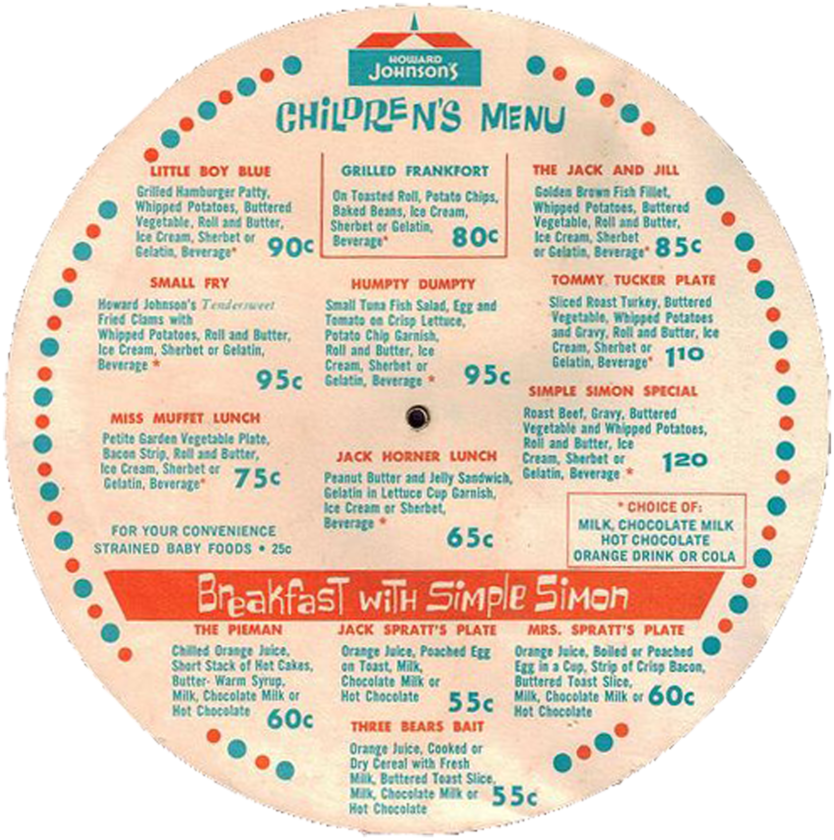 The Howard Johnson's children's menu was a big hit at the time. My favorite was the Jack Horner Lunch special. Peanut Butter and Jelly Sandwich with ice cream. Source: Pinterest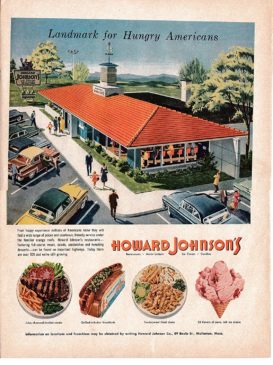 1956 Howard Johnson's Restaurant-Steaks-Ice Cream-Original 13.5 * 10.5 Magazine Ad – Click to enlarge
By 1979 the "Host of the Highways" had become the largest hospitality company in America, with more than 1,000 restaurants and 500 motor lodges. Howard Johnson's Company went public in 1961; there were 605 restaurants, 265 company-owned and 340 franchised, as well as 88 franchised Howard Johnson's motor lodges in 32 states and the Bahamas.
The Motor Lodge
In 1954, the company opened the first Howard Johnson's motor lodge in Savannah, Georgia. The company would later add over 1,000 franchised restaurants and 500 motor lodges. In 1959, Howard Deering Johnson, who had founded and managed the company since 1925, turned control over to his son, then 26-year-old Howard Brennan Johnson. The elder Johnson observed his son's running of the company until his death in 1972 at the age of 75.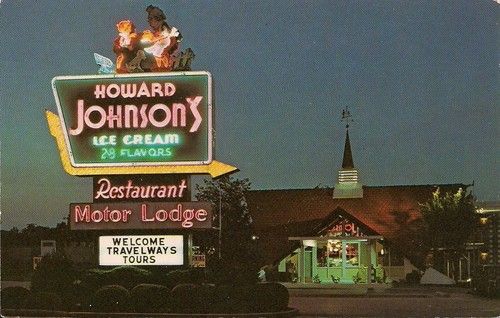 Back in the day, wherever you drove for vacation, you could count on finding a Howard Johnson's motor lodge.
The first design was penned by Karl Koch and Rufus Nims, and like the restaurant it was designed with instant brand recognition in mind.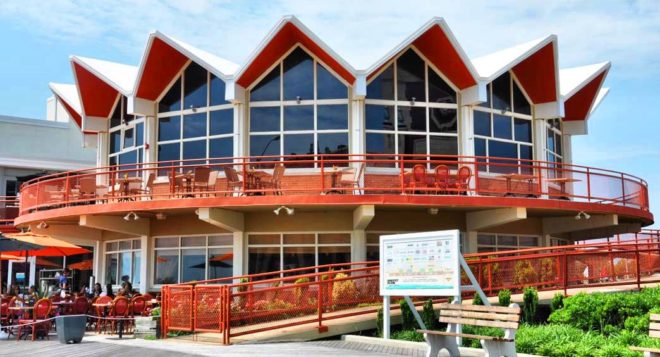 You can still see this classic Howard Johnson's restaurant on the boardwalk in Asbury Park, New Jersey. Today it is the well known McLoone's Asbury Grille.
Other HoJo Brands
For those who remember, Howard Johnson's diversified starting in the 1970's, spinning off to new brands. Personally, I remember the Ground Round in Springfield, New Jersey.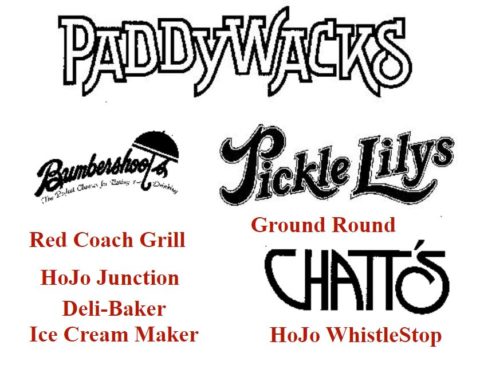 Former HoJo Brands- Source: HoJoLand
By 1953 the company had perfected large-scale commissary freezing, which freed restaurants to focus on the food preparation.  This meant greater consistency and no complex ingredient lists or need for a formal chef, which in turn saved restaurant operators significant money.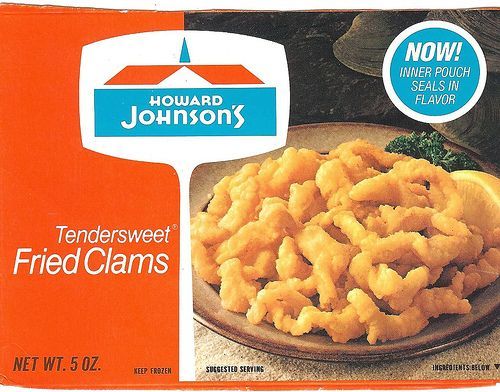 The Howard Johnson's clam roll was so successful it became a mainstay in the freezer section at the supermarket in the 70's.
Howard Johnson's food at home advertisement.
In April 1967 an agreement was signed with Texaco allowing its oil company's credit card holders to charge their meals and lodging when eating and staying at Howard Johnson's. This was a big deal.   The result improved gross revenues, which for 1967 were reported as $200 million.
The Beginning of the End
Inevitably, modern times caught up with the Howard Johnson business model. This third blow to the company was too much for it to overcome. The gas shortages kept people from travelling, and the recession stripped them of their spending power. The rest, as they would say, was history.
In September of 1985, after numerous stumbles and a changing customer, Howard Johnson's was sold to  the Marriott Corporation and Prime Motor Inns.  In a complex transaction, Marriott outright purchased Howard Johnson Company (sans Ground Round) from Imperial for $314 million dollars. 
Existing locations were aging and franchisees were either unable or unwilling to remodel.  There was a stale menu and a lack of vision and capital reinvestment.  The number of restaurants continued to drop as the relatives of original franchisers who inherited older HoJo's sold or redeveloped their sites.
Howard Johnson's Today?
YES There Is a HoJos.
Howard Johnson hotels and motels are now part of Wyndham Hotels and Resorts. Howard Johnson's restaurants were franchised separately from the hotel brand beginning in 1986, but in the years that followed, severely dwindled in number and all but disappeared by the turn of the century. As of 2018, only one Howard Johnson's restaurant remains: in Lake George, New York.
CBS This Morning shares the history and visits the last Howard Johnson's in Lake George, New York.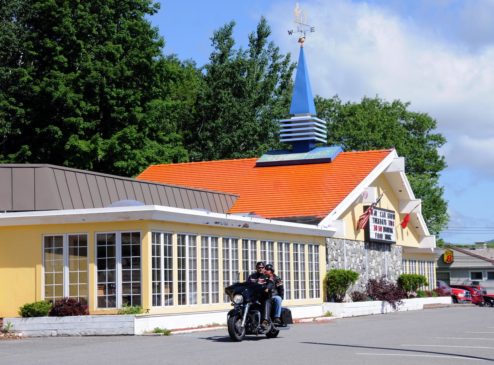 I got to visit the last original Howard Johnson's restaurant in Lake George, NJ – Source: Daily Gazette
The closest Howard Johnson in Somerset County, New Jersey is owned by Wyndam Hotels and is in North Plainfield, New Jersey.
One of only three Howard Johnson still remaining in Somerset County, New Jersey. This one is in North Plainfield, New Jersey. Their web page says " Welcome the Howard Johnson Express Inn – North Plainfield. Our location near Washington Rock State Park offers affordable accommodations during your visit to Somerset County. "
Remember Your Favorite HoJos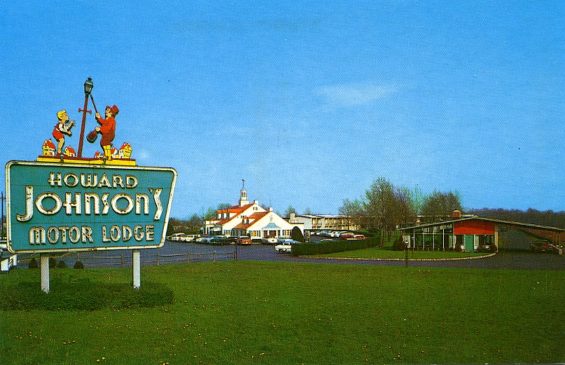 One of my childhood memories was the Howard Johnson's in Springfield, New Jersey on Route 22 East. It's now a sporting goods store (I think). Source: flickr
NEW JERSEY Howard Johnson's- Which ones do you remember?
While there wasn't any Howard Johnson's in the Somerset Hills, you could go outside and find a few in Somerset County, New Jersey.
Somerset County HoJos
*HJR-Somerville-Rt. 22 and No. Bridge Street
*HJR-New Brunswick-Junction of U.S. 1 & NJ 18
*HJR-Plainfield/Piscataway-I-287 & Stelton Road
*HJR-Asbury Park-5th Avenue & Boardwalk (now McLoones Supper Club)
*HJR-Asbury Park-Garden State Parkway Southbound Exit 102 Route 35
*HJR-Atlantic City-Arkansas Avenue
*HJR-Audubon-Black Horse Pike Shopping Center
*HJR-Bordentown-U.S. 130 & 206
*HJR-Burlington-Route 130
*HJR-Camden/Pennsauken-Admiral Wilson Boulevard (Airport Circle)
*HJR-Clark-70 Central Avenue
*HJR-Clifton-877 Lexington Avenue-Route 46
*HJR-Clifton-Route 3 (now and IHOP)
*HJR-East Orange-275 Central Ave.
*HJR-Hasbrouck Heights-Route 17 south / bottom of Henry Street    
*HJR-Livingston-637 West Mt. Pleasant Avenue
*HJR-Middletown/Red Bank-Rt. 35
*HJR-Mount Holly-NJ Turnpike Exit 5 at Rt. 541
*HJR-Mountain View-Route 23
*HJR-New Brunswick-Junction of U.S. 1 & NJ 18
*HJR-Paramus-Route 17 South
*HJR-Parlin/Sayreville-Highway 9
*HJR-Parsippany-949 Rt. 46
*HJR-Penns Grove-NJ Turnpike Exit. 1 Turnpike Extension Road
*HJR-Phillipsburg-Still Valley Circle
*HJR-Plainfield/Piscataway-I-287 & Stelton Road
*HJR-Princeton/Trenton-2991 Brunswick Pike
*HJR-Ramsey-Rt. 17
*HJR-Rockaway/Dover-Green Pond Road
*HJR-Sea Girt-Route 35
*HJR-Secaucus-Route 3 East
*HJR-Somerville-Rt. 22 and No. Bridge Street
*HJR-Springfield/Union-Rt. 22
*HJR-Toms River-Rt. 37
*HJR-Wayne-Rt. 23 & Ratzer Road
*HJR-West Paterson-Rt. 46 at McBridge Avenue Lenox Plaza Center
*HJR-Whippany-1255 N.J. Route 10 at I-287
*HJR-Wildwood-Casino Arcade Park
*HJR-Woodbridge, NJ, Route 1
*HJR-New Jersey Turnpike locations-10 locations (5 northbound/5 southbound)
*HJB-Saddlebrook
*GR-Blackwood – Clementon Road(now Filomena Cucina Italiana) 
*GR-Deptford-N Almonesson Rd.
*GR-Eatontown
*GR-Fairfield
*GR-Hackensack-Route 4 East and Hackensack Ave.
*GR-Hasbrouck Heights
*GR-Keyport
*GR-Livingston
*GR-Maple Shade-Route 38 East (now Posh Restaurant)
*GR-Tom's River (now occupied by the Tuscan Bistro Grill)
*GR-Voorhees Township-White Horse Road
*GR-West Orange
Additional Information