The Five Best Public Golf Courses Long Island Has To Offer
According to an article by Travel Magazine, New York State is home to 832 golf courses. Of which 140 are located on Long Island. The Island features a variety of public and private layouts to suit every budget and level of golfer.
The purpose of this article is to identify the five best public golf courses Long Island has to offer. Whether you are looking for a challenge or to save a few pennies, we will show you where to book your next round in the 631 and 934 area codes.
1. Bethpage Black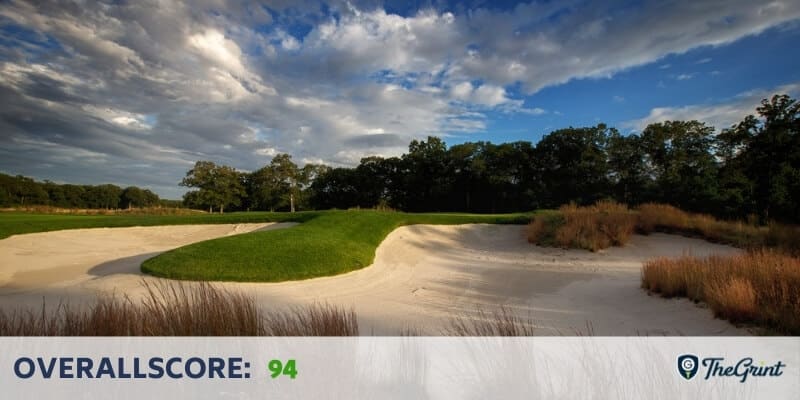 Site Link
Location: Farmingdale.
Year Opened: 1936
Yardage (Club Tees): 6700 yards.
Par: 71
Architect: Originally A.W Tillinghast, Rees Jones (Before the 2002 US Open)
Overall Score
Overall: 94
Condition: 9
Difficulty: 9
Amenities: 9
Green Fees: 6
Avid golf fans would have heard about Bethpage Black, the host course for three previous majors. This included the 2002 and 2009 US Open and the 2019 PGA Championship won by Brooks Koepka.
Although the difficulty of the course is its trademark, Webb Simpson believes that the course needs to be toned down if it is to successfully host the Ryder Cup in 2024.
Bethpage Black is one of five courses located on The Bethpage Park property. However, it is the park's most challenging layout to navigate, as golf coach Mark Crossfield demonstrates in this YouTube video. Furthermore, the course has featured in Golf Digest's top 100 Public Courses in America, for the past twenty years.
We have chosen The Black course as the best public golf course in LI because of its condition, level of difficulty, and fame. The fact that the average golfer can play at a course that has hosted majors without breaking the bank, cannot be taken for granted.
Green Fees (18 Holes):
NY Residents
Out Of State
Weekdays
$65
$130
Weekends
$85
$150
The Layout
Unless you are a superior striker of the ball, walk straight past the back tees and prepare to play from the middle markers. Off the back tees, the course totals 7,468 yards, however, the middle tees are almost 700 yards shorter. Golf Digest is justified to rank the Black course as the sixth toughest golf course in America.
Besides its length, the layout demands accurate tee shots to narrow fairways. Furthermore, the rough on this link is thick. So, if your drive lands in the rough you can kiss a GIR goodbye.
One thing to mention is that this is a walking-only course. So, unless you are fit and can easily traverse 4 miles on foot while carrying your golf clubs, you may want to think twice.
Verdict
Given its level of difficulty, Bethpage Black will cause you immense frustration, but it is worth it. Taking on one of the toughest tracks in the States. With your mates and at an affordable price point is a no-brainer.
2. Crab Meadow Golf Course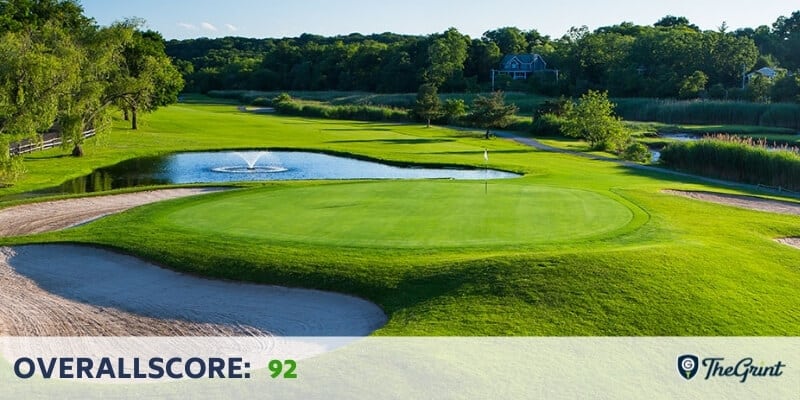 Site Link
Location: Northport
Year Opened: 1965
Yardage (Club Tees): 6,216 yards.
Par:72
Architect: William F. Mitchell
Overall Score
Overall: 92
Condition: 9
Difficulty: 7
Amenities: 8
Green Fees: 9
Even the most expensive public course in Long Island is still far more affordable than a day out at a private golf course. So, you can imagine that picking a winner for the Most Affordable course in the area proved a challenge.
After much deliberation, our team agreed that Crab Meadow Golf Course stood out above the rest as the rest in this category.
Located in Huntington on the island's North Shore, this beauty offers awe-inspiring views of the Long Island Sound estuary, home to oysters, crab, and lobster. The William F. Mitchell design provides a real challenge with narrow fairways protected by tree-lined rough.
The combination of a challenging layout and an affordable round make Crab Meadow one of the best value for money course's around.
Green Fees (18 Holes):
NY Residents
Out Of State
Weekdays
$29
$46
Weekends
$33
$51
Crab Meadow stands out as a well-manicured layout that is tight, tough, and not overly long. The estuarine wetlands surrounding the course come into play on several holes, requiring accuracy from tee to green.
With a total yardage of 6,216 yards off the club tees, Crab Meadow is not overly long. As a result, both long and shorter hitters are rewarded with plenty of scoring opportunities if your accuracy is on point with the woods and irons.
While fairway and greenside bunkers come into play for most of your round, they are shallow and in excellent condition. To get out requires nothing more than an easy swing.
Verdict
Based on the affordable green fees and the pristine condition of the golf course, Crab Meadow is well worth the visit.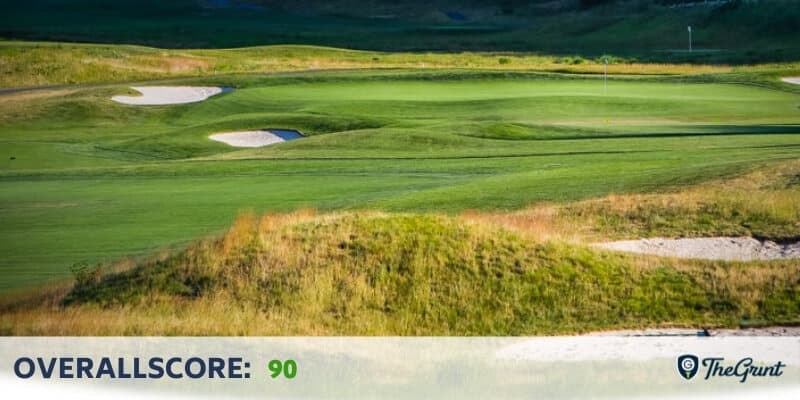 Site Link
Location: Port Washington
Year Opened: 1998
Yardage (Club Tees): 6,503 yards.
Par:72
Architect: Dr Michael Hurdzan
Overall Score
Overall: 90
Condition: 9
Difficulty: 7
Amenities: 9
Green Fees: 7
There is no way you can compile a list of courses surrounding the ocean without including a links-style layout. Although it is one of the newer courses on the island and better manicured than the courses our forefather's played on, it still has the feel of a links.
Famed American golf course architect Dr. Michael Hurdzan designed the course to coexist with the environment. As your round progresses, it becomes evident with wetlands, bird habitat boxes, and tall fescue featuring prominently.
Besides his work on Harbor Links, Hurdzan and his partner Dana Fry, co-designed the 2017 US Open venue, Erin Hills.
The overall condition of Harbor Links, combined with the surrounding natural beauty, and affordable green fees, make it our top pick for the best public links course in Long Island.
Green Fees (18 Holes):
NY Residents
Out Of State
Mon – Thur
$46
$71
Fri
$76
$110
Weekends
$60 – $100 (Depending on tee time)
$70 – $130 (Depending on tee time)
The Layout
This Par 72, 6503-yard course features a well-manicured links-style layout that is moderately difficult in good weather but can prompt high scores in adverse conditions.
A unique feature on the course is three split fairways, which is music to the ears of every amateur golfer. Furthermore, the elevated tees on some of the holes will test your distance control.
To conquer Harbor Links, you will need to navigate wetlands, water hazards and tall fescue. If you miss the fairway off the tee, you will have some fun trying to get back into play.
Verdict
Harbor Links is in immaculate condition, and Dr Hurdzan must be commended for his ability to develop a championship course that coexists with the natural surrounds. Besides the golf course itself, the property features a restaurant, practice facilities and a 9-hole golf course.
Therefore, Harbor Links ticks all our boxes and takes the title for the best links course in Long Island.
4. Timber Point Golf Course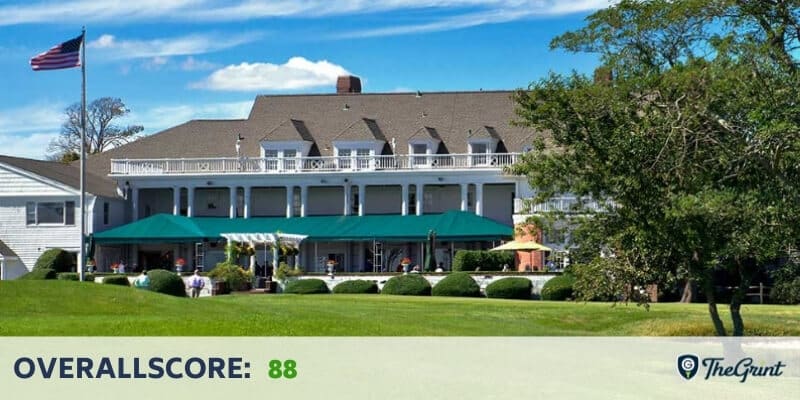 Site Link
Location: Great River
Year Opened: 1925
Yardage (Club Tees): Red Course (3093), Blue Course (3197), White Course (2965).
Par:Red (36), Blue (36), White (36)
Architect: Colt and Allison
Overall Score
Overall: 88
Condition: 8
Difficulty: 7
Amenities: 8
Green Fees: 9
Timber Point comes in at fourth on our overall list. However, it is our top pick for the course with the best views on Long Island. The Great River course offers a 27 hole Colt and Allison layout that overlooks the mighty Connetquot River and South Bay.
The course sits on the point where the Connetquot River meets the Great South Bay. This is why the vistas are unmatched on the island.
The pick of the three nine-hole layouts is the Blue course which plays along the South Bay to provide an idyllic setting for a golf course. However, in adverse weather conditions, this course and prove a tough nut to crack.
Green Fees (18 Holes):
Green Key Holder
Non-Green Key Holder
Weekdays
$30
$40
Weekends
$32
$47
The Layout
Timber Point offers you the choice of three nine-hole layouts for your round, the red, Timber Point offers you the choice of three nine-hole layouts for your round, the red, white and blue course.
No matter which two you choose, the par total will be 72, the total yardage will differ, but it does not exceed 6,200 yards.
This means the course offers shorter hitters a chance to hit par 5's in two and score low.
The blue course is the pick of the tracks for me, offering breathtaking views of The Great South Bay. In fact, the par 3, 2nd hole on that course is the feature hole at the club.
Don't let the relaxing views fool you. When the wind blows, this course will demoralize even the best golfers among us.
Verdict
There is something extra relaxing about playing on a course with incredible vistas. Timber Point delivers in this regard, and it is hard to find another links on the island with better views. Furthermore, green fees are affordable, and you can enjoy a feed at the club's restaurant post-round.
5. Spring Lake Golf Club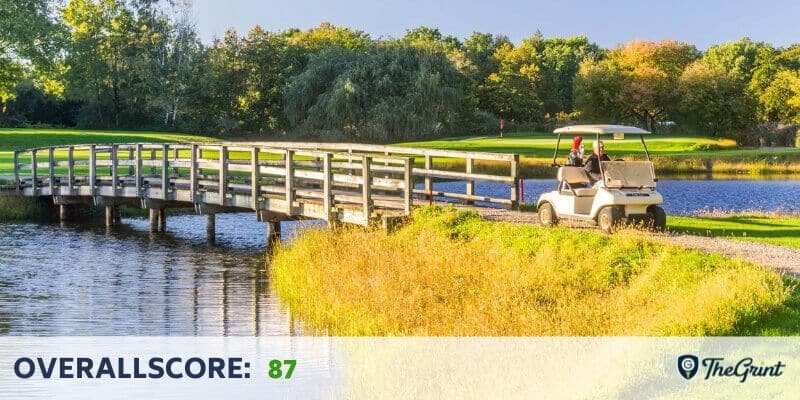 Site Link
Location: Middle Island
Year Opened: 1918
Yardage (Club Tees): 6206 yards.
Par:72
Architect: George C. Thomas Jr and A.W Tillinghast
Overall Score
Overall: 87
Condition: 8
Difficulty: 5
Amenities: 8
Green Fees: 6
Spring Lake Golf Club is a family-owned and operated club with 27 Championship holes in the heart of Long Island. The course is typical of a parkland layout, with trees coming into play on every hole.
Green Fees (18 Holes):
Including Cart
Excluding Cart
Weekdays
$70
$50
Weekends
$90
$70
The Layout
While the course is well maintained and manicured, the rough is thick and difficult to get out of. Considering that the total yardage off the club tees is only 6,206 yards, you can afford to take a fairway wood or long iron off the tee on a large portion of par 4 holes.
The course runs adjacent to a lake, bringing water hazards into play on a few holes. Other than that, your biggest challenge is to keep straight and out of the trees.
Verdict
Spring Lake is another incredible layout located on Long Island. The Parkland-style course, combined with the adjacent lake, tests the accuracy of all golfers. Safe play is rewarded on this course.
The amenities, views, condition of the course, moderate difficulty, and affordable green fees make Spring Lake Golf Club a worthy candidate for our fifth position.
Final Thoughts
After an arduous process to select the top five best public courses Long Island has to offer. Our team believes we have presented the best of the best. One thing is sure, Long Island is a golfers paradise, with a course for every type of player.
We feel that Bethpage Black is the most desirable course on the island given its infamy, quality, value for money, and the challenge it provides the average golfer.
The next time you are on Long Island, go on and play where the Pros have at Bethpage Black.
The 10 Best Golf Courses in New York; Rated By Real Players
The Best Golf Courses in all 48 States
How Do Golf Courses Make Money?