The Ultra-Chic Danish Label Reinventing Weatherproof Clothes and Accessories Within Fashion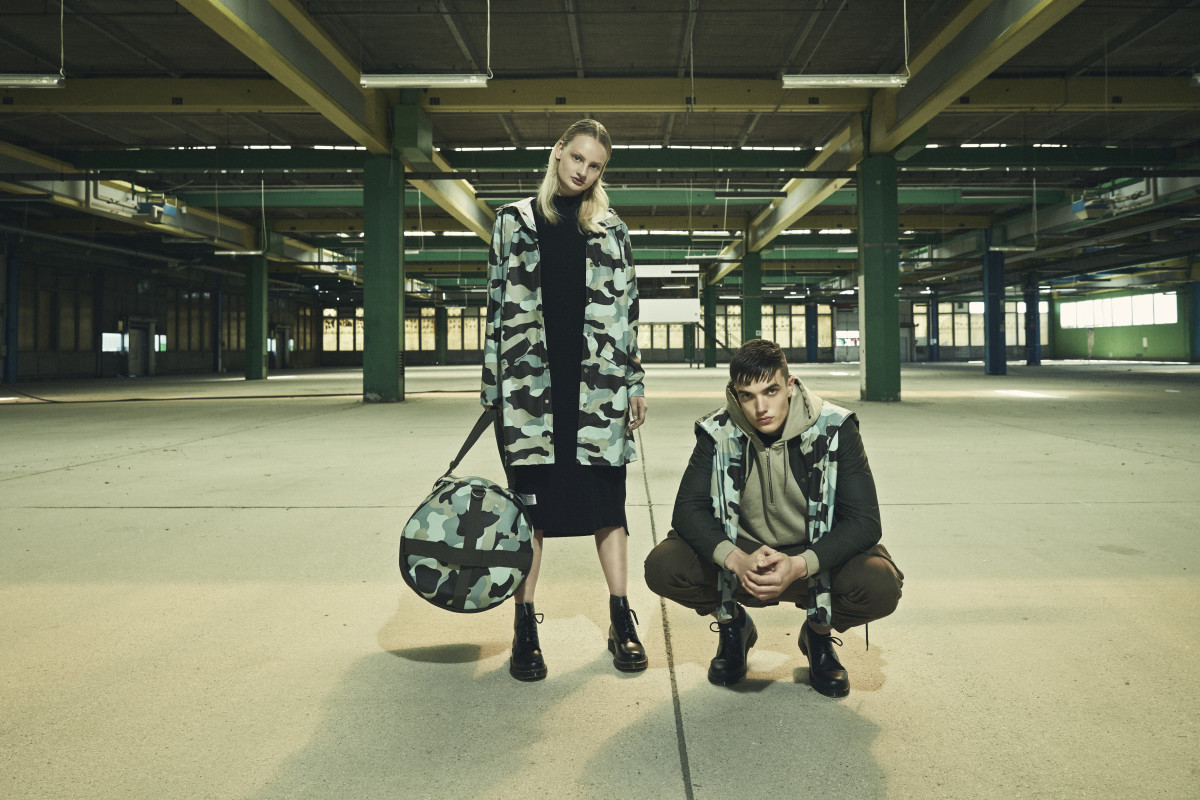 The Danish are as known for their unique, now-ubiquitious minimalist designs as they are for their constant pursuit of homespun pleasures involving fuzzy knit socks, furry slippers and cashmere sweatpants. Their appreciation for the simple act of being cozy must have something to do with the fact that it rains, on average, 120 days a year in Denmark, so staying inside cuddled up to the fire sounds much more appetizing than facing the perpetually wet outdoors. But when the Danes do venture outside of their clean-lined spaces, they need some sort of protection that won't hinder their effortlessly cool streetwear aesthetic. Enter Rains: A niche, Denmark-based rainwear company founded by Philip Lotko and Daniel Brix Hesselager in 2012.
The pair met as students at design and business college TEKO in Denmark; Hesselager was studying furniture design and Lotko was studying PR. They began the label as a side project to their studies, but it quickly developed into something more. "The concept grew out of a poncho, which we made using a lightweight PU fabric," Hesselager says as he shows me around the newly-renovated Rains store in New York City's SoHo. "At that point, we didn't realize that it should be a whole concept, but the idea of merging design and style with an outdoor technical product fascinated us." And from there, they started developing a full unisex line of outerwear and a collection of bags, all made from the same matte-looking, water resistant and flexible, polyurethane-coated fabric.
Here's where their very Danish approach to design kicks in: Rains is rooted in simplicity, functionality and cool, clean lines. With this PU fabric, Hesselager and Lotto have elevated the classic rubber raincoat and given it a modern facelift via translucent and glossy finishes and more fashionable shapes — see bombers, oversize anoraks, trackpants and belted trenches — all while keeping the products lightweight, breathable and weatherproof.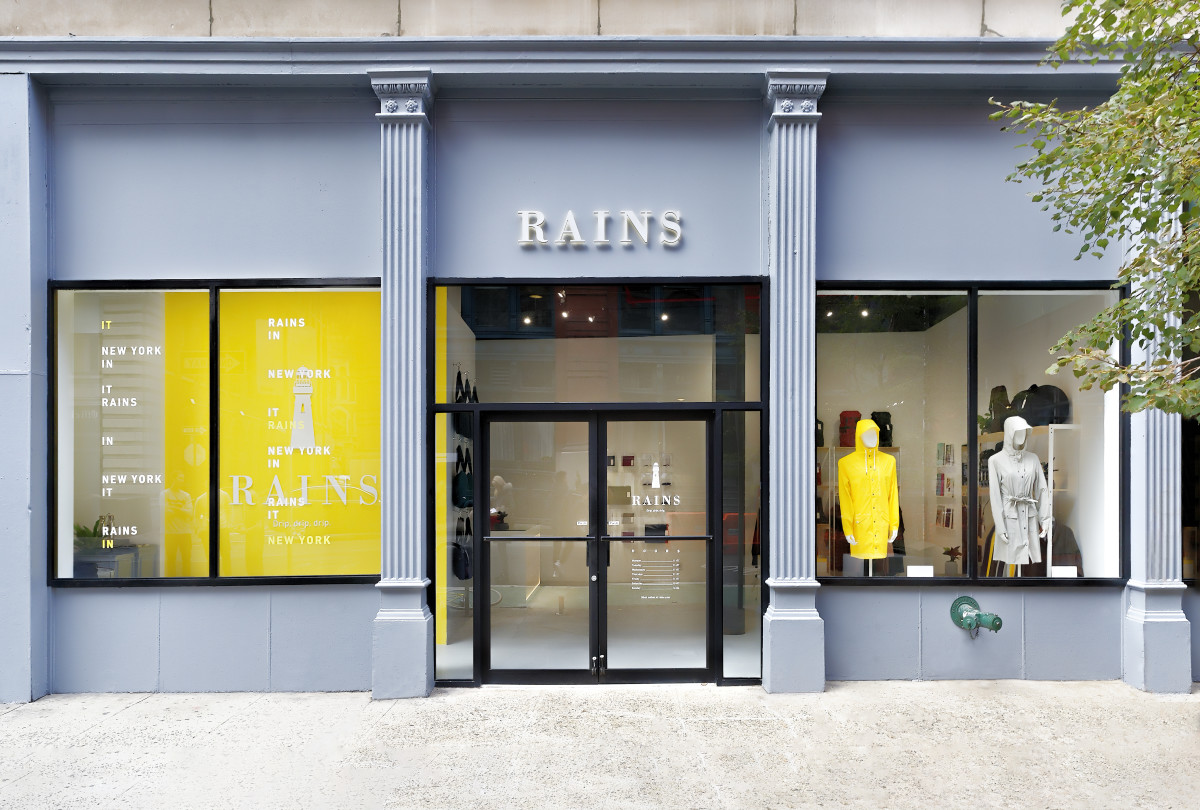 This focus on simplicity and the brand's nods to classic rainwear extend into Rains' brick-and-mortar shops, too, which are fashioned as minimalistic spaces filled lightly with products so as not to overwhelm shoppers. "The store is rather small, but this is actually how we would like to present the concept around it," Hesselager says. "Since it's so niche, we don't want it to be too massive." 
Rains's Manhattan post feels urban and recalls a cleaner metropolitan area, like Chicago or London, perhaps. Inside, there's a few light birch veneer racks juxtaposed with industrial accents done up in a bright yellow paint reminiscent of a traditional fisherman's yellow rain jacket. Despite serving an important outdoor purpose, you don't feel like you're shopping for rain-shielding coats and accessories; instead, you feel as though you're looking for pieces that you'd want to add to your closet — style items.
The store is divided up into Rains's four product categories: bags, shell jackets, special products and thermal outerwear. "At the moment, we have only bags and shell jackets, but in July, we'll add a thermal category — heavier, insulated jackets — which will be in the area over here," Hesselager says, pointing to a back wall with only one rack of navy and beige-colored coats. The "special product," as Hesselager calls it, lives in the center of the space. Here, the brand has its current collaboration with Opening Ceremony on display, comprised of a collection of bright red and blue animal-printed coats. 
There's also a special rack allocated for two limited-edition experimental collections that Rains puts out to supplement its main seasonal offerings. "Express collections are catching up on an immediate trend with a six weeks lead time," Hesselager notes, while lifting a glossy belted trench from the label's most recent collection. "As soon as we catch a trend within a certain season, we will make it rather fast."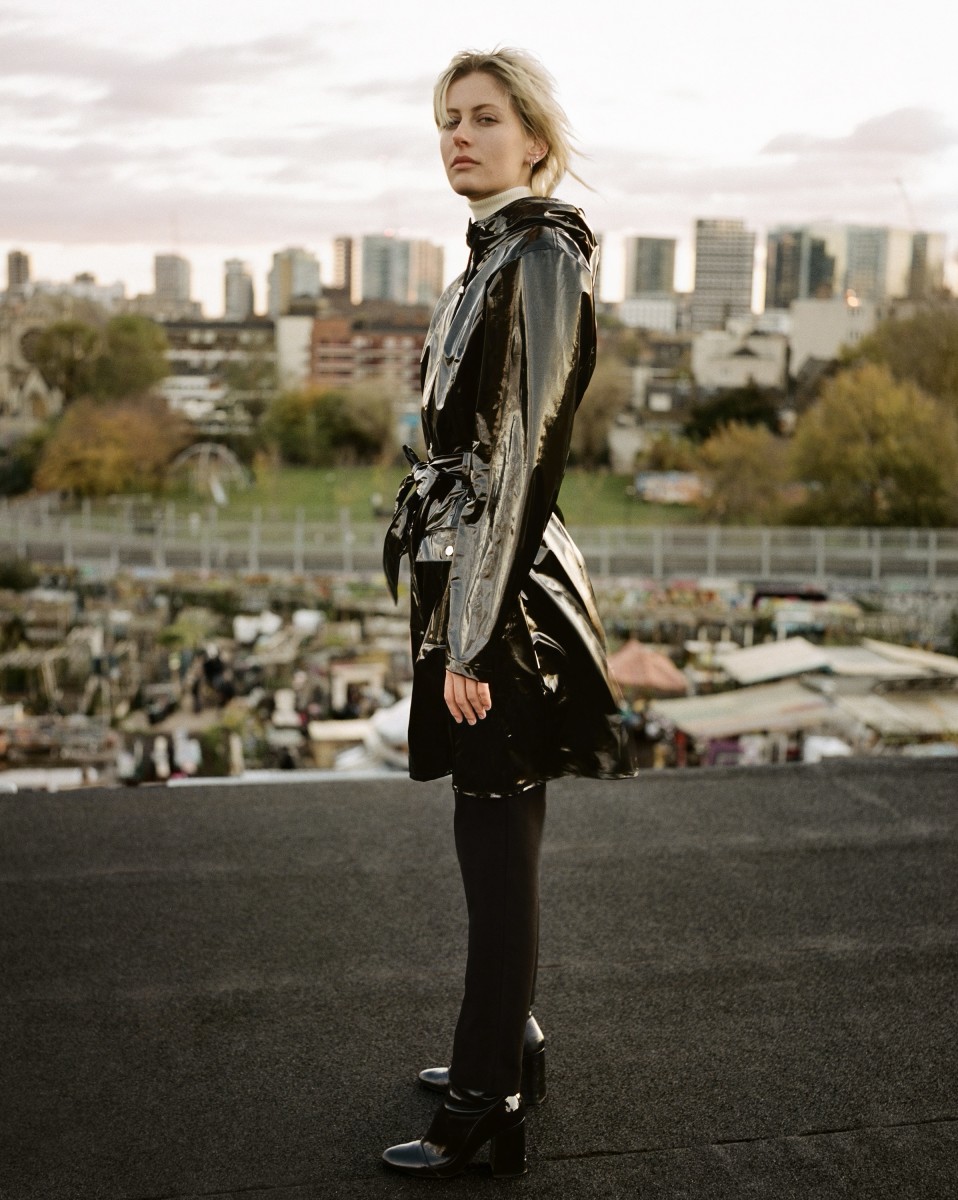 As we make our way to the other side of the store, we're greeted by a floor-to-ceiling display of mainly sleek backpacks, with a few overnight bags and larger totes sprinkled throughout. These are the kinds of book bags you'd envision hugging the shoulders of people who look suspiciously put together at 7 a.m. on the subway — not your standard Kashi granola hiker's sack. "Everything is made for the urban environment, so going from A to B in the city," Hesselager remarks. "We used to say that we are for the urban people. We're not for people who want to cross Canada."
For Rains, the functionality has to be at a high level, but the aesthetic and the expression of the product are the most important. "What we're trying to do in the U.S. right now is the same as what we have succeeded in doing in Europe, which is going from being a rainwear brand to having a lifestyle brand," Hesselager says. "In the U.K. markets, we are considered more as a fashion item, more so than a functional item."
Related Articles
Rains set up shop in New York at the end of last year, and thus far, the brand's U.S. debut has been met with positive responses. But coming onto U.S. soil has proven to be more challenging than expected. "People in the U.S. like to shop online more compared to Europe, where the experience of going into the store and buying a product is much more obvious and common," Hesselager notes. "The retail landscape over here is changing faster, but the young consumers are very open-minded and curious about new stuff, so we're really tapping into that." 
At present, the brand is working on building awareness and focusing on creating a physical environment for the product. Rains is currently sold at department store retailers like Nordstrom and in stores like Opening Ceremony. "We aim to find the best retailers that really care for the experience," Hesselager explains. "We're aiming to be in places where they can build the brand and position us." 
Eventually, Rains would like to open more of its own stores in the U.S., but right now, it only has plans to expand in New York. "We have a big-city approach, where we're trying to build one city at a time," Hesselager says. "We are not considering the U.S. as one country, we're considering it as a lot of big cities. We are looking for our second store in New York, but down the road we've have discussed everything from Seattle to Chicago."  
Sign up for our daily newsletter and get the latest industry news in your inbox every day.