The story behind Raffi's Place, and some of the best koobideh kebabs in Glendale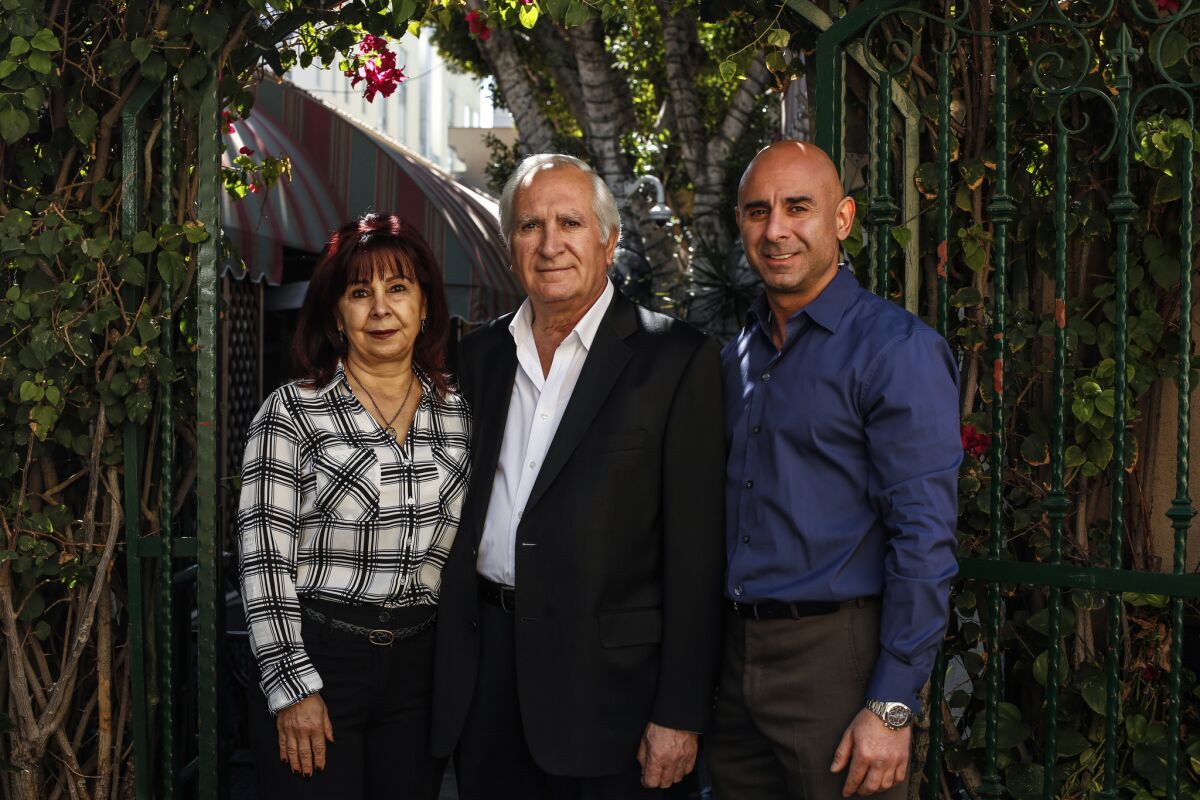 Walking into the tree-lined courtyard dining room at Raffi's Place in Glendale, you get the sense that many happy memories have been — and continue to be — made here. The Persian restaurant, located a couple of blocks from the Glendale Galleria, is the site of countless birthday parties, baby showers, graduation celebrations and family dinners.
On a busy Friday night, the twinkling lights make the trees sparkle — as if someone applied a real-life Instagram filter to the dining room. The air smells of grilled meats, saffron and women's perfumes. Smartly dressed waiters whisk tire-sized trays stacked with plates of kebabs and heaps of rice around the room. Most of the tables are set for four or more, and it's not uncommon to see a balloon or two tied to the back of a patio chair. Celebrity sightings have included former Laker Metta World Peace and actors Jon Voight and Anthony Hopkins.
On especially busy nights, it feels as though the center of the universe might actually be in this Glendale courtyard. And that's exactly how owner Rafik Bakijanian likes it.
Later this year, Bakijanian, 65, his wife Gohar, 69, and their son Armond, 39, will celebrate the restaurant's 25-year anniversary. It's a feat not achieved by many of this city's best restaurants, and one that the Bakijanian family says they're not taking for granted.
For the past two and a half decades, Bakijanian has opened the doors to Raffi's Place at 5 in the morning. He turns on the hot water, inspects the meat and produce deliveries with a shrewd eye, and looks over the day's reservations from a tiny office, tucked into the corner of the downstairs kitchen. Some days the refrigerator needs fixing. Other days it's a leaky espresso machine.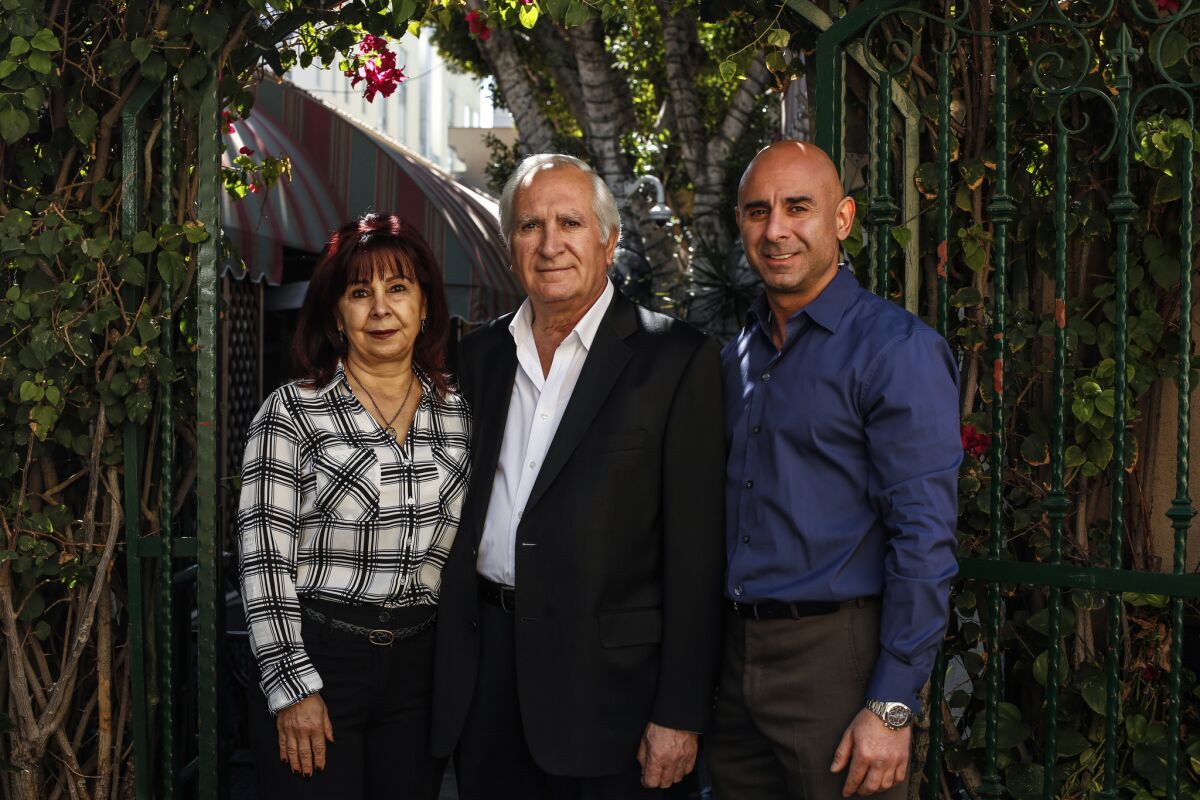 (Maria Alejandra Cardona / Los Angeles Times )
"There's always something," said Bakijanian. "It's a lot of hard work."
On a recent morning before the lunch rush, he's wearing a dark suit, sitting next to his wife and son at a table in the dining room. He is soft-spoken and relaxed, patiently nodding as she talks to him. Gohar sits with elegantly perfect posture, her red hair falling neatly at her shoulders. Hers is actually the face you might associate with the restaurant. Until a couple of years ago, if you entered through the back, where the hostess stand is, Gohar was the one who greeted you when you asked for a table.
Rafik has worked almost his entire life in the restaurant business, starting in Tehran. He got a job at the Intercontinental Hotel there when he was 18 and opened his own restaurant in Iran after the revolution. He and Gohar moved to Glendale in 1987 with their three small children, and Bakijanian worked plumbing and construction jobs to save up money to open the restaurant.
"Anytime there was a family gathering, my parents would cook," said Armond, who took over as head of operations in 2008.
In 1993, Rafik and Gohar opened Raffi's Place in a 1,500-square-foot corner of the building, surrounded by little shops and salons. There were one or two tables and a deli case that housed Gohar's many salads and dips: hummus, eggplant and tomato, torshi (pickled vegetables) and beans with tomato sauce.
"We were so young," Gohar said. "I was the waitress too. Until 11 in the morning I was cooking and fixing things and then at 11 I was serving. At night I was cleaning again. Rafik was working 18-hour days, seven days a week."
The next year they hired one cook and one baker. Rafael Morales, who was hired in 1994 at the age of 19, is now the manager. The entire staff is about 80 people.
"Their whole life became this, and it paid off," added Armond, who has worked in several positions at the restaurant, starting as a busboy.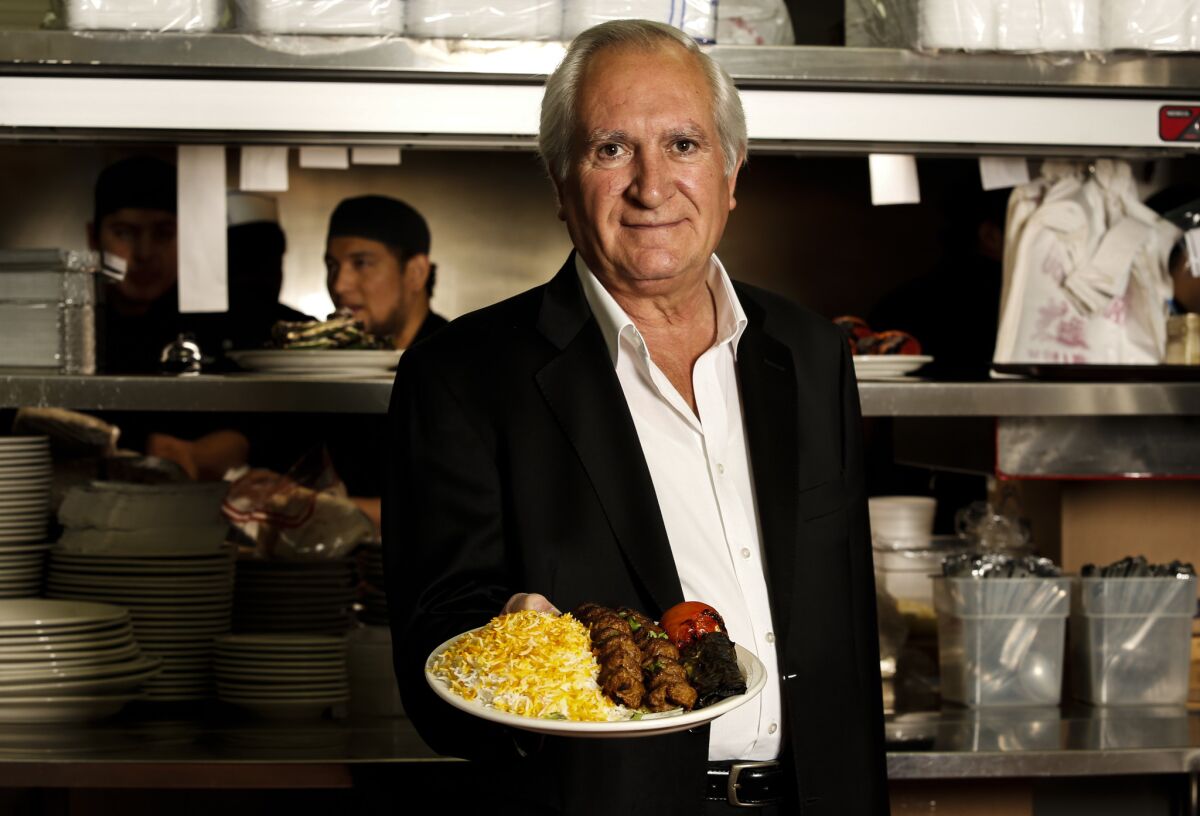 (Maria Alejandra Cardona / Los Angeles Times )
The family gradually took over the different businesses in the courtyard of the building, expanding until they occupied the entire space. This is the reason behind the restaurant's somewhat hodgepodge layout: a courtyard in the middle, flanked by two additional covered dining areas. About 10 years ago they bought the law office next to them and turned it into another dining room, but it never seems to be enough. On most weekends, the people waiting for a table spill out into the valet area behind the restaurant.
The downstairs kitchen, located just off the courtyard, operates like a mini factory, with dozens of cooks tackling the different components of a classic Raffi's kebab plate. There are the cooks who manage the 3,600 pounds of rice the restaurant goes through in a week. While one person soaks the basmati, another oils the bottom of a row of seemingly endless giant silver pots, creating the foundation for the tahdig (crispy rice). Down the line there's the cook who makes the Persian stews that will top the rice, stirring bubbling green vats of ghormeh sabzi (herbs cooked down with meat and beans) and pots of rust-colored gheimeh (split pea and tomato stew).
A group of chefs helm the kebab grills, turning hundreds of skewers that look like mini swords wrapped with squares of chicken, filet and ground beef over an open flame. In the middle of the kitchen, bowls are filled with the salads, pickles and appetizers that Gohar still makes. A cook takes a spoon and creates a familiar crater in the middle of a bowl of hummus, then fills it with a drizzle of olive oil and a sprinkle of cumin.
In the upstairs kitchen, a 2,000-square-foot addition built three years ago, Carlos Alfaro, the Bakijanians' first employee — hired in 1994 — stands in front of a mountain of meat, wielding a knife, slicing off pieces to put in a stew. He is one of a dozen workers who slice and grind the meat for the kebabs. Behind them is a large walk-in with hundreds of buckets of meat in various stages of marination. Once Bakijanian deems them just right, they will be removed, placed on skewers and carried downstairs for grilling.
(Maria Alejandra Cardona / Los Angeles Times )
In just one week, Armond says the restaurant goes through 2,000 pounds of onions, and about 5,000 pounds of ground beef. And all of that beef is used for Bakijanian's signature dish, a ground beef kebab known as koobideh or luleh kebab.
"I remember when we first came to this country, and my dad was doing construction, we would always do a barbecue at least once a week," Armond said. "We had a small balcony, and walking home I would see the smoke and smell it down the block. And I knew my dad was barbecuing."
It's a plate of food that's inherently comforting, and appears deceptively simple, built on a recipe Bakijanian has been making all of his life: two ground beef kebabs with a heap of basmati rice studded with a few saffron-colored grains, a charred tomato and a blackened green pepper. The meat is delicate, spiced lightly and with a texture that actually seems to melt. Sometimes the rice accompanying the kebab is colored pink and studded with sweet cherries, or mixed with fresh dill and lima beans. Bakijanian makes excellent lamb and chicken kebabs, but the koobideh is the plate you see on everyone's table, the duo of skewers your entire party ends up reaching for.
Over the years, the Bakijanians have amassed a following that includes weekly regulars and, Armond claims, people who come in daily for lunch and or dinner.
"People coming happy and leaving happy, that is all that matters," says Gohar.
211 E. Broadway, Glendale, (818) 240-7411, www.raffisplace.com.
Jenn.Harris@latimes.com
@Jenn_Harris_
ALSO: