Top 10 FREE online Bookkeeping courses! –
Business owners will benefit from bookkeeping knowledge. Allowing them to learn business accounts without dipping into their cash. Education is key to become financially literate.
I have found 10 of the best free online bookkeeping coursesand as a result you can develop a greater understanding of how to track income and expenses, read financial reports and manage business money.
A business owner armed with knowledge can really start asking their accountant the right questions, get good control of their cash flow and grow their businesses.
Become prepared with these free courses listed below!!
1. AccountingCoach.Com
Run by Harold Averkamp (CPA, MBA) – he delves in basic bookkeeping all the way up to managerial accounting. There are tons of information and above all, if you have specific questions you can enter your keywords into the search bar and get free topic results based on those.
Harold's free bookkeeping course online contains 20 modules however, you must register to become a member and pay a one time fee of US$49 or US$99 depending what you want to access as some modules are not fee. Information inside the free portion will teach you what you need to know about bookkeeping.
There is lots free information however if you want a certificate for completing this course you must get the PRO+ membership.
Harold has worked as an accounting instructor in university, as an accountant and as a consultant.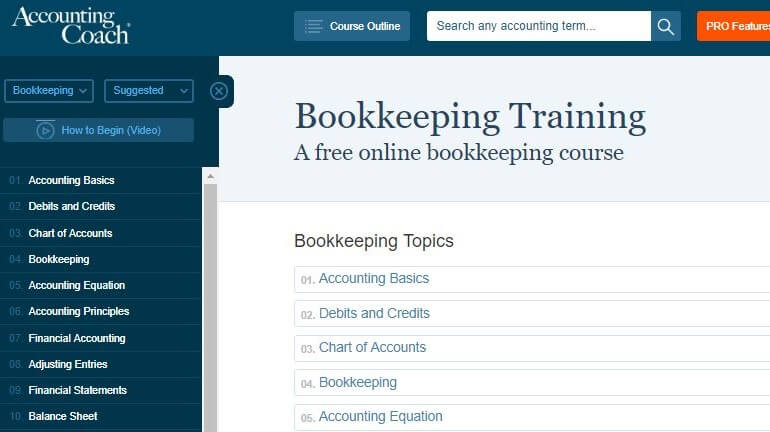 Free Bookkeeping Courses
Costs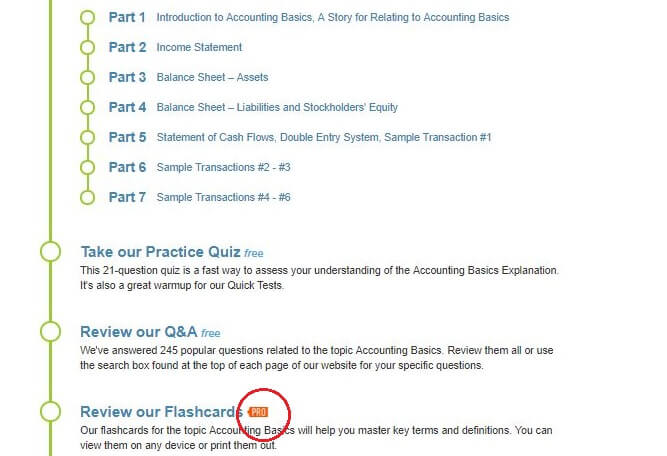 2. DWMBeancounter.Com
Dave Marshall of The Bean Counter offers free accounting as well as, bookkeeping courses, tutorials, quizzes and games.  
There is no paid membership area but you get full free access to all materials on his course website. To study offline you can buy his eBooks and CD version.
Tests are only for personal evaluation therefore, no certificate is given.
Dave's experience includes being a small business consultant, a bookkeeper, an internal auditor, a controller, a US Army payroll clerk and at the same time a college teacher.
DWMBeanCounter
3. FreeBookkeeping Accounting.Com
Above all On this site you will find free written and video training courses for bookkeeping in addition to accountancy.
You Tube channel makes up the learning. There are hundreds of training videos on other topics like Payroll Basics, Management Accounts, Excel Basics, Bank Reconciliations, Credit Control, Profitability, Business Planning, Double Entry Bookkeeping,  VAT (sales tax) and above all courses on software like Sage Accounts, Xero, KashFlow, QuickBooks, and Excel.
For a cost training and support is available for:
Anyone wanting to start their own bookkeeping or accounting business in the UK,  
any bookkeeper or accountant (accountant in training) or new small biz owner who wants a mentor
Sam has lot of experience. He has been a credit controller and an accountant for several years working with a variety of different businesses.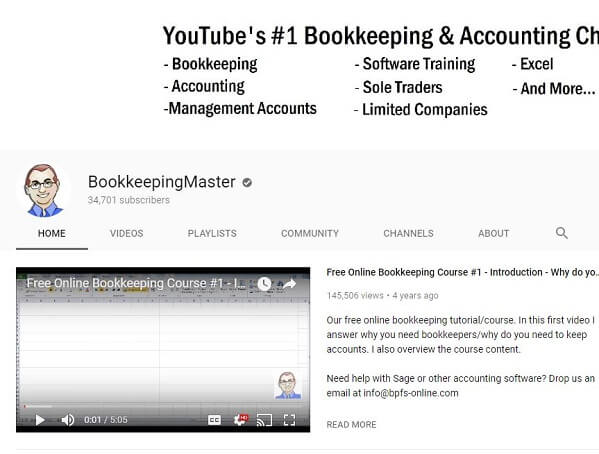 4. Learn.Org
Learn.Org provides a list of where to find free bookkeeping courses online through groups like:
National Association of Certified Public Bookkeepers (NACPB) – enter the website and access free training courses 
National Bookkeepers Association (NBA) – register for the free course 
US Small Business Administration – offers free online introductory accounting courses. The Online Learning Center covers basic procedures.
MIT Opencourseware – go to their course finder. Select Business for the Topic and Accounting for the Sub-Topic to select your level.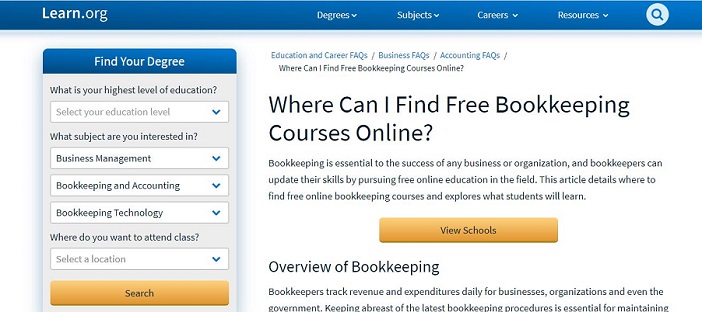 5. FutureLearn.Com
Future Learn provide a course called Bookkeeping for Personal and Business Accounting
Study Topics include : Financial accounting and reporting, essential numerical skills, double-entry and the balance sheet, and accounting
In addition to the course to gain a certificate: Upgrade to the paid version for tests and a certificate of achievement.
Duration : 4 weeks, 3hrs per week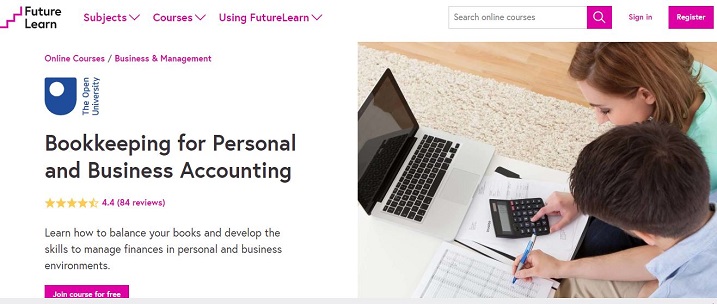 Future Learn Course
6. OpenLearn University.Com
Open Learn University's free bookkeeping course is titled Introduction to bookkeeping and accounting. This is 8 hours of study at an introductory level and above all it is in written format and is downloadable.
You will get a free statement of participation on completion of the course.
The course modules are : 
Essential numerical skills
Double entry and the balance sheet
Double entry and the profit and loss account
In2Work offers a free Sage Bookkeeping Courses, therefore ideal for someone interested in Management Accounting or a Finance role within a business. This course will help you learn to use Sage Accounting Software for everyday use specifically Provided by learndirect. Once completing the course most importantly they will email you a certificate for Stage 1.
The course covers for example;
basic bookkeeping skills
double entry bookkeeping
trial balance
working with customers and suppliers
understanding VAT and 
essential management reports.
The only down-side is that to get this course you need to complete two Functional Skills courses at the In2work centre in Doncaster.
In2work Sage Bookkeeping Course in Doncaster
edX has 2 free courses therefore you can access them for free by registering your name and email address: 
Introduction – This provides you accounting knowledge hence allowing you to be more successful in the field. Learn about:
Business transactions, banking and double entry bookkeeping
Payroll and ledger accounts
Reconciliation and preparing a trial balance 
Intermediate – which will therefore, prepare you for an accounting admin or accounts positions. For example this study includes:
accounting principles and concepts 
business transactions and events 
financial statements
reconciling control accounts and 
cashbook
You can get a certificate for either course by registering with ACCA who most importantly provide these edX courses hence passing a computer-based exam and an interactive module will allow a pass.
edX Introduction to Bookkeeping Course
There are 11 resources to get you started!
Learn Quickbooks for FREE!
If you have access to accounting software then make use of the training they provide. Most importantly, these programs will show you how to use their software and therefore get an inside understanding of the process.
Below are screenshots of Xero's training videos and FreshBooks invoicing software course videos.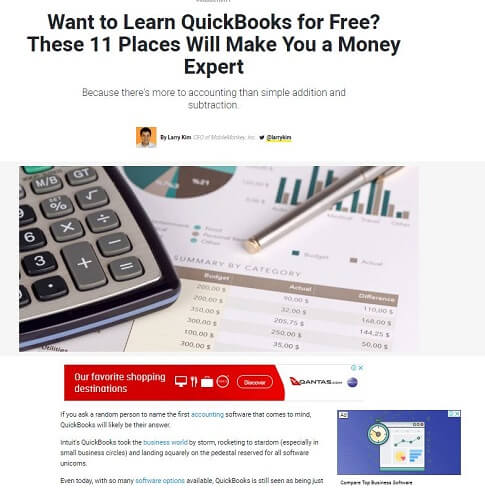 INC.COM Larry Kim's list of QuickBooks courses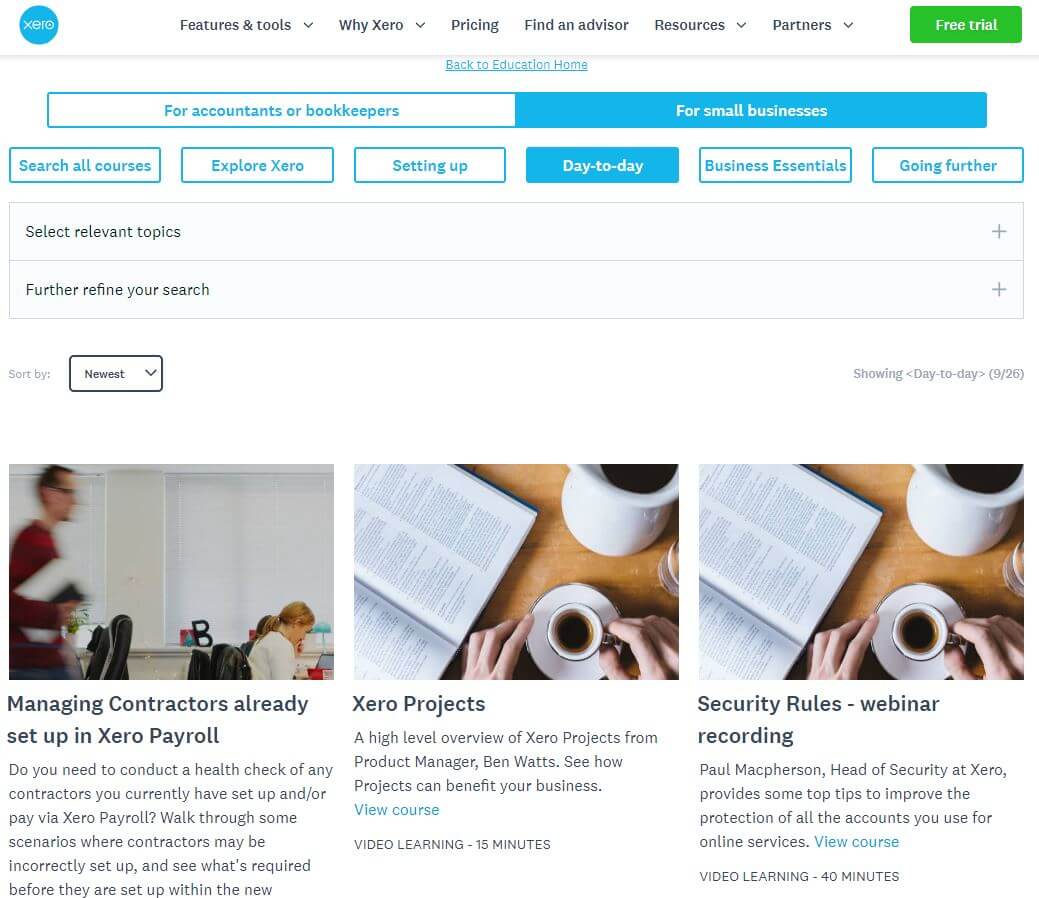 Xero Video Training Courses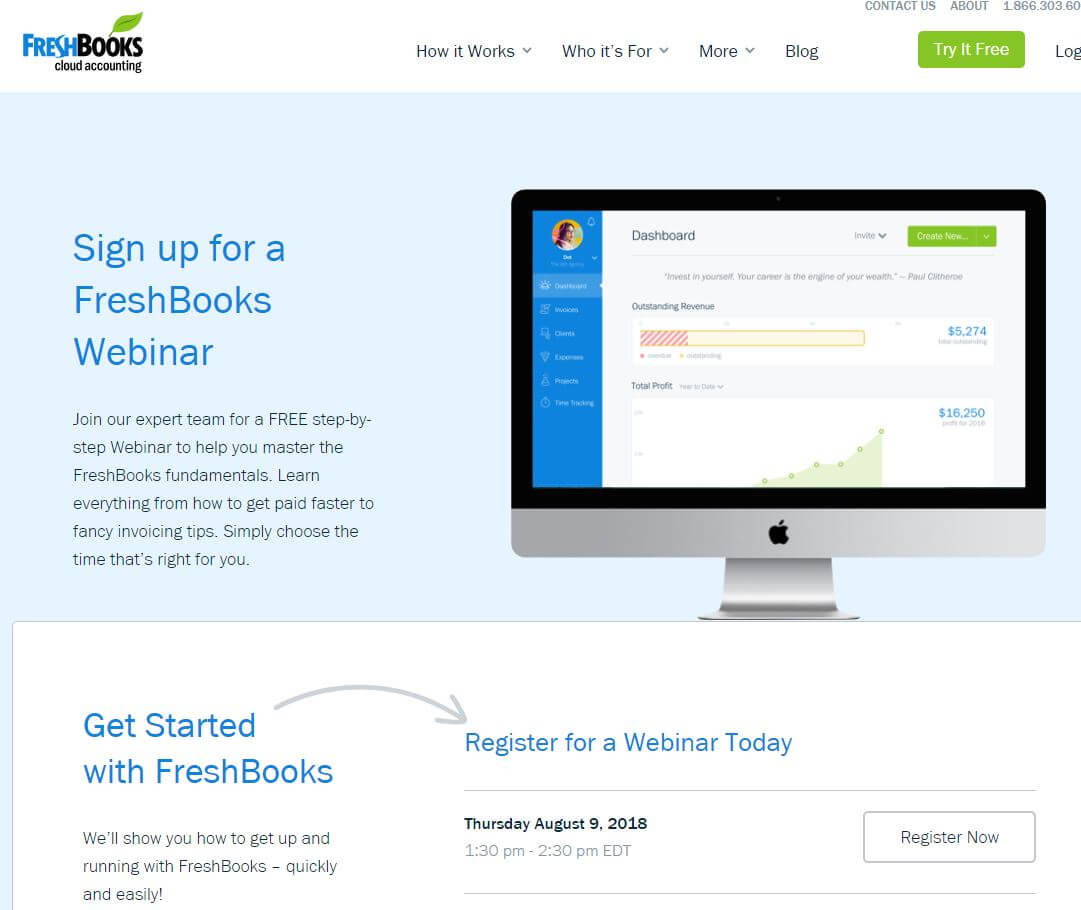 FreshBooks Webinar Courses
Alison provides 100's of free courses and as a result you can select from a variety of self-paced courses on topics, for example:
Financial Literacy
Control and Monitoring of Cash
Accounting and Its Use in Business Decisions
Understanding Receivables and Payables
Cash accounting
Financial Accounting Basics …and more
These are 2-3 hour certificate courses.
Alison has an international team of talented specialists who are, in particular, very dedicated to her learning program.
There is a lot to lean in the world of accounting, in conclusion, more information can be obtained from our team.
Contact us at Accountable Bookkeeping