Trinity Forest Adventure Park | The Southern Cross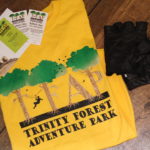 You can purchase gift certificates for any of the General Admission tickets listed above, with the exception of those that apply group discounts (Groups of 8 or More). Gift certificates will be redeemed with an online reservation any time the Park is open to the public. Valid one full calendar year from the date of purchase. Reservations are required.
Click To Purchase Gift Certificates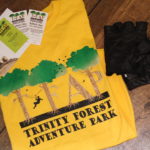 GIFT PACKS AVAILABLE!
Give the gift of adventure with one of our adventure park Gift Packs.  Now available throughout the year Gift Packs are the ideal gift for holidays, birthdays, or other special occasions.
Gift Packs Include:
– Admission for 1 (General Admission ticket) to Trinity Forest Adventure Park
– 1 TFAP logo t-shirt, in available sizes
– 1 pair of leather climbing gloves, in available sizes
**The value paid for this package does not expire.
Click To Purchase Gift Packs
1. Sign up as a customer
2. Click "Prepaid Packages"
3. Choose the correct ticket type for the recipient of your Holiday Gift Pack