Accessing Airport Lounges and Restaurants for Free with Priority Pass – Go Curry Cracker!
Accessing Airport Lounges and Restaurants for Free with Priority Pass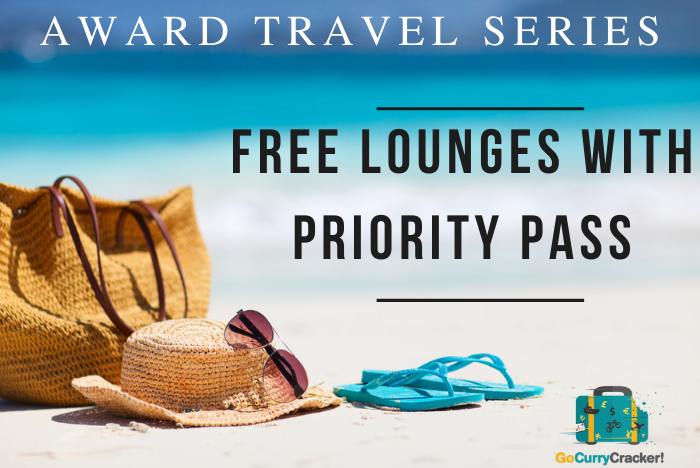 Advertiser Disclosure: This site is part of an affiliate sales network and receives compensation for sending traffic to partner sites, such as CardRatings.com. This compensation may impact how and where links appear on this site. This site does not include all financial companies or all available financial offers. Opinions, reviews, analyses & recommendations are the author's alone, and have not been reviewed, endorsed or approved by any of these entities.
As summer travel begins to take shape, many of us will find ourselves spending a significant amount of time in airports – especially with the recent trend of canceled and delayed flights among domestic carriers. What better way to pass the time and frustration than to relax in a quiet and comfortable lounge, ensconced from the madness of the terminal?
Today we'll discuss how to do so for free.
Before learning about miles, points, and credit cards, I treated the airport like a doctor's visit with the goal of spending as little time and resources as possible. They were uncomfortable, loud, confusing, expensive, and exhausting. While airports are still many of those things most of the time, I am often able to alleviate much of the annoyance and cost while increasing my satisfaction by heading straight to a lounge as soon as I pass through security.
There are numerous types of lounges in any given airport, and knowing how to access them can be a challenge. Some lounges belong to an airline such as United, American, or Delta while others are part network like Priority Pass – and some are both. Still others require specific credit cards or memberships for admittance, as is the case with the American Express Centurion and Capital One Lounges. This article will deal specifically with the Priority Pass network and how to access their lounges and other offerings around the world.
Priority Pass Lounges
With a network of over 1,300 lounges worldwide, Priority Pass has a huge portfolio of options. However, it's important not to confuse quantity with quality, as the lounges within the Priority Pass umbrella can vary greatly from one airport to the next. Generally, the lounges overseas are of higher quality than domestic options, but having a lounge is always better than not having one.
The main benefit of Priority Pass (and other) lounges is that they offer amenities such as free WiFi that is often separate and faster than the airport's offering, more comfortable seating, outlets for charging electronics, and some kind of refreshment station which usually includes coffee/tea, sodas, water, and sometimes alcohol. Most will also have snacks like fruit, nuts, and cookies with the top-tier lounges offering full buffets.
RED : The 15 Best Places for Huevos Rancheros in Dallas
Though not all airports have a lounge that's within the Priority Pass network, many do and it's easy to find out which ones by downloading the Priority Pass app on your phone and checking before you arrive. Like any business, changes do happen and periodically lounges get added or removed so it's important to ensure the app is up-to-date.
A few of my favorite Priority Pass lounges include the Turkish Airlines Lounge at Dulles International, SATS Premier Lounge at Changi International, and the Star Alliance Lounge at Paris Charles de Gaulle.
Priority Pass Restaurants
In addition to airport lounges, Priority Pass has also partnered with dozens of airport restaurants both domestically and internationally to provide access for members. This is a great benefit because oftentimes, as previously mentioned, the lounge offerings can be pretty lackluster and it's nice to have a (somewhat) quality and complete meal instead of filling up on peanuts and coffee or airline food. Sometimes, there are no lounges available at the airport at all a restaurant is the only option (looking at you, DCA).
The way restaurant access works with Priority Pass is that each entry qualifies for a $28 credit on your bill. If you went to a restaurant with two guests (the maximum), you'd get $84 in credit. The total credit does not include gratuity, though, so you should plan to tip based on the full amount. Don't forget that you can visit multiple Priority Pass locations on a single trip, so if there's both a restaurant and a lounge you could have a meal before relaxing in the lounge or vice versa on the same day.
It should also be noted that Priority Pass memberships offered through American Express credit cards do not offer access to restaurants and other experiences – just lounges. I'm not sure why this is the case, likely a cost concern, so just make sure you understand the distinction to avoid disappointment.
For a full list of participating restaurants, have a look at this article by One Mile at a Time.
Priority Pass Experiences
The third leg of benefits associated with Priority Pass membership is what they call "experiences", which are airport-based benefits that are not lounges or restaurants. These include massages at BeRelax, sleep pods at Minute Suites, and even some free golf or gaming. Though these options are less frequent than lounges and restaurants, especially domestically, they are well worth exploring if you're passing through an airport that has them. Just be sure to read the fine print, as restrictions on treatment types and stay lengths do apply. And, as with restaurants, Priorty Pass memberships through American Express credit cards do not qualify.
Credit Cards with Priority Pass Membership
RED : HƯỚNG DẪN KIẾM TIỀN FIFA MOBILE 21 #1: PLACE BID ĐƠN GIẢN KIẾM 2-5M COINS MỖI NGÀY | KINH NGHIỆM | Khái quát những nội dung liên quan đến dự đoán những cầu thủ sẽ được tăng chỉ số sau bản big update f
There are many premium credit cards that offer Priority Pass membership to cardholders (you can also purchase a membership without a credit card, but why do that when you can get it for free?). Most often, membership is the "select" level, which allows for unlimited visits to lounges, restaurants, and experiences for yourself and two guests. Here are the credit cards that currently offer Priority Pass membership:
Final Thoughts
Airport lounges and experiences have greatly improved my travel experience over the years. Since obtaining my first Priority Pass in 2015, I have visited dozens of lounges around the world and am always glad to have one even if they sometimes lack in quality. I now make a habit of checking the Priority Pass app every time I fly to see what's available so I can avoid the madness and expense that airports present. Because I have the Capital One Venture X and Sapphire Reserve credit cards, I have Priority Pass membership as an included benefit and one that I value highly and use often.
Brandon Chase is a financially independent writer, endurance athlete, and travel hacking enthusiast originally from Maine. He is a former Foreign Service Officer with the U.S. Department of State and spent nearly a decade overseas serving at embassies in Egypt, Cyprus, and Pakistan. Since getting hooked on "the hobby" in 2013, he and his wife have accumulated and redeemed millions of points and miles for luxury travel, including a $35,000 trip around the world for 97% off retail which he wrote about on his blog Fit For Miles . In addition to travel, he loves to be outdoors and has summited Mt. Kilimanjaro, thru-hiked the Appalachian Trail, and completed ultramarathons at the 50k, 50-mile, and 100-mile distances. Brandon is thrilled to share his knowledge of credit cards, award travel, and optimization with the Go Curry Cracker readers and hopes to help people travel more and better than they ever thought possible.
Top offers from our partners
Interested in getting the best and latest offers directly in your inbox? We stay on top of the best offerings so you don't have to. Subscribe here.
Editorial Note – Opinions expressed here are author's alone, not those of any bank, credit card issuer, hotel, airline, or other entity. This content has not been reviewed, approved or otherwise endorsed by any of the entities included within the post.
User Generated Content Disclosure – Responses are not provided or commissioned by the bank advertiser. Responses have not been reviewed, approved or otherwise endorsed by the bank advertiser. It is not the bank advertiser's responsibility to ensure all posts and/or questions are answered.
Source: https://bloghong.com
Category: en