Afrah Mediterranean Restaurant Richardson
afrah in the media
Afrah on Guy Fieri with Food Network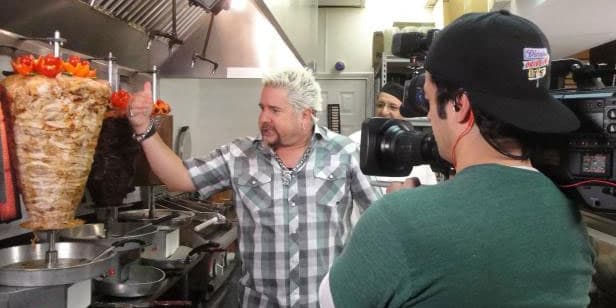 AFRAH ON DALLAS NEWS
Have you ever had the buffet lunch at Afrah Restaurant and Pastries in Richardson? I've loved it since the first time I experienced it several years ago, but it seems to get better and better. Today the place was absolutely packed — there were probably four times the number of people usually there for weekday lunch. The parking lot was full. There was a line for the buffet….
Read More
AFRAH ON CW33
When you walk into Afrah mediterranean restaurant richardson you are greeted by a smile and a counter full of colorful sweets, and homemade gelato and baklava. As you step further inside you can't help but notice the large spinning Shawarma in the back. There is a family vibe to Afrah, and that makes sense, since it was created by three brothers…..
Read More
AFRAH ON LOCAL EATS
Afrah serves authentic Lebanese and Mediterranean cuisine, including their specialty – the shawarma. Similar to a gyro, this traditional Middle Eastern sandwich consists of marinated meat which is shaved off a stacked rotisserie and topped veggies and cucumber sauce. They also offer a lunch buffet where you can enjoy baba ghannouj, salads, tabbouleh, coriander potatoes and more….
Read More
AFRAH ON DALLAS OBSERVER
Amidst his stops at Dallas' well loved "dives," Guy Fieri and his Diners, Drive-Ins and Dives crew filmed at the Middle Eastern restaurant Afrah in Richardson last week. Brothers Ayad, Youssef and Nabil El-horr, who co-own and manage the restaurant together, initially opened Afrah just as a sweet shop back in 2002, but it quickly developed into a full-service restaurant with a menu based on their mother's Southern Lebanese recipes. ….
Read More