Anthony Bourdain's Favourite Restaurants Around The World
To say Anthony Bourdain accrued a fair few favourite restaurants throughout his storied, globe-trotting career would be the understatement of the century. The acerbic chef turned celebrated author and CNN fixture lived to eat, and he had the ultra-extensive log book to show for it.
In her recent guest article with The Guardian, Laurie Woolever – writer, editor, TV producer, & lieutenant to Anthony Bourdain himself – offered some personal insight from the perspective of an individual who had stood by Bourdain's side for a good majority of his time in the spotlight.
"Whether you've been to every place he explored or never even owned a passport, it remains a joy to see the world through his hysterical and sometimes profane lens," writes Woolever.
"What he left behind, and what you'll find in World Travel, was a 20-year history and road map of how to be a happy, mindful, curious, and well-fed traveller."
Here's what she revealed…
RELATED: 19 Of The Best Anthony Bourdain Quotes To Live By
Happy Paradise, Hong Kong (China)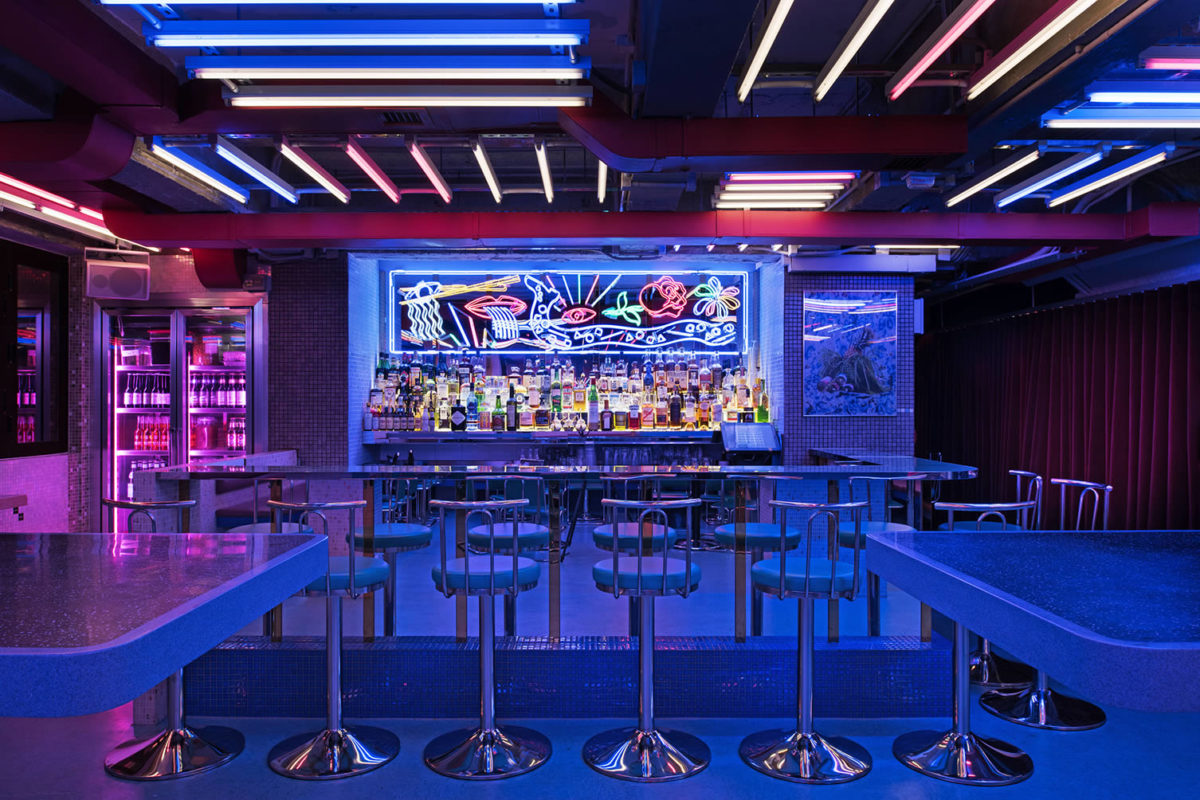 Tony (as he preferred to be called) went to Hong Kong at the start of his television adventure, and returned often. As he said in a mid-career episode of No Reservations, "I'm constantly asked, 'What's the greatest food city in the world?' And I always say that no one can say you're wrong if you say Hong Kong."
He loved the roast goose and pork, the seafood and the homey, comforting classics of the city's dai pai dong (outdoor food stall) restaurants. He loved the electric night markets and street food, as well as its fine dining.
And on his last visit there in 2018, he was enamoured with Happy Paradise – owned and operated by Chef May Chow, whose cooking is hyper-modern and steeped in Cantonese tradition. He took particular note of the sautéed prawns with pan-roasted pumpkin, dried shrimp roe, and prawn oil (tossed with fresh egg noodles in their current menu incarnation); medium-rare tea-smoked pigeon, Hakka-style yellow wine chicken served with oyster mushroom fried rice and chrysanthemum butter… all of it truly, stunningly delicious.
Restaurant Paul Bocuse, Lyon (France)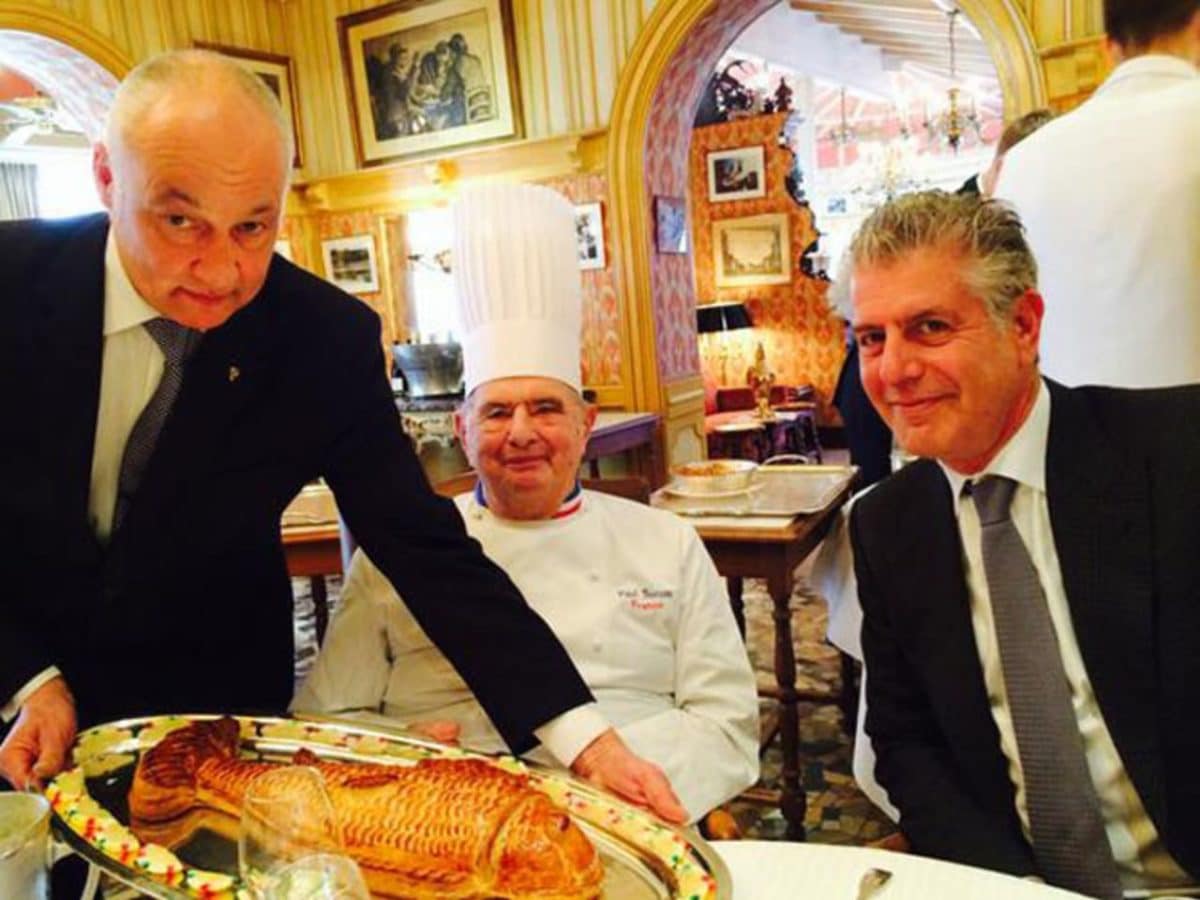 The gloriously tradition-bound culinary culture of Lyon held a decades-long fascination for Tony. He visited the city, in the company of chef (and native son) Daniel Boulud in 2014, eating well at every stop, which included an elementary school cafeteria, bouchons and bistros, a private hunting cabin, and one of the temples of Lyonnaise haute cuisine, Restaurant Paul Bocuse.
In the company of the late chef himself, he enjoyed a menu of classics, including black truffle soup VGE (named for former French president Valéry Giscard d'Estaing), whole seabass baked in a decorative crust with sauce Choron, and "the legendary lièvre à la royale," a dish of slowly-cooked wild hare coated by a sauce of its own minced heart, liver and lungs, that has been thickened with its own blood… the rich glorious sauce finished with truffles and chartreuse… absolutely the Lost Ark of the Covenant of cuisine ancienne.
Bún Bò Huế Kim Chau, Huế (Vietnam)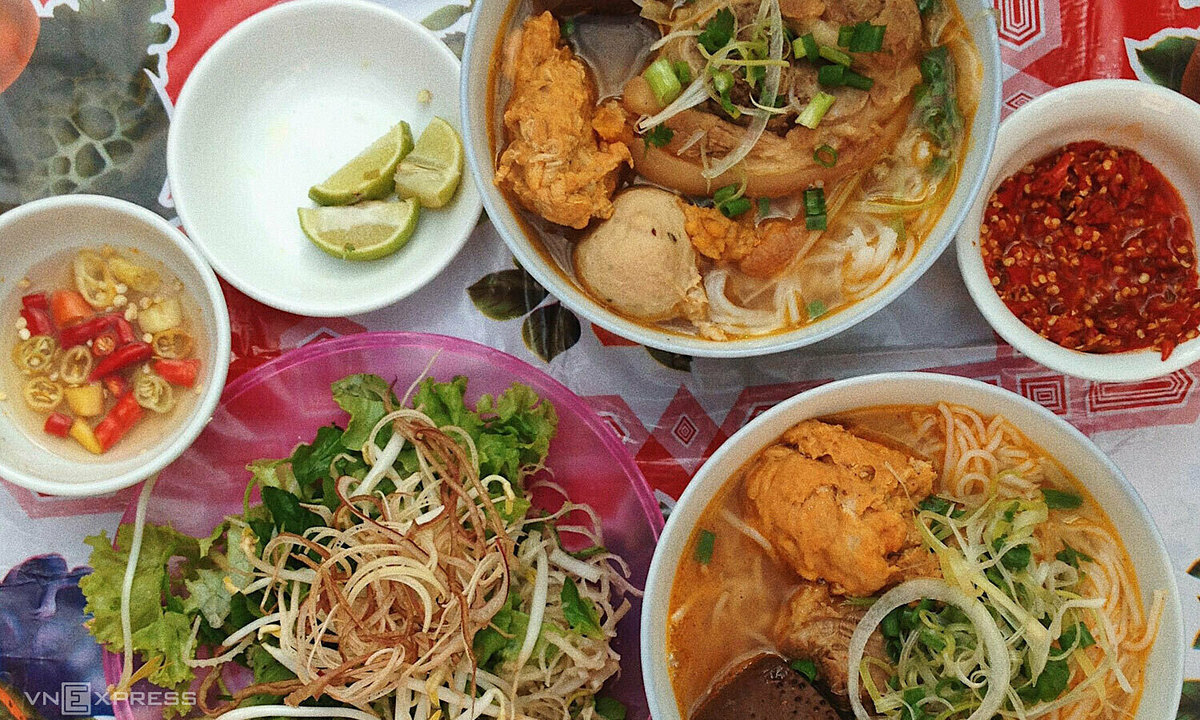 It took more than a decade of non-stop world travel with many return visits to Vietnam for Tony to finally make it to Huế, in the central region. Once the seat of imperial power for the Nguyễn dynasty, Huế remains a centre of Vietnamese intellectual, cultural, religious, and culinary importance. While Huế's cuisine is characterised by small, delicate, and visually striking presentations of steamed rice cakes and crepes stuffed with shrimp, pork, and vegetables, the dish that stole Tony's heart was the lusty bún bò Huế soup, specifically that served at Bún Bò Huế Kim Chau, in Dong Ba market.
"In the hierarchy of delicious, slurpy stuff in a bowl, bún bò Huế is at the very top," he said, while perched on a stool, enjoying a taste in the morning humidity. "An elaborate broth of mixed bones scented with lemongrass, spice, and fermented shrimp paste… rice noodles heaped with tender, slow-cooked beef shank, crabmeat dumplings, pig's foot, and huyet-blood cake. Garnished with lime wedge, cilantro, green onions, chilli sauce, shredded banana blossoms, and mung bean sprouts… the greatest soup in the world… as sophisticated and complex a bowl of food as any French restaurant. It really is just the top of the mountain."
Ganbara, San Sebastián (Spain)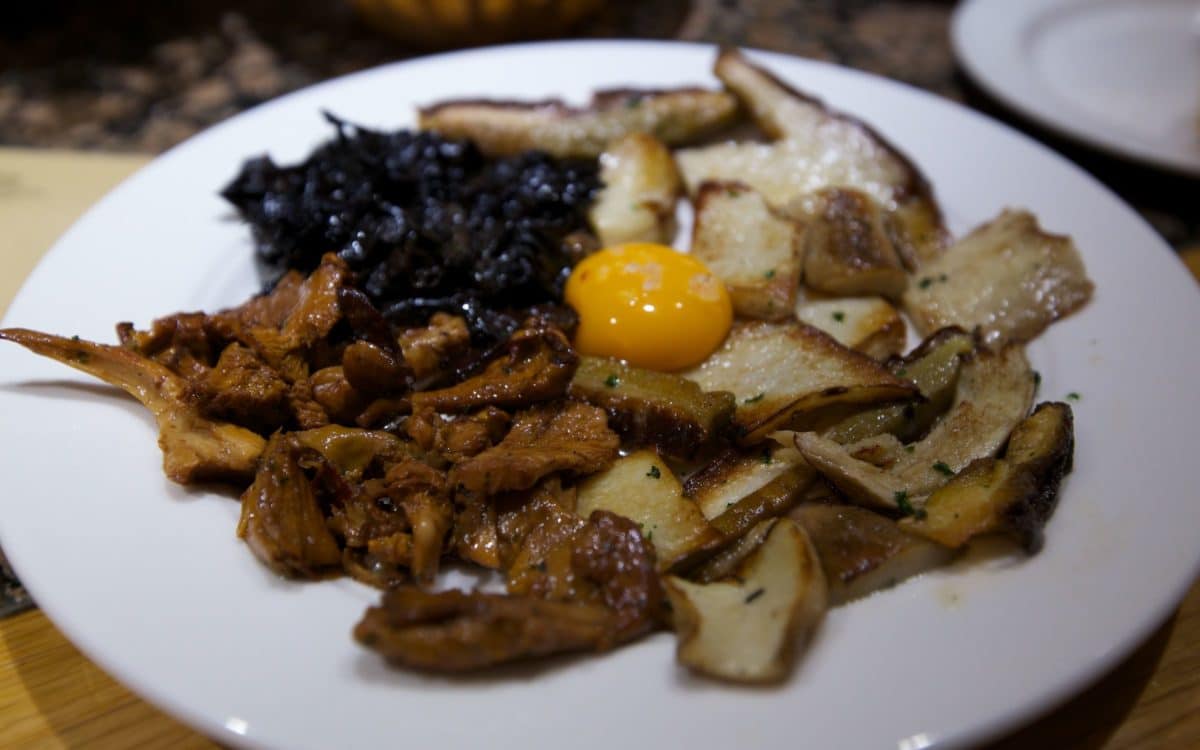 "We could make the argument," said Tony, in an episode of Parts Unknown, "That there's no better place to eat in Europe than the city of San Sebastián. There are more Michelin-starred restaurants per capita than anywhere on Earth. But even the everyday joints are superb. The love of food, the insistence on the very best ingredients, is fundamental to the culture, and to life here."
"I come here every time, like a heat-seeking missile," Tony said about Ganbara, the pintxos bar first introduced to him by Juan Mari and Elena Arzak, whom he considered a kind of second family. In a reverie that casts aside his reputation for always seeking out the new and obscure, Tony said about the place, "The house specialty, what they're most famous for, is the be-all and end-all for me: seared wild mushrooms and foie gras with a raw egg yolk over the top, to sizzle and commingle with the hot fungi."
Pastrami Queen, New York City (US)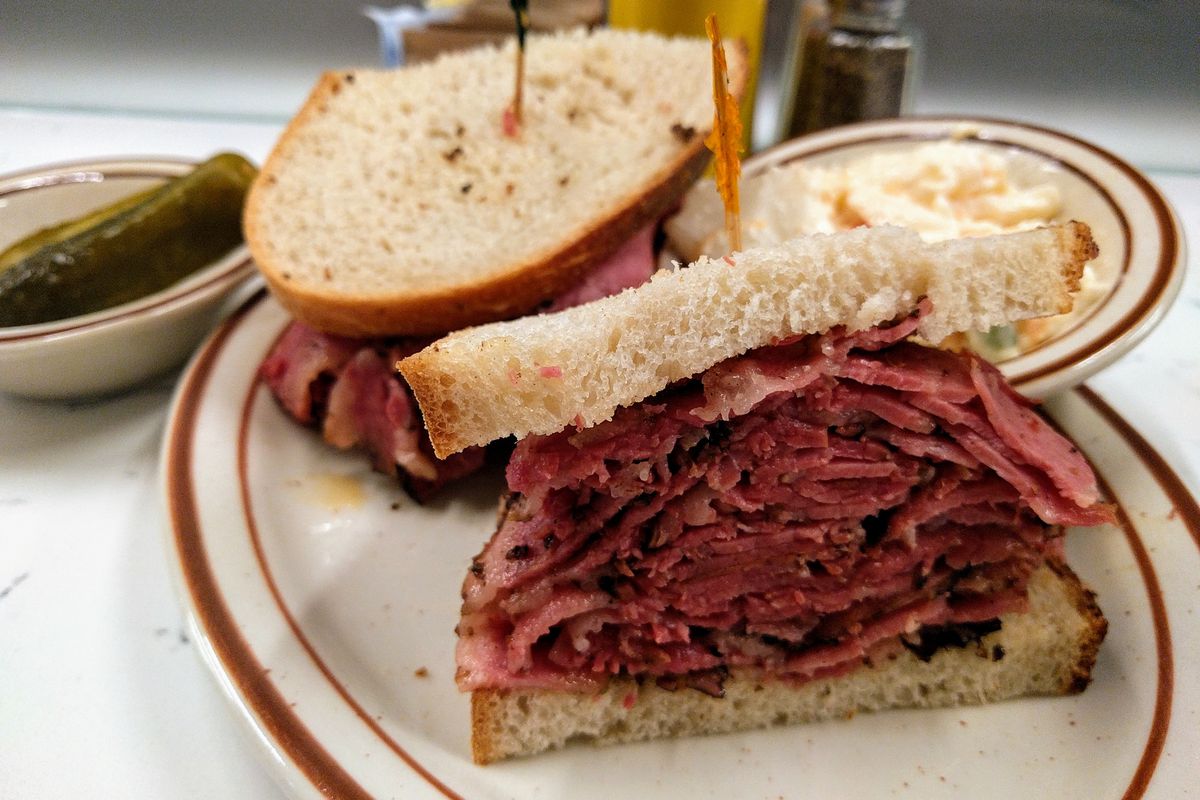 Arguably the culinary capital of the US, New York offers an awful lot of just about every type of food in the world, much of it made by people only recently arrived from everywhere else on the planet. A feature could be made from the places that Tony adored in New York, but for our purposes, let's focus on the endemically New York pleasure of Pastrami Queen, on the Upper East and West Sides of Manhattan.
When it comes to kosher-style dining, Katz's Deli and Barney Greengrass may be more famous and have a deeper history and lore in New York, but when speaking to Variety magazine about his home town favourites in 2017, Tony said, "The first thing I get when I'm back in New York is a pastrami sandwich. Pastrami Queen is a really good pastrami sandwich – if not the best, among the very best. Just a good, nice mix of fat and lean. It's the real deal, served warm on fresh, soft rye bread with the right kind of mustard… It's a quintessential New York meal for me."
RELATED: Sydney's Best Sandwich Shops For Those Office Lunch Cravings
You can read the original article penned by Laurie Woolever from which the above has been extracted here. For those of you who want to hear more, Woolever has also co-authored Bourdain's final book – World Travel: An Irreverent Guide – now available to purchase internationally. And be sure to check out the other favourite restaurants of Anthony Bourdain below (but be warned… it's hella lengthy).
Anthony Bourdain's Other Favourite Restaurants Around The World
Duly's Place (Detroit, US)
Recommendation: Coney Dog
"It seems like a simple thing. Hot dog, chili, raw onion, mustard, steamed bun. But the delicate interplay between these ingredients when done right is symphonic."
Five & Dime General Store (Santa Fe, US)
Recommendation: Frito Pie
"Contrary to the impression left by some reports of the show, I, in fact, very much enjoyed my Frito pie in spite of its disturbing weight in the hand. It may have felt like shit but was shockingly tasty."
La Tour Montlhéry – Chez Denise (Paris, France)
Recommendation: Blanquette de Veau
"A crowd of regulars dine happily on mammoth portions of blanquette de veau, calves liver Lyonnaise, escargots, and the like – still prepared the way they are supposed to be."
Joe's Kansas City Bar-B-Que (Kansas City, US)
Recommendation: Barbecue Ribs
"Here, the brisket and ribs are all of a quality that meets the high standards even of Kansas City natives. It's the best BBQ in Kansas City which makes it the best BBQ in the world."
Tadich Grill (San Francisco, US)
Recommendation: Cioppino
"The undisputed specialty here is the cioppino, a pleasant enough seafood and tomato stew."
Toriki Main (Shinagawa, Japan)
Recommendation: Yakitori
"For me, this is the best thing ever."
Restaurante Fernando (Macau, China)
Recommendation: Roast Suckling Pig & Chorizo
"This loud and fun Portuguese restaurant serves delicious roasted suckling pig, Portuguese chorizo, and grilled fresh sardines – all with homemade fries."
Di Fara Pizza (Brooklyn, US)
Recommendation: New York-Style Pizza
"The best of the best."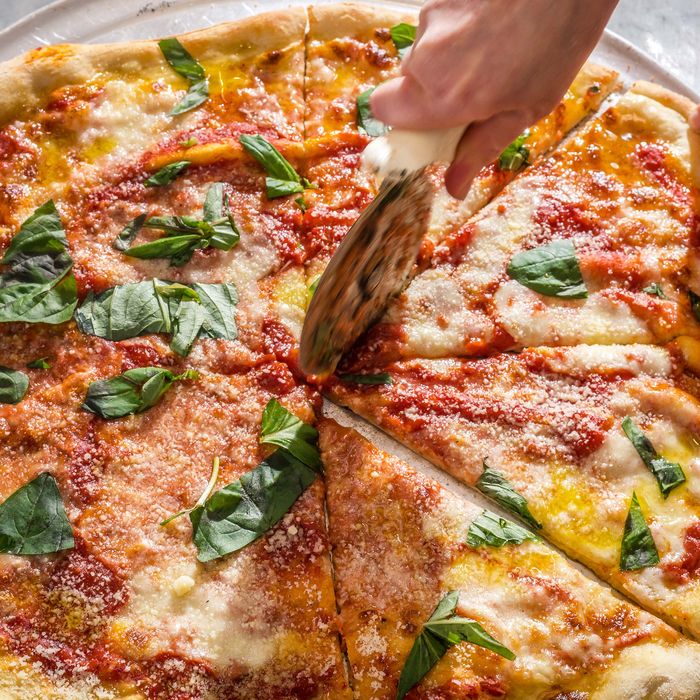 Minetta Tavern (New York City, US)
Recommendation: Burger
"The best, if priciest, burger in New York City is probably the black label burger at the Minetta Tavern. Getting in here, however, can be a challenge. Try early or late."
Shake Shack NYC (New York City, US)
Recommendation: Burger
"Hard to beat for price and for… well… quality. They are pretty much the benchmark."
Pizzarium Bonci (Rome, Italy)
Recommendation: Pizza al Taglio
"Tony has a cherry and foie gras pizza. Then tries raspberries with goat cheese. Then mozzarella with zucchini and anchovies. Leave your family, abandon your children, touch yourself. You know you want it."
La Ardosa (Madrid, Spain)
Recommendation: Tortilla de Patata
"The Ardosa is known for its Tortilla de Patatas, AKA a Spanish omelette."
Bistro Paul Bert (Paris, France)
Recommendation: Steak Frites
"Bistro Paul Bert boasts some of the best steak frites in town."
Cafe Atchafalaya (New Orleans, US)
Recommendation: Shrimp & Grits
"Consistency is a hallmark of their straightforward Creole menu, and the shrimp and grits are a standout."
Anticuchería Doña Pochita (Lince, Peru)
Recommendation: Anticucho de Corazon
"Our friend Coque brought us to this place, to Dona Pochita – a street stall named for the lady who runs the joint. They specialize in one thing. Anticuchos is Quechuan for skewered meat. This stuff, they say, goes back all the way to the Incas and was as immediately popular with the Spanish conquistadors as it is today. Which is to say, I must have some. Traditionally a mix of beef hearts and other animal hearts, marinated in garlic, cumin, and onion, maybe a little vinegar. Grill that up and pile it high. It does not get any better. Man, that's awesome. "
RELATED: The Best Asian-Fusion Restaurants In Sydney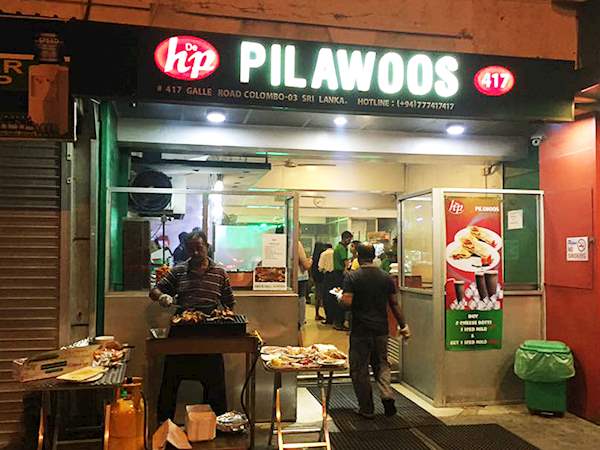 Hotel de Pilawoos (Colombo, Sri Lanka)
Recommendation: Kottu
"After a night of drinking, Sri Lankans head to this location for what is known as Kottu Rotti… a perfect hangover food."
Boucherie (New Orleans, US)
Recommendation: Bread Pudding
"Boucherie offers smartened-up versions of down-home cooking. They might be out of Krispy Kreme bread pudding by the time dessert rolls around, but you'll be too full to eat it anyway."
Willie Mae's Scotch House (New Orleans, US)
Recommendation: Red Beans & Rice
"They're the definition of something simple elevated to new heights."
Piece Brewery & Pizzeria (Chicago, US)
Recommendation: Chicago Thin Crust Pizza
"I had actual thin crust pizza. Really, really delicious. Thinner crust than most Italian pizza. It was just very good, wood-fired, non-deep-dish pizza."
Hot Sauce Williams (Cleveland, US)
Recommendation: Polish Boy
"That's a plate of love."
Al Convento (Cetara, Italy)
Recommendation: Spaghetti alla Puttanesca
"No puttana ever made this. Not even an escort."
Tacos Villa Corona (Los Angeles, US)
Recommendation: Breakfast Burrito
"Tacos Villa Corona is family owned and as good as you'd find in Mexico."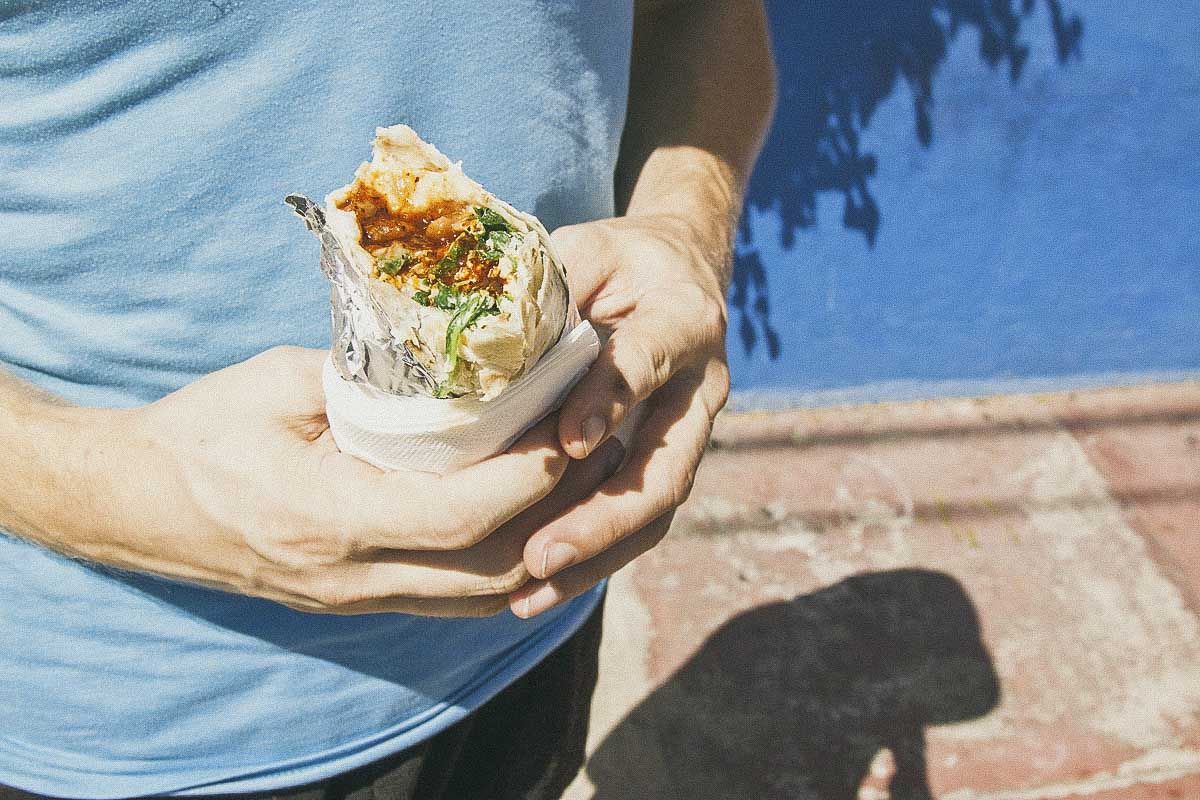 Nor Joe Import Company (Metairie, US)
Recommendation: Muffuletta
"Home to one of New Orleans' best muffalettas."
Verti Marte (New Orleans, US)
Recommendation: Muffuletta
"Take Verti Marte, for instance, a takeout deli in the French Quarter that's open 24 hours a day. So you call out for a bottle of bourbon, a muffuletta sandwich, and a carton of Parliaments at 4 AM, and they'll deliver."
Gelateria dei Gracchi (Rome, Italy)
Recommendation: Gelato
"Gelateria dei Gracchi in the Prati district is probably the best of the best."
Rogacki (Berlin, Germany)
Recommendation: Blutwurst
"This is some of the most beautiful food I've ever seen in my life. Oh that's great, all of the goodness squirting out of there. I could eat that all day long."
Lord Stow's Bakery (Macau, China)
Recommendation: Egg Tart
"This legendary bakery is best known for its world-famous egg tarts. Many other egg tart bakeries have popped up around Macau, but none can compare to Lord Stow's."
Salumi (Seattle US)
Recommendation: Porchetta Sandwich
"That is a holy place for me. I love that place. I've jokingly said, but I'm half serious it should be a UNESCO site. It should be a landmark."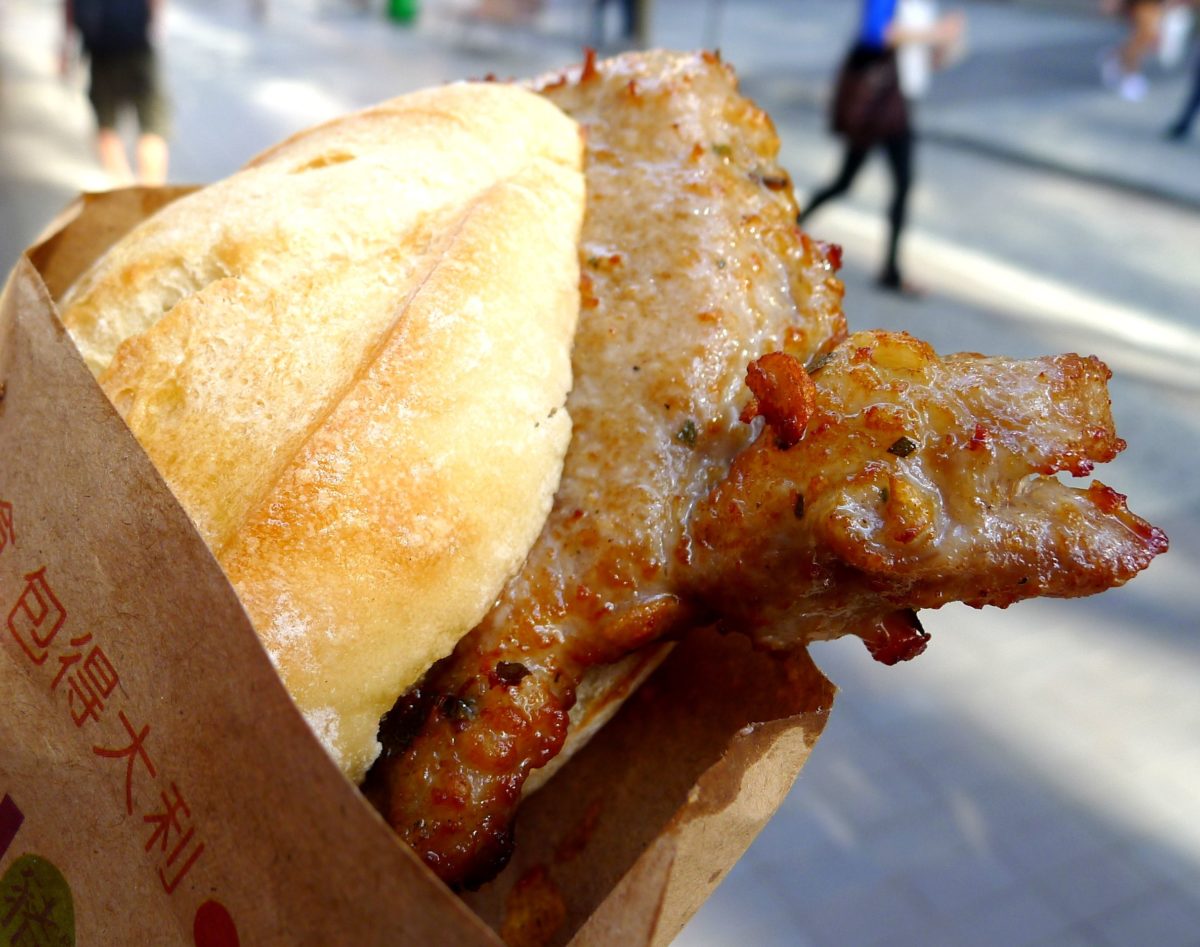 Tai Lei Loi Kei (Macau, China)
Recommendation: Pork Chop Bun
"There is usually a line around the corner from Tai Lei Loi Kei, but it's worth the wait. Tony tried a pork chop bun, which is… you guessed it… a deep-fried pork chop served in a bun."
Le Chef (Beirut, Lebanon)
Recommendation: Kibbeh & Hummus
"Best meal in Lebanon? A little neighbourhood place called Le Chef. Typical Lebanese staples, hummus, kibbeh, stewed lamb, and arak."
Bun Oc Pho Co (Hanoi, Vietnam)
Recommendation: Bún ốc
"I'm officially in Hanoi now. Mmm… magic! Spicy, wonderful broth with tomatoes, herbs, noodles, and fresh snails. Delicious!"
Bun Cha Huong Lien (Hanoi, Vietnam)
Recommendation: Bún chả
"A ballistic bowl of bún chả."
Banh Mi Phuong (Hoi An, Vietnam)
Recommendation: Bánh Mì
"That's a symphony in a sandwich. The baguette alone is something of a miracle: how do they stay so crunchy, crispy and fresh on the outside, and so airy and perfect in the inside?"
Vrauerei zur Malzmuhle (Cologne, Germany)
Recommendation: Himmel und Erde
"It's when the Himmel und Erde or Heaven and Earth hits the table that I start getting deep into my happy zone. That's blood sausage, fried onions, and mashed potatoes with applesauce – which if you don't like, by the way, pretty much removes you from my "will save from drowning" list."
Leaf Dessert (Hong Kong, China)
Recommendation: Wonton Noodles
"Leaf Dessert Noodle Shop is a hundred-year-old hold out in Central. Chris has been coming here for years, both to film and for this: Choi noodle soup for him and beef brisket noodles with Wonton for me. Oh, man. It's good too."
Mak's Noodles (Hong Kong, China)
Recommendation: Wonton Noodles
"Wish list of vendors for the major food market: beef brisket and shrimp wonton noodle soup from Mak's Noodle."
Akar Lokantası (Fatih, Turkey)
Recommendation: İşkembe çorbası
"So it's cow, cow foot, tripes. Man, this is just delicious."
Brauerei zur Malzmühle (Cologne, Germany)
Recommendation: Schweinshaxe
"And then, there's this. The dish that almost alone brought me back to Cologne. It was sweet, sweet memories of this stegosaurus sized shank of cured pork boiled and boiled until it literally falls away from the bone steaming and moist, a symphony of meat and gelatine and good, good stuff. God is hiding in there somewhere."
Kogi Truck (Los Angeles, US)
Recommendation: Tacos
"What's local and delicious, artisanal and authentic, and is iconic-ally LA as it gets? If you're Roy Choi, you see tacos. With the Kogi Truck, Roy Choi brought one of the first break mutation mash-ups of Korean and Mexican to the people. The Kogi taco: double caramelized Korean barbeque short rib on fresh corn tortilla, with salsa roja, cilantro onion-lime relish, cabbage Romain slaw, and a chili soy vinaigrette. Oh yes."
Dong Il Jang Restaurant (Los Angeles, US)
Recommendation: Bulgogi
"It's beautiful. Roast gui, thin sliced ribeye. And Bulgogi, thinly sliced fat marbled beef, barbecued tableside."
Swadesh (Los Angeles, US)
Recommendation: Tandoori Chicken & Somosa
"Here at Swadesh, step right in for Tandoori chicken & samosas. Just such aromatic, delicious food."
Beverly Soon Tofu Restaurant (Los Angeles, US)
Recommendation: Sundubu Jigae
"Soon tofu is the thing to get – a fiery, tongue-searing, ass-burning tofu soup that will make you forget every bad thing you ever thought about tofu. A spicy, spicy red broth of tofu are the base. We're talking soft tofu here, with the texture of, like, buratta. And from there you have a handful of variations but the most common is with kimchi with a bit of everything – beef, oysters, mussels, clams. Oh and tableside, they crack an egg in there!"
Jollibee (Los Angeles, US)
Recommendation: Halo-Halo
"Oh, yes, Halo-Halo. Dig deep and you hit delicious stratas of red beans, white beans, and chickpeas, cubes of red and green Jell-O, young white coconut, shaved ice, coconut, and is that flan? It makes no goddamn sense at all. I love it. Wow, there's so much I don't know."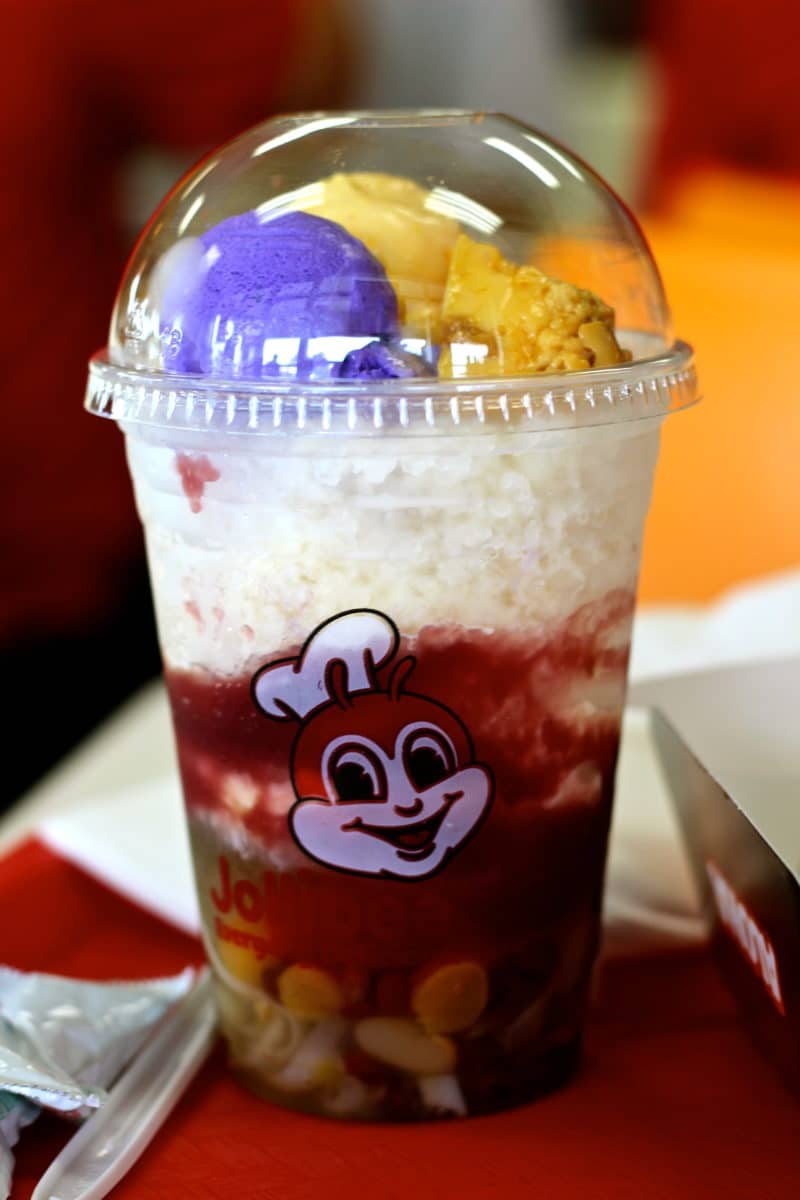 Tábula (Bogota, Colombia)
Recommendation: Ossobuco alla Milanese
"Tomas' take on Osso Bucco uses beef shank instead of veal which is braised over cubed vegetables, wine, and broth in a wood-fired oven. Delicious."
Chez Wong (Lima, Peru)
Recommendation: Ceviche Mixto
"The freshest fish only needs the right cut, a little citrus, and no heat. The whole place is served whatever menu he's doing that day, same for everybody. And today, the flounder he got from the market is particularly nice, so that's what we're getting. Generally thicker pieces to stand up to the spices acids. First up an octopus and flounder ceviche. It is good."
Restaurant Le Continental (Quebec, Canada)
Recommendation: Steak Tartare & Caesar Salad
"Le Continental is the kind of place about which I am unreservedly sentimental. Classic, unironic cuisine Ancienne meaning dishes you haven't seen since like forever. A hipster-free zone of French continental ocean liner classics such as beef tartare and Caesar salad prepared tableside as one must."
Le Saveur de Poisson (Tangier, Morocco)
Recommendation: Tanjine
"Tonight, baby shark, calamari, and monkfish with fresh mountain spinach. Slowly cooked over charcoal in the classic clay pot that gives it its name, the Tagine's dome top. It's supposed to force the condensation back into the dish and keep it moist and tender. That's delicious. With these greens and the aromatics and herbs, I have no idea what they are. I've never had anything like that. The Tangier version of farm to table."
El Tabernaculo (Granada, Spain)
Recommendation: Tapas
"This is Tabernaculo. As best I understand it's an eastern Jesus and Mary-themed drinking establishment, where between drinks one can ponder the agony of the Christ, but with sausages. This is one of my favourite things. Gaze away disapprovingly all you like, Jesus. I am happy now."
Taverna La Tana (Granada, Spain)
Recommendation: Tapas
"Yes. I could pretty much eat that all day long. That's right. Tapas are free. It shouldn't work, but somehow it does. Another drink, another tapa. Tomatoes, olive oil, bread."
Bar Gallardo (Granada, Spain)
Recommendation: Tapas
"Finally, Bar Gallardo. Just make it before closing. Now let's be honest, we've had a lot to eat and drink at this point. Some restraint needs to be shown. Baby lamb chops. These are super good."
Restaurante Oliver (Granada, Spain)
Recommendation: Tapas
"Oliver. This place is always packed. Beer, please! And with it comes a delightful tapa of mussels steamed in butter and olive oil."
RELATED: The 10 Best Italian Restaurants In Melbourne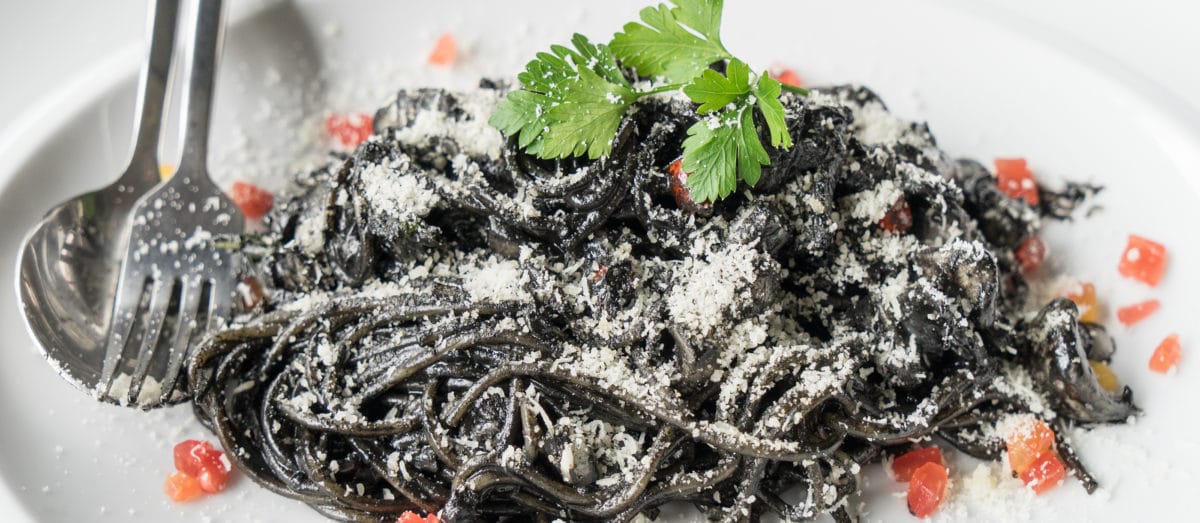 Piccolo Napoli (Palermo, Italy)
Recommendation: Spaghetti al Nero di Seppie
"This is what I've been waiting for. This is what I wanted Sicily to be, something to soothe my shattered soul. It doesn't take much: a bowl of good pasta. In this case the famous spaghetti al nero di seppie, spaghetti, and cuttlefish. Oh, beautiful. Perfect. Perfect pasta. Very happy with that."
John's Hotdog Deli (Copenhagen, Denmark)
Recommendation: Pølser
"There was a famous Danish national late-night dish. That's a classic one. All my happiest moments seem to revolve around meat in two forms. That's superb. It's really good. Come to Copenhagen, NOMA for lunch, John's for dinner."
Yasuda (Minato, Japan)
Recommendation: Sushi
"He does not buy the ridiculously expensive Otoro – the fatty belly meat of the bluefin tuna that people have been known to pay hundreds of dollars a pound for. Instead, he buys tuna from the heads, using his knife skills to go for qualities that most others miss, removing every bit of sinew from what would otherwise be a difficult piece of meat. In total, it's, well, perfect."
Mahakala (Meguro, Japan)
Recommendation: Okonomiyaki & Kushiage
"We also have to have their take on okonomiyaki, a type of egg batter pancake which can be filled with many things. For us, it's squid and brushed with Worcestershire sauce. Wow. That's awesome. Love this dish."
"They don't serve high-end sushi here or elaborate Kaiseki inspired fare. It's almost like hipster tempura. This style of food is known as Kushiage. Skewers of delicious things dipped in batter and fried. Perfect. Yasuda-san orders up shrimp and basil, lotus root, octopus, and pickled quail eggs.
Don Carlos (Buenos Aires, Argentina)
Recommendation: Parrilla
"There are gods here besides tango and football or soccer as we call it. There is beef. That's fantastic. Man, I love this place already."
Princess Victoria (Hammersmith & Fulham, England)
Recommendation: Scotch Eggs
"Soft boiled egg wrapped in minced pork than rolled in breadcrumbs. And what? Deep fried. It's like a supernova of unhealthiness and deliciousness. Who invented this? It's just fiendish. These are really good."
Nonô – O rei do caldo de mocotó (Belo Horizonte, Brazil)
Recommendation: Mocotó
"Mocotó is the ultimate in broke-ass, drunk-ass peasant food. Slow-cooked cow's foot and/or other bits, tender and tasty, and believe me, one of my favourites — especially at this hour. We opt for the elite version with a raw quail egg because need I remind you of my confirmed record of egg-sluttery? Wow, nice! It's like a greatest thing ever!"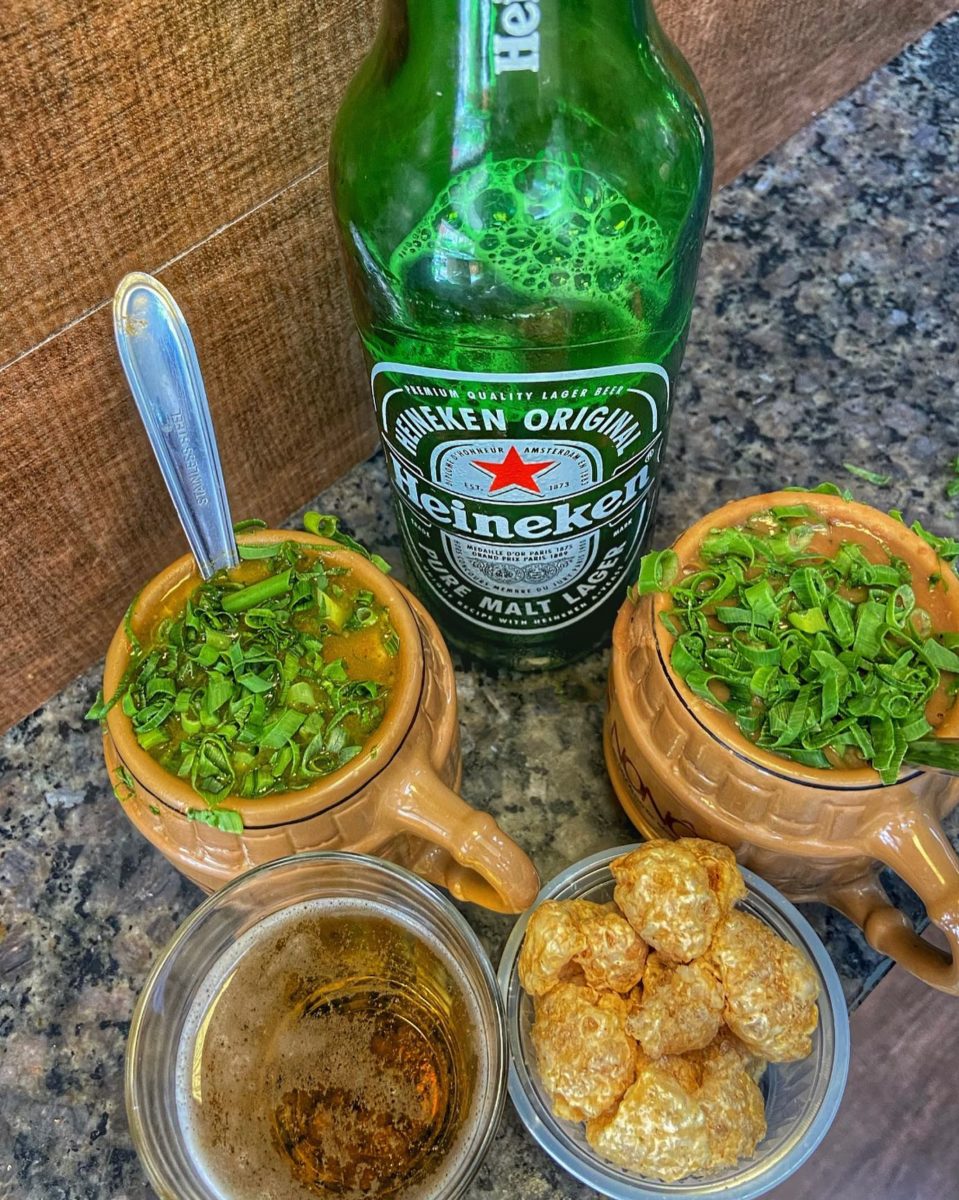 Rochelle Canteen (Hackney, England)
Recommendation: Vitello Tonnato
"Vitello tonnato – cold roasted veal thinly sliced and covered with a creamy sauce of tuna and capers. Oh, this looks good! Mmm."
Ginza Sushiko Honten (CHŪŌ, Japan)
Recommendation: Sushi
"Anago or sea eel – a handroll in fresh crackling seaweed. Oh man! Wow!"
Yamanoo (Kanazawa, Japan)
Recommendation: Kaiseki
"Owned and run by four generations within the same family, Yamanoo is a traditional Kaiseki restaurant that dates back to 1890. Kaiseki is a multi-course meal with an entirely new menu presented every few weeks, in response to the changing seasons and the seasonality of the products available in the region. Everything is considered. The taste, of course, how the best prepare a particular fish or plant at its very peak, presentation, even a ceramic dishes on which each dish is served changes constantly, leaves, flowers, elements from nature evoke the season. This was awesome!"
Xiao Ming Tang Dan Dan Tian Shui Mian (Chengdu, China)
Recommendation: Dan Dan Noodles
"Noodles, that's where you should start around here. Chengdu is famous for little spots like this. Dan Dan Tian Shui Mian, named after a much-beloved Chengdu noodle snack. Oh, yeah. That's awesome."
Yu Zhi Lan (Chengdu, China)
Recommendation: Kaiseki
"The meal begins, a large array of cold dishes are laid out. Delicate flavours like lily buds scented with rose petals are presented alongside more assertive tastes like thinly sliced braised beef shank with chili oil, tea tree mushrooms blanched and lightly stir-fried, with Chinese stem lettuce. Those mushrooms are amazing."
Tian Tian Fan Dian (Chengdu, China)
Recommendation: Mapo Doufu
"Look at that man, that is some goodness right there. Oh, that's so good. It's a perfect balance of stuff going on in here. I just love, love, love this dish."
Haji Kadir & M Baharudeen Sup Tulang (Singapore)
Recommendation: Soup Tulang
"For lunch, I found myself clumsily manhandling a sticky, slippery yet utterly wonderful heap of sauce-dripping bones, all the while wishing I'd wrapped myself in a dropcloth."
Sin Huat Seafood (Singapore)
Recommendation: Crab Bee Hoon
"The crab bee hoon – giant Sri Lankan beasts cooked with a spicy mystery sauce and noodles – is pure messy indulgence."
Related: Salt Bae Restaurant Prices Have Shocked The Internet (Again)