Catch Restaurant West Hollywood Los Angeles CA Reviews | GAYOT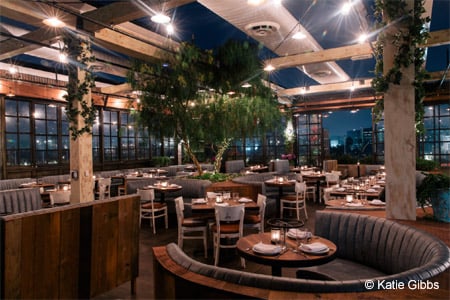 Catch Restaurant Review:
About the restaurant: New York import Catch has maintained its trendy, à la mode reputation since making its debut on the West Hollywood dining scene — so much so that traffic cones section off part of Melrose Avenue for valet service, and there's usually a pack of paparazzi out front waiting for an A-lister to arrive or depart. The seafood spot's name is likely intended to bring to mind the "catch of the day," but serious gourmands might rather associate it with Catch-22, a no-win situation. The focus here is less on the food and more on the décor, the scene and drinks. The rooftop space, filled with lots of green plants and vines, features a bar, booths and tables inside, as well as a high-in-demand terrace with a retractable roof and great views of the Pacific Design Center.
Likes: That would be if you're going for the hype and cocktails.

Dislikes: More attention should be paid to the food. It can be tough to get in unless you have status.
About the (dull) food: Starters skip around from seafood towers to ceviche to sushi rolls to mahi mahi wonton tacos. The skewers (chicken meatball, filet, eggplant or corn) bring a bit of fun to the table. Among the entrées are "simply cooked" seafood options of seared tuna, grilled swordfish and salmon a la plancha, plus larger platters of crispy whole snapper, 2.5-pound lobster or king crab for sharing. If you don't care for fish, and you've just won the lottery, indulge in the A5 Japanese Miyazaki Wagyu (priced at $26 per ounce) cooked tableside on a hot stone; otherwise, opt for the whole roasted rack of lamb. Sides of lobster mashed potatoes and Parmesan-truffle fries are ordered à la carte. There is also a section of the menu that highlights the vegan dishes. Most people can't resist ordering the "Hit Me" chocolate cake, in which the chocolate shell of a Klondike-style bar is broken with a spoon to unleash gooey white chocolate ice cream. We don't mind the gimmick so much as the hashtag prompt "#hitme" appearing on the plate. (Are you there to eat or post on social media?) The wine list is primarily populated by bottles from California, France and Italy, but you'll also find a few saké selections. Cocktails put a spin on classics like the Negroni and Manhattan.