Delicious Restaurant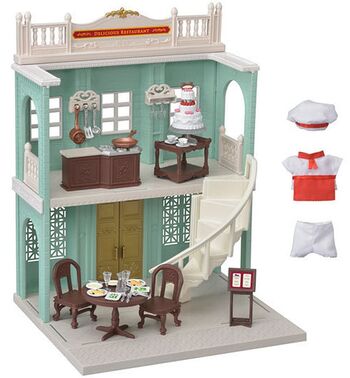 Data
Distributor:
Epoch
Item Number:
6018
Release year:
?
Area:
?
Delicious Restaurant – playset.
Description
[
]
Welcome to the Delicious Restaurant which serves the finest food in the Sylvanian Town. This beautifully designed building has a spiral staircase, colourful awnings and a whole host of furniture and accessories – even an outfit for your executive chef to wear! The kitchen furniture and pans are decorated with a beautiful rose motif, and just wait until you see what's on the dessert trolley! This new bistro is the perfect place to end your day in town, or stop off for a restorative lunch during your busy day out shopping. Why not come on in and check out the menu?
The Chocolate Rabbit father is the chef. Set the fences, aisle, staircase, and awnings as you like, to make your very own restaurant. The set includes everything you need for a restaurant: kitchen unit, kitchenware, table and chairs, wagon, tableware, and even a chef's outfit. The gorgeous three-layered cake is perfect for parties.
You can create your own townscape by combining this product with other buildings in the Town series, such as the Grand Department Store, Designer Studio, and Creamy Gelato Shop. You can also customise your building by replacing the windows, fences, and awnings included with the building.
Figures
[
]
None.
Accessories
[
]
The set includes restaurant building, spiral staircase, aisle board, ceiling board, wall rack A, wall rack B, fence A x2, fence B, menu display stand, table, chairs x2, awning (S) x3, awning (L), kitchen stove, wagon, cake, decorated plate, frying pan, saucepan, spatula, ladle, cake stand, glass x 2, water glass x2, decanter, appetiser x2, soup x2, main dish x2, knife x2, fork (S) x2, fork (L) x2, soup spoon x2, spoon x2, saucer x2, cup x2, chef hat, chef shirt, chef pants (total 54 pieces).

Gallery
[
]