The 50 best restaurants in NYC right now – Time Out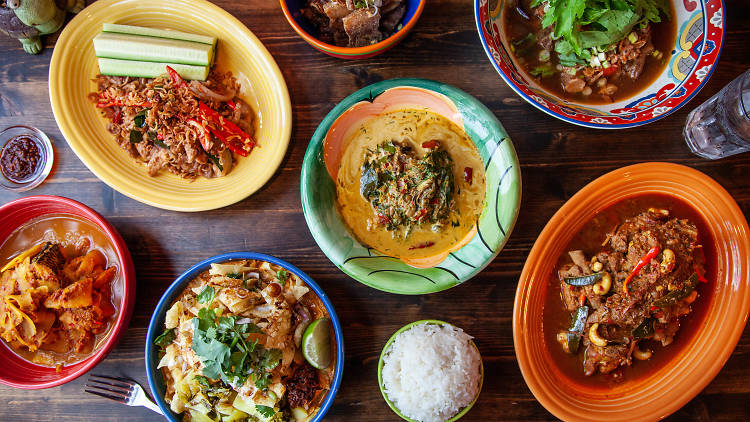 You are reading the article on the topic The 50 best restaurants in NYC right now – Time Out if you need more information please read the article where to eat near me hope to have a lot of useful knowledge for you.
The 50 best restaurants in NYC right now – Time Out
The 50 best restaurants in NYC right now: October 2022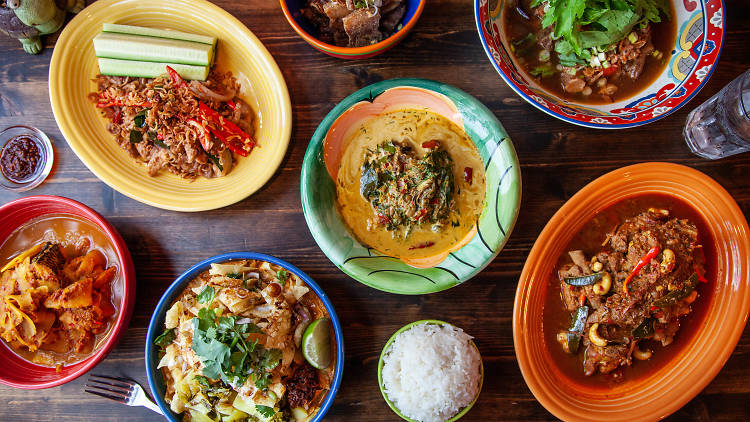 Including dazzling newcomers and erstwhile favorites.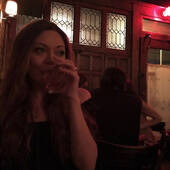 Choosing a favorite restaurant in New York City is a joyful task with myriad possibilities depending on the occasion, mood and even the time of year. Your favorite dive, fine dining destination and 'any night' type of place might all occupy top spots on your personal best list in spite of their disparate qualities. 
Our list of NYC's 50 best restaurants is the same, spanning each of those categories and more to comprise a catalogue of all the places we wish we were at right now. They don't have to be the newest or the most recently reviewed, just places that we want to return to again and again, and that we think that you will, too. 
Note: Many of the city's best chefs, restaurants and concepts have been welcomed into the Time Out Market. Because that is the highest honor we can award, establishments related to the market have not been ranked here, but you can see them below. 
RECOMMENDED: NYC's best bars Time Out Market New York
We really like eating around the city, and we're guessing you do, too. So lucky for all of us, we've packed some of our favorite restaurants under one roof at Time Out Market New York. The Dumbo location at Empire Stores has fried chicken from Jacob's Pickles, pizza from Fornino, inventive ice cream flavors from Sugar Hill Creamery and more sensational spots sprawling across two floors with dazzling views of the East River, Brooklyn Bridge and Manhattan skyline. 
Best restaurants in NYC
1.

 Kochi

What is it? Per se alum chef Sungchul Shim's $135 nine-course tasting of skewers inspired by Korean royal court cuisine. A sool pairing is also available for $95. Kochi first opened in 2019 and was recently awarded a Michelin star. Shim followed its success with five-star restaurant Mari late last year, which also collected a sparkler in 2022. 

Why We Love it? Ordering everything on the menu is usually relegated to daydreams, but at Kochi, it's possible. Courses include items like charcoal grilled Spanish mackerel and braised short rib. 
2.

 Crown Shy

What is it? This 2019 opening was longtime chef de cuisine at Michelin-starred Eleven Madison Park James Kent's first solo venture. Crown Shy still turns out excellent food and beautiful cocktails in an elegant environment that's equal parts special occasion destination and nicer-than-normal evening whim. Its upstairs neighbor Overstory is also sensational for drinks with a view after dinner.

Why we love it? Crown Shy feels important without being intimidating. It's a this-must-be-the-place kind of spot that manages to remain warm and inviting. We're especially fond of the gruyère fritters, roasted short rib, and regally garnished Crown cocktails. 
3.

 Dhamaka

What is it? NYC's dazzling best new restaurant of 2021 with dishes seldom seen on local menus. 

Why we love it? The unstoppable Unapologetic Foods team spotlights what they refer to as "the forgotten side of India," including gurda kapoora (goat kidney, testicles, red onion and pao) doh khleh (pork with lime, cilantro, onion and ginger) and champaran meat (mutton, garlic, red chili). The group has continued opening new venues since Dhamaka, including Rowdy Rooster, which serves the best new fried chicken sandwich in NYC. See its coming attractions on our list of the most anticipated restaurant openings of fall, 2022. 
4.

 Gage & Tollner

What is it? Long the stuff of legend, Gage & Tollner had a previous iteration as one of Brooklyn's most glittering restaurants before its gilded space ceased operation in 2004 after more than a century. A trio of Brooklyn hospitality pros got to work reviving it a baker's dozen years later and, after a pause in 2020, Gage & Tollner is finally open for business once more.

Why we love it? Gage & Tollner's previous projected opening date of March 15, 2020 was plenty buzzy back then, and the wait only further tickled anticipation. The space is as lovely as we thought it would be, with hearty, decadent menu offerings repete with occasional throwbacks. Bar seats are reserved for walk-ins, which makes getting in a tick easier. Check out Sunken Harbor Club upstairs, too, if you get the chance.
5.

 Rezdôra

What is it? After a turn at Osteria Francescana in Modena, Italy, which was ranked 2018's best restaurant in the world, chef Stefano Secchi went on to open one of NYC's best restaurants the following year. 

Why we love it? Dinner at Rezdôra feels like a new culinary experience even for people who grew up on pasta night. Individual plates are available, but its $98 regional pasta tasting is an exciting tour of the restaurant's best. Prime time reservations are still tough to acquire, but you should be able to ease in for weekday lunch. 
6.

 Atoboy

What is it? Chef Junghyun Park's array of modern Korean small plates are presented in five courses for a set price of $75. Fried chicken with spicy peanut sauce and gochujang sauce is available as an add-on for $27. 

Why we love it? Tasting menus are one of the best ways to sample as much as possible, but some are too rigid and prohibitively expensive. Park's prix-fixe is more affordable than most, and you'll get to choose from a few options for most courses. 
7.

 Gramercy Tavern

What is it? An NYC classic you can dress up or down(ish).

Why we love it? Big night out atmosphere crackles in the dining room in the back and the tavern space up front, with a bar that that feels like the place to be. The dining room's $165 five-course tasting, which presently includes marinated fluke, swordfish and a roasted duck breast, is splendid for a splurge, or you can order à la carte in the (also lovely) tavern section, where every main is $38 or less. 
8.

 Sushi Nakazawa

What is it? Incredible omakase from Jiro Dreams of Sushi's chef Daisuke Nakazawa.

Why we love it? This city's full of expensive omakase, and Sushi Nakazawa has all the exquisite quality and reverent ambiance of its tip-top price peers for a slightly less account-clearing sum. It is not unexpected to see $300+ chef's selections at NYC's best sushi restaurants, but reservations at Nakazawa's counter are $180 for about 20 palate-changing courses like fatty tuna, sea urchin and yellowtail. It's $150 in the peaceful dining room, and perfect sake pairings are $90. Nakazawa followed his eponymous first spot with Saito this past summer. 
9.

 Ugly Baby

What is it? Booming on Smith Street in Carroll Gardens since 2017, Ugly Baby is a Thai restaurant that will test the limits of your heat tolerance. Fiery flavors abound in the "stay-away spicy Udon Thani's duck salad," and orders of soothing tue ka ko will slake any palate flames. 

Why we love it? Ugly Baby's use of spice is a master class in heat notable to aficionados and novices alike. Like a lot of the city's best restaurants, the wait for tables can be long, but items also hold up well for take out and delivery. It also recently began accepting reservations. 
10.

 Oxomoco

What is it? Michelin-starred Oxomoco (from the team behind Speedy Romeo) focuses on wood-fired dishes. Taco options include beet "chorizo," fish and lamb varieties.

Why we love it? The food is serious and the atmosphere is buoyant and the whole place is a lot of fun. Case in point: Oxomoco has frozen drinks on its cocktail list, which many restaurants of this caliber can't even. 
11.

 Olmsted

What is it? An accolade-collecting combination of special occasion destination and neighborhood restaurant with a focus on seasonality. 

Why we love it? Olmstead's expertly authored and executed menu has always had apparent notes of fine dining at lower prices, which presently max out at $38 for the tamarind smoked duck breast. These mild fall days are also a delightful time to enjoy Olmsted's garden. 
12.

 Van Da

What is it? A Vietnamese restaurant that lit up the neighborhood when it first opened in 2019 and earned notices like a star in the New York Times and a Michelin Bib Gourmand nod in short order. 

Why We Love it? Van Da still has some items from its opening menu—a good thing since it was never easy to nab a table. Early hits like the short rib grilled cheese with a shot of pho, shaking beef and shrimp and pork tapioca dumplings are as wonderful to return to as they are to taste for the first time. 
13.

 Leland Eating and Drinking House

What is it? A charming neighborhood restaurant on a quaint corner that you might find yourself unexpectedly going out of your way to return to.

Why we love it? A relatively small menu actually allows for myriad combinations, visit after visit. We expect to try them all some day, once we can resist the temptation of Leland's trout rillette, charred lemon skillet mussels and whole fried fish. The kitchen also turns out some of the best bread you'll find in or out of NYC's finest bakeries. 
14.

 Cadence

What is it? A vegan soul food restaurant led by executive chef Shenarri Freeman that recently relocated from a slip of an address to a new, 80-seat space nearby. Cadence is part of Overthrow Hospitality's group of NYC plant-based restaurants. 

Why we love it? Freeman's menu is a list of hits like the rich, expertly-textured grits and excellent hearts of palm cakes. The southern-fried lasagna with pine nut ricotta, spinach and a red wine Beyond Meat bolognese is a can't-miss dish.
15.

 Dirt Candy

What is it? Chef Amanda Cohen's Dirt Candy was dishing out creative, satisfying, wildly popular vegetarian food before going plant-based became headline news. 

Why we love it? Cohen's prix-fixe changes seasonally, so there's always a reason to come back. The present, $95, five-course menu includes preparations of artichokes and sunchokes, mushrooms, kale, bell peppers and mustard greens. 
16.

 Rangoon

What is it? What began as a Burmese cuisine pop-up by chef Myo Moe in 2015 became a brick-and-mortar restaurant in 2020. 

Why we love it? Rangoon's southeast Asian cuisine is less commonly seen in NYC, and Moe's menu displays a nice array. Vibrant dishes like lemongrass fish noodle soup and tamarind pumpkin stew are served in the bright, sleek space. Its email list also includes special offers with surprising frequency. 
17.

 Elias Corner

What is it? A familial seafood spot on a cozy Queens corner.

Why we love it? If you know anything about Elias Corner for Fish, you know that the decades-old local favorite eschews menus in favor of a catch of the day display case. Choose from whole fish, octopus, bivalves and other fantastic sea fare. There's a nice, breezy side deck in addition to Elias' homey dining room. 
18.

 Pata Paplean

What is it? Now in its tenth year, this is a cozy noodle bowl destinarion (we'd recommend the boat variety) where you're sure to be satisfied.

Why we love it? These noodle soups are so fine you'll still want to seek them in the summer, but peak soup season is on its way. Colorful cocktails will cool you down when temperatures rise above the broth. 
19.

 Bâtard

What is it? "Modern European" tasting menus that approach fine dining expectations. 

Why we love it? Fine dining has become so expensive in NYC that many entries in the category defy everyday, weekend, and even special occasion recommendation. Bâtard's two, three and four course dinner options (for $79, $95 and $105) hover under fine dining's often unspeakable price point while maintaining culinary elegance on the plate and aesthetic grace in the space.
20.

 Lillo

What is it? Excellent neighborhood pasta worth visiting in spite of its caveats. 

Why we love it? Maybe it's because we first started visiting when Lillo still had a de facto BYOB policy and before it became almost impenetrably popular, but we keep recommending this tiny pasta shop even though it doesn't have booze, a bathroom, hardly any seats or take credit cards. We're just so fond of Lillo's no-nonsense meatballs, fettuccine with speck and zucchini, branzino, broccoli rabe and lasagna, that we're willing to wait for one of it's smattering of tables and pay cash for the pleasure. Head to Henry Public next door for great drinks after dinner.
21.

 Cote

What is it? A stylish Korean barbecue/steakhouse that's among the best in both categories. Cote is cozy for date night and fun for larger groups. 

Why we love it? Watching beautiful cuts of meat cook right at your table is a satisfying way to spend an evening, and Michelin-starred Cote is a particularly stylish place to do so.
22.

 Bo Ky

What is it? Bo Ky's menu is one of few specializing in Chaoshan region cuisine. Its noodle menu is long, and you'll find roasted duck and rice dishes too.

Why we love it? Bo Ky is not only one the most comprehensive, but also one of the best noodle shops in the city, and it performs above its dollar sign designation. 
23.

 Sofreh

What is it? One of NYC's few Persian restaurants where plates like roasted eggplant dip, beef kebab and rosewater sorbet shine bright. 

Why we love it? The Prospect Heights favorite is one of the best and only representations of Persian cuisine in town. Sofreh's lengthy cocktail list is also unlike most others in the area.
24.

 Di Fara Pizza

What is it? A favorite among favorites in a city with plenty of pizza. 

Why we love it? Ask any new or old pizza-maker about their inspiration, touchpoint, or simply their favorite pie, and Di Fara, which dates back to 1965, will come up again and again. Toppings include all the hits–sausage, pepperoni, mushrooms and so on–in addition to extras like soppressata, broccoli rabe and artichokes all atop thin, crispy crust.
25.

 Hometown Bar-B-Que

What is it? NYC's best barbecue destination. 

Why we love it? Hometown is in top form after nearly a decade in operation. Lines still form and stretch all the way out the door for ribs, pulled pork, towering sandwiches and nice sides. It also has even more space to accommodate the crowds than when it first opened, both inside the warehouse-sized dual dining areas (each with its own bar), and outside at a multitude of picnic tables.  
26.

 The Freakin Rican

What is it? What first came into existence as a street fair staple, executive chef/owner Derick López's The Freakin Rican gained critical acclaim shortly after going brick and mortar. 

Why we love it? The plantain and pork pasteles alone are worth the trip to Astoria if you aren't a local.
27.

 Usha Foods

What is it? A vegetarian Indian food destination in Queens specializing in fast casual bites, savory snacks and colorful desserts. 

Why we love it? Generous portions and myriad combo platter options that let you try almost everything in just a few visits make this one of the borough's highest-ranking meatless options.
28.

 Bunna Cafe

What is it? A vegetarian Etheopian go-to with an abundance of items like red lentils in berbere sauce, ground split peas simmered with tomato and sautéed crimini mushrooms. Cool the heat of spicier bites with a bit of injera.

Why we love it? Individual orders are like a mini buffet. And Bunna's sharable quality makes it a delightful date spot.
29.

 White Bear

What is it? Dumpling aficionados trek to this tiny eatery specifically for the No. 6: A dozen pork wontons doused in roasted chili oil and topped with a smattering of diced pickled vegetables all served on a Styrofoam plate. There are oodles of other menu items, but this is the one that keeps people coming back time and again. 

Why we love it? These are destination dumplings in a city with no shortage of options. 
30.

 Charles Pan-Fried Chicken

James Beard-nominated chef Charles Gabriel's sensational fried chicken is back at a new location on the Upper West Side after a brief pause in operations. That top-notch bird is still available, in addition to pulled pork, barbecue chicken, smoked ribs and sensational sides. 
31.

 Via Carota

What is it? This cozy Italian restaurant, run by the chef power couple of Jody Williams and Rita Sodi, is a rustic, sophisticated and heart-swelling gem.

Why we love it? The simple food—towering insalata verde, hearty chopped steak and any of the soul-satisfying pastas—makes this Village favorite a place where everyone wants to be a regular.
32.

 Ho Foods

What is it? Al-dente noodles and braised beef swirl in bowls of slow-cooked broth, and it's easy to want to sip it all in seconds. Instead, try to savor each bite alongside plates of pork belly radish cakes.

Why we love it? Wait times can drag on, but it feels like a prize when you've landed one of the city's best bowls of Taiwanese beef noodle soup.
33.

 A&A Bake and Doubles

What is it? This small, stellar Caribbean joint in Bed-Stuy has three specialties: Bake, doubles and roti. The first is a handheld fried-dough bun stuffed with salt fish or fried sand shark and topped with a tangy-sweet tamarind sauce.

Why we love it? Doubles are the real hit. The Trinidadian snacks, which start at $2-a-pop, envelop fillings like a savory potato-channa curry in bara. 
34.

 Tanoreen

What is it? This Middle Eastern destination in Bay Ridge has been a standard-bearer in its category since 1998. Palestinian-born chef-owner Rawia Bishara deftly captures the flavors of her Nazareth childhood—charring eggplants in charcoal, rolling out pita, hand-making savory yogurt. 

Why we love it? Tanoreen's staying power alone is evidence of its excellence, and it comes up often when you ask locals for restaurant recommendations. Try the variety of silky spreads like lemony labna and smoky baba ganoush.
35.

 Com Tam Ninh Kieu

What is it? A pair of previous Hanoi House staffers took over this neighborhood spot and gave the menu a few updates while staying true to the kitchen's comforting Vietnamese recipes.

Why we love it? There's a share of great Vietnamese restaurants in NYC, but not a ton of traditional dishes. Com Tam Ninh Kieu has a more homestyle version of the Southeast Asian cuisine in an area was once an enclave of New York's Vietnamese population.
36.

 Teranga

What is it? Chef Pierre Thiam first opened this West African fast-casual concept at Harlem's Africa Center in 2019. 

Why we love it? The counter service space is roomy and comfortable inside and out at its sidewalk seats. Many of Teranga's bowls are gluten free and/or vegan, and options like grilled chicken and roasted salmon are also available. 
37.

 Raoul's

What is it? Soho's most West Village-esque restaurant with Alsatian flair

Why we love it? Raoul's romance feels thrillingly incidental; like a place that you and an as-yet affectionate associate can accidentally stumble upon and fall in love. The dining room's a little moody, its art's a little nudie and these rhymes must end now but the steak here is quite good. You can also get oysters, of course, and tartare, foie gras, moules frites and roast chicken. Even confirmed cocktail devotees will be tempted by Raoul's deep French reds. 
38.

 Sushi 35 West

What is it? A tiny, two table spot owned and operated by chefs from some of NYC's best (and most expensive!) sushi restaurants for far less cash. 

Why we love it? Even with its slightly hard-to-find, second floor location and paucity of seats, we will happily take Sushi 35 West's sensational salmon roe, sea urchin, Spanish mackerel and striped jack to go for the opportunity to taste exceptionally sourced fish improved by beautiful knifework. 
39.

 Taverna Kyclades

What is it? A perpetually-packed Greek restaurant that commands crowds even in a neighborhood saturated with the cuisine. 

Why we love it? Although Taverna Kyclades keeps it casual, lively lunch and dinner here always feel like an event. This is also the rare spot that maintains a long menu where everything (like the grilled octopus, saganaki, lamb chops and swordfish) is consistently good.
40.

 B&H Dairy

What is it? A kosher diner in the East Village serving up tuna melts, pierogies, kasha varnishkes and borscht.

Why we love it? The narrow space has a tremendous egg cream, and it's one of the last remaining old New York spots in the neighborhood
41.

 Congee Village

What is it? A jubilant Chinese restaurant with book-length menus and brightly colored cocktails.

Why we love it? Congee's sprawling interior is ideally suited to boisterous nights filled with stories you may have heard before that still elicit sonorous laughter. Lines accrue fast, but the pretty bar area is a cozy place to wait if you can nab a spot, and the dining areas beyond have plenty of big tables to accommodate groups. The menu's almost as large as the space, with several congee varieties and an encyclopedia of Chinese plates. 
42.

 Kokomo

What is it? One of a few spots here that also appeared on our best restaurants of 2020 roundup, Kokomo is a Caribbean restaurant from husband and wife team Ria and Kevol Graham.

Why We Love it? As we wrote at the time, Kokomo's wood-fired flatbreads, slow braised oxtail and chicken and waffles are all bonafide comfort foods. The restaurant interior's warm tones and florid design further set the mood, and we recently named Kokomo NYC's best outdoor dining spot in our Best of the City awards. 
43.

 French Louie

What is it? Easy, local-favorite French fare 

Why we love it? Every neighborhood would be lucky to have a restaurant like French Louie, which serves as fine a special occasion spot as any fancy-address destination in the city. If for example, you happened to be nearby, and it was your birthday, and a sudden blizzard made even local travel inadvisable, you could still drift into French Louie's dimly honey-hued dining room for a suitable fête. Its moules frites, duck au poivre and uncommonly generous portion of pȃté are priced decently enough to add to your regular weekend rotation, too.
44.

 Astoria Seafood

What is it? A choose-your-own seafood spot as close as many of us will get to fishing. 

Why we love it? Dining out and having fun are, shockingly, not always mutually inclusive. At Astoria Seafood, you'll peruse and choose from uncooked tuna, octopus, sardines, branzino shellfish, scallops, snapper, fluke and all manner of sea creatures before you tell 'em how you'd like it cooked. BYOB and a bubbly, casual environment make this popular spot worth its long lines. 
45.

 L&B Spumoni Gardens

What is it? Classic, required eating for NYC pizza devotees.

Why we love it? L&B's saucy, pillowy squares are best in class, amplified even further with a few shakes of Parmesan and finished with an order of the tricolor ice cream that gave the place its name.
46.

 Peppa's Jerk Chicken

What is it? NYC's undisputed top jerk chicken purveyor.

Why we love it? Peppa's smoky, perfectly grilled chicken keeps crowds coming back. Its excellent execution is just as satisfying as many of the spendier birds in town.
47.

 Maya Congee Cafe

What is it? An East Asian general store with bites at the counter, Maya Bed-Stuy specializes in novel takes on congee.

Why we love it? Maya serves noteworthy congee with additions like quinoa, avocado and other tasty ingredients.
48.

 The Arepa Lady

What is it? A cart-turned brick-and-mortar restaurant specializing in arepas and other Colombian bites in Jackson Heights.

Why we love it? That titular item abounds, in adition to some of the best South American corn cakes in NYC.
49.

 Noreetuh

What is it? Spam's bad reputation in pop culture is unearned. And at Noreetuh, it's among the menu's stars. Plates like spicy Spam musubi invite you to reconsider the canned meat that walked so tinned fish could run.  

Why we love it?  Few restaurants in New York specialize in Hawaiian cuisine. Noreetuh has done so with gusto since 2015, quietly becoming a neighborhood staple.
50.

 Los Tacos No.1

What is it? A taqueria-style counter where cooks roll masa and slice spit-roasted pork with ease and speed to keep up with demand.  

Why we love it? Los Tacos No. 1's lively Chelsea Market location is our favorite of the micro-chain's outposts, which now number five throughout Manhattan. But we'd visit any one of them for pollo asado tacos, carne asada quesadillas and homemade aguas frescas.
Local chefs, restaurants and concepts we love so much that we welcomed them into Time Out Market
Jacob's Pickles
Jacob's Pickle helped the Upper West Side shed its sleepy restaurant reputation by offering gastropub fare we could get behind. The comfort food, mac and cheese to patty melt, pair effortlessly with the extensive beer list and whiskey cocktails.
Wayla
Wayla was already poised for stardom shortly after first opening its doors on the Lower East Side in 2019, when seemingly everyone in NYC was salivating over its noodle-wrapped meatballs, clamoring for tables and snapping selfies. Even now, years later, prime-time reservations for chef Tom Naumsuwan's homestyle Thai food still aren't easy to come by. His attention to ingredients, focus on fresh flavors and market-inspired menus have folks filling up Wayla's tables night after night. 
Sugar Hill Creamery
Sugar Hill Creamery owners Nick Larsen and Petrushka Bazin Larsen's seasonal ice cream flavors are often inspired by their Midwestern and Caribbean backgrounds as well as their longtime home of Harlem. The husband-and-wife team has been crafting distinct ingredient combinations out of their Central Harlem store since 2017, and devoted fans hungry for frozen treats that you won't find in the supermarket led the pair to open a second location in Hamilton Heights just a few years later. Stop by often—there's always an innovative new flavor to try.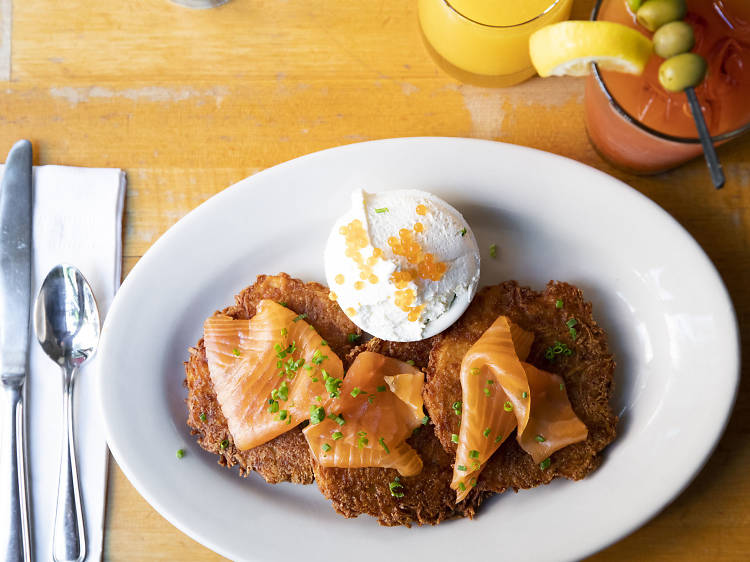 Clinton St. Baking Company
Neil Kleinberg's fluffy pancakes alone are more than enough reason to hit up this brunch favorite. But the rest of the menu, from biscuit sandwiches to a smoked salmon scramble, makes a case for why breakfast can be just as good for dinner. Some consider brunch a sacred experience in New York, and this Lower East Side classic doesn't disappoint between its delicious bites and buzzy dining room.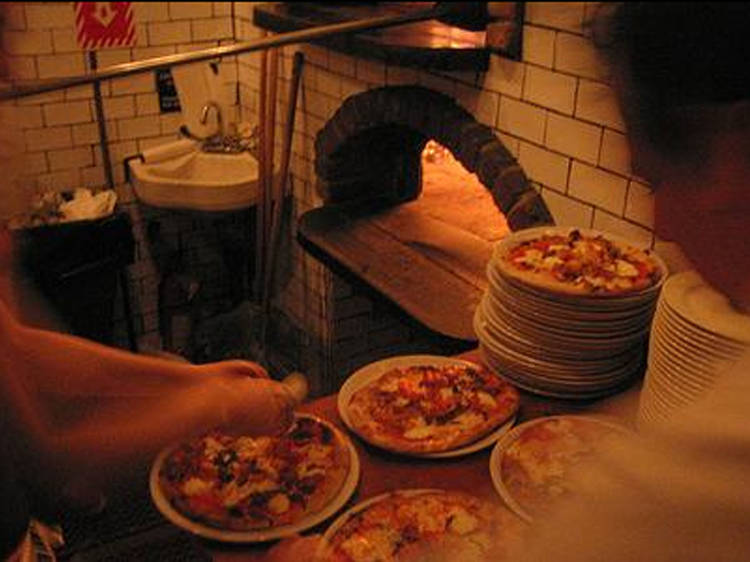 Fornino
Wood-fired brick-oven pies are sprinkled with herbs and vegetables grown in the restaurant's greenhouse. Freshly picked arugula, for example, might be combined with eggplant, bresaola and Parmesan, and locally grown figs may be matched with prosciutto and Gorgonzola. Too esoteric for your family? No worries: Try the basic marinara or Margherita. You can't go wrong with any of the pies here.
Felice
The Tuscan-inspired dishes, wine-bottle-lined walls and leather banquettes serve as the perfect backdrop for comforting Italian fare. If there are two words that describe FELICE, we'd choose cozy and carbs. The bowls of pasta beckon us to this intimate restaurant no matter the time of year.
Fornino
The world-class pizzeria sets up shop at Brooklyn Bridge Park. Dig into wood-fired pies (classic Margherita, eggplant-and-ricotta) and sandwiches (roasted turkey, prosciutto) at one of the indoor picnic tables, or snag a patio seat overlooking the water. A rooftop beer garden pours selections from Peroni and Brooklyn Brewery, along with wines by the glass. One of our favorite spots for pizza in the city—you can't go wrong with any of the pies here.
Mr. Taka Ramen
New York is teeming with ramen options, but this Lower East Side spot commands a loyal following for good reason: the overall quality and consistency of its broth, whether a hearty tonkotsu or spicy miso, is always on point. We can't get enough of the hearty tonkatsu and basically any dish from this kitchen.
An email you'll actually love
By entering your email address you agree to our Terms of Use and Privacy Policy and consent to receive emails from Time Out about news, events, offers and partner promotions.
🙌 Awesome, you're subscribed!
Thanks for subscribing! Look out for your first newsletter in your inbox soon!
Source: