Dine Al Fresco: Top 20+ Patios in Santa Cruz County – Visit Santa Cruz County
With 300 days of sunshine, it's no wonder outdoor patios abound in the Santa Cruz area! From beachfront decks to secret garden patios, the following open-air spots allow you to soak up plenty of scenery and sun.
This Post: Dine Al Fresco: Top 20+ Patios in Santa Cruz County – Visit Santa Cruz County
BEACHFRONT BLISS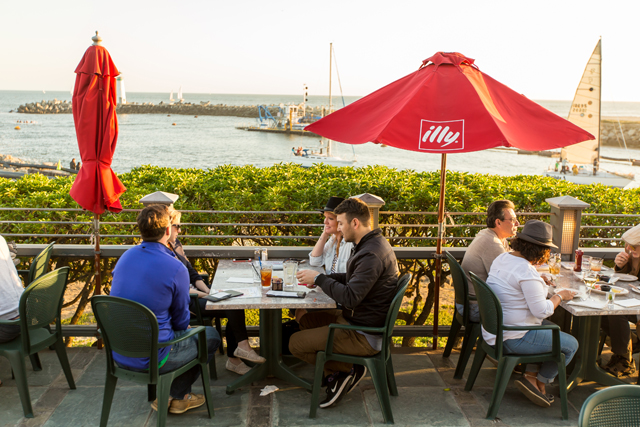 The Crow's Nest
As if the enviable setting on Harbor Beach wasn't enough, The Crow's Nest sports three outdoor patios with stirring views of sailboats gliding in and out of the harbor. Choose from two patios within the main restaurant, or enjoy a quick pizza or sandwich on the adjacent Beach Market deck perched directly over the water. And big bonus on space, with the changes that 2020 brought, The Crow's Nest has expanded their outdoor options even further – ON THE SAND! That's right, enjoy the same great tastes of The Crow's Nest menu with your toes in the sand and with eye level views of the boats passing through the harbor.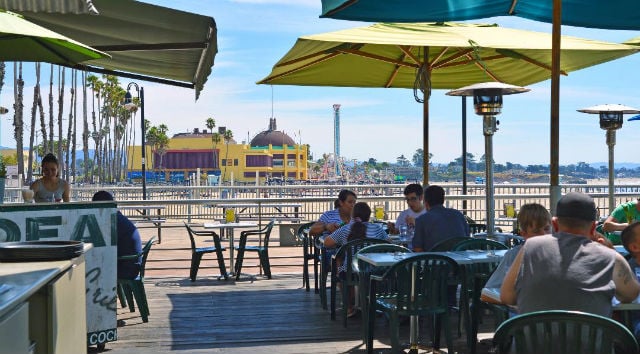 Ideal Bar & Grill
Ideally located with views of the beach and Municipal Wharf, Ideal Bar & Grill offers breakfast, lunch and dinner. Opt for the patio and have a front row seat to the Monterey Bay as you enjoy their generously portioned California cuisine, delicious seafood, specialty cocktails, and more.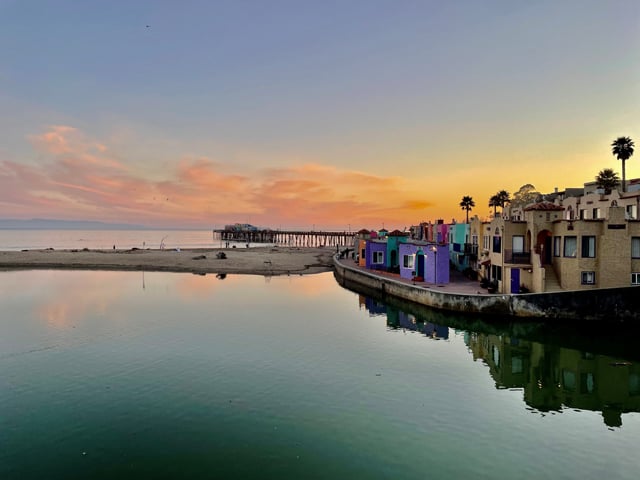 Capitola Village Waterfront Patios
Just look at the location above! Dine al fresco with ocean and Soquel Creek views in the beautiful Capitola Village. Paradise Beach Grille, The Sand Bar, Capitola Bar & Grill (from where the above photo was taken), Margaritaville, and Zelda's on the Beach (which we mention again shortly) are all great options that serve up an unforgettable atmosphere and cuisine – and you really can't beat that Capitola backdrop!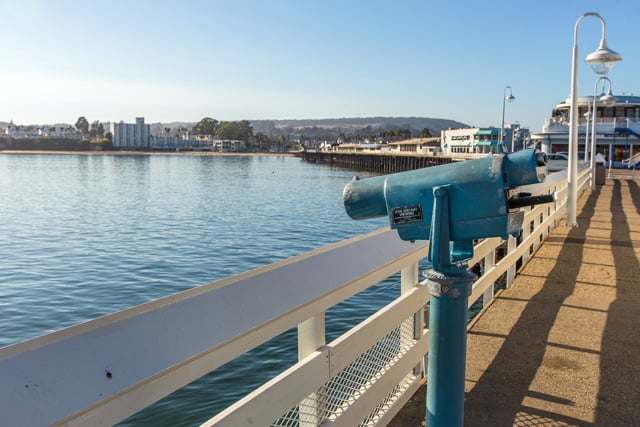 Santa Cruz Wharf Restaurants
Sitting over the Monterey Bay with the ocean breeze and views all around, the Santa Cruz Wharf restaurants have expanded their outdoor patio dining to safely serve their patrons. Classics like Stagnaro Bros., Firefish Grill, Rivas, Woodies on the Wharf, and Dolphin Restaurant are all offering ocean view patio dining, plus newcomer, Makai.
Zelda's on the Beach
With a sprawling patio plunked directly on the sands of Capitola Beach, Zelda's isn't fooling when they say "on the beach."
Davenport Roadhouse
Take a scenic drive up the coast to Davenport Roadhouse. Located just 10 minutes from Santa Cruz and 100 yards from the ocean, the Davenport Roadhouse is nestled among organic farms, boutique vineyards, state beaches, and hiking trails. The restaurant features produce from neighboring organic farms, a full bar, and outstanding local wines. They have live music on the weekends in their back patio with ocean views.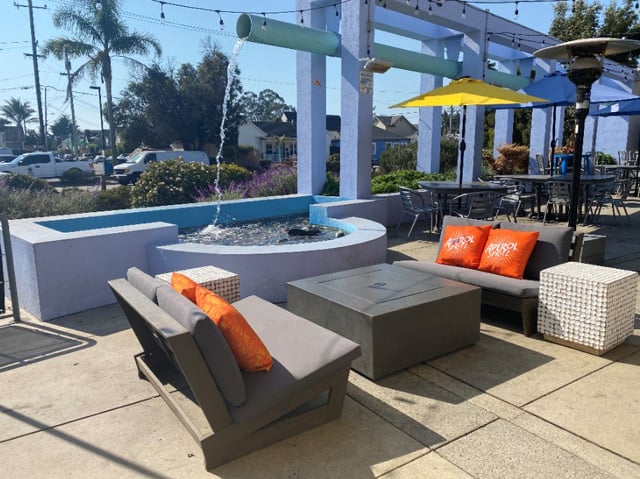 Seabright Social
Just a block from Seabright State Beach and the Santa Cruz Harbor, Seabright Social is a neighborhood brewpub & restaurant with a full bar and large patio. This spot is known by many as THE best patio in town and THE best place to unwind after a day at the beach! Sip their signature Seabright Brewery beers, your favorite local craft beers, or opt for a craft cocktail or some local wine on tap.
The Picnic Basket
This cozy lunch and breakfast spot dishes up wholesome eats and seasonal scoops from The Penny Ice Creamery just steps from the Santa Cruz Beach Boardwalk. A sidewalk patio on palm tree-lined Beach Street offers front-row views of Main Beach and the Santa Cruz Wharf.
Las Palmas Taco Bar
Just a short walk to all the action of the Santa Cruz Wharf, Beach Boardwalk, and gorgeous Monterey Bay, Las Palmas has been serving Santa Cruz since 1975. Authentic Mexican food in the heart of all the Santa Cruz beach attractions.
RED : Sand Coin Là Gì? Có Nên Đầu Tư Vào Sand Box Coin?
Harbor Cafe
Although technically there's no ocean view, when you're at this local favorite (we're talking over 50 years in Santa Cruz) the beach isn't far off – and neither are the mimosas! Breakfast, brunch, lunch, and the cocktails are covered at the Harbor Cafe. Other not-to-miss breakfast joints with patios that locals and visitors love are Paula's and Linda's Seabreeze.
SECRET GARDENS
Cafe Bittersweet Bistro
Bittersweet Bistro features an American Bistro Cuisine style menu with Mediterranean influences served in a casual atmosphere in Aptos, California. Their gorgeous patio dining is spacious and features gardens, a fountain, and a koi pond. And a huge bonus: dogs are welcome and even have their own menu items!
Shadowbrook
This wondrous Capitola restaurant is cherished for its many dining rooms with features such as a massive stone hearth and indoor trees. Yet don't overlook the second story patio nestled amidst the redwoods and overlooking peaceful Soquel Creek.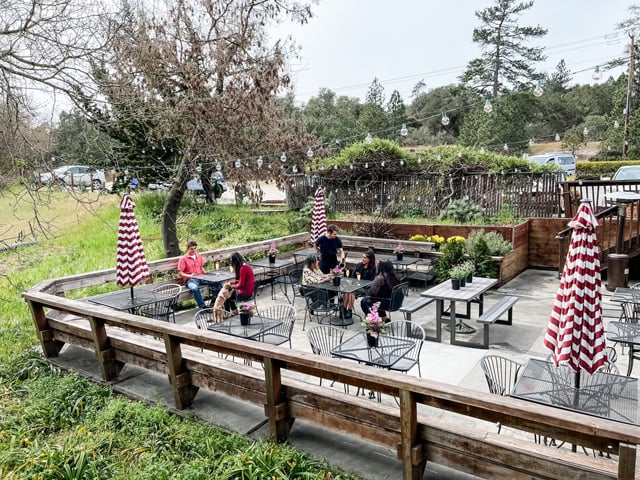 Heavenly Roadside Cafe
In Scotts Valley, Heavenly Roadside Cafe has a large patio space perfect for a sunny meal and mimosas. Heavenly is known for its famously delicious (and generous) breakfast and lunch dishes. You can't go wrong with anything on the menu but a few favorites are the Crab Cake Benedict, Buttermilk Pancakes, Belgian Waffle, Burgers, and any of their specials! And big bonus for all the dog lovers out there: their patio is pup-friendly!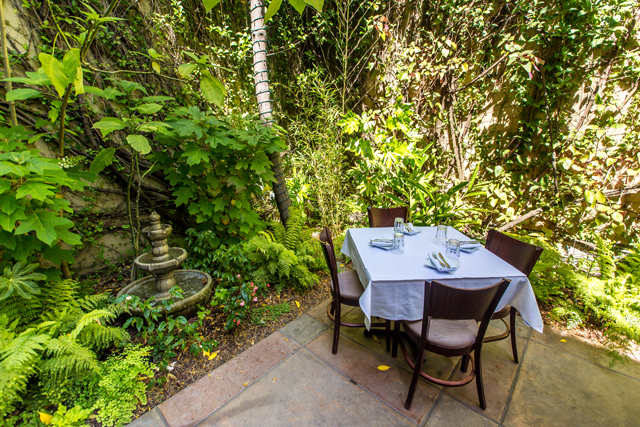 Laili
Secluded from the bustle of downtown, Laili's lush garden patio of fig trees and ivy-covered walls is a romantic setting for richly flavorful Mediterranean dishes such as an apricot chicken flatbread and braised lamb shank served with kabuli rice.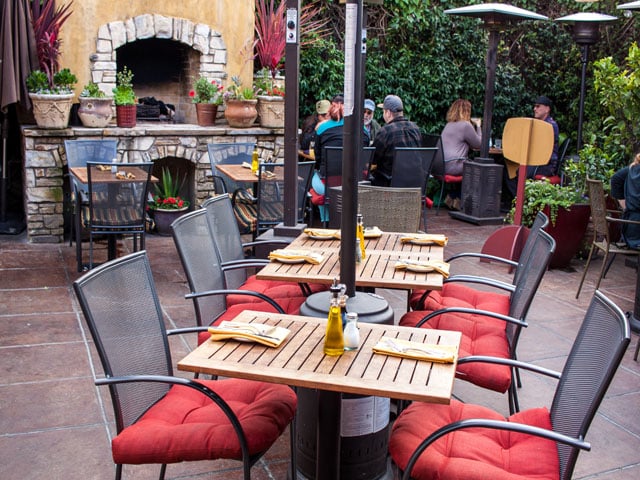 Cafe Cruz
This local fave serves rustic Cal-Italian dishes in a striking courtyard set with comfy dining tables, beautiful planters, and a large stone fireplace.
Back Nine Grill & Bar
Bordered in plants and strung with lights over head, this transformed outdoor space feels like a sophisticated night out! The fresh, "ranch to grill with a California spin" menu has lots to chose from.
PANORAMIC VIEWS
The View at Chaminade Resort & Spa
We're still not sure how such dramatic, hilltop vistas are possible just 10 minutes from the beach, but we're not complaining. Enjoy The View in every sense of the phrase – the excellent food and service, the fire-pit equipped outdoor tables, and of course, the hilltop Monterey Bay vistas.
The Grille at DeLaveaga
No golf required (although recommended) to enjoy the panoramic views and great food at The Grille at DeLaveaga. Their large outdoor patio, expansive golf course and ocean views, fresh Californian dishes, plus full bar in the restaurant and at The Patio Bar Rangeside at DeLa, are sure to have you linger.
Sanderlings at Seascape Beach Resort
Want our advice for this all-day restaurant with a bluff top patio overlooking the majestic Monterey Bay? Come for brunch, and stay for the sunset!
DOWNTOWN BUZZ
Hula's Island Grill
This atmospheric spot offers a taste of the tropics in Downtown Santa Cruz with tiki drinks and pupus best enjoyed on a sleek outdoor "parklet."
Kianti's Pizza & Pasta Bar
Customize your pizza or pasta dish from a huge assortment of fresh ingredients, and enjoy it on a large patio with great downtown people-watching.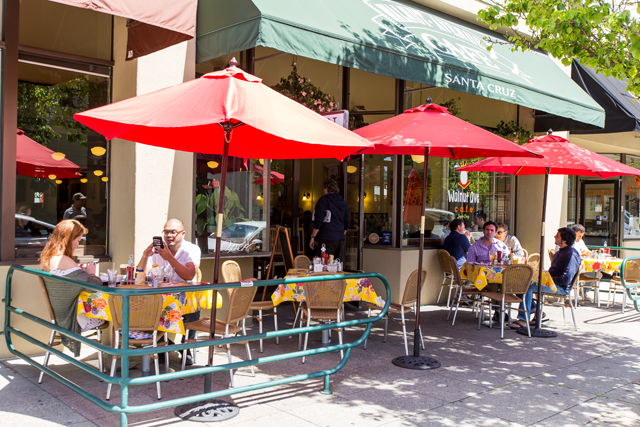 Walnut Avenue Cafe
Arrive early for big plates of creative brunch items-Blackened Ahi Benedict for you, Hickory Smoked Bacon for your pup-and a coveted spot on the cheery front patio.
La Posta
Although located in Midtown (just a hop from Downtown Santa Cruz), La Posta's traditional Italian menu of fresh pastas, desserts, breads, and pizzas cannot be missed. Enjoy their spacious and inviting patio with favorites like the Ricotta Eggplant Cannelloni or the Fig + Pig Pizza made with prosciutto, smoked eggplant purée, goat cheese, balsamic, arugula, and of course, fig.
Avanti Restaurant
Just a skip to the Westside from Downtown Santa Cruz, at Avanti Restaurant you'll find a culinary haven for any foodie in the area. From the first bites of house made focaccia and brussels sprouts tossed with butternut squash, house made pancetta and pumpkin seeds, to their famous Fogline Farms Fried Chicken and pasta dishes, and every cocktail and dessert in between (and after), you'll love exploring this seasonal and locally sourced menu.
BEER GARDENS
Santa Cruz Mountain Brewing
This organic brewery offers delicious bites with their cold brews on the cheerful, sunny Westside of Santa Cruz. Their patio is dog-friendly and you'll enjoy the great service and tasty bites and brews, just as much as you will love the superb puppy watching.
Lupulo Craft Beer House
Located in Downtown Santa Cruz, Lupulo has a constantly rotating selection of 16 small-production beers on tap and over 100 bottles priced to go or to enjoy with something from their seasonal menu on their outdoor patio.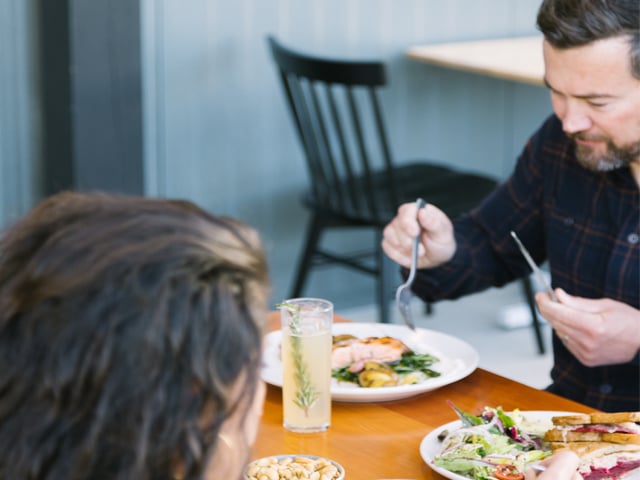 Venus Spirits Cocktails & Kitchen
Although not a beer garden, Venus Spirits deserves a place on our list! Recently opened on the Westside, enjoy creative craft cocktails alongside fresh, locally sourced and seasonal eats.
MORE WELL WORTH THE MENTION
There are so many new patios popping up on the Santa Cruz County dining scene! In Scotts Valley, Bruno's Bar and Grill has gone to the next level with a variety of outdoor seating options – plus, they have destination themed patio areas so you're able to take a little "vacay" while you enjoy your food and drinks!
Cafe Mare, Capitola Wine Bar, Gabriella Cafe, Gayle's Bakery, Mackenzie Bar & Grill, Persephone, Zachary's Restaurant and are also ready to serve in the open air. For even more dining and outdoor dining options in Santa Cruz County, including wine tasting, be sure to check our website!
Last Updated Spring 2022
Source: https://bloghong.com
Category: en