Dinner at the Hau Tree at the Kaimana Beach Hotel – Jeffsetter Travel
I don't know what I was looking forward to more during our Royal Weekend staycation – our stay at the Royal Hawaiian or dinner at the Hau Tree at the Kaimana Beach Hotel? After all, the culinary team behind the Hau Tree is almost like a foodie dream team.
Background
The Hau Tree isn't actually a new restaurant. Originally called the Hau Tree Lanai, the restaurant and then New Otani Kaimana Beach Hotel has been around for about 50 years. But, a few years ago, new owners acquired the Kaimana Beach Hotel. Then, late last year, they dropped the New Otani name and revealed a refreshed hotel and restaurant with a mid-century Hawaii motif. Just look at the difference at the restaurant! I don't think the original Hau Tree changed much since opening day.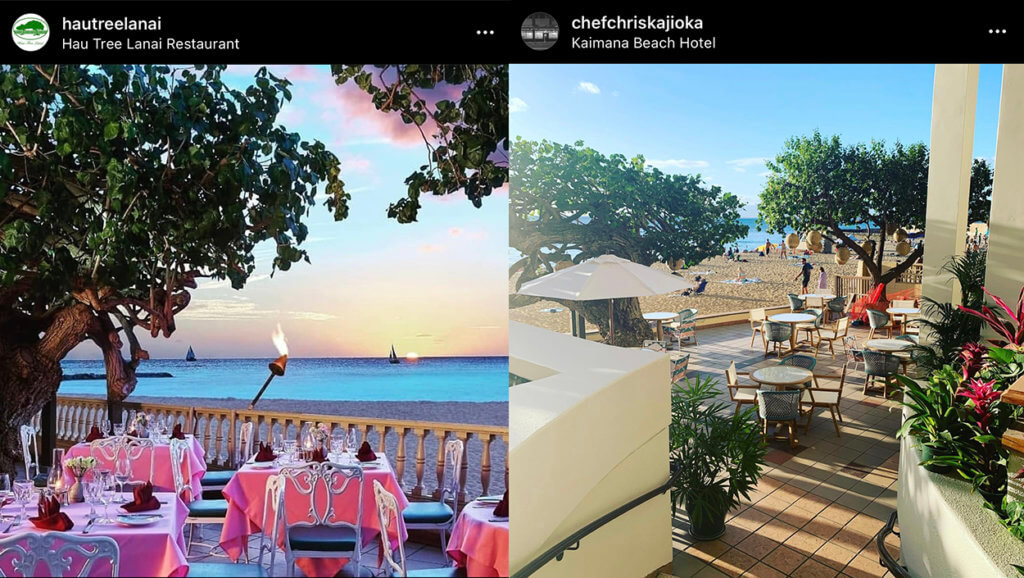 Of course, with that refresh came a whole new menu developed by none other than legendary Chef Chris Kajioka of Senia, Papa Kurt's, Miro Kaimuki, the Restaurant at Hotel Wailea, and Waicoco fame. And the chef actually running the kitchen on a daily basis is Chef Alan Takasaki of Le Bistro fame.
Given the incredible talent behind the restaurants, I went in with HIGH expectations.
The Hau Tree Location + Ambiance
The Hau Tree is, of course, inside the Kaimana Beach Hotel. Specifically, it's past the lobby at the back end of the building nearest the beach. In fact, the restaurant is below the lobby level right on the beach. That makes it the perfect spot to enjoy a sunset dinner!
As far as the Kaimana Beach Hotel itself goes, it isn't one of the better-known hotels in Waikiki, thanks to its location closer to Diamond Head, away from the main drag along Kalakaua Avenue. The hotel still sits on Kalakaua Avenue but is close to the Waikiki Aquarium and Natatorium, bordered by its namesake Kaimana Beach and Kapiolani Park. As a result, the Kaimana is nearly 3/4 of a mile from the Waikiki Beach Marriott and is a full 1.5 miles from the Royal Hawaiian.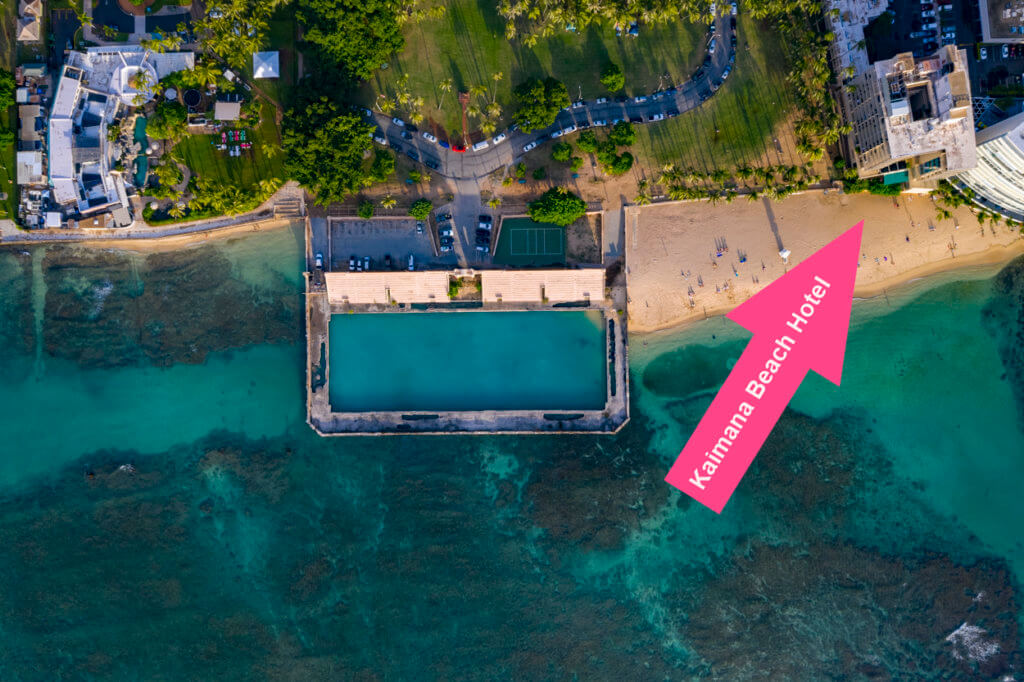 Since the Hau Tree is completely outdoors, noise tends to be less of an issue here. Weather, on the other hand, does end up being a major concern. Sunlit meals can get quite hot, while reservations can be canceled due to inclement weather. Those things aside, though, the restaurant is a wonderful, stylish space, with great views and surprisingly polished staff given the restaurant's newness. Though, on second thought, that shouldn't be a surprise given who's involved with this project – Chef Chris Kajioka.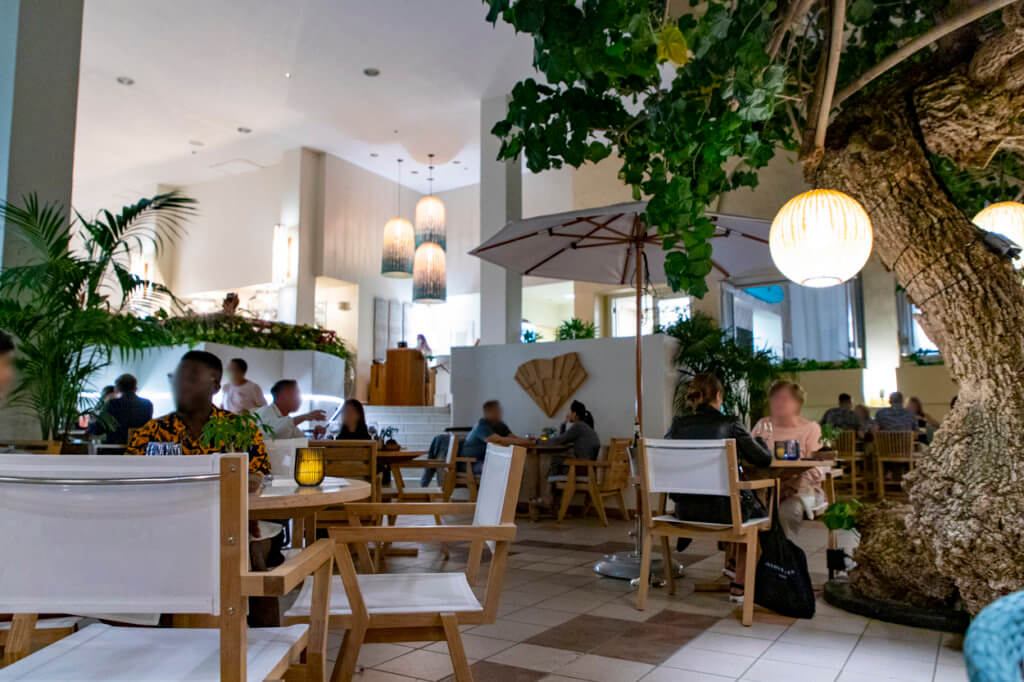 The Hau Tree Menu
The menu at the Hau Tree is a highly curated collection of snacks (small bites), first-course dishes (appetizers), second-course dishes (mains), and desserts. There's a lot of flexibility here, depending on your hunger level. Thanks to our rather large lunch, we weren't terribly hungry and settled on splitting a snack and first course while we both got our own entrees and desserts. That said, if we were starving, we likely would've gotten a snack, two firsts, two seconds, and two desserts.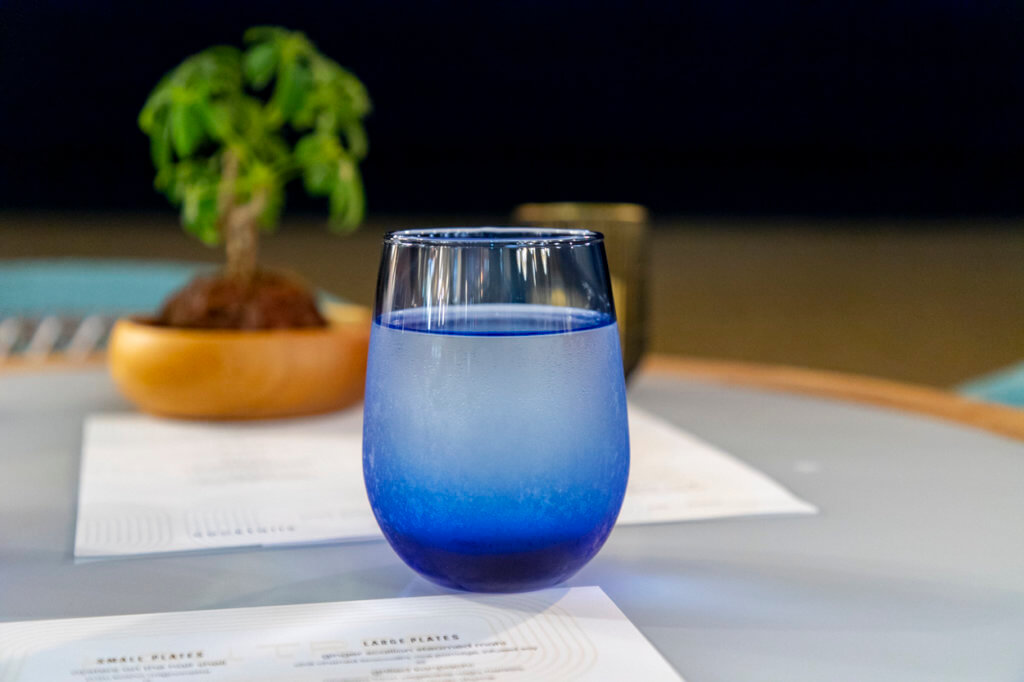 While the food is certainly the star at The Hau Tree, don't forget the drink menu too. Like the food menu, their drink menu is highly curated too. But I think it covers all the bases. On offer is about a page of cocktails and highballs along with sparkling wine, white wine, red wine, rose, and beers.
Drinks
During this visit, the Mrs. and I both went with highballs. Mrs. Island Miler went with the Toki Highball (Suntory Toki Whiskey, soda, and shiso) while I went with the Hau Tree Highball (hibiscus-infused Maui Pau Vodka, yuzu, and soda).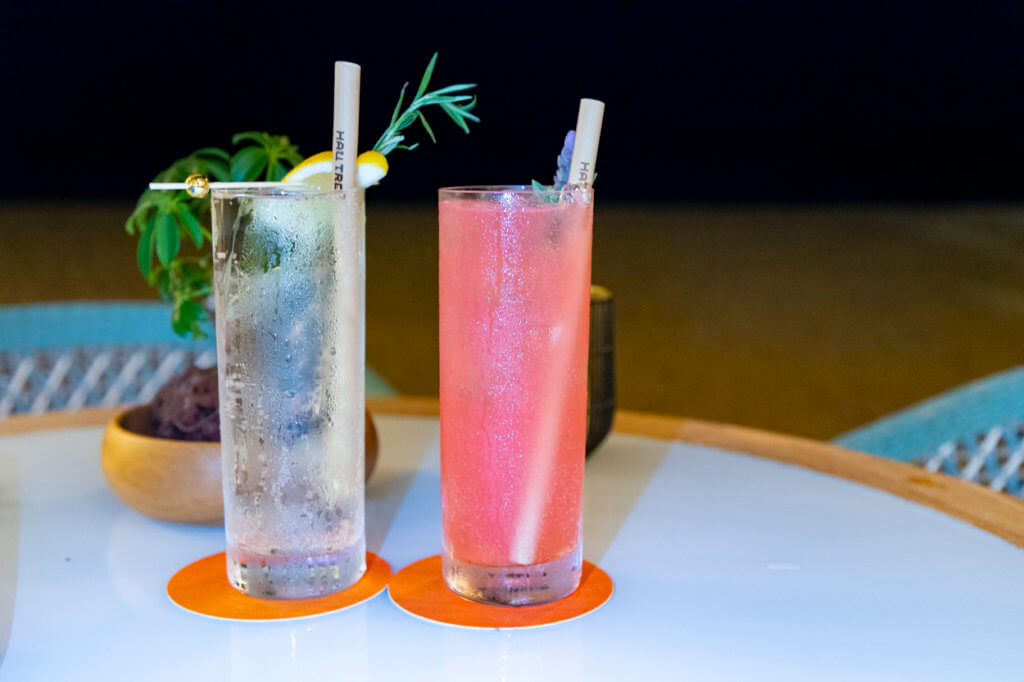 Yeah, yeah, yeah. My drink was pink. So what? Both were refreshing and delicious – perfect for the warm Hawaiian winter night. Our drinks also complimented our meals wonderfully.
Snacks
With our limited belly space, it was really hard to decide what to order. This was especially true of the snacks portion of the menu. However, we settled on Trout Roe Verrine. This dish is basically a fancy chips & dip. In this case, the dip is composed of smoked egg mousse, creme fraiche, and trout roe. The chips are spiced and appear to be housemade.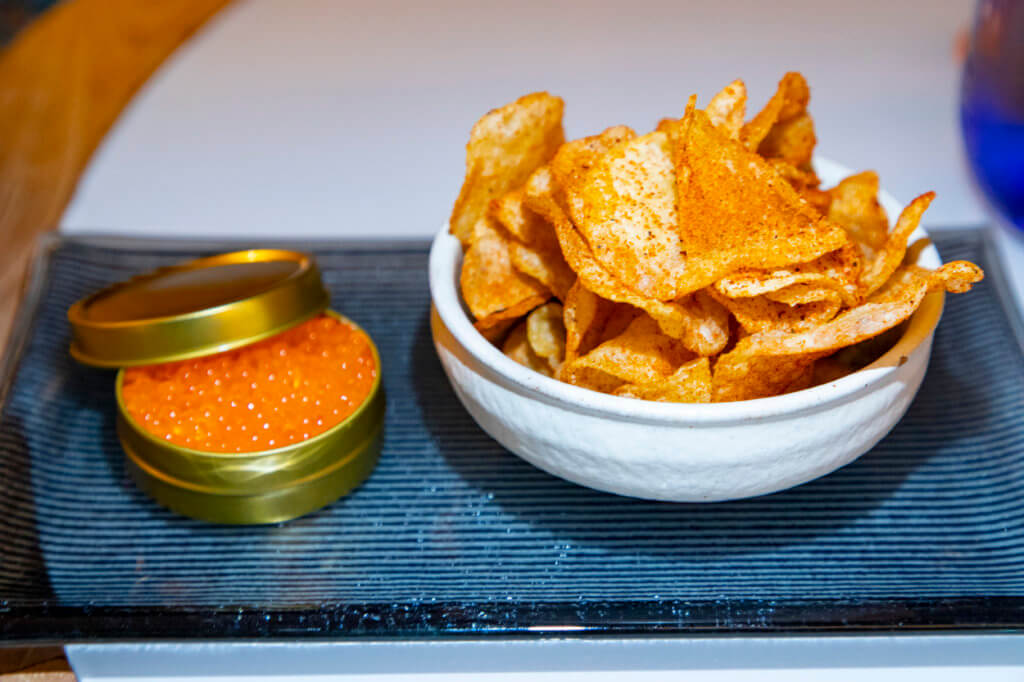 At $25, this is some pricey chips and dip. But this dish is also a major flavor bomb. The chips have this great smoky, umami spice going on. The dip is also smoky and creamy with the tight pop and oceanic flavors of trout roe. Delicious.
First Course
For our other starter, Mrs. Island Miler and I decided to split the Seared Maine Scallops. At $20, this is a fairly pricey dish too. But, oh man, the combination of flavors and textures is exceptional. Here you get two U10 scallops with pickled grapes, butternut squash puree, crispy prosciutto, kale chips, brown butter, and sunflower seeds.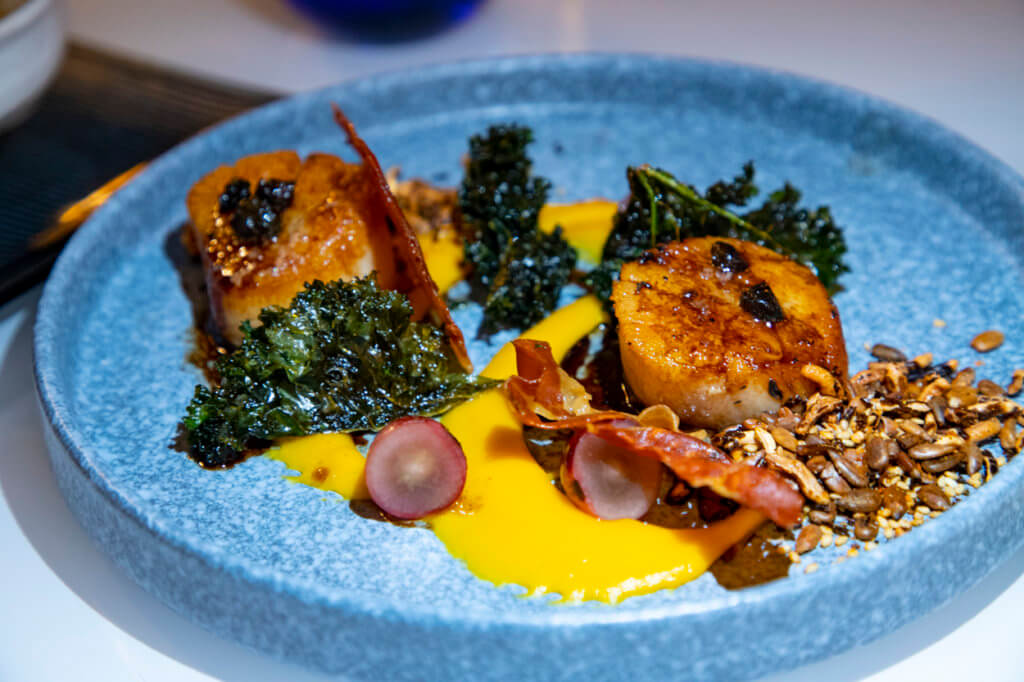 The description is deceptively simplistic. For example, the "sunflower seed" is a mixture of sunflower seeds, sesame seeds, puffed wild rice, and crispy quinoa. The scallops themself are plump, fresh, perfectly seared scallops with a wonderful crust and medium-rare temperature. Being bathed in brown butter doesn't hurt either. The prosciutto and kale chips add some crunch and additional layers of flavors, while the butternut puree balances all the savory with a little sweetness. Of course, the pickled grapes add a nice bit of acidity to counteract all of the richness.
Mrs. Island Miler's Second Course
For her main, Mrs. Island Miler went with the Grilled Kanpachi ($34). The simple grilled fish is elevated with a local twist on the classic Sauce Vierge, adding sea asparagus to the classic olive oil, lemon juice, tomato, and basil mixture.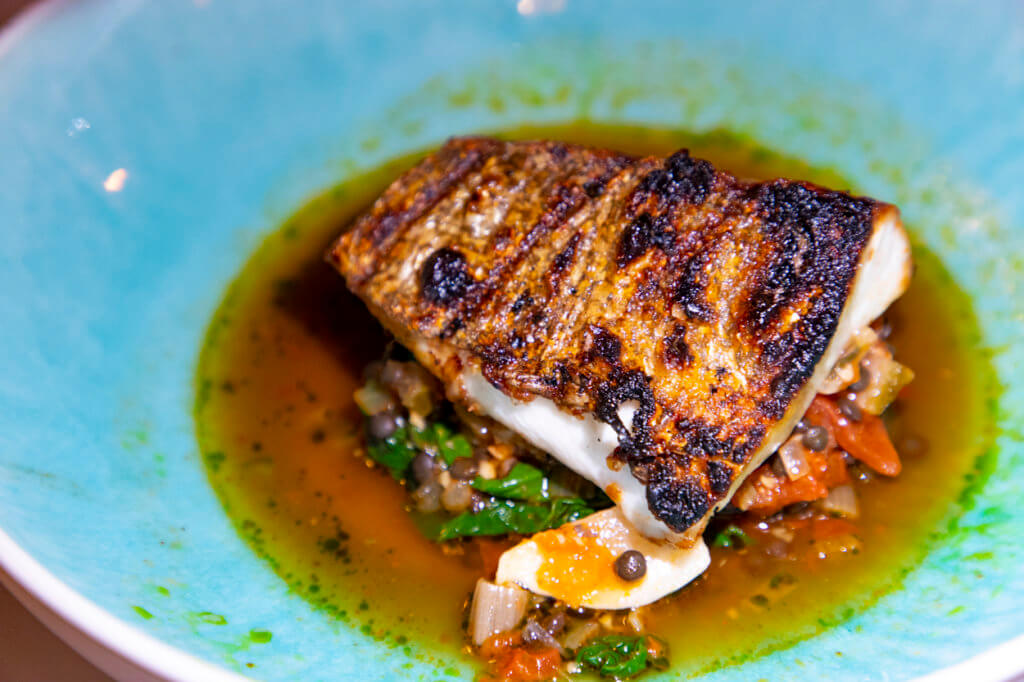 As you might imagine, the Grilled Kanpachi is a nice, bright dish. The smokiness and char from the grilled fish pair nicely with the slightly acidic, herbaceous Vierge. My one complaint is that the fish was slightly overcooked. Thankfully, Kona Kanpachi has a relatively high-fat content, which kept it from drying out too much. But, again, the Hau Tree is a new restaurant, so I'm willing to give them a pass on this for now. The main thing is that the dish is well thought out.
My Second Course
For my main, I selected the Kurabota Pork Chop ($34). Like the scallops, the pork chop is a deceptively simple-sounding dish. The menu only lists a black garlic honey glaze, Brussels sprouts, and pomegranate. But, man, let me tell you, this dish has a lot of depth to it.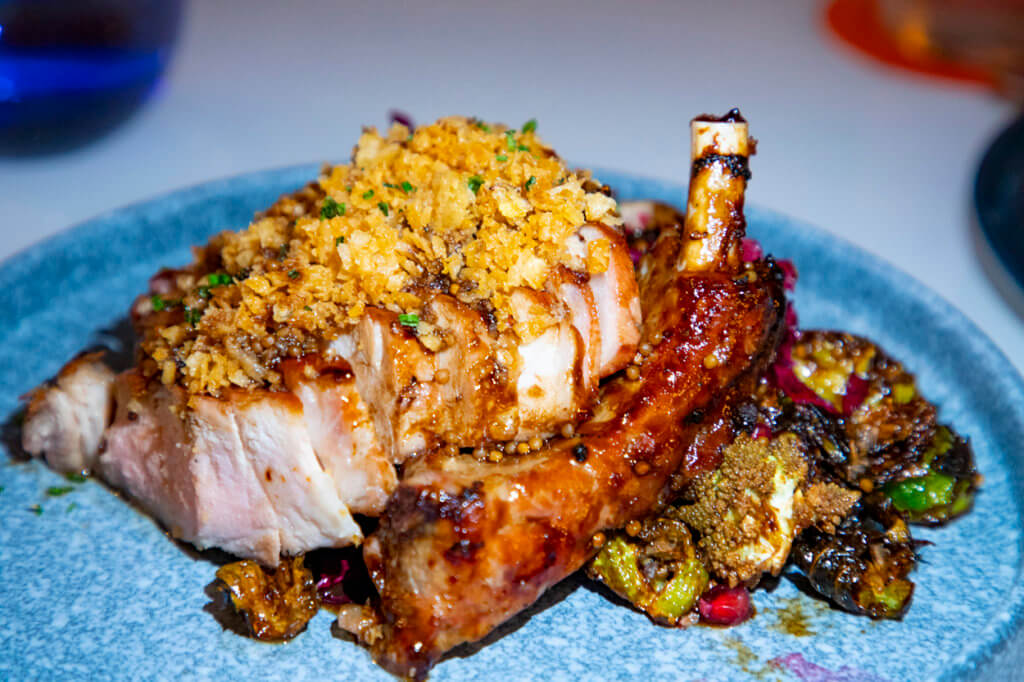 Look at this glorious plate. What you have here is a nicely caramelized pork chop sitting atop perfectly roasted Brussels sprouts and romanesco. All of these are then bathed in a stick mixture of the umami-sweet-funky black garlic honey and the tacky, slightly acidic pomegranate sauce and seeds. Then, of course, there's a layer of toasted breadcrumbs on top because why not? I LOVED the broasted flavors of the dish and its overall balance. the pomegranate served as a wonderful counterpoint to all the rich fattiness going on there, as did the mustard seeds. YUM! If I had one criticism, though, it's that I thought the pork was slightly overcooked. This is likely due to my personal preference, though. As you can see, the pork was a nice medium-well. I prefer my pork a little more pink – maybe a medium to a touch over medium-rare.
Dessert
While decisions were difficult all night, dessert was arguably the most difficult decision we had to make that night. In fact, I half-jokingly told Mrs. Island Miler we should order two desserts and get the other two to-go. Especially since every single dessert sounds amazing. Toasted coconut cake with rum and vanilla? Cheesecake with citrus and lilikoi? YES PLEASE! In the end, we let common sense dictate our order for the Yuzu Tart and Chocolate Caramel Tart Tart ($14 each).
What can I say about the Yuzu Tart? It's a nicely balanced dish. The smooth sweet-sour yuzu filling that actually tastes of yuzu (you'd be surprised how rare that is) sits atop a delectable mac nut brittle crust. It's a wonderfully refreshing yet decadent dessert that we wouldn't hesitate to order again.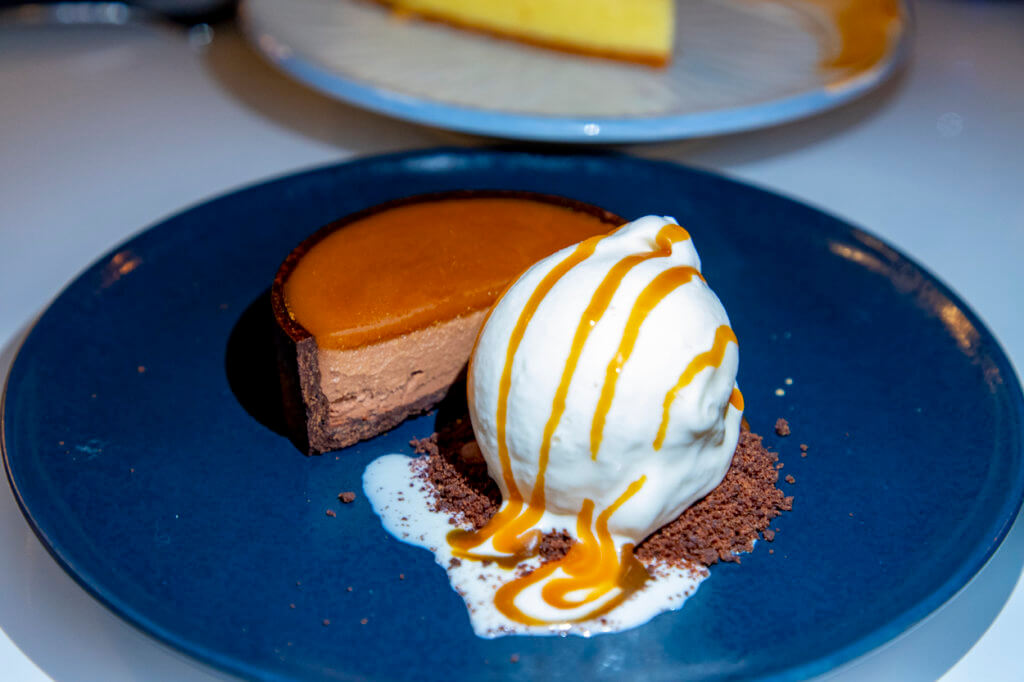 As for the Chocolate Caramel Tart Tart, this thing is a chocolate lover's dream come true. The deep, dark chocolate crust pairs nicely with the creamy dark chocolate mousse and deep rich caramel. All this goodness is offset with the light, milky ice cream sitting atop crumbled crust and drizzled in caramel. If you love chocolate, you need to get this dessert.
Dinner at the Hau Tree, Final Thoughts
To say I went into our dinner at Hau Tree with high expectations is an understatement. I'm very familiar with Chef Chris Kajioka's cuisine and his expectations for service. And, you know what? His team here was on-point. Yes, there were a couple of really minor flaws. But, again, given the newness (and also the craziness the night we visited) I'm willing to look the other way. Either way, the Hau Tree is definitely someplace I'd return to. With its excellent cuisine, service, and views, this truly is one of Honolulu's best new restaurants. Bravo, Chris and team!
Royal Weekend Staycation