Door County Golf Course Reviews | Scenic Pathways
Golfing Door County Wisconsin
Golf Courses reviewed in this article: Idlewild (Sturgeon Bay, WI), Orchards at Egg Harbor (Egg Harbor, WI), and Peninsula State Park Golf Course (Ephraim, WI)
Golfing in Door County Wisconsin
During our trip to enjoy fall colors in Wisconsin's Door County, my brother-in-law Dan and I planned to sample some of the peninsula's golf courses. Based on reviews and recommendations we selected three courses to play during our stay: Idlewild (Sturgeon Bay, WI), Orchards at Egg Harbor (Egg Harbor, WI), and Peninsula State Park Golf Course (Ephraim, WI). Had we more time, we would have also played the Alpine Golf Course in Egg Harbor, but since Dan had played the course before, we elected to play the courses he had not played in the past. Although the weather turned abnormally cool and was also cloudy several days with some rain, Dan and I managed to play all three courses. The three courses we played, plus the Alpine courses, are the major 18 hole golf courses in the Door County peninsula.
Overall Golf Course Impressions and Ratings
Most Scenic Golf Course
Most Scenic is The Peninsula Golf Course, built into the north side of the bluff overlooking Ephraim and Lake Superior. Because it is part of the state park forest, except for the fairways, the landscape is heavily wooded with mature trees, some showing vibrant fall colors. The setting of the course offers several scenic vistas and has some dramatic elevation changes on some of the holes.
A very close second in terms of scenery is the Idlewild Golf Course south of Sturgeon Bay. Idlewild mixes woods, groves of trees, water, and terrain variety into an attractive combination. Where Peninsula's beauty is primarily due to its bluff location and Mother Nature's work on the surrounding forest, Idlewild's attraction owes more to man's skillful landscape design and course layout.
Most enjoyable Golf Course
While we enjoyed all three courses, the Orchards of Egg Harbor got our vote for the must fun and challenge. Again Idlewild was a very close second. Peninsula was a clear third. I'll comment more on this later.
Best Pro Shop, Club House, Customer Service
Idlewild Golf Course wins this category hands down. The well-outfitted pro shop was staffed by a hospitable pro who actually gets out on his course and plays. He took the time to talk some shop about clubs and tips on playing the course. The second floor lounge has a very nice 180 degree view overlooking the golf course. The bar was staffed by the kind of people you find running your favorite neighborhood bar – friendly, service-oriented, down-home folks.
Since the temps were below 50 degrees, the course was not overly busy so Dan and I had lunch at the turn. Our sandwiches and chili were outstanding, truly home-made, made fresh and served hot. The food and beverage service is good enough to warrant a trip there even if not golfing. In fact, it was apparent several guys at the bar were there for that reason. They weren't golfing.
The Orchards at Egg Harbor has a nice facility but is a clear second. The gentleman in the pro shop was pleasant enough but the bar-restaurant food quality and service was below par.
Peninsula State Park Golf Course comes in third in this category because it is more spartan facility and unfortunately showed evidence of being a stereotypical government run facility: microwave food, no bar service, limited pro shop selection, and lukewarm customer service.
Golf Course Profiles
Peninsula State Park Golf Course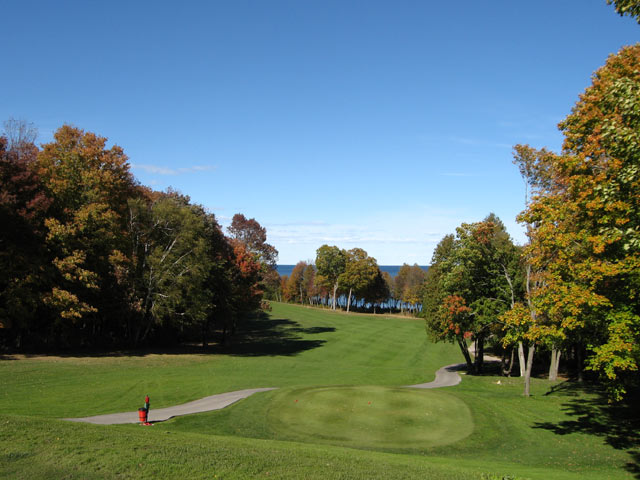 Peninsula State Park Golf Course, Door County Wisconsin
Peninsula Park Golf Course Website
Stats. 3 tee boxes. Red 5428 yards, Blue 6304 yards. Blue tees rating 69.8, slope 123
Review and Comments. Fairways and greens were in very good condition, but if you miss the fairway in some cases you are on bare dirt with roots and rocks. Some tee boxes were too dry. Peninsula offers some interesting holes with unique challenges. Terrain changes and some narrower fairways provide most of the challenge. There are some great vistas of Lake Michigan from some holes.
Value. Weekend and mid-summer rates were competitive with other Door County courses. However, of the three courses were played it offers the least value. There are no fall, senior, nor weekday rates, and a State park daily or annual sticker required for entrance to the course.
Peninsula Golf Course
Peninsula Golf Course
Orchards at Egg Harbor Golf Course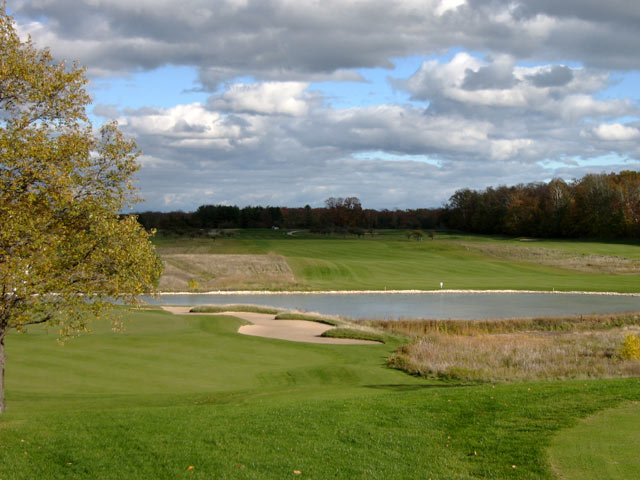 Orchards at Egg Harbor Golf Course, Egg Harbor, WI
Orchards Golf Course Website
Stats. 5 tee boxes. Red 5485 yards, Black 7206 yards. Blue tees rating 72.4, slope 126
Course Review & Comments. The greens, fairways, and tee boxes were in good condition. The scorecard offers nice graphics and tips on playing each hole. Orchards or woods line most fairways, balls missing the fairway are usually playable. There are several interesting holes that combine challenge, yet are not gimmicky. We found number 16 the most scenic and challenging hole.
A Good Value. The Orchards offers both mid-week and fall rates and was a decent value.
Orchards at Egg Harbor Golf Course, Egg Harbor, WI
Orchards at Egg Harbor Golf Course, Egg Harbor, WI
Idlewild Golf Course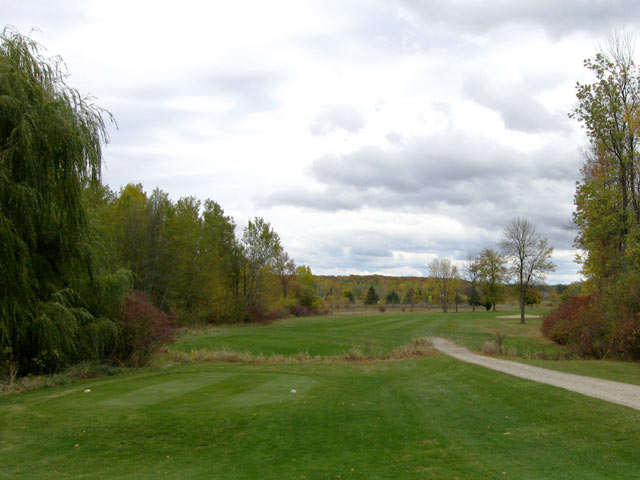 Idlewild Golf Course Door County, Wisconsin
Idlewild Golf Course Website
Stats. 5 tee boxes. Red 5354, Black 6876. Blue tee rating 70.7, slope 126
Course Review & Comments. Water is a factor on 10 of the 18 holes, adding to a pleasing variety of challenges from hole to hole. The fairways are moderately open, with groves of trees sprinkled throughout the course and woods lining some of the fairways. It is a Par 72 course, but the par 4 holes were not excessively long giving the average golfer a chance to reach the green in two. Favorite Holes: Number 9 is an island green, number 18 green is surrounded by water on 3 sides
Good Value. Offers both mid-week and fall rates. Best value in Door County.
Idlewild Golf Course, Sturgeon Bay, WI
Idlewild Golf Course, Sturgeon Bay, WI
David Leadbetter's new A swing golf could improve your game. I'll be trying it out this spring.
More Golf Course Reviews
There is one other 18 hole golf course in Door County worthy of consideration – the Alpine Golf Course in Egg Harbor. Alpine actually offers two 18 hole courses.  Alpine Golf Course Website
Door County Travel Blog Articles