Eat Chic: 6 Manhattan Meals That Will Transport You to the Mediterranean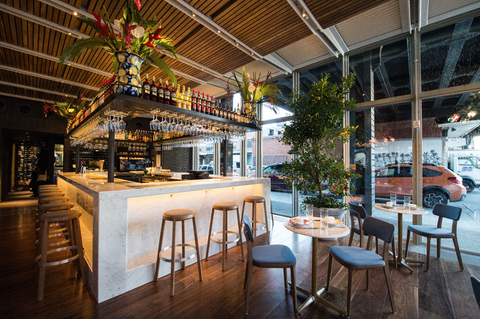 Dying to get away this summer? These New York City hotspots are good, good for you (haven't you heard that a Mediterranean diet puts you in the fast lane for a healthy heart?!) and the fastest way to feel like you're jet-setting on the coast of Greece, Israel or the Amalfi. These NYC eateries–in both their cuisine and their overall vibes–have mastered the art of making us feel like we're on vacation. Thanks to some chickpea crepes (or Cecina), perfectly cooked branzino, handmade al dente pastas and to-die-for hummus, you don't need to splurge on a plane ticket to take a trip to the Med.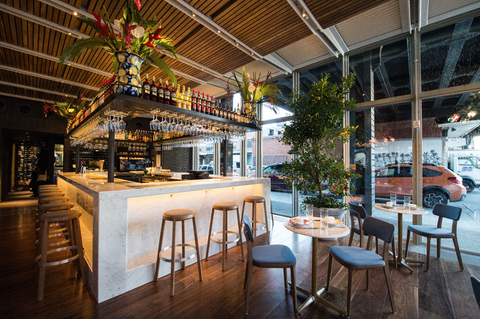 Santina
Stepping into this Meatpacking District hot-spot right around the corner from the new Whitney Museum and tucked underneath the Highline will make you feel as though your dining outdoors during high season in the Amalfi–even when it's 22° and snowing in New York. A "coastal Italian" vibe created by New York's top names in Italian cuisine (Mario Carbone, Rich Torrisi and Jeff Zalaznik also own and operate Carbone and Parm, two of downtown New York's best Italian eateries) is wittingly situated on what used to be the coast of Manhattan, where its first farmers markets once stood. Taking inspiration from on-the-water fresh markets, the menu attempts to merge Italy's coastal cuisine with the neighborhood's rich history. Highlights include the selection of Cecina, or tuscan chickpea crepes served with a selection of toppings (we highly recommend the Avocado Trapanese with tomato and almond pesto topped with a healthy serving of the eatery's homemade green hot sauce) and their fresh takes on rice and pasta. While it's easy to overlook the lighter options on a dinner menu packed with proteins and primi options, don't skip out on this spots vegetables and fish crudos–their squash carpaccio with honey agrodolce, kale and sunchoke salad and branizo and salmon crudos are not to be missed.
Santina; 820 Washington Street, New York, NY 10014; reservations@santinanyc.com.
More From Harper's BAZAAR
Café Medi
A Riviera-esque feel has downtown diners flocking to Hotel on Rivington's new restaurant whose protein and vegetable focused menu manages to be light, fresh, healthy, flavorful and mostly gluten-free–without trying to be. Executive Chef Vincent Chirico trained in notable kitchens like Aquavit, Daniel and Jean Georges before opening up his own spot, Vai, which also focuses on modern-Medi flavors on the Upper West Side. Aside from an open space full of light, hand-painted tiles and a large crudo and vegetable selection, the vibe at Café Medi will transport you to the Italian coast long before your delicious plates of charred octopus, cucumber tartare and heirloom tomato and watermelon salad arrive. Paired with Manhattan's summer heat and an aperol spritz, a lunch or dinner on the terrace here may just be the closest thing you'll find to the real deal without getting on a plane.
Café Medi; 107 Rivington Street, New York, NY 10002; 212-796-8040.
Instagram
This midtown spot is kicking it old school. Old-world Greek dishes served in an industrial, modern space make diners feel as though they're ordering fish straight from the docks. Create your own dish from the abundant offerings on ice daily at the restaurant, specifying your preparation–whether it be grilled, fried, tartare or a more traditional preparation like kakavia, a Greek fish soup. Call ahead to hear the catches of the day or surprise yourself upon arrival–but don't forget to order their zucchini chips served with a tzatziki dipping sauce to start or as an addictive side dish.
Estiatorio Milos New York; 125 West 55th Street, New York, NY 10019; 212-245-7400.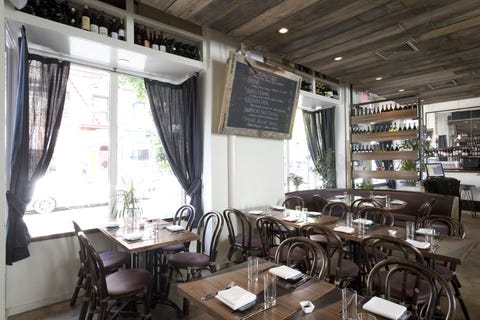 Balaboosta
Chef Einat Admony is considered to be the maven of modern Israeli cooking, focusing her flavor profiles on the merge of Middle Eastern and Mediterranean cuisines Israel is best known for. Her street food spot, Taim, is home to the best (and most authentic) falafel in New York City–hands down. Balaboosta, her Nolita restaurant, delivers a home-cooked spin on her staples with the polish of a seated restaurant. Derived from the Yiddish word meaning the ultimate homemaker, hostess and mother, Balaboosta strives to offer homespun yet modern versions of the flavors Admony knows all too well. Dishes like crispy cauliflower with lemon, burrata with cherry tomato marmalade and kale pesto and grilled octopus touch on the Mediterranean side of Admony's roots, while other dishes like Israeli Street Fair (chicken and Merguez in a pita with yogurt and pickles) or the lunch menu's Shakshooka (Israeli baked eggs) call to how these flavors develop and shift as they migrate towards the Middle East.
Balaboosta; 214 Mulberry Street, New York, NY 10012; 212-966-7366.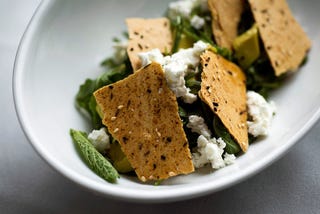 Bar Bolonat
Located in the West Village, Bar Bolonat is Einat Admony's celebration of new-Mediterranean and neo-Israeli cuisine focusing on a playful, seasonal menu in a more fine dining atmosphere. Dishes like the Jerusalem Bagel hearken to Admony's Jewish roots, while the fried olives, chickpea gnocchi and Fatush salad feel undeniably light and Medi in vibe. If you're looking to indulge in or check dozens of Mediterranean flavors and foods like Za'atar, Labne, Harissa, Kibbeh and falafel off your must-try list, this is the place to do it. Their peanut-dusted cauliflower is even flavored with Bamba, Israel's super-popular junk food that's essentially the Middle-Eastern, sweet, peanut-buttery version of a cheese doodle.
Bar Bolonat; 611 Hudson Street, New York, NY 10014; 212-390-1545.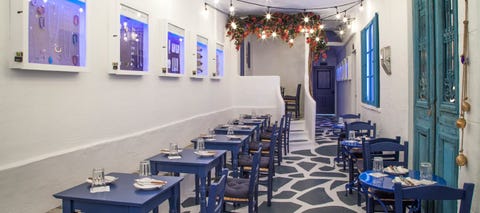 Souvlaki GR
If you've been to Greece, or even if you haven't, this eatery is one of those special places where just walking through the door transports you back to that hole-in-the-wall taverna in Mykonos you just couldn't get enough of. All-white plaster cave-like walls are accented with Greek-flag blue chairs, cascading bougainvillea and string lights for a casual and undeniably authentic dining experience where babaganoosh, Greek hummus (far more lemon-y and garlic-y than the Israeli version but just as delicious) and tzatziki are ever flowing and freshly grilled skewers of chicken and beef are served with just as hot Greek pita (fluffier and more spiced than Israeli pita and intended to wrap ingredients in, rather than coming with it's own pocket) to compose your own gyro if you so desire. The menu here, like the concept, is simple: a traditional selection of Mezedes (dips) grilled skewers, salads, and more indulgent options like their traditional filo-dough pies or entrées like a Greek burger, sausage or lamb chops. No matter what you choose off their menu, it's bound to have you feeling as though you've traveled far longer than a taxi or train ride–just don't forget to save room for Loukoumades, a dessert of fried dough drizzled with honey, walnuts and cinnamon.
Souvlaki GR Lower East Side; 116 Stanton Street, New York NY 10002; 212-777-0116; Souvlaki GR Midtown; 162 West 56th Street, New York, NY 10019; 212-974-7482.
Carrie Goldberg
Weddings & Travel Director
Carrie Goldberg is HarpersBAZAAR.com's Weddings & Travel Director. She oversees the site's BAZAAR Bride channel, travel & dining content, and styles fashion and bridal editorials for BAZAAR.com. When she's not traveling, she spends her free time in her hometown–New York City–where there is no shortage of new places to shop, eat, drink, see and explore.