Everything You Need to Know About Pop-Up Restaurants
Everything You Need to Know About Pop-Up Restaurants
From large cities to rural towns, pop-up restaurants are a growing trend taking chefs and consumers by storm. Offering anything from fast-casual fusion dishes to high-end gourmet meals, this concept lends itself perfectly to those looking to express their creativity and those who wish to consume it. Read on to discover what a pop-up restaurant is, the benefits of running one, and important tips for success.
What Is a Pop-Up Restaurant?

A pop-up restaurant is defined as a restaurant that operates temporarily in a previously determined or unexpected location. This idea is inspired by supper clubs, which were popularized in the 1960's as informal dining settings where only dinner is served.
How Long Do Pop-Up Restaurants Typically Last?
A restaurant pop-up can last from several hours to several months. If you're operating a pop-up restaurant to raise money for a charity event, it may be beneficial to limit your opening to a night or two. The limited availability is meant to generate buzz and create a sense of urgency for potential customers.
If you're a chef or restaurateur looking to test the market for a new restaurant concept, a longer run in your pop-up kitchen may be beneficial. Staying open for several weeks or months can allow you and your staff to reveal and resolve potential issues and learn if you're targeting the right market. If customers respond positively to your concept, it could be time to turn your pop-up restaurant into a permanent fixture.
Where to Operate a Pop-Up Restaurant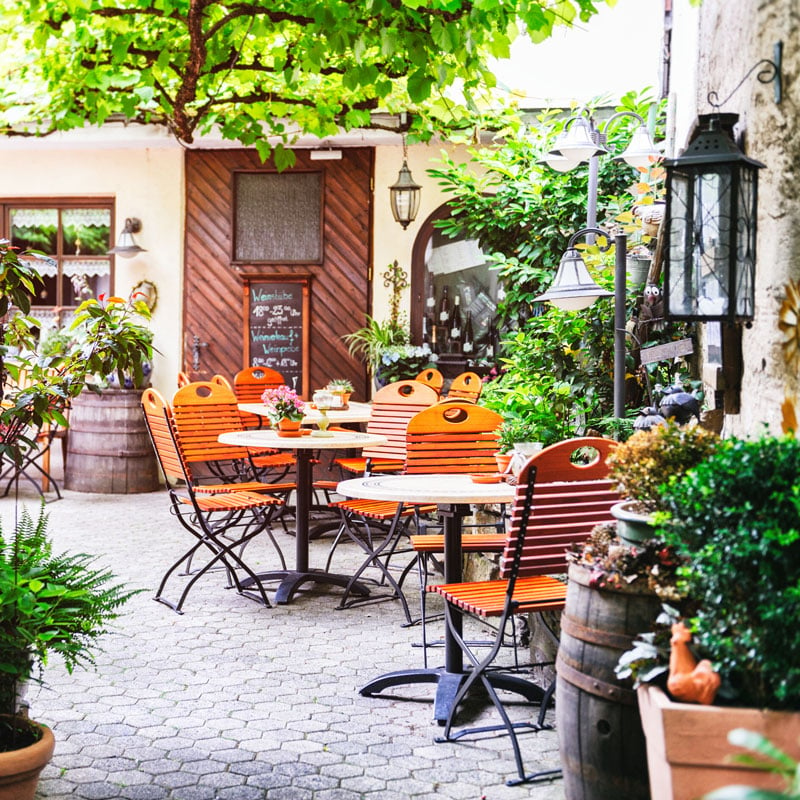 The appeal of pop-up restaurants is that they can appear in almost any location, with the understanding that your pop-up must be in an area that's safe to cook and serve food. Creative pop-up locations could include recycled shipping containers, old unused buildings, parks, city-wide festivals, or roof-top gardens.
Another great location to hold a pop-up kitchen is in an already established restaurant. Create connections with local diners or family run restaurants only serving breakfast and lunch. At night, you can utilize the unused kitchen and dining areas to offer your own original menu concept.
Purpose of Pop-Up Restaurants
Whether you're a chef or restaurateur, there are a few different reasons why you may be considering your own pop-up restaurant. Below are a few common reasons why one may opt for a pop-up concept rather than a brick-and-mortar location.
Temporarily test out restaurant or menu concepts
Open a kitchen to supply food for benefits or charity events
Attract potential investors looking to see your concept in action
Chefs can offer high-end, gourmet food at a more affordable price by cutting out restaurant costs
Offer total creative freedom to chefs without a large risk factor
Benefits of Pop-Up Restaurants
Pop-up restaurants are trendy for a reason. They offer growth potential combined with less financial risks for chefs, while consumers get new and exciting menu concepts they may otherwise never experience. The novelty nature of these types of restaurants appeals to foodies, millennials, and consumers of all ages. Pop-up restaurants depend on technology and social media to spread the word, just as millennials depend on these platforms to show them the next best restaurant to visit.
Pop-up restaurants offer a money-saving solution for restaurateurs, which can mean lower prices on typically high-end foods. Additionally, consumers are willing to pay a premium on unique foods and concepts they've never encountered before. With a limited menu filled with reasonably priced dishes, your consumers may be more inclined to try a larger variety of foods than they otherwise would have. And if your concept doesn't go well in one part of the city, simply pack up and head to your next destination without the financial burdens of a brick-and-mortar location.
How to Start a Pop-Up Restaurant
No matter how spontaneous, creative, or temporary your pop-up restaurant may be, it's imperative you follow all local and federal regulations. Just because you aren't opening a permanent brick-and-mortar location doesn't mean you can operate without the proper paperwork. Think of your pop-up restaurant as being similar to a catering business, you're offering food on-site and need to ensure the health and safety of your customers. Consider the following as you prepare to open your pop-up restaurant.
Obtain a temporary business license (requirements vary by state)
If you plan on serving alcohol, obtain a temporary liquor license (requirements vary by state)
Make sure your venture is covered by insurance, especially public liability insurance
Always keep accurate booking for tax purposes
Train all employees in proper food safe practices
Implement a HACCP program
You must have access to electricity and running water
Tips for Opening a Pop-Up Restaurant
Once you've decided to transform your concept into a pop-up restaurant, there are a few ways to help ensure success. Follow the below tips to get the most out of your pop-up restaurant.
Create a limited or prix fixe menu

Because pop-up kitchens are typically short on storage space, a prix fixe menu may be beneficial to use. This limits the amount of food and supplies needed to be stored, especially when compared to dishes ordered a la cart. To add diversity to your pop-up, change your prix fixe menu every few nights and keep customers coming back for new and different offerings.

Give guests the option of BYOB

BYOB puts the pressure of obtaining a temporary liquor license off of you, as well as storing and serving the alcohol. If you're in an area that allows it, give guests the chance to bring their own bottle they can enjoy as they please. This will also encourage guests to stay longer, relax, and order more food.

Offer chef residencies in your current restaurant

Offering guest chefs a temporary residency allows restaurateurs who already own a brick-and-mortar store to capitalize on this trend. Host a gourmet or high-end chef in your restaurant for a limited amount of time to offer guests a completely different dining experience.

Advertise on social media

Keep your marketing costs low by maintaining an active presence on social media. Use Twitter to tweet your pop-up location for the day, and post plenty of pictures on Instagram to attract hungry crowds.

Shorter times can create a bigger sense of urgency

Depending on the purpose of your pop-up, keeping your stay short and sweet may be a profitable alternative to longer set-ups. When customers know they have a limited time to try your exotic and creative foods, they'll be less likely to delay a visit.

Pair your pop-up with another local event

If your city hosts large events like block parties, festivals, or carnivals, time your pop-up restaurant to coincide with the event already guaranteed to draw in large crowds. Working with organizers of the event to offer food could even land you a prime set-up spot or free marketing.
Pop-up restaurants can be a rewarding experience for chefs and consumers alike. Take the time to research your local laws and regulations, and hone in on creative locations that will draw in crowds eager to get a piece of your latest concept. Because of their low commitment level, pop-up kitchens are a great way to test out menu ideas, gauge community interest, and have fun with the food you love.
Source: https://bloghong.com
Category: en