First Look: Chefs Diego Muñoz and John Fraser Team Up for New Peruvian Spot at the PUBLIC Hotel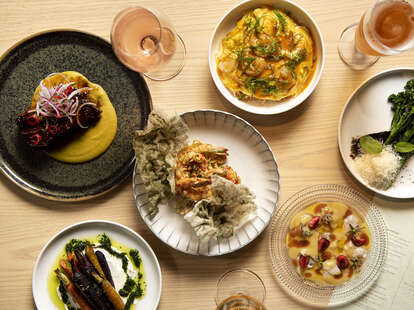 | Photo by Liz Clayman
| Photo by Liz Clayman
The PUBLIC Hotel, known for its signature neon-orange escalators and as a Lower East Side hotspot from nightlife legend, Ian Schrager, recently debuted the restaurant, POPULAR, as part of the hotel's relaunch. 
Helmed by chef Diego Muñoz (EDITION in Turkey, Astrid y Gastón in Lima, and elBulli), POPULAR marks the Peruvian-born chef's first foray into the NYC dining scene. Muñoz will work in partnership with the award-winning NYC chef, John Fraser (Iris, The Times Square EDITION, and now closed Dovetail), for a unique collaborative effort as restaurants across the city reopen and continue to recover from the pandemic.
Thrillist TV
History of
The History of Tailgating
Photo by Liz Clayman
"Chef Diego is the star here and we feel privileged to help bring his transformative culinary vision to life," says Fraser in a press release. The partnership is the first of its kind for an Ian Schrager-backed restaurant, and in addition to helping guide Muñoz with insights on the local "perspective on dining," Fraser's role includes sourcing and overseeing general operations.
At POPULAR, expect globally-inspired Peruvian dishes showcasing seafood, rotisserie meats, and vegetables while celebrating the nation's multiculturalism—with Incan, Spanish, Moorish, African, Italian, Chinese, and Japanese influences.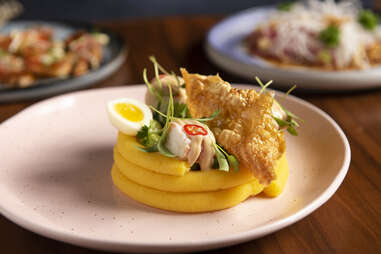 Photo by Liz Clayman
A dedicated ceviche program includes the ceviche Nikkei (ahi tuna, miso, aji panca, shiso) and Salmon Tiradito (Shanghai-style tiger's milk, spring onion). The remainder of the menu is sectioned into categories like vegetables, wok, and wood fired, with highlights such as fingerling potatoes (queso fresco, huacatay); filet mignon "Saltado" (vidalia onions, vine ripe tomatoes, chili-soy); 40-Hour short ribs (tamal sauce); grilled octopus (al olivo, potato cream); and wood-smoked paella (clams, mussels, langoustines, parihuela broth).
Photo by Liz Clayman
POPULAR's cocktail program is also spearheaded by Muñoz with a specific focus on Peru's iconic spirit: pisco. "When I worked at elBulli with chef Ferran Adriá," says Muñoz, "the restaurant had no bar. All the cocktails were created in the kitchen as a logical extension of the cuisine. I'm honoring this tradition at PUBLIC." Libations include The POPULAR Pisco Sour (puro quebranta, lime, egg white, angostura), and a play off a traditional Peruvian highball, the Grapefruit Cardamom Chilcano (acholado, housemade soda). A wine list focusing on Latin-American selections tops off the drink menu.
In addition to POPULAR, chefs Diego Muñoz and John Fraser also jointly run two other food and drink destinations in The PUBLIC Hotel: CANTINA & Pisco Bar, a spot for cocktails and small bites; and LOUIS, a "food bazaar, bakery, and sophisticated coffee & tea bar."
Want more Thrillist? Follow us on Instagram, Twitter, Pinterest, YouTube, TikTok, and Snapchat.