French Cuisine – STLFood.com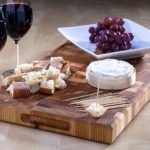 As with many other cultures and cities, the type of food served at French restaurants in St Louis varies according to the type of meal that is being served. For breakfast, French restaurants usually offer tartines or slices of French bread. These can be eaten with either jam or jelly. St Louis French restaurants also serve croissants, pain au chocolat, and pain aux raisins for breakfast. Pain au chocolat and pain aux raisins are pastries filled with chocolate and raisins, respectively. These are usually served with either coffee, tea or hot chocolate.
Lunch is a meal that is enjoyed by the French over a two-hour stretch – but even if you dont have that much time, you can still have a wonderful lunch at one of the French restaurants in St Louis. Sandwiches like baguettes with cheese, ham and other cold cuts are commonly served by French restaurants for lunch. There are often a myriad variety of breads and cheeses to choose from. Crepes, both savoury and sweet are also offered by many French restaurants. Wine and fruit are also often served during lunch.
French Restaurant St. Louis
Bar Les Freres              314-725-8880                French Restaurant Clayton
Brasserie                        314-454-0600               French Food in CWE
Bones French Quarter  636-391-8293              Cajun Restaurant West County
Cafe Provencal              314-882-5449                French Food Kirkwood
City Coffee House         314-862-2489                Creperie in Clayton
Herbie's                          314-769-9595               French American Food in Clayton
La Bonne Bouchee        314-576-6606              Bakery in Creve Coeur
Petit Paree                      636-937-8400               French Restaurant Festus
Vin De Set                       314-241-8989              French Food in Lafayette