Golf in Mexico: The Best of the Best in Riviera Maya | Courses | Golf Digest
'My wife and I love it here," says Frank, a retired auto-parts salesman from Texas as he prepares to tee it up at Playa Mujeres, a Greg Norman course at the Secrets resort just north of Cancun. "She likes to camp out at the pool and read her books, and I play golf. We never leave the premises."
This Post: Golf in Mexico: The Best of the Best in Riviera Maya | Courses | Golf Digest
This is probably what a lot of tourists do in the Cancun area, and that's understandable. Many of the resorts here, like Secrets, are "all-inclusive," which discourages off-campus forays because all meals and drinks are part of the room price. But that's a shame, because in addition to the many amusing and historical touristy things you can do in the region, it's also home to 15 golf courses. Why confine yourself to just one?
Cancun sits in the Southeast corner of Mexico on the Yucatán Peninsula, a little more than four hours by plane from New York or 2½ hours from Dallas. The area is known as the Riviera Maya, and it stretches about 75 miles from the high-rise bustle of Cancun down to the far quieter village of Tulum, famous for its Mayan ruins (below). Nearly all the golf courses are right along the main highway, Route 307, running between the two towns.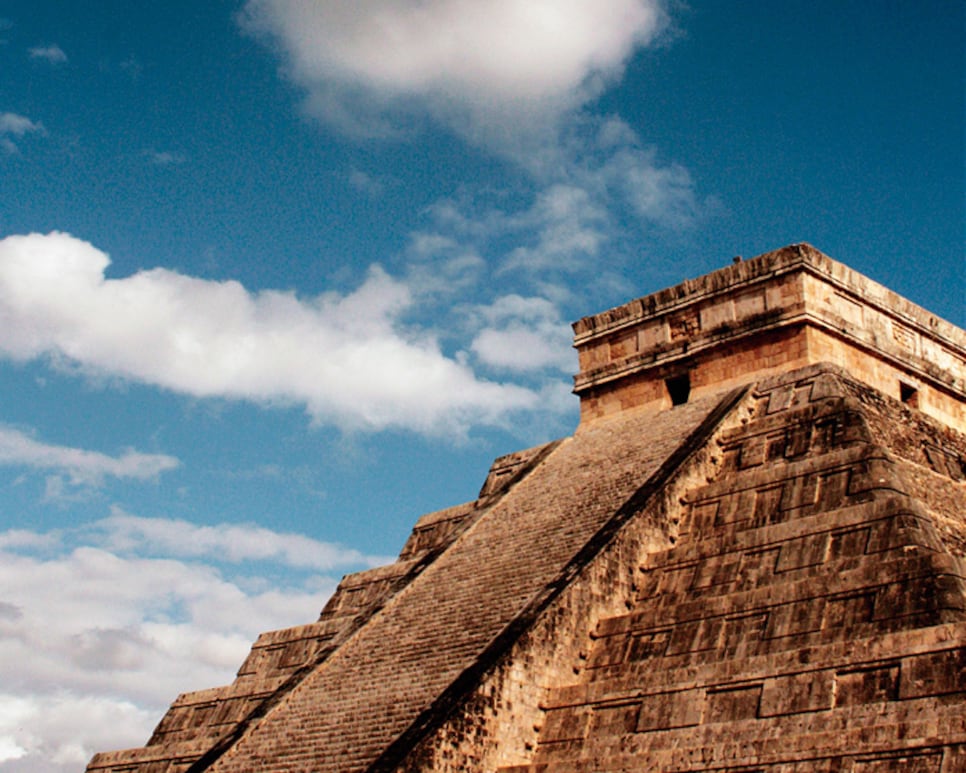 Photo by Getty Images
The most famous course is El Camaleón Mayakoba, a Greg Norman design that hosts the PGA Tour's OHL Classic in November. It's everything you would expect from a top resort course—immaculate conditions, memorable 18 holes, solicitous service—and the price tag that comes with it. A round here is $199 if you're a guest at one of Mayakoba's three hotels and $299 if you're a visitor.
In truth, nearby Iberostar Playa Paraiso Golf Club might be as enjoyable as El Camaleón. What this fun P.B. Dye course lacks in gulf views it makes up for with huge undulations—in its fairways and
its greens—and tons of visual variety. It's definitely worth buying a yardage book here because the course holds many mysteries for first-timers. The green fee is $89 for resort guests and $199 for visitors. Note: Don't mistake this one for the similarly named Iberostar Cancun Golf Club, which is a muny-type course in the busy downtown "hotel zone."
The area's southernmost course, at Tulum's Bahia Principe resort, is also excellent. Known as Riviera Maya Golf Club, it's a splashy Robert Trent Jones Jr. design with a lot of water, dramatic stone-lined fairways, and greens of smooth paspalum, a saltwater-tolerant grass. The fee is $115 for resort guests, $230 for visitors.
You'll probably pay less at the area's other courses, especially those without an official resort affiliation. The high-season rack rate at Nick Price-designed El Tinto, the first of two planned courses at the Cancun Golf Club near the airport, is $180. But one thirtysomething group that played it in the afternoon last fall paid $55 each. They'd come over from a nearby hotel whose concierge had a line on discounted tee times. For an extra $20, they got round-trip transportation.
RED : Learn U.S. History with Online Courses, Classes, & Lessons
Mayakoba is a popular spot for golfers to use as base camp. It has three hotels, The Fairmont, Rosewood and Banyan Tree, and sits almost halfway between Cancun and Tulum. Plus it's a quick drive from Playa del Carmen, a fun little beach town with shopping, restaurants and nightlife. Parking is easy and cheap there, and its walking-only Fifth Avenue is a lively strip that's great for after-dinner drinks and people-watching.
Apart from lounging on the beach or by the pool, the most popular local activities are touring the Mayan ruins and snorkeling the many coral reefs. The natural limestone sinkholes, known as cenotes (say-NO-tays), are big with the snorkeling and scuba crowd, and beginners are definitely welcome.
If you have a few hours to spare, take the 45-minute ferry from Playa del Carmen to the island of Cozumel. There's a modest golf course there, if you're so inclined. But this trip—roughly $10.50 each way—is more about the journey. The views are world-class, and if you're lucky, when you return to Playa del Carmen the upper deck of your boat will feature a super-energetic band rocking out to '50s and '60s classics. No need to request "La Bamba"—they'll get to it.
OUR RECOMMENDATIONS
BEST SCENERY
No. 15 at El Camaleón is 155 yards and runs alongside the Caribbean, offering stunning views of the beach and Cozumel. The 16th at Playa Mujeres, a short par 4 that plays into the wind, nearly touches the surf at its green.
BEST CHALLENGE
The aptly named Hard Rock Golf Club will wear you out. It features narrow fairways, sharp doglegs and small greens. Oh, yeah, and there are six lakes. Note: Until recently this was known as Playacar Golf Club.
BEST COURSE (BEGINNERS)
Grand Coral Riviera Maya Golf Club has only one forced carry from the forward tees, so it's easy to keep it in play. The rest of the tees aren't so forgiving. Designed by Nick Price, it's home to a stop on the Mexico Golf Tour.
BEST CENOTE
The sixth hole at Riviera Maya is a narrow par 4 guarded by a yawning 27-foot crater that's about twice the size of the green. It's a popular spot for mosquitos, so don't linger.
BEST EMERGENCY 18
Vidanta is a Jack Nicklaus-designed par-3 course. Formerly known as El Manglar, it'll take you three hours at most. Eight holes feature some form of water hazard, and No. 18 is an island green.
BEST ALL-INCLUSIVE GOLF
Stay at Moon Palace Cancun, home to three Jack Nicklaus nines, and you get a resort credit of $1,500 or more. You can spend it on golf, the spa, off-site tours, etc. Forego the credit, and you get unlimited golf for cart fees only ($38 for your first round, $19 for others).
BEST FOR GETAWAYS
El Tinto, Riviera Cancun Golf & Resorts and Puerto Cancun Golf Club are high-quality courses within a short drive of the airport, making them ideal for a pre-flight round.
BEST WARNING
Stapled to the scorecard at Cozumel Country Club: "WARNING. There are CROCODILES found in ALL water features… CROCODILES can launch themselves twice their body length out of the water."
—Peter Finch
HOW'S THE WEATHER?
If sunny and warm is what you seek, Mexico's three biggest golf destinations will not disappoint. In short, it's never too cold to play. Los Cabos is the warmest and driest, but its desert-ish climate can mean temperature extremes from 100 in the summer to highs in the 70s and lows in the 50s in January. It doesn't get as hot at the Riviera Maya or Puerto Vallarta, but the tradeoff is more humidity and rain in the summer months. Expect a rain shower or two on more than half the summer days. It rains in Los Cabos, too, but we're talking about four inches for an entire summer month and virtually nothing the rest of the year. —Ron Kaspriske
MORE ON THE BEST GOLF IN MEXICO
Puerto Vallarta: Ten courses and tequila
Los Cabos: Golf South of the Border has come a long way
Source: https://bloghong.com
Category: en