Habesha Ethiopian Restaurant Is An Immigrant Dream Come True
The traditional Ethiopian and Eritrean fare of the West Park restaurant, which was started by refugees, is a welcome addition to Cleveland's food scene.
Habesha Ethiopian & Eritrean Restaurant began with ambition and a passion for food. Jamal Musa, an Eritrean refugee who came to Cleveland by way of Phoenix, Arizona, roughly 15 years ago, is a co-owner alongside his business partners, Tigist Gebremichael, who is from Ethiopia, and Hiriyti Weldesalsie, who is from Eritrea.
"We are always experimenting in cooking and we like to cook, so the three of us, our dream was to own a restaurant," says Musa.
As an interpreter for refugee resettlement agency US Together, Musa first learned about the organization's Microenterprise and Development Program in 2019. The program provides refugees with small business and financial literacy training with mentorship and resources to strike out on their own. 
"When you come [to the U.S.], you're always working for people and always thinking about [how] you're here in this great country," he says. "Finally, when you're able to accomplish [your goal], it's like the American dream."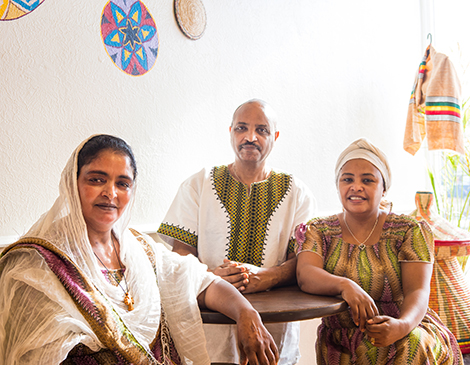 The three co-owners, who all live near West Park, took their first step toward opening the restaurant in 2019, testing their concept at farmers markets in Shaker Heights, Lakewood, Westlake and at the Cleveland Flea. They found their Kamm's Corner location last February. It took most of the year to update the space, including the addition of an area to perform the traditional Ethiopian coffee ceremony. When they opened the doors to their dine-in and takeout restaurant in December, they wanted to serve the comfort food they cooked with their families while growing up in the Horn of Africa.
"Everywhere we go, people liked the food," Musa says. "They liked the taste of the food, and they were encouraging us to open our business."
As the first Ethiopian and Eritrean spot on the West Side, and only the third restaurant of its kind in the Cleveland area, Habesha is promising. Fans of the food are drawn to the cuisine's flavorful kick, which comes from a traditional seasoning blend called berbere, a mix of red chilies, fenugreek and other spices. Berbere is featured in dishes such as doro wot, a spicy chicken stew served with a hard-boiled egg, and sega tibs, or marinated beef sauteed with onions, garlic and rosemary.
There's plenty of hearty vegan and vegetarian fare, too, such as a vegan combination plate which includes red lentil stew. Like many of Habesha's dishes, the combo comes with injera, a crepe-like fermented flatbread used to scoop up your meal.
Despite opening in the midst of a pandemic, Musa and his team have found hope in creating a space where they can share their passion and culture.
"Finally, we found this place and we are here," says Musa. "We are really happy."