Home – Arrowood Golf Course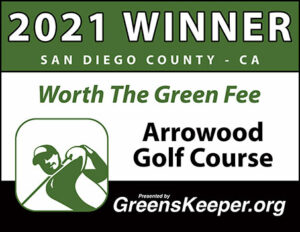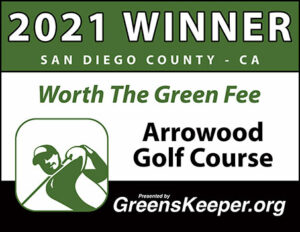 Designed by prominent local architect Ted Robinson Jr, the Arrowood golf course is a par-71, 6,721-yard layout imbedded in the Arrowood community. Located in Oceanside, adjacent to Camp Pendleton and only 35 miles north of San Diego, Arrowood sits on a scenic hilltop by the San Luis Rey Valley, only about 10 miles from the coastline.
"This course is different from others we have designed in San Diego because of the topography and the extent of the natural areas adjacent to the holes. It feels open and unconfined," remarks Robinson. Many holes are bordered by undeveloped riparian habitat, which give the course a feeling of natural seclusion. While the open spaces conduce to a sense of relaxation, the golf holes are not there for the taking. The course will challenge players of all abilities. It's a concentration roller-coaster."
The greens are a blend of Poa annua and Bermuda grass, firm and fast. "We try to keep them rolling at 10 to 11 (on the stimpmeter)" indicates Head Golf Professional Nikki Prichard. "This course will offer something for everyone," she further points out. Four sets of tees ensure that there is a golf test to suit any skill level. A potential two-club wind further adds to the variety; play early in the morning under generally calm conditions and you will find a docile course. The ocean breeze will wake you up later in the morning and on into the afternoon. It typically peaks when you get to the more difficult part of the round, the final four holes which have recently been named The Quandary.