How Much Does It Cost to Start a Restaurant?
Opening a restaurant is your dream, but is it something you can afford? Don't give up if you're intimidated. Just like any big investment, most people require financial assistance in the form of a bank loan to afford the startup costs. We'll help you weed through the individual costs of starting a restaurant so you can create a reasonable budget and acquire the funding you need.
How Much Does It Cost to Open a Restaurant?
Starting a restaurant can cost anywhere from $180,000 to $800,000, with various factors influencing the final bill. The average cost of opening a restaurant is $275,000 or $3,046 per cover for a leased space, according to a recent survey. This number jumps to $425,000 or $3,734 per cover with an added land purchase. Numbers like this can be slightly deceiving because there is no one-size-fits-all answer to this question. The cost of your restaurant will be affected by a number of factors, including the location of your business, your restaurant concept, and whether you choose to lease or buy your space.
Restaurant Startup Costs
Before you come up with a final number and apply for a restaurant startup loan, familiarize yourself with the types of expenses you need to account for in your budget to calculate the cost of opening a restaurant. We'll provide you with an average restaurant startup costs breakdown as well as some ways you can reduce your spending.
1. Security Deposit or Down Payment
Securing the property for your restaurant will be one of your major expenses. If you plan to buy the location outright, you'll need a down payment of 10% of the property value to secure your loan. The cost of real estate varies greatly by location but when it comes to restaurants, a great location is key. If you choose a poor location because it's less expensive, your business may end up suffering in the long run.
Down Payment for Loan: $12,500-$40,000
How to Save on Security Deposit Costs:
Choose to lease a commercial space instead of buying and you'll only be responsible for a security deposit and first month's rent.
Try renting space in a food hall to test out your restaurant concept. The cost of renting a booth will be much less than leasing an entire space.
Consider buying a food truck instead of making a land or building purchase.
Test your menu with a ghost kitchen to gain a following and save up before investing in a brick and mortar location.
2. Construction or Renovation
Whether you are making improvements to an existing building or starting from scratch, construction costs will be one of your greatest expenses. Utility costs, such as water, gas, and electricity, can add up quickly and usually range from $1,000 to $2,500 a month for a ~4,000 square foot establishment. Making your restaurant ADA accessible from the start may also add $10,000 to $30,000 to the bill, but can save you on legal fees down the line. The extent of your construction and renovations will determine your total cost.
Construction Cost: $140,000-$350,000
How to Save on Construction Costs:
Purchase an existing commercial space and convert it to a restaurant instead of investing in a new build.
Buy an existing restaurant that's already outfitted with plumbing and HVAC to save time and money.
3. Kitchen Equipment
Foodservice equipment will be your next biggest expense. Not only do you need cooking equipment like ranges, flat top grills, and charbroilers, you also need refrigeration units to store your food items and warewashing equipment to keep your dinnerware clean. If your restaurant has a bar, you'll need to invest in a tap system, liquor displays, and underbar organization. Don't forget all of the pots, pans, and utensils required to make your menu items.
Equipment Cost: $75,000-$115,000
How to Save on Equipment Costs:
Leasing your restaurant equipment instead of buying it outright can help to free up more of your initial budget.
Buy used equipment instead of new.
Check out Scratch and Dent merchandise with minor superficial damage that has no effect on its operation.
Shop All Restaurant Equipment

4. Furniture and Tableware
Your furniture and tableware budget is tied directly to your restaurant concept. If you plan to open an upscale restaurant with a complex menu, you'll most likely want to invest in high-end furniture and elegant china dinnerware. On the other hand, if you have a simple menu and casual concept, your furnishings and tableware will probably be more economical. Either way, you'll need enough dinnerware, glassware, and flatware to serve all of your guests on your busiest shift.
Furniture and Tableware Cost: $20,000-$80,000
How to Save on Furniture and Tableware Costs:
Skip the tablecloths and invest in attractive tabletops instead. You'll save money in your budget and you'll benefit from reducing your water usage on laundering linens.
Keep an eye out for restaurants that are closing. Many business owners are happy to sell their inventory and you might get a good deal on fixtures and dinnerware.
Shop All Restaurant Furniture
Shop All Restaurant Tableware

5. POS System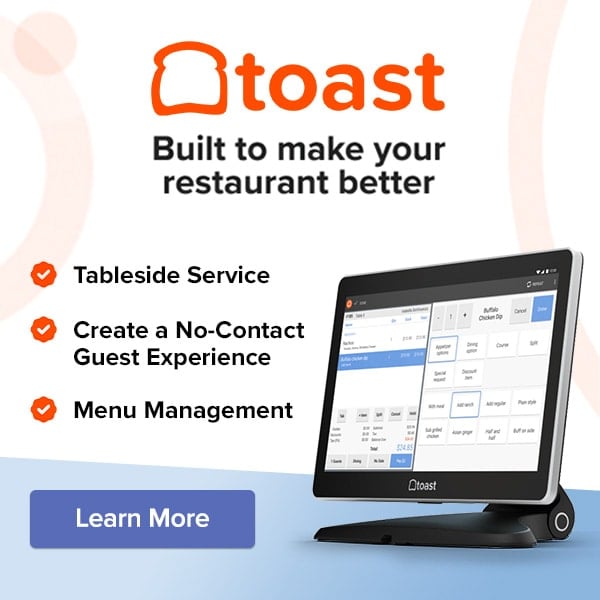 A POS system will be beneficial to your restaurant in many ways. Not only does it streamline the ordering process, point of sale technology helps with inventory management, employee management, and sales reporting. Your POS package should include front-of-house stations with touchscreen monitors, receipt printers, and credit card scanners. Back-of-house components include kitchen displays or ticket printers. POS systems from Toast include mobile features like tableside ordering and payment, which help automate processes and free up time for your staff.
POS System Cost: $12,500-$20,000
How to Save on POS System Costs:
Compare quotes from POS system providers to get the best deal for your business.
Be conservative. There are many features and accessories you can add onto your POS system package, but you can save money by going with a basic system. You can always add onto your package in the future.
Don't be afraid to negotiate. If you're buying a POS package, ask if the vendor will throw in training sessions free of charge.
6. Initial Food Inventory
Your initial food inventory cost will be greater than daily or weekly replenishment because you'll need to include non-perishable items. Condiments, spices, oils, and coffee are just a few of the items you'll need to build up your staple inventory. These ingredients will last you a long time before they need to be replaced, especially if you buy in bulk. To come up with an initial food cost projection, start by analyzing your menu and pricing out each ingredient.
Food and Beverages Cost: $5,000-$25,000
How to Save on Food and Beverages Costs:
Test out your menu items and weigh each ingredient. You'll be able to come up with the most accurate projection by knowing exactly how much of each item you need.
Buy in bulk. You'll get the best deals on non-perishables by buying wholesale.
Shop All Restaurant Consumables

7. Licensing
Running a restaurant requires several types of licenses before you ever open your doors. You'll want to get a head start on this step because it can be a lengthy process. Liquor licenses in particular can be quite costly depending on your location and whether you live in a quota or non-quota state. Quota states only issue a limited number of licenses which can drive the cost up immensely. You will also want to set aside capital and contingency funding that could cover at least six months of downtime should an emergency or low sales occur.
Business License Cost: $50-$400
Liquor License Cost: $300-$400,000
Certificate of Occupancy Cost: $100
Foodservice License Cost: $100-$1000
Health Permit Cost: $50-$1000
Sign Permit Cost: $20-$50
Insurance Cost: $1000-$10,000 annually
How to Save on Licensing Costs:
There are many different types of restaurants and each of them has a unique budget requirement. Thankfully, no matter what type of restaurant you choose to open, you can still turn a profit and be successful. Remember to follow our money-saving tips and you'll avoid falling into the trap of overspending.
The information provided on this website does not, and is not intended to, constitute legal advice. Please refer to our Content Policy for more details.