With 93% of Americans consuming pizza at least once a month, it's no surprise that pizza shops are one of the most popular types of restaurants. Opening a pizzeria can be a great investment, especially when you've prepared correctly. If you're wondering how to open a pizza shop, your first priority should be coming up with delectable recipes and deciding what types of pizza you want to feature on your menu. See below for a complete guide to starting your pizza business.
Shop All Pizzeria Supplies & Equipment
Opening a Pizza Shop
Whether you are ready to open your pizza shop or are deciding if you want to open one, it's important to understand what is necessary to start a successful pizza-serving business.
1. Create Your Pizza Recipes and Form Your Menu
With pizza places on nearly every street corner, you can set your pizzeria apart by honing your craft to make sure your pizza is unique and tastes great. High-quality, fresh ingredients are important for flavor, and you can also experiment with various toppings to design innovative pizzas. Make sure to write down each step when trying out different recipes, so you can recreate your pizza inventions.
Deciding what will be on your menu can set the stage for fleshing out your service style and brand. It will also determine what type of equipment you need, the crowd you hope to attract, the staff you hire, and the funding you might need. These are all important when forming your idea and writing a business plan.
2. Choose Your Pizza Shop Service Style and Brand
Coming up with a promising concept and brand is important for envisioning your restaurant, writing your business plan, and securing funding.
Choosing a Pizza Shop Service Style
The most common pizza place service styles are below. You can also choose a combination of these service styles. This decision may ultimately depend on how much startup funding you have, the location you choose, and your unique vision.
Sit-down. A sit-down pizzeria allows for a wider range of customers than other service styles. In addition, it allows you to communicate your brand, ambiance, and to provide hospitality. This option, however, has an increased investment.
Delivery. A delivery pizza shop is a convenient option for many customers. However, there is an increased risk related to the safety of your delivery drivers along with an increased price for customers because of the delivery labor cost.
Take-Out. A take-out pizza place is likely the least expensive option, as it requires less equipment, space, tableware, and more. One downside is that the price and food are your only main selling points as opposed to your pizzeria's unique feel and welcoming wait staff.
Choosing a Pizza Shop Brand
Choosing a brand for your pizza place may depend on your service style. But you can (and should) still create your own memorable brand. Are you a fast casual spot that's geared towards millennials, or are you a sit-down, upscale spot with Italian dishes? Are you an old-fashioned pizza hub with Coca-Cola bottles and retro signs? Next to the food you offer, your restaurant's brand and feel are the next factors to win over customers, so be sure to put careful thought into your concept.
3. Write a Business Plan for Your Pizza Place
Here is a basic overview of what should be included in your pizza shop business plan. A business plan is essential for structuring your business, staying organized, and obtaining funding.
Executive Summary
Company Overview and Description
Market Analysis
Business Offerings
Management
Marketing and Public Relations Strategies
Financial Projection
4. Find a Great Location for Your Pizzeria
When choosing a location to open your pizza place, we recommend the following techniques:
Try to find an area where similar restaurants are scarce. Some healthy competition can be a good thing in the restaurant world, but you don't want to be overshadowed by the most popular pizza place nearby.
Find a spot that is easily visible. If possible, choose a location that faces a busy street, gets heavy foot traffic, or features parking spaces. If your pizza shop is open and inviting to passersby, you'll be more likely to bring in new customers.
Explore the demographics and eating patterns of people in the area. Make sure there is a customer base that will be attracted to your restaurant service style and brand in the location you choose.
5. Secure Loans and Funding for Your Pizza Place
When seeking funding for your restaurant, you will first want to figure out what amount of total startup funding you need for your pizza shop. You should first assess how much money you already have available to use as startup funding and how much more you will need to get your pizza shop started.
To do this, consider all the costs of opening your pizza shop and the costs necessary to keep it running on a daily basis. You should then budget, predict, and plan the next year in advance to know how much you will need to stay in business. Consider applying for restaurant startup loans if you need funding to carry out your business plan.
6. Stock Up on Pizza Business Equipment
The pizza business equipment necessary for your pizza shop will depend on your restaurant concept, but there are some essentials that every pizzeria will need:
Refrigeration equipment
Dough preparation equipment, such as dough sheeters, dough presses, and proofing cabinets
Pizza ovens – you can choose from conveyor ovens, impinger ovens, pizza deck ovens, convection ovens, or a brick pizza oven
Basic preparation supplies, including pizza cutters, cutting boards, serving utensils, and plates
Serving supplies, like pizza stands and pizza delivery bags
You may be able to find deals on used or outlet cooking equipment for your pizza shop. Pizza ovens are a big expense, so look for discounts wherever you can find them. For a complete list of equipment, check out our pizza shop equipment list.
7. Hire Qualified Employees
Your employees will be the face of your pizzeria, so you want to make sure they'll represent you in the best way possible. When interviewing candidates, look for positive, warm personalities. It's important that customers feel comfortable interacting with your staff. Also look for potential employees who are genuinely interested in becoming a part of your restaurant. If they care about the success of your pizzeria, they are more likely to put forth hard work and good effort.
8. Advertise Your New Pizza Shop
It's important that locals and out-of-towners both know about your pizza place and can find helpful information about it. Create excitement around your new pizzeria to entice customers to want to try it.
Utilize social media. Create a Facebook and Instagram account that entices potential patrons with photos of your food, behind-the-scenes pictures of employees, and information about your pizzeria. Make sure to use high-quality photos.
Create an appealing website. Your website should be easy to navigate and should represent your brand. Include all the necessary information about your pizza place, such as your address, phone number, hours, and menu.
Join Yelp. This is another easy way for patrons to easily learn about your pizzeria but to also leave feedback. Since it is a well-known website, joining Yelp will also increase your credibility.
Create an ad for the local paper. Getting the word out before you open your pizza shop could give you an advantage, especially if pizza businesses are already popular in the area.
Create a digital check-in. Create a digital rewards program through an app that will appeal to the growing number of consumers who use smartphones.
Create an email list. The trick to engage customers with emails is to use relevant content to each group of customers. For example, sending dine-in specials to reservation customers or sending delivery coupons to online ordering customers are both great ideas. Your email should communicate your brand and forge a relationship with guests who will look forward to choosing your pizza place.
Offer promotions to new customers. Give guests a free soft drink or an extra side dish with a pizza slice. This will give customers the impression that they are treated well at your establishment, and they will be more likely to recommend your pizza shop and to return themselves.
Consider hosting a grand opening. This can take place after your soft opening or in place of it. You can also host other events, such as late-night promos, how-to-make-your-own pizza nights, music events, or themed dinners.
9. Host a Soft Opening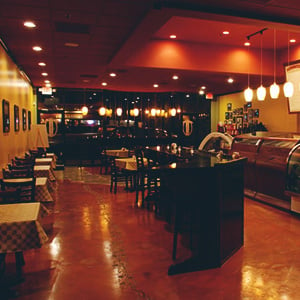 We recommend hosting a soft opening before your full-fledged starting date. This allows you to test run your service strategies and fix any issues that may come up. Consider offering a smaller menu or just serving for part of the day. You can also host friends and family event withs complementary dishes or invite local businesses. These approaches also help you to gain local patrons who may spread the word of your new pizza place before its official opening date.
With such a high demand for pizza, opening a pizza shop has the potential to yield great returns. But this profitable bottom line is more likely with impeccable logistical planning, delicious recipes, and a distinctive brand and concept. If you're looking for more specific ways to captivate your pizzeria customers, be sure to incorporate new foodservice trends into your pizzeria.
The information provided on this website does not, and is not intended to, constitute legal advice. Please refer to our Content Policy for more details.