Is Faubourg in Montclair the best French restaurant in NJ? A review
Is Faubourg in Montclair the best French restaurant in NJ? A review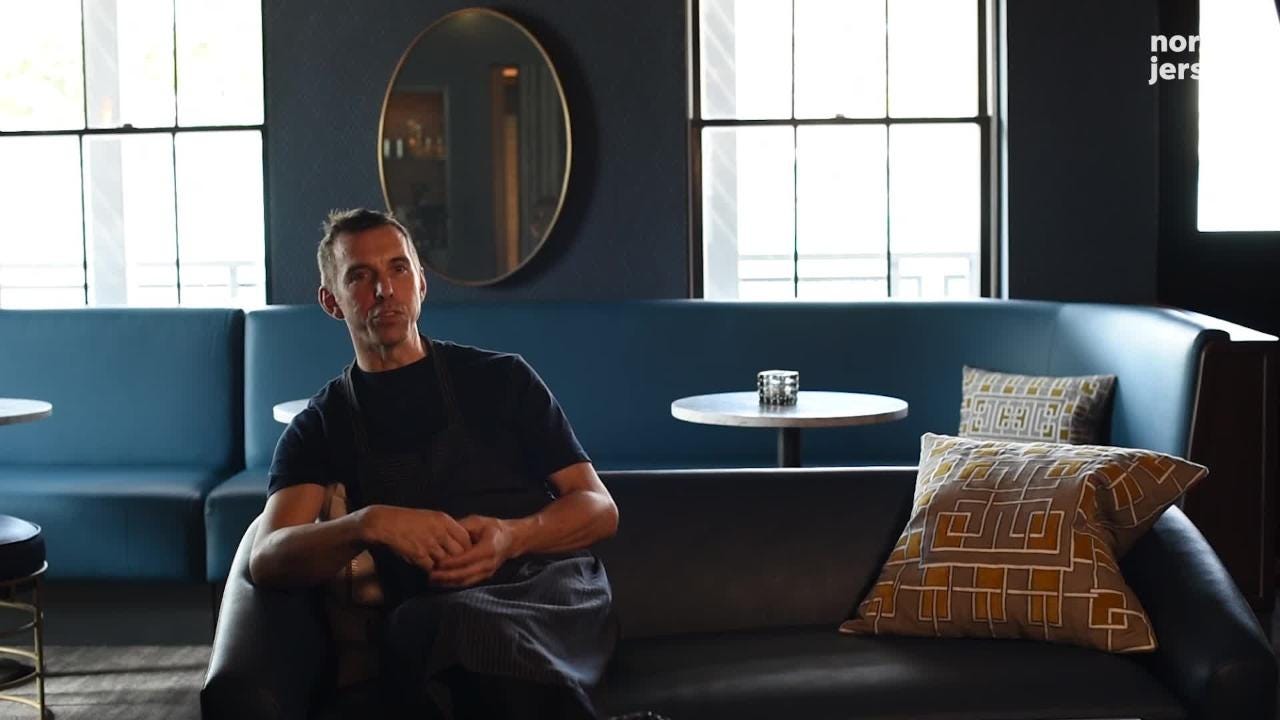 Show Caption
Hide Caption
Faubourg in Monclair offers seasonal French food in a beautiful space.
Chef Olivier Muller talks about the restaurant and what makes their Coq au vin so special.
Anne-Marie Caruso, NorthJersey
Leave it to two French restaurant veterans to open what may be the best French restaurant in North Jersey, if not the entire Garden State. 
Chef Olivier Muller and his business partner Dominique Paulin, both Daniel Boulud alums, took a bi-level retail space on Bloomfield Avenue and transformed it into a sexy, lively brasserie containing a chic gray-and-blue dining room with a big bar, a spacious outdoor patio with another big bar, a two-story-tall all-glass wine cellar, and a wraparound mezzanine with banquette seating and a cozy cocktail lounge.
It's tempting to start an evening sitting on one of the white benches outside enjoying cocktails (highly recommended: a martini with fat Kalamata olives or a Negroni with one massive ice cube) before heading indoors for some serious eats. Of course, you could skip the meal — there's a rollicking scene at both indoor and outdoor bars — and nosh on some bar food, but you would miss out on Muller's mouthwatering dishes and pastry chef Melissa Rodriguez's heavenly desserts.
Consider starting your meal with that classic Alsatian appetizer, tarte flambée, a super-thin, crisp, cracker-like dough ("Matzoh," one of my dining companions quipped on one of the nights I dined at Faubourg), covered with gooey melted fromage blanc and bits of smoky bacon. It's so simple, yet so tasty. Some eight years ago, Muller brought this appetizer to db Bistro Moderne, Boulud's midtown restaurant; it is still on the menu.
Or perhaps you'd prefer those French cheese puffs known as gougères ($8). Though they did not arrive at our table warm, they were as light as a summer breeze and so wonderfully cheese-y that their tepid temperature didn't prevent me and my dining companions from devouring them. 
When was the last time you saw snails on a menu?
Story continues below gallery
In a phone call after my second visit, Muller confided that Paulin feared the French delicacy wouldn't play well in New Jersey. Paulin needn't have worried. "It sells very well," Muller reports.
The snail and chicken oysters fricassée ($17), served in a sea of bright green sauce, was beautifully plated, and the roasted snails, often rubbery in less skilled hands, were tender. If you haven't had snails before, consider trying them here. The "oyster meat," considered by many to be the most flavorful part of a chicken (they're hidden behind the thighs) was succulent and lush.
Not nearly as thrilling but good was a lobster salad ($12), a generous half-pound of sweet lobster meat atop a summer garden of waxed beans, green beans and corn. The salad was dressed lightly with lemon and olive oil and was served with a basil aioli. Nothing novel, nothing exotic, just tasty and enjoyable.  
For entrées, you can't go wrong with the nice-sized juicy and flaky halibut coated with a thin layer of caramelized lemon marmalade ($29). The fish sits atop a bed of textbook-perfect bright and chunky ratatouille and is served with a cherry tomato confit. It's divine.
Divine, too, was the salmon and sorrel ($27), a legendary dish created by the celebrated Troisgros brothers, who helped launch nouvelle cuisine at their eponymous restaurant, La Maison Troisgros, near Lyon, France.
It's a simple dish, proof that sometimes (often?) the more simple a dish, the better. The elegant flash-fried salmon and tangy lemon-y sorrel needed nothing else to wow my palate.  
The most impressive dish of all, however, was that classic French comfort food known as coq au vin ($26). This lovely rustic dish showcased fork-tender chicken enveloped in a rich, lush, multilayered deep-red wine sauce flavored by mushrooms, bacon, leeks and onions. It's served with delicate späetzle. It's impossible not to eat every last bit. 
Impossible, too, would be passing up dessert, once you've tasted Melissa Rodriguez's creations. I sampled five out of nine offered (dessert is my favorite course!) and loved them all: the stuffed-meringue vacherin adorned with raspberries ($13); the molten chocolate cake known as coulant ($12); the citrus-y madeleines ($8); the light and gorgeous passion fruit cheesecake ($12; Rodriguez removes the passion fruit's seeds, dries them and then replaces them to visually dazzle); and, perhaps my favorite, a silky, smooth rhubarb and strawberry panna cotta served with oatmeal crumble ($10). I can't wait to go back and try the remaining four.
Actually I can't wait to go back, period.
If you go
Faubourg 
544 Bloomfield Ave., Montclair.
973-542-7700; faubourgmontclair.com.
Open every day for dinner starting at 5 p.m. Bar opens at 4 p.m. Monday to Friday; noon on weekends. Brunch noon – 3 p.m. Friday; 11 a.m. – 3 p.m.
Saturday and Sunday. 
Closing: Ramsey's Olive Garden Italian Restaurant closes after 15 years on Route 17
Brunch is back: Giovanni's Bicycle Club in Englewood Cliffs
For subscribers: Drink, eat and have fun: North Jersey's top upcoming food and wine events