Kiawah Island Golf Courses Archives – Kiawah Exclusives Vacation Blog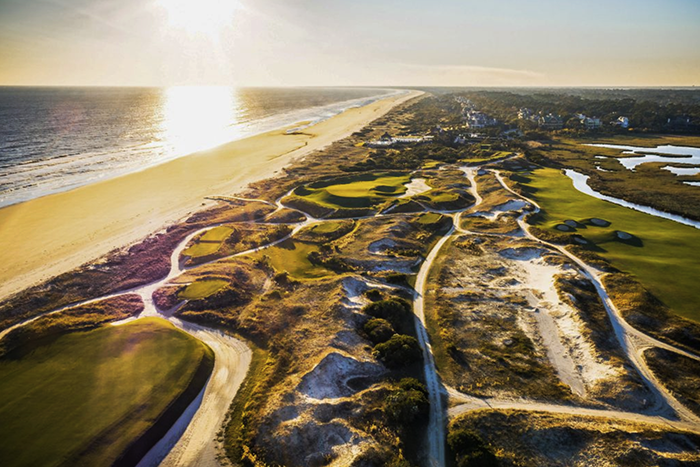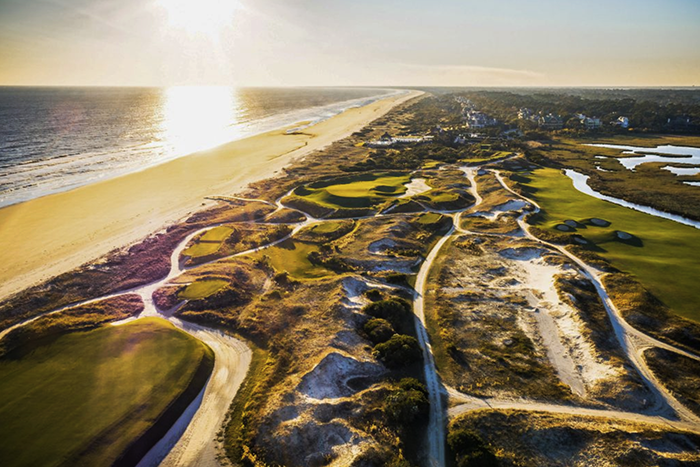 Kiawah Island is ranked one of the "Top 25 Golf Islands in the World" and is home to some of the best golf courses in the US, designed by top golf architects and played by many of the greatest legends in golf history. 
Nestled on the South Carolina coastline directly south of Charleston, Kiawah Island is a natural barrier island with miles of stunning Atlantic beaches and tranquil waterways teeming with wildlife, elegant plantation style homes and villas, and a laid-back, luxurious lifestyle of outdoor activities and sporting. 
Known as the "Landscape of Legends", Kiawah Island boasts two private courses (Cassique Course and River Course) and five award-winning Audubon certified championship courses – Osprey Point by Tom Fazio, Turtle Point by Jack Nicklaus, Cougar Point by Gary Player, Oak Point by Clyde Johnson, and the iconic Ocean Course designed by Alice and Pete Dye.
Kiawah Island's Iconic Ocean Course

Famous golf course architect Pete Dye has designed over 100 golf courses, yet his true masterpiece is the iconic and internationally renowned Ocean Course on Kiawah Island. Alice and Pete Dye designed and constructed the Ocean Course specifically for the 1991 Ryder Cup, a controversial event widely known as "The War by the Shore". Kiawah Island began to claim recognition as a top golfing destination on the East Coast. 
The Ocean Course has since hosted many world-class golf events and multiple majors including the 2012 PGA Championship won by Rory McIlroy, and the 2021 PGA Championship with Phil Michelson claiming victory as the oldest golfer to ever win the coveted Wanamaker Trophy. The Ocean Course is one of only a few legendary PGA championship courses open to the public, consistently ranking among the top courses in the USA (and the world!) with endless awards and accolades.
In his autobiography, Pete Dye referred to the 2.5-mile stretch of Kiawah Island shoreline as "one of the greatest pieces of seaside property in the United States". The spectacular Ocean Course winds through windswept dunes between the salt marshes and the Atlantic Ocean with a layout that ranks it among the most challenging and difficult golf courses in the US. The course boasts the most seaside holes in North America with unpredictable wind shifts, coastal elements, and a combination of sand, grass and marshes to challenge even the best players.
Kiawah Island is the ultimate destination for a beach and golf getaway! Follow in the footsteps of legends as you test your skills with a round of PGA golf on the iconic Ocean Course and return home to experience luxury Lowcountry golf course living with Kiawah Exclusives.
Kiawah Exclusives have been planning beach and golf vacations for our guests since 1978, just shortly after Gary Player's Cougar Point golf course began welcoming Kiawah Island Golf Resort's first golfers. Our exclusive collection of 110+ Kiawah Island vacation rentals includes golf vacation villas on the fairways of Cougar Point and Turtle Point, and luxury golf homes in Vanderhorst Plantation, a private gated community behind Kiawah Island's second set of privacy gates near the Osprey Point Golf Course and Ocean Course.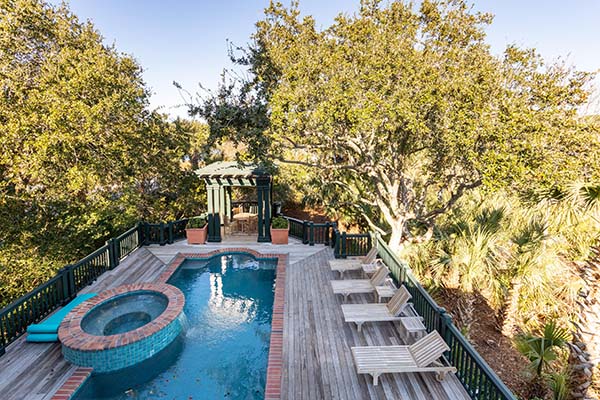 Ocean Course Drive
5 Bed, 4.5 Bath, Sleeps 10
Distance to Ocean Course Clubhouse: 2.4 miles
This exceptional Kiawah Island golf course home overlooks Ibis Pond and is situated only minutes from the Kiawah Beach Club and Ocean Course. End your day of challenging golf unwinding by the pool, soaking up the views from your screened porch, and indulging in life's little luxuries when you spend your golf vacation at this exclusive golf rental on Ocean Course Drive.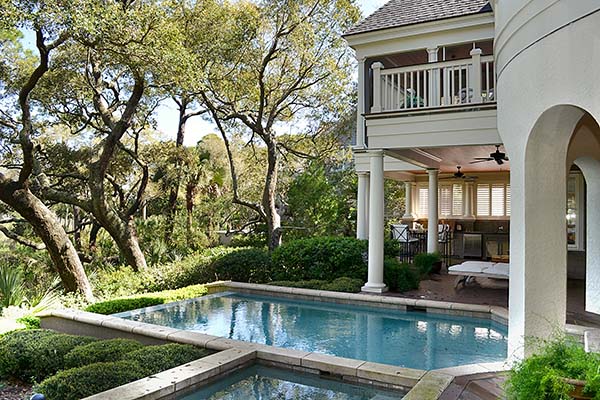 Color Me Kiawah
5 Bed, 4.5 Bath, Sleeps 10
Distance to Ocean Course Clubhouse: 1.7 miles
Color Me Kiawah is an award-winning Vanderhorst golf home nestled in old live oaks near the Ocean Course. This elegant home exceeds all expectations with an executive home office to combine work and play, a stunning media room, and a luxury infinity pool and spa overlooking the tidal creeks and marshes. A short bike ride will have you on the Kiawah Island beaches in no time!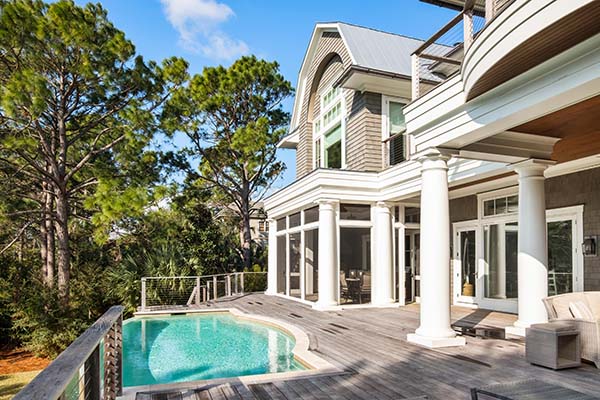 Flyway Drive
6 Bed, 8 Bath, Sleeps 12
Distance to Ocean Course Clubhouse: 2.9 miles
If golf and beach access are both top priorities, your search ends here at one of the best homes on Kiawah for a beach and golf vacation combo. 171 Flyway Drive offers 6,500 sq feet of elegant interiors with close proximity to the Ocean Course, a private boardwalk to the beach, and a salt water pool for cool dips after a round of golf or beach day.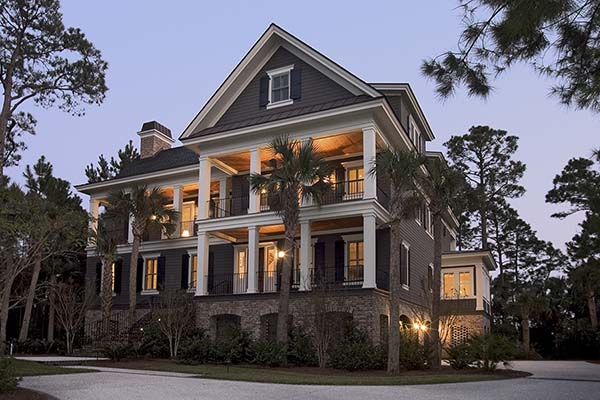 Falcon Point
5 Bed, 4.5 Bath, 10 Guests
Distance to Ocean Course Clubhouse: 3.5 miles
Falcon Point is situated slightly inland surrounded by lush Lowcountry landscapes and forever marsh views. This luxury golf home features expansive outdoor decks and porches, a private pool, and timeless interiors making it an idyllic retreat for a PGA golf vacation on Kiawah Island.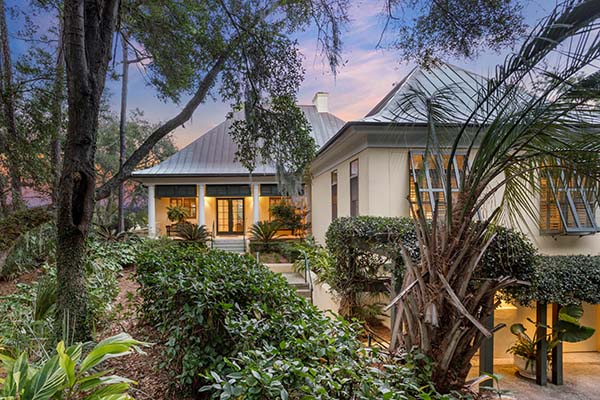 Ocean Oaks Court
Distance to Ocean Course Clubhouse: 2.6 miles
Ocean Oaks Court is a quiet cul-de-sac tucked away in a tropical setting near the Kiawah Island beaches and Ocean Course. Kiawah Exclusives represent three luxury plantation style homes close together and perfect for a group golf getaway to Kiawah Island.
305 Ocean Oaks: 4 Bed, 4.5 Bath, Sleeps 8
308 Ocean Oaks: 3 Bed, 3.5 Bath, Sleeps 6
411 Ocean Oaks: 4 bed, 4.5 Bath, Sleeps 10
Browse our full collection of exclusive Kiawah golf homes and villas or contact one of our vacation specialists with the local knowledge and expertise to help you plan the ultimate PGA vacation on Kiawah Island.